The British-Nigerian artist Yinka Shonibare MBE was in Washington a couple of weeks ago for the first-annual African Art Awards Dinner, where he was honored alongside fellow artist Ato Malinda and Ford Foundation President Darren Walker. Sometime before the end of this year, Shonibare's Wind Sculpture VII will be installed in front of the National Museum of African Art. Earlier sculptures in this series have landed in London, Chicago, and Neumünster, Germany. Washingtonian spoke with Shonibare before the dinner.
What does it mean to have this sculpture come to Washington, DC?
I'm very excited to have a sculpture here because people in Washington know my work because I had an art exhibition here in 2009. And also it's going to be a permanent installation outside the museum, which is extremely exciting, because it means my work will be here all the time.
And to have something on the National Mall–
Well, it's incredible to have something on the National Mall. So I'm very happy about that.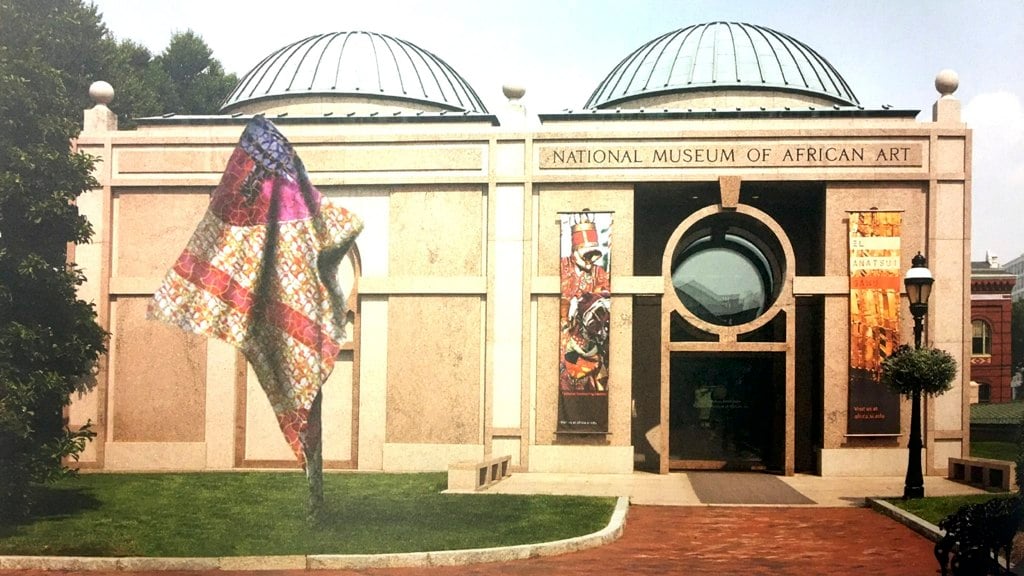 A lot of your work is about how culture travels. What does that mean in terms of having your work in the US, where so many cultures have congregated? 
The piece I'm showing is called Wind Sculpture. And that sculpture evolved when I made Nelson's Ship in a Bottle in London. And that evolved from the sails of that ship, that boat. And so the work really is about migration, it's about travel, it's also about the mixture of different cultures because the fabrics that the work actually depicts have their origins in Indonesia and also in Holland. And now Africa. So I like that mixing of cultures that actually exists in the identity of the fabrics.
Have you been to our new museum, the African-American history museum?
Yes, I was there yesterday. I was blown away. It really touched me emotionally. I did experience a different range of emotions while I was there. You know, from very sad to uplifting, and I like the way it goes from the slavery period all the way to the top and segregation, and then goes up to the music, and then success. There are still lots of difficult issues, but the museum is a very good education for them. It's a very, very moving experience. I think it's brilliant. And the building is amazing.
Can you tell me a little bit more about the sculpture and the wind, and what it's like to work with wind?
Well, you know, of course we know about the trade winds, and we know that a lot of people, particularly in the United States, got here by the sea. So the sea is also very much the history of the United States. And it's the history of most of us. Most of us actually are migrants. And so the piece also does represent the movement of people, migration, which is the story that makes up our individual identities as people. I think in America, this is a very, very important subject. And the wind is a method that I have used for that movement of people and migration. And that sculpture is almost trying to grasp or sculpt the actual wind itself. You can't see it. The shape of the fabric, the fabric is being blown by the wind. But it's a hard material that's been given the illusion of softness, fluid. It's actually fiberglass. But this is about creating an illusion of movement.
What are your impressions of the Smithsonian's African Art museum?
I think it's a great museum. It's unique in the sense that it has historical collections as well as contemporary art. When people think about African art, they think about tribal art or traditional art. In that sense I think the museum is progressive in saying, Yes, we have historical African art but we also consider that Africans are living, breathing, contemporary people, and they are creating art now. I think that's important.