It took about a year and a half longer than expected, but Park View finally has its own beer garden. The Midlands, from three owners of Kangaroo Boxing Club, opened last week with nearly 20 picnic tables outside, a 70-foot bar and dart boards inside, and even a bar dog: AndyPants.
Peyton Sherwood, who runs the place with husband-wife Trent Allen and Robin Webb Allen, has worked at and run a series of dim-lit, dive-y bars. But with the Midlands, they wanted something brighter and a little more cheery, where people could bring their kids or their dogs. His own dog even has a little "Bar & Grrrrille" on premise: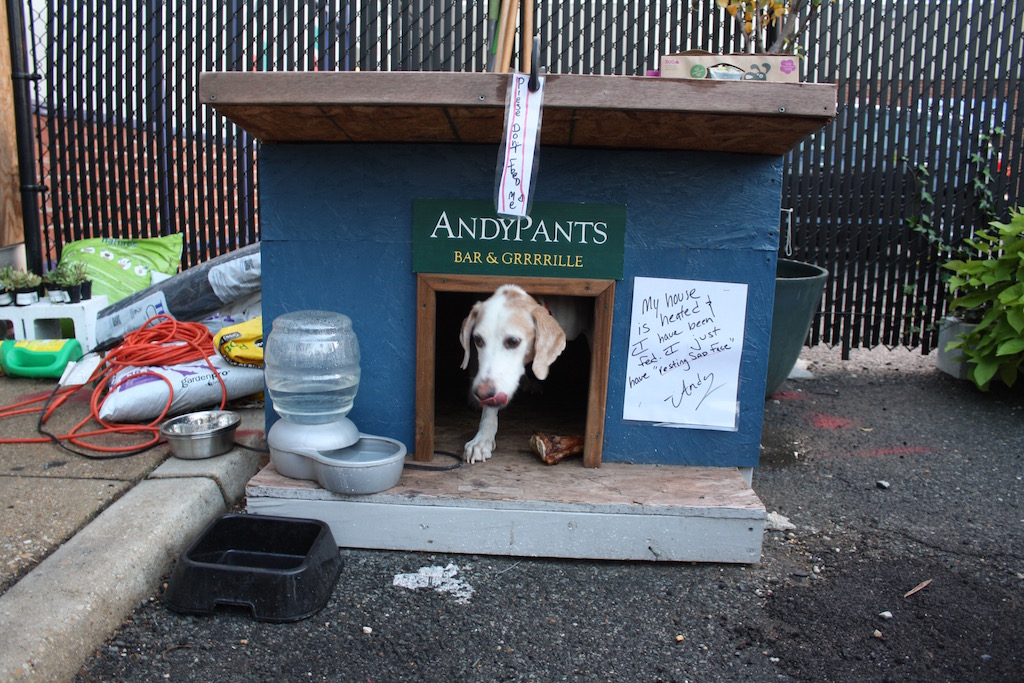 The beer garden is currently carrying 14 drafts—mostly a mix of German and local beers (3 Stars, Hellbender) plus PBR. Almost all the beers, except the super-alcoholic ones, can be ordered by the pint (16 oz.), mug (25 oz.), or stein (34 oz.). The only bottle available is Corona; you can get a bucket of five for $20. During happy hour from 4 to 6:30 pm on weekdays, all drafts are a buck off. There's also a discount if you buy your own branded glass.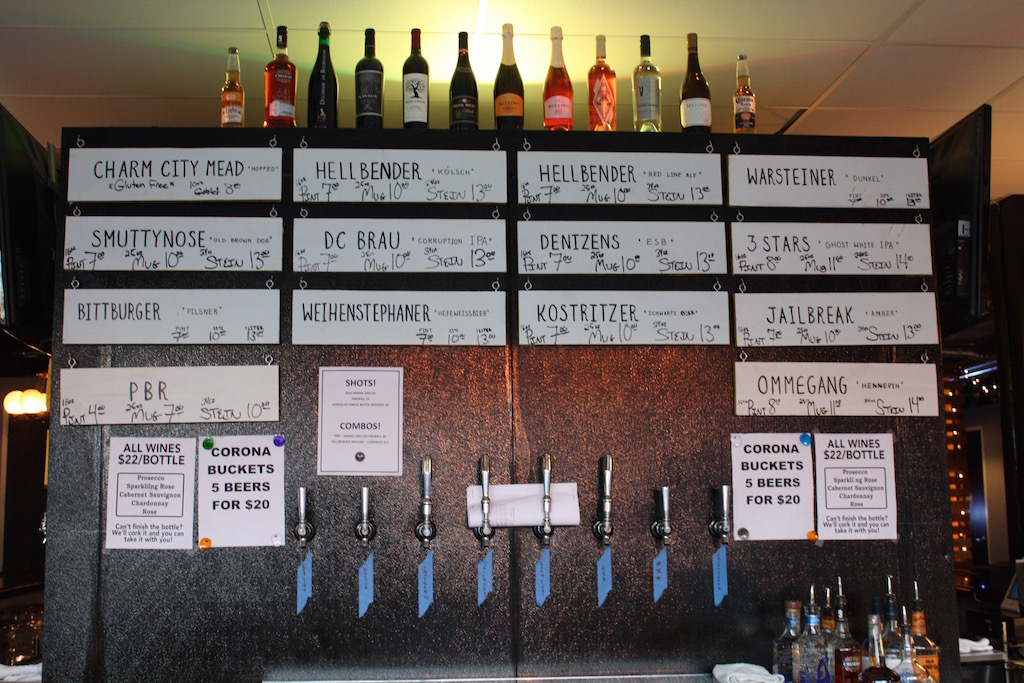 But just because it's a beer garden doesn't mean people aren't drinking wine. "The first weekend we went through a case of Merlot," Sherwood says. "Who knew?" The bar has about eight wines available by the bottle only. (If you don't finish it, they'll cork it and bag it so you can take it home.)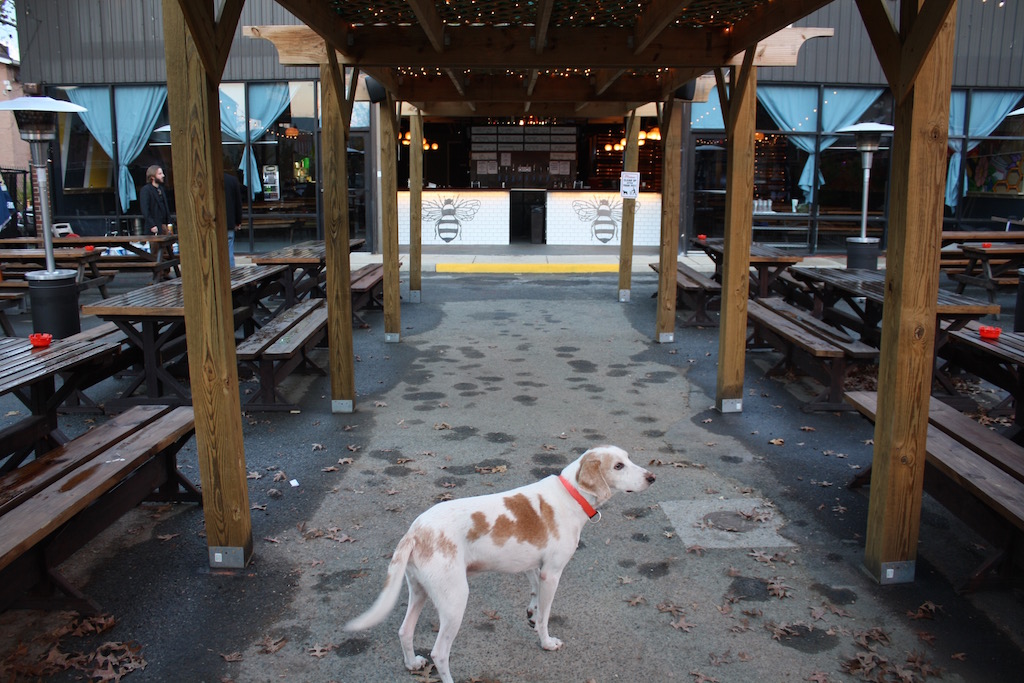 Sandwiches and salads are available "food truck style," which means you visit a window in the back of the bar to order and pick-up your grub. There's also cheese and charcuterie available in a picnic basket for $12. At some point, the owners hope to offer pig roasts on the patio. There's also talk of a hot chocolate bar, and even a waffle bar at some point.
Patrons are also encouraged to bring their own food if they'd prefer pizza or want to have a birthday cake.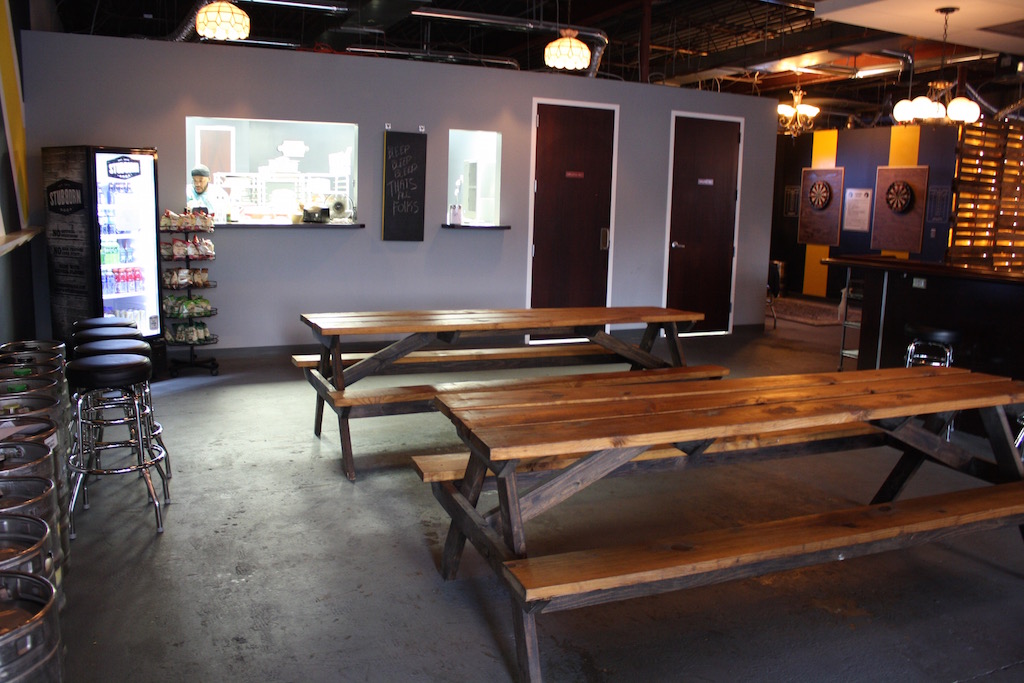 Two 100-inch projector screens will show Big Ten network, NFL, local baseball, and soccer. There are also two dart boards inside and cornhole outside.
A 40-foot mural from local artist Mike Tanoory—dubbed the "garden of beeden"—depicts cartoon bees, robots, a flying squirrel, and a pig with wings all drinking cans of PBR. (The mural is sponsored by PBR.)
In fact, bees, which are part of Midlands logo, are imprinted everywhere from the front of the bar to the glassware.
Why bees?
"Because we're a bee-r garden," Sherwood says.
The Midlands Beer Garden. 3333 Georgia Ave., NW. Open at 4 pm on weekdays and noon on weekends.