Re-imagine the season of light at Georgetown GLOW, the region's only curated exhibition of outdoor public light art installations. Set against the historic backdrop of DC's oldest neighborhood, it's a whole new way to shine.
Now in its third year, GLOW is even bigger for 2016, expanding from 10 nights to a month-long celebration from December 2 through January 1, 6-10 p.m. nightly. Eight local, regional and international artists display their works along and adjacent to the historic C&O Canal, Georgetown Waterfront Park, and Wisconsin Avenue. Georgetown GLOW is presented by the Georgetown Business Improvement District (BID) and funded in part by a grant from the D.C. Commission on the Arts and Humanities, as well as the generous support of event sponsors.
Follow the GLOW event page on Facebook @OfficialGeorgetownDC for the exhibition map and complete artists' details. Use #GeorgetownGLOW on Instagram @OfficialGeorgetownDC and post your "Glow and Tell" experience!
Watch this year's Georgetown GLOW preview video by clicking on the image below!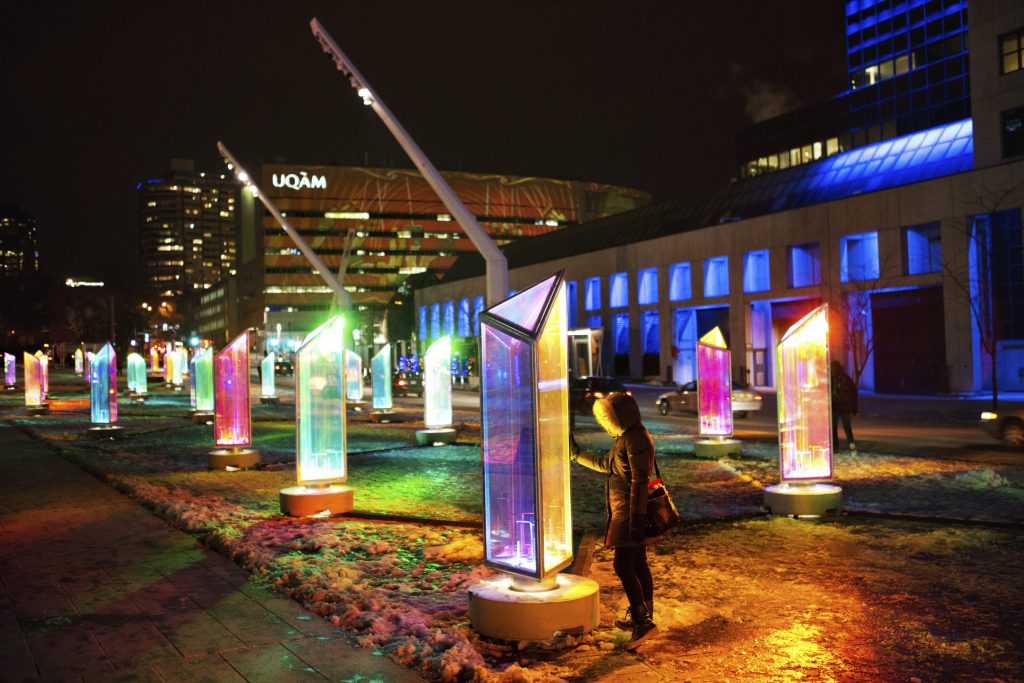 Visit www.georgetownglowdc.com/artists-map for the exhibition map and a complete description of the eight artists, their works and location.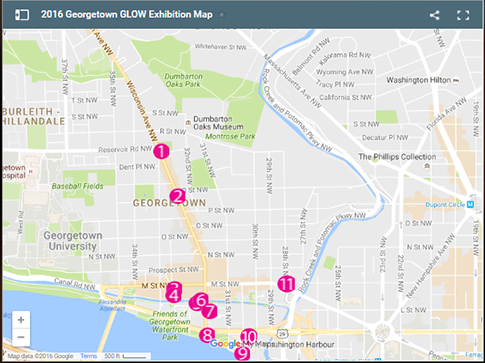 JOIN US FOR GLOW EVENTS DURING DECEMBER:
CURATOR'S TOUR, DECEMBER 8, 6:30 p.m.
Meet GLOW's exhibition curator, Deirdre Ehlen MacWilliams, on a tour of the eight art installations. Learn about the artists and technical aspects behind their works.
FREE AND OPEN TO THE PUBLIC
Thursday, December 8 Meet at 6:30 p.m. in front of the Washington Harbour Starbucks (3050 K Street, NW). Tour will begin by 6:45.
RSVP at www.georgetownglowdc.com/about/
SILENT DISCO, DECEMBER 10, 7 – 10 p.m.
Join the Georgetown BID and Art Soiree for Silent Disco, an ultimate music and dance experience, on the lawn of Grace Church (1041 Wisconsin Avenue, NW), against the backdrop of artists Aether + Hemera's beautiful "On the Wings of Freedom" installation.
FREE AND OPEN TO THE PUBLIC
View the Facebook event page here for more information.
"GLOW RIDER" BICYCLE RIDE BY DC BIKE PARTY, DECEMBER 14, 7:30 p.m.
Join DC Bike Party for their monthly ride. Deck yourself, and your bike, with holiday lights for this festive, fun ride. Meets at 7:30 p.m. at Dupont Circle, followed by a ride through most GLOW installations and a finish at a Georgetown bar. Details at www.dcbikeparty.com or on Facebook/DCBikeParty.