Last winter, House speaker Paul Ryan showed up at work sporting a short set of whiskers he dubbed "a hunting beard." It made him one of the first big-name Washington pols to wear a beard in more than a century. The last US President to rock a full beard was Benjamin Harrison (1889–93), though William Howard Taft had a Captain Crunch–like handlebar mustache in the early 20th century.
Ryan shaved soon after. But elsewhere around Washington, guys seem to be growing beards with more frequency—and more variety—than anytime since the Gilded Age. And not just scenesters hanging out at DC Brau.
"There's a huge demographic of thirty- and fortysomethings wearing beards, but they work in places like law offices and the government," says Melanie St. Clair, co-owner of Arlington's new Hendricks Barbershop. "The new wave of facial hair ties into the old-school way men are presenting themselves. They wear bow ties, they dress up, and beards seem to complement that." But, she adds, these men want beards tailored and neat.
Whiskers have benefits: Not shaving means fewer ingrown hairs and less time getting ready in the morning. Some people love a guy with facial hair. Plus lots of men like the way beards make them look and feel. "My beard hides what I consider my baby face," says Mike Friedman, the chef at DC eateries All-Purpose Pizzeria and Red Hen. "My beard basically makes me look less fat."
Still, there's a woolly area between dapperly hirsute and Charles Manson furry. Here's how to grow and care for a beard.
Before You Show It
There's a period in beard growth—maybe 10 to 12 days after you step away from the Gillette—that careens between Miami Vice five-o'clock shadow and Al Gore's post-2000-election unkempt face lawn. Launching a beard takes patience.
"When you start growing a beard, you have to give it time to get to an even fullness," says Paul Willis, a barber at Hendricks. "A lot of men have patchy growth for a few months."
Most guys need to leave their whiskers alone for the first ten days or so to get an idea of the beard's eventual shape and length. Then they can trim it—or have it professionally tended—three to four weeks in. "I enjoy the drama of the growing-out process," says Max Kuller, wine director for the restaurants Estadio and Proof. "It's satisfying when it finally gets so long I can thoughtfully stroke it."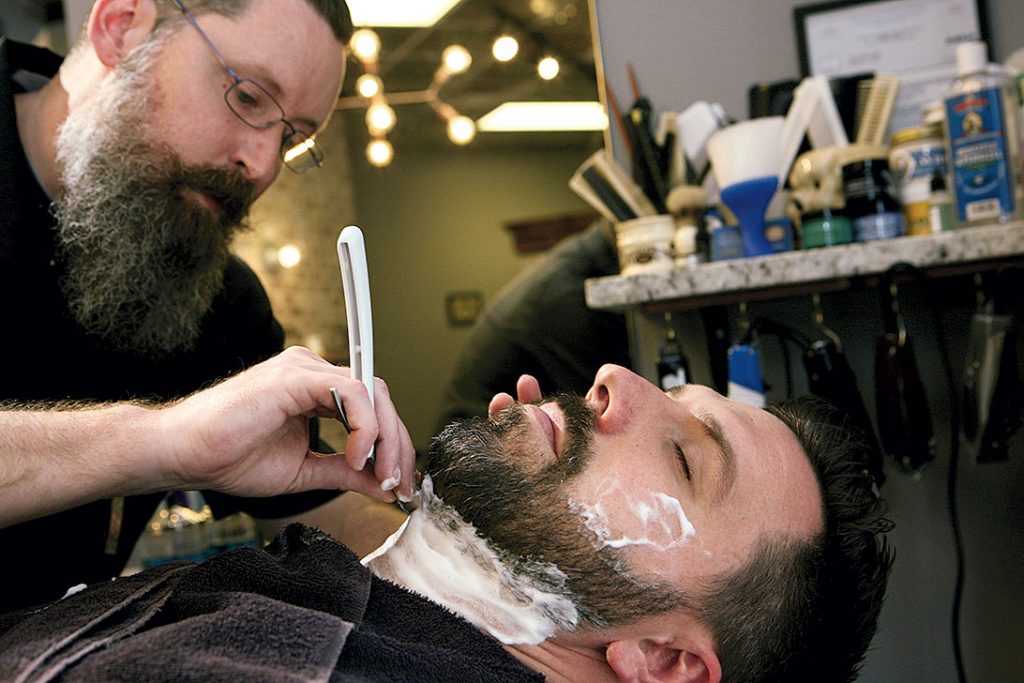 The Dreaded Itch
Besides looking a little Unabomber-esque during the first days and weeks of beardiness, guys also usually experience itching.
"The new hairs curl around and create discomfort," says Michael Gilman, founder of the Grooming Lounge, a local chain that specializes in men's beauty products and salon services. "Follicles grow every which way, tickling skin and creating that scratchy feeling, especially in the neck. This is when men most commonly call it quits."
Experts recommend using beard oils (more on these later) to moisturize skin and minimize discomfort. A few drops of oil make hair softer and less likely to feel prickly. A facial scrub can also reduce flaky skin and irritation.
The Shape of Beards to Come
A few weeks in, men have decisions to make. Some can't grow very impressive full fringes (i.e., the neck-beard syndrome seen in so many late-19th-century family photos). Others get a bushy-enough effect that they have to start thinking about trimming.
"The shape of your beard depends on a lot of things—how conservative or creative your office is, how much hair you can grow," says Willis. "In general, you want to keep the sides long and lean and the bottom fuller and clean." However you trim it, the idea is to make your face appear as oval as possible. Leave at least an inch or so of beard wrapping your chin—it'll ensure that you don't look too large-jawed or out of proportion.
Office politics and genetics aside, what length a guy grows his beard is simply a matter of preference. "I don't trim my beard at all," says Peter Huestis, a well-groomed National Gallery of Art specialist currently showing off ten inches of slightly curly, gray facial hair. The effect? Hip elder in a Dutch Old Masters painting. "People stop me on the street and compliment me," he says. "Yes, I've occasionally been mistaken for Santa."
The Cut
Whether you choose a full-on Brooklyn lumberjack or a sleek George Clooney, trimming and taming facial hair is key to avoiding a wild mountain-man vibe. How often you trim it depends on growth, but you'll generally want to tackle your beard once a week. Many guys schedule a monthly barber appointment to keep things shapely. If you DIY, that generally means using an electric beard trimmer with a guard, the better to keep you from taking chunks out of your whiskers.
"I trim a few flyaways from my face every day," says facial-hair fan Bryan Ewsichek, a government graphic designer who currently sports a two-inch full beard. "Then I'll take a small pair of barber's scissors to finish up. "
The mustache adjacent to your whiskers also needs manscaping, usually more frequently than a beard and using a closer setting on the trimmer. Most barbers say solo mustaches aren't very popular now.
Not Shaven But Clean
Some men shampoo their whiskers when they wash their hair in the shower; others do it at the sink before grooming their face. "There's this misconception—especially when people see bearded men working in a restaurant—that beards aren't clean," says Friedman. "That couldn't be further from the truth. No one is hiding a Chihuahua or birds in there." Some shampoos are formulated for beards, but regular shampoo also works.
Conditioner can soften beard hair, usually coarser than scalp hair. It also cuts down on flaky skin. "Trust me," says Huestis, "beard dandruff is a thing, and it's not a good look."
Grooming Tips
Much like your coif, a beard benefits from grooming products to keep hair in place. "I prefer a nice beard oil to pat all the craziness down," says Ian Palmiero, the bearded owner of Takoma Park's Scissor & Comb salon. Oils incorporate a range of ingredients such as jojoba oil and citrus. Simply smooth in a few drops after shampooing.
Beard balms offer a firmer hold, especially helpful if you've got lots of flyaways or curlier hair. "It's what will really keep things in place and well groomed," says Willis. "Pomades are great unless you want your beard to flap in the wind."
Yes, There Are Challenges
Having a beard doesn't alter your life that much, unless Mumford & Sons offers you backup string-bass position. But there are some cautions to bear in mind.
"The longer your beard gets, the more you have to think about food," says Huestis, who recommends keeping a napkin and nonjudgmental dining companions handy. Says Willis: "Straws are your friend. And you'll usually be drinking beer from a bottle."
Longer whiskers can get caught on zippers and under backpack straps. Still, most guys find facial hair to be a positive addition to their lives. "It keeps me warm in the winter," says Palmiero, "and my wife says she'd leave me if I shaved it."
This article appears in the December 2016 issue of Washingtonian.