Normally when we write restaurant previews, we include just five interesting things readers should look for. But there's a lot going on at Farmers & Distillers, the restaurant, bar, and distillery from the Founding Farmers team. The $7 million Chinatown spot has around 220 employees, more than 300 seats, and 150 dishes on its lunch and dinner menu.
So instead, here are 20 things to look for. Bear with us.
1. Vodka, gin, rye whiskey, and amaro made on-site
Longtime beverage director Jon Arroyo has worked with Virginia's Copper Fox Distilling over the past few years to produce Farmers Restaurant Group-branded gin and whiskey. Copper Fox will continue to get the distilling process started (milling the grains, fermentation, etc.), but Farmers & Distillers will then run the product through its own stills and finish the process on-site.
The "Founding Spirits" rye, gin, and amaro (infused with 21 different botanicals) will be available at the bar in January, while the vodka is already being used in cocktails. Bottle sales will come early next year.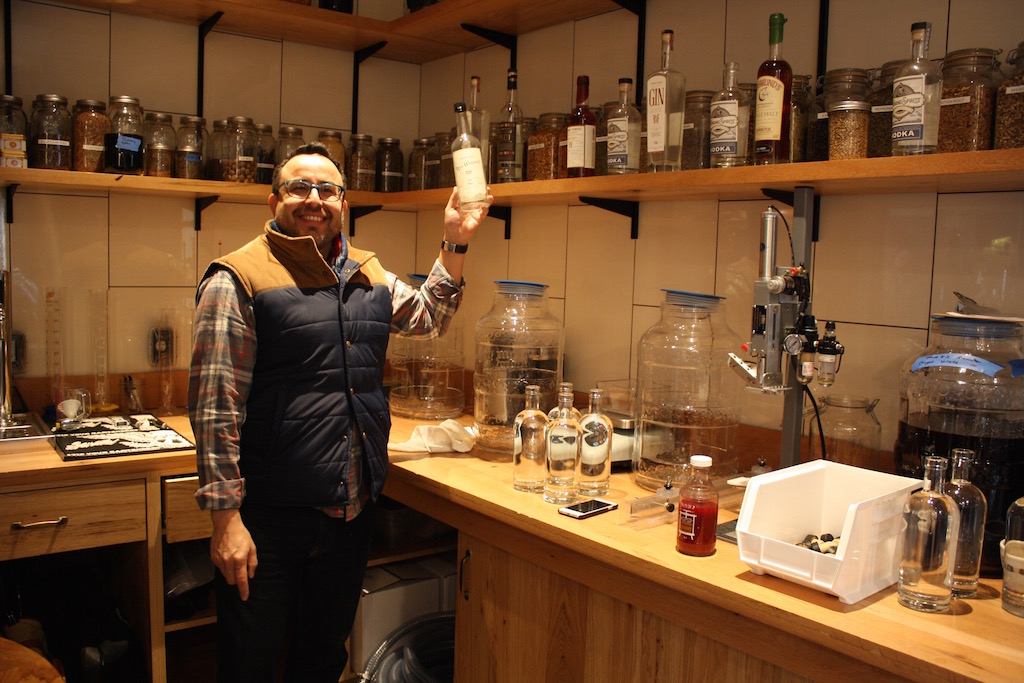 2. There are 40 cocktails. 
And all of them will include Founding Spirits products.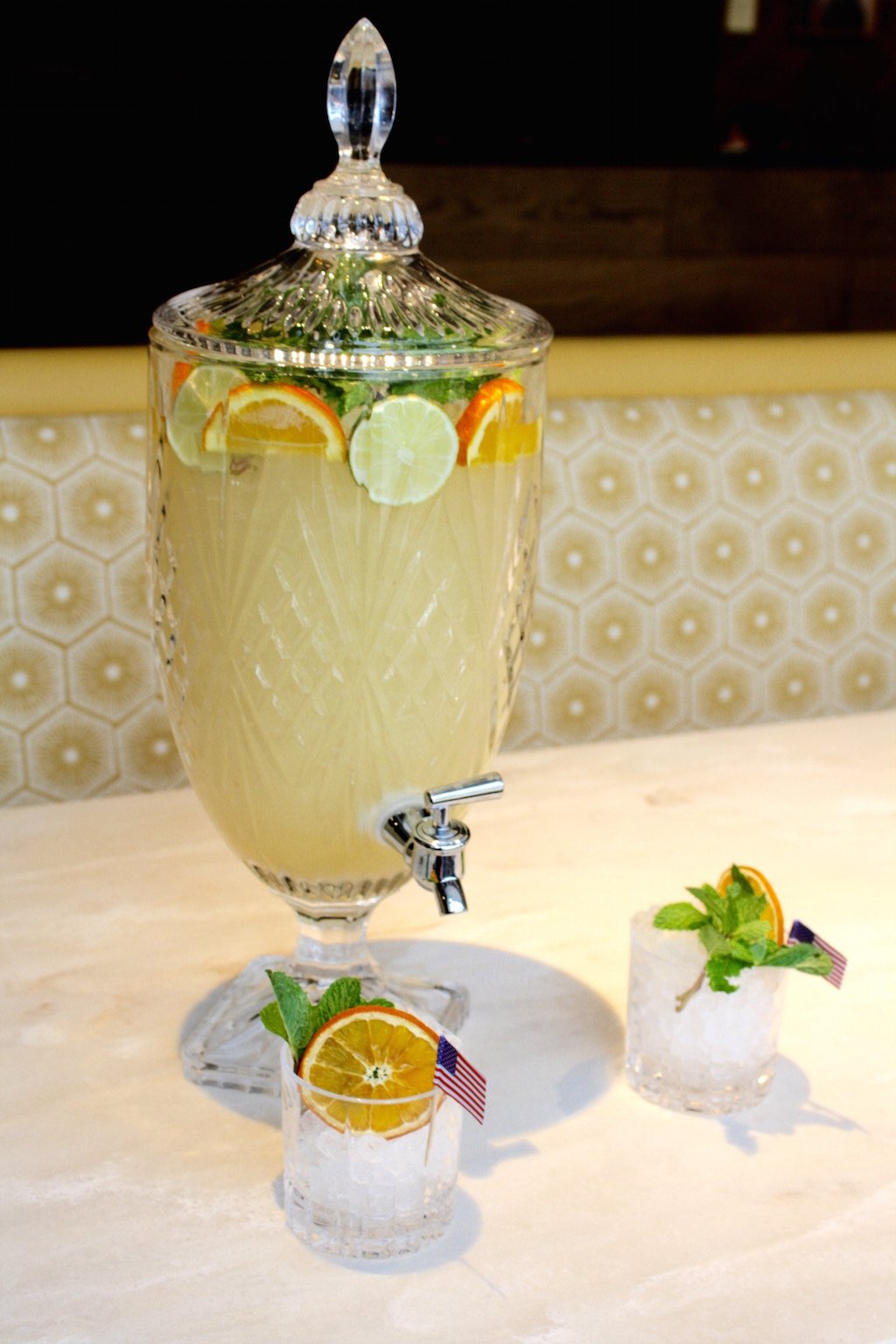 3. Some of the cocktails are enormous. Seriously enormous.
Dubbed "whimsical shared cocktails," these drinks can serve two, four, six, or more. They're served in two sizes of copper pineapples or a punch dispenser. As Arroyo explains, a lot of what the restaurant offers is communal (tables, dishes), so why not cocktails beyond tiki?
4. A sprawling menu with around 150 dishes
Caviar? Cacio e pepe? Shrimp and grits? Steak? Pizza? Chinese dumplings? This menu covers it all—and then some. "You might look at this menu and think it's all over the place," co-owner Dan Simons says. "But we can point at any menu item, and I can say, 'Here's how it connects.'" (More on that below.)
Simons says you have to take a "something for everyone" approach with a restaurant this big. "You're not going to fill a sushi restaurant with 300 seats," he says. Plus, the restaurant is owned by the North Dakota Farmers Union, so their goal is to sell as much as their farmers' products as possible.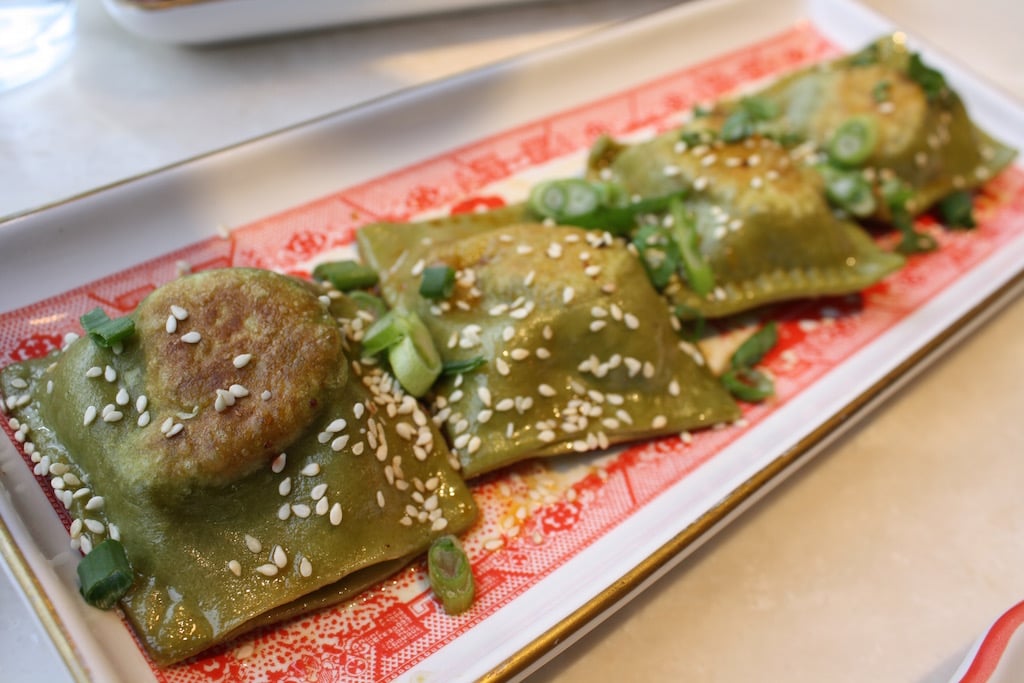 5. A lot of Chinese food
Huh, you say? The restaurant is located on the edge of Chinatown, and so its menu nods to the neighborhood's past. "Our thought was don't try to white-wash and erase the history," Simons says. "Why not do our modern version of being respectful to it?" Among the offerings: dumplings (above), imperial spring rolls (below), sandwiches made with Chinese shaobing bread, and hand-pulled noodles.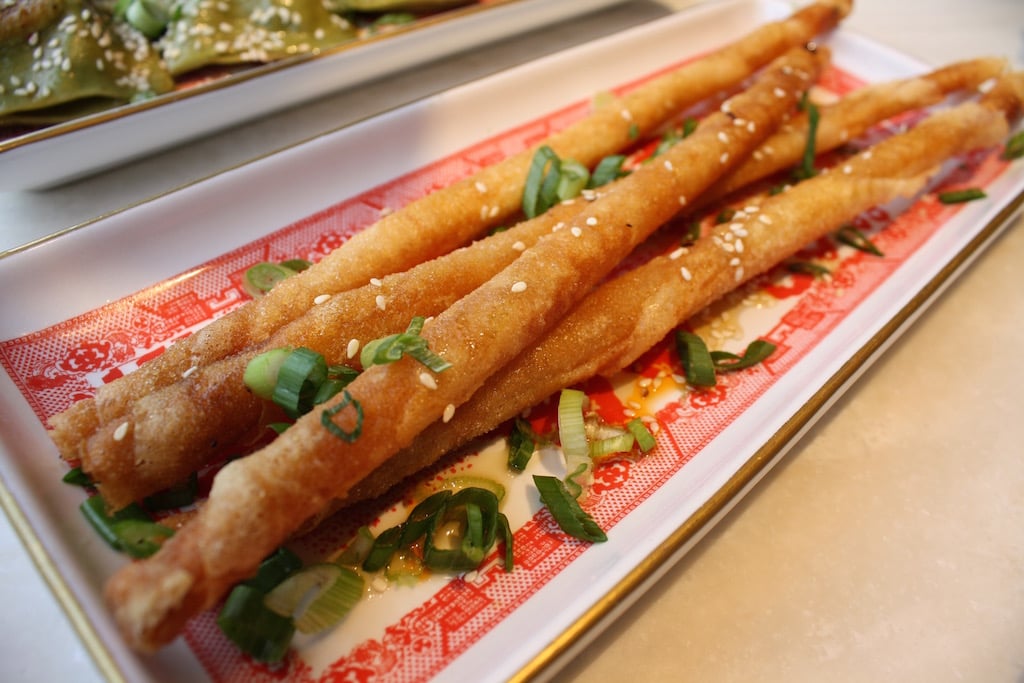 6. German influence
The neighborhood was heavily populated in the 1800s by German immigrants, and so that history is also reflected on the menu with dishes like pork schnitzel.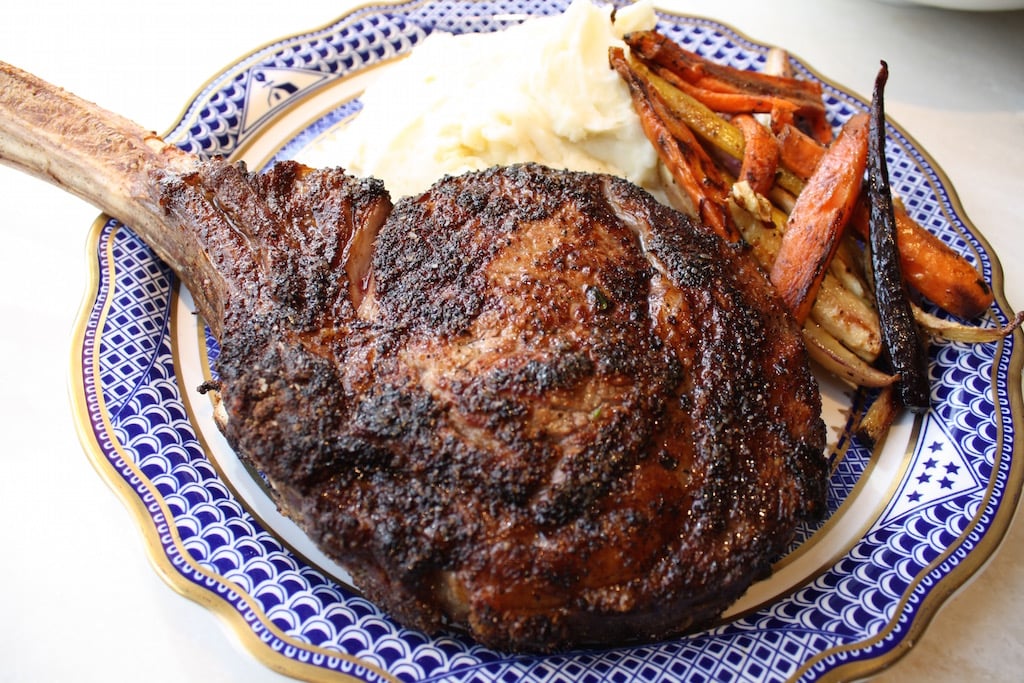 7. Big portions
See above. And below.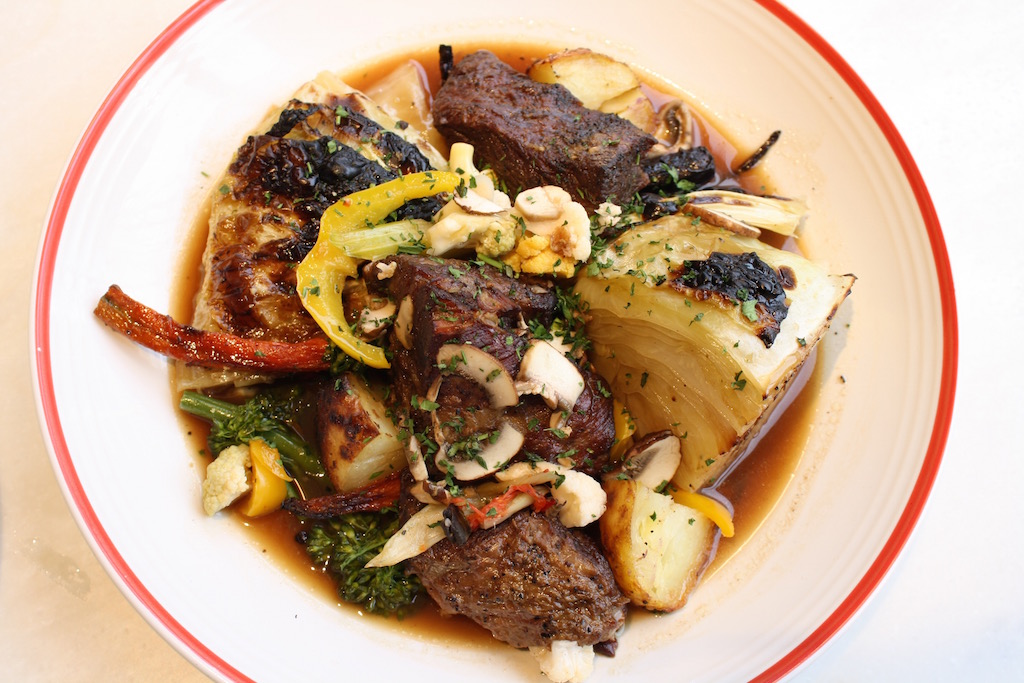 8. Handmade pastas
And breads baked in-house (with North Dakota flour).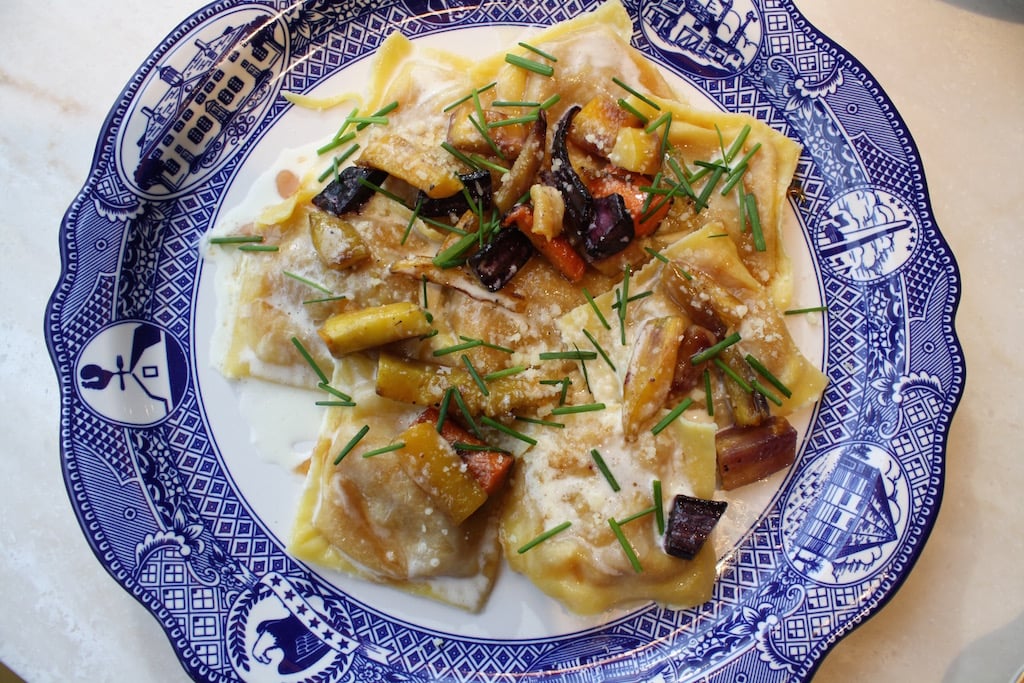 9. A coffee bar
Weekdays from 7 to 10:30 am, guests can stop by the "First Bake" counter for a custom blend from Compass Coffee, breakfast sandwiches, and other pastries made in-house. People can then seat themselves in one section of the dining room and setup with some free wifi. (The rest of the dining room is for full-service breakfast.)
10. Juice cleanses
The restaurant makes its own cold-pressed juices, which are available as multi-day cleanses. They're also available at the Tysons Corner Founding Farmers.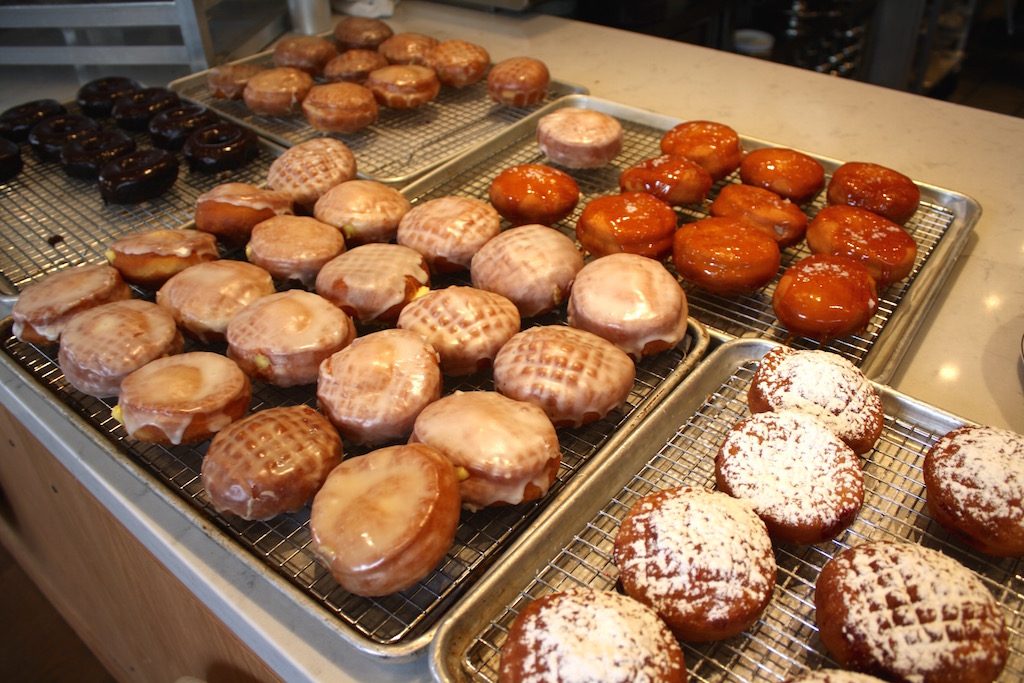 11. Dollar doughnuts all the time
Or six for $5.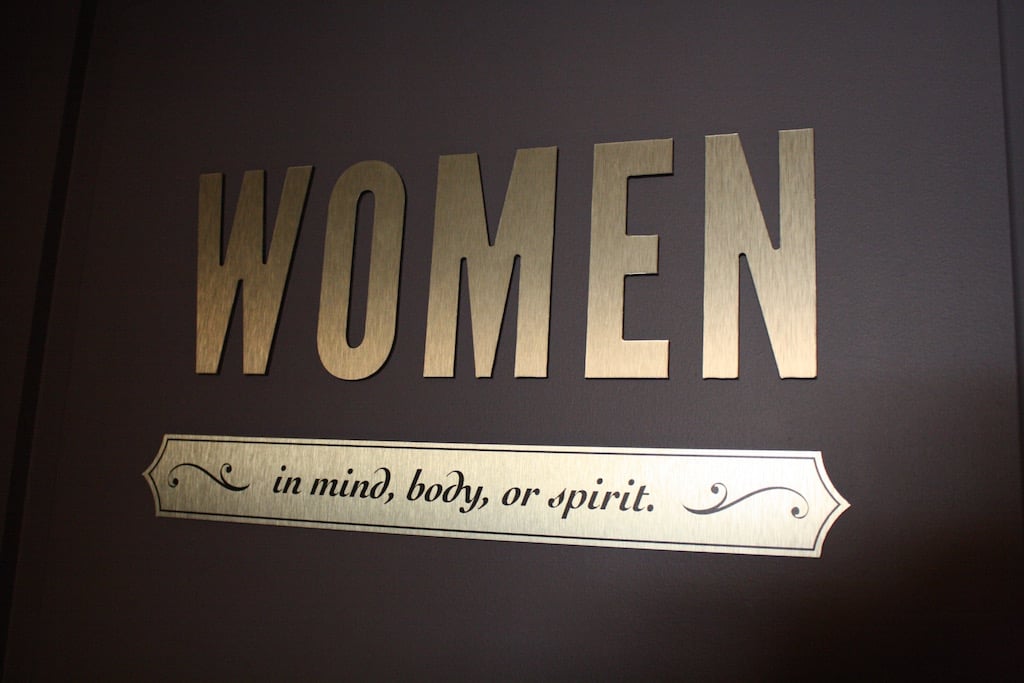 12. Progressive restroom signs 
"Why shouldn't everybody just feel totally welcome?" Simons says. "I wasn't trying to be edgy or take a position, I was just trying to make our belief clear, which is if you're feeling like woman, us the women's room. If you're feeling like a man, use the men's room."
13. A George Washington theme
The restaurant commissioned a Farmers & Distillers "coat of arms" depicting the founding father as a farmer, leader. He and Mount Vernon are also portrayed in a mural along the back wall and elsewhere in the space. Washington's love of fish and appreciation for European cooking are also reflected on the menu.
14. Recognition of Washington's slave history
That same coat of arms also displays the names of the enslaved chefs who cooked at Mount Vernon. Their influence is also felt on the menu: "When you look at the tortellini with black-eyed peas, ham hocks, corn bread, that's a nod and respect to the enslaved people and the influence of the food that they were cooking for themselves," Simons says.
15. "Microclimates"
Different sections of the dining room have different decor and names. One area called the "barn wedding" is designed to look like "a charming outdoor wedding at Mount Vernon," Simons says. Another area inspired by the gardens at Mount Vernon is called the "pleasure garden." The flower-covered ceiling will soon include hummingbirds and fairies.
16. Local artists
Paintings, sculptures, and murals come from local artists, and each installation has an explanatory plaque like you might find in a museum. "I'm really trying to be an art gallery," Simons says. "For me, it's as much about the artist as it is the art."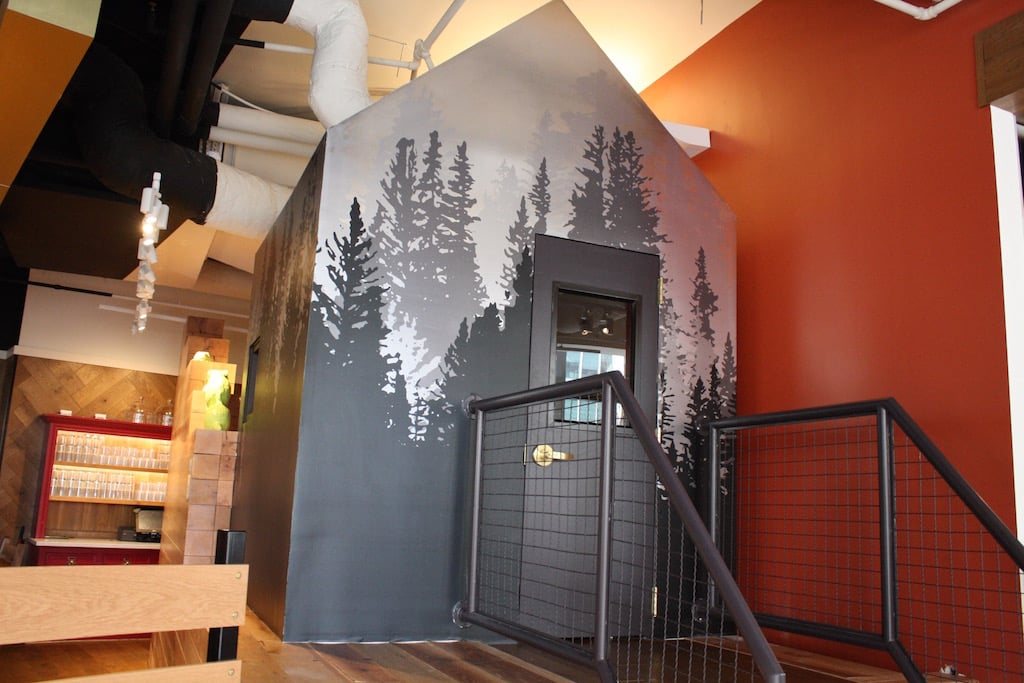 17. A treehouse
Straddling the bar and the dining room, this elevated treehouse is currently being used for storage. Eventually, it will be turned into an office and "control tower" where managers can monitor the floor. "We'll see if that idea works, if not I'll put a little table in there and do dinners for two in the treehouse," Simons says.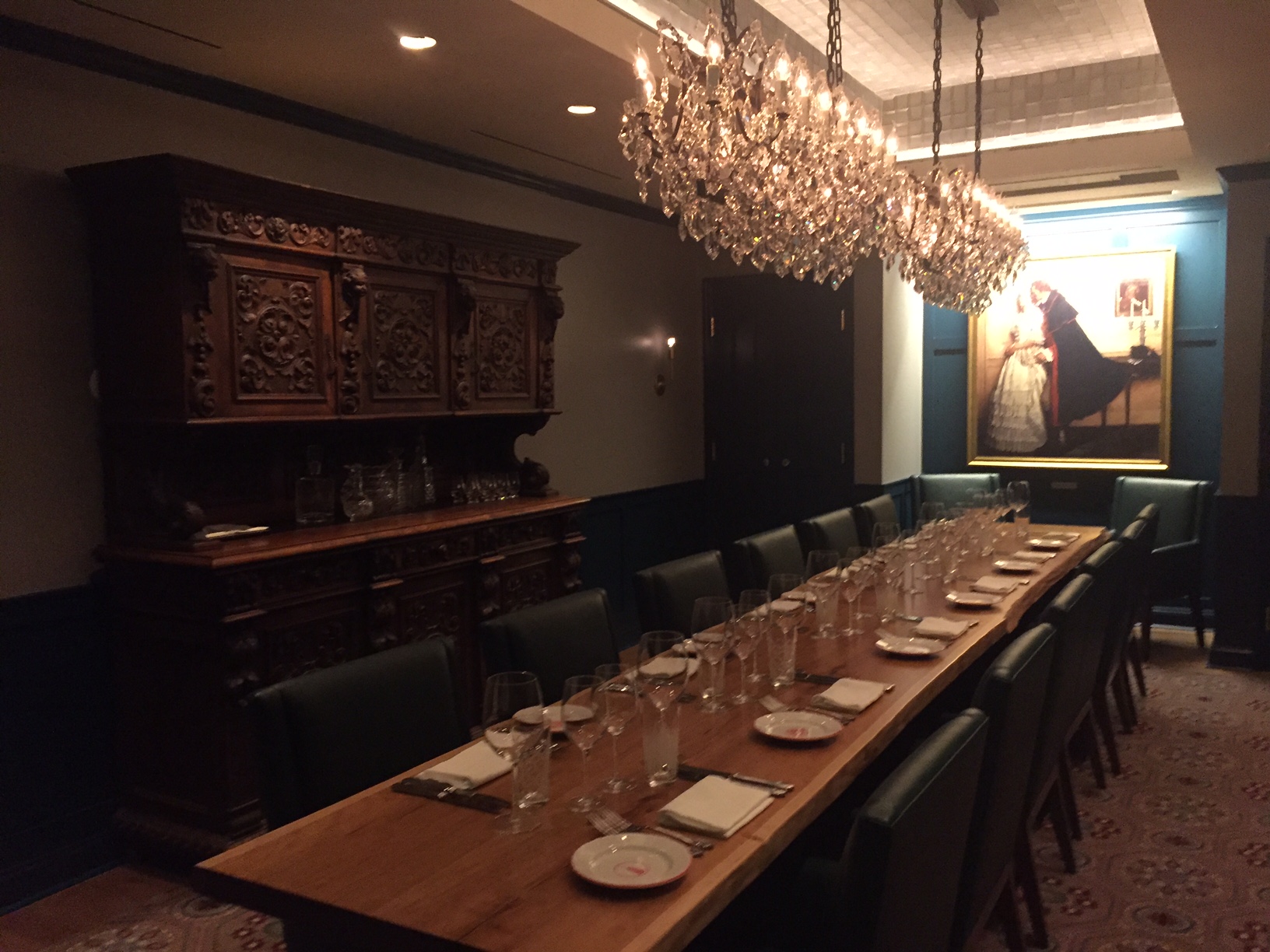 18. A private dining room that looks fancier than you'd expect
Head downstairs, past the basement kitchen, and you'll arrive at the "general's parlor," a private dining room or distillery tasting room. "I wanted it to feel like you're actually inside a cocktail glass, kind of swirling around shimmering," Simons says.
19. The place is already packed.
That zero-star review of Founding Farmers from Washington Post critic Tom Sietsema this summer doesn't appear to be having much effect on the restaurant brand. More than 6,000 people came through the restaurant in its first seven days.
"The data seems to show he is out of touch with the mainstream," Simons says of Sietsema, "and I'm a mainstream guy." That's not to say Simons totally dismissed the review—he agreed with criticisms of some of the dishes, even if he didn't understand the level of vitriol.
"That was withering criticism, right?" he says. "I talked to our guests, and I looked at what we were doing, and I thought, 'You know what? I know why we're doing what we're doing, and it's working.'"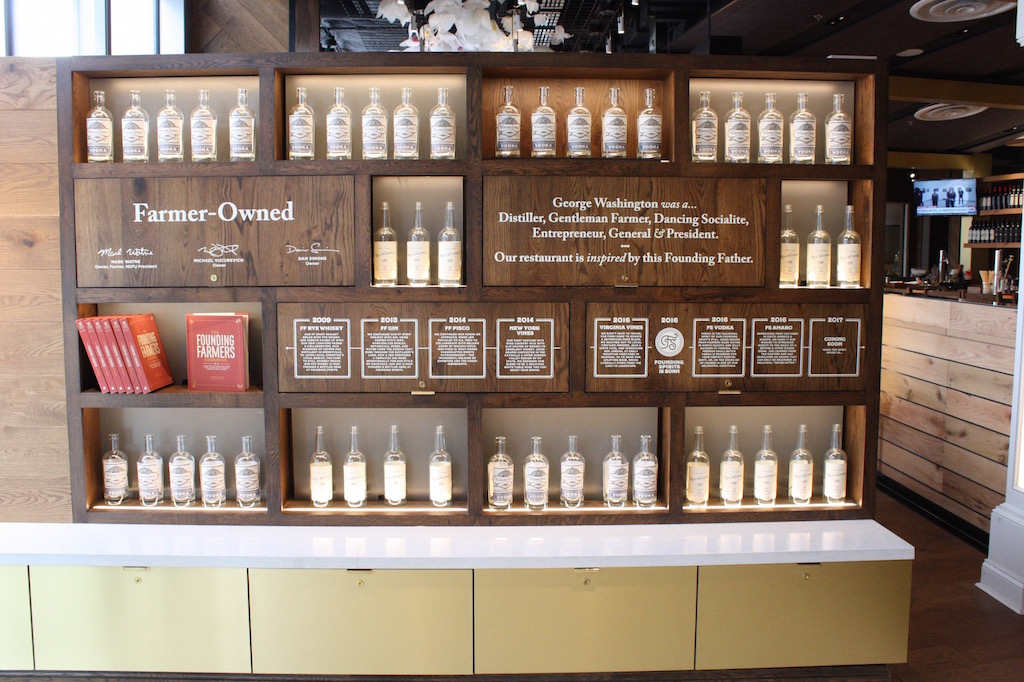 20. A lot of 'splainin'
Between a display at the entrance describing Farmers Restaurant Group's entrée into distilling and a lengthy mission statement on the menu, there's a lot of explaining going on. That is in part consequence of the zero-star review: "Maybe I'm a little more inspired to communicate," Simons says. "I feel like we have the most defensible thing going on."
Farmers & Distillers. 600 Massachusetts Ave., NW; 202-464-3001.