Baltimore-Washington International Thurgood Marshall Airport (BWI) just made it a little easier for constant travelers to stay fit. On Tuesday, new gym chain Roam Fitness opened their first location behind security between concourses D and E at BWI.
The gym is stocked with cardio equipment, including one elliptical machine, one stationary and one recumbent bike, two treadmills, and a rowing machine. For strength training, the gym has dumbbells ranging from five to 50 pounds, two weight benches, medicine balls, and TRX straps for suspension training. Finally, there's a space where clients can stretch or practice yoga.
But while the equipment itself is typical of a petite gym, what sets Roam apart is amenities targeted at travelers. The lockers where you can stick your carry-on have outlets, so you can charge your electronics while you work out. Didn't pack workout clothes? Roam has complementary clothing and shoe rentals—they stock Lululemon clothing and Brooks Running Shoes sneakers. If you're not comfortable sweating in pre-worn clothes, they also have a small boutique where you can pick up brand-new gear. Or, if you thought ahead and brought your own, Roam will vacuum-seal your sweaty clothes so they don't stink up the rest of your luggage.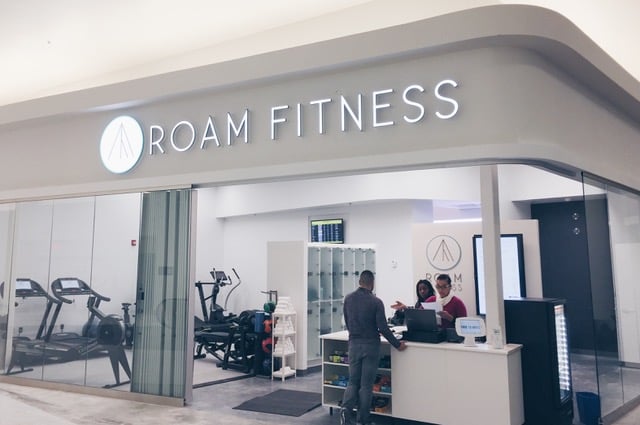 Once your workout is through, you can hop in the shower for a complementary 15-minute rinse using the gym's Malin + Goetz products and towels. Afraid you'll zone out and miss your flight? The showers rooms are also equipped with Amazon Echo Dots to keep you updated.
So what's it cost to work out during a layover? A single visit is just $25, and it includes everything—lockers, showers, towel service, clothing rental—during Roam's promo pricing period, which will last through April 1. Roam is also offering special pricing through April 1 for a monthly pass ($150) or an annual pass ($500) for frequent travelers. After April 1, pricing will be $40 for a one-day pass, $175 per month, and $600 per year.
Roam Fitness is now opening at the D/E connector behind security at BWI Airport.
This article has been updated.