I haven't felt this hopeful about my favorite sports team since January 15, 2007. I was an eighth grader at the Verizon Center that night, when in the waning seconds of a tied game against the Utah Jazz, Gilbert Arenas, the Wizards' star point guard, calmly dribbled the clock down to its last tick before hoisting up a three-pointer. Everyone in the stadium anxiously tracked the ball through the air, except Arenas, who turned around with his hands up in celebration before the shot even went in, like he was Arnold Schwarzenegger sauntering away from a movie explosion. Once the ball finally splashed through the hoop, the packed crowd erupted.  
There was a lot to cheer for back then. The Wizards were playing with gusto as one of the top teams in their conference, and Arenas was on a tear–frequently scoring 50-point games and buzzer-beating jump shots with a cocky nonchalance the NBA had never seen. His personality was just as vibrant: The guy had his own blog (back when celebrity blogs were still a thing). He called himself Hibachi. He threw his jersey into the rafters after every win. He dunked off a trampoline. "I'm going to break all the records that are here," he told a reporter after the Utah game.
That, ahem, didn't happen. Arenas showed up late to a game against the Charlotte Bobcats toward the end of that season, and was benched for most of the first quarter. Then he entered the game stiff and almost immediately tore his meniscus, ending his season. Then he sat out most of the next two seasons with nagging knee issues. Then he got into a heated argument with a teammate and brought four guns into the locker room. Then he got suspended. Then the Wizards became the laughingstock of basketball, and the familiar DC sports narrative of inching ever so close to greatness only to screw up began anew.
It's really easy to get cynical about the Wizards, along with the rest of our local teams. Glimmers of hope and brilliance get thrashed with the force of a thousand Crying Jordan memes come playoff time, year, after year, after year. We have the longest conference finals drought of any major sports city, and have turned fatal collapse into performance art–here's a painful video to help jog your memory.
That's why the Wizards' rise to NBA relevance over the past two months has been met with a guarded, half-hearted optimism from the team's staunchest fans. I'm constantly advised not to get my hopes up, that we'll never make the finals with our current roster, that we're better off being a bad team with a good draft pick, that we'll choke like DC sports teams always do. I've mulled all this over, and I've decided to forget all the buzz-killing noise–this team has a special edge to it. This team can compete with the Cleveland Cavaliers for a title shot.
Amid the rubble of the Arenas fiasco emerged three top-tier draft choices. All three of these players were often chided for not living up to their potential. But at this moment, they're playing like the best possible versions of themselves.
The newest member of that trio is Otto Porter, a former Georgetown Hoya who struggled to get court time during his rookie season. Now, he's the league's most efficient three-point shooter and a lockdown defender–a surefire candidate for this year's Most Improved Player award. As someone who shirked partying in favor of eating pizza with his parents the night he became a professional athlete, the industrious Missourian is impossible not to root for, and quickly becoming a frightening two-way player.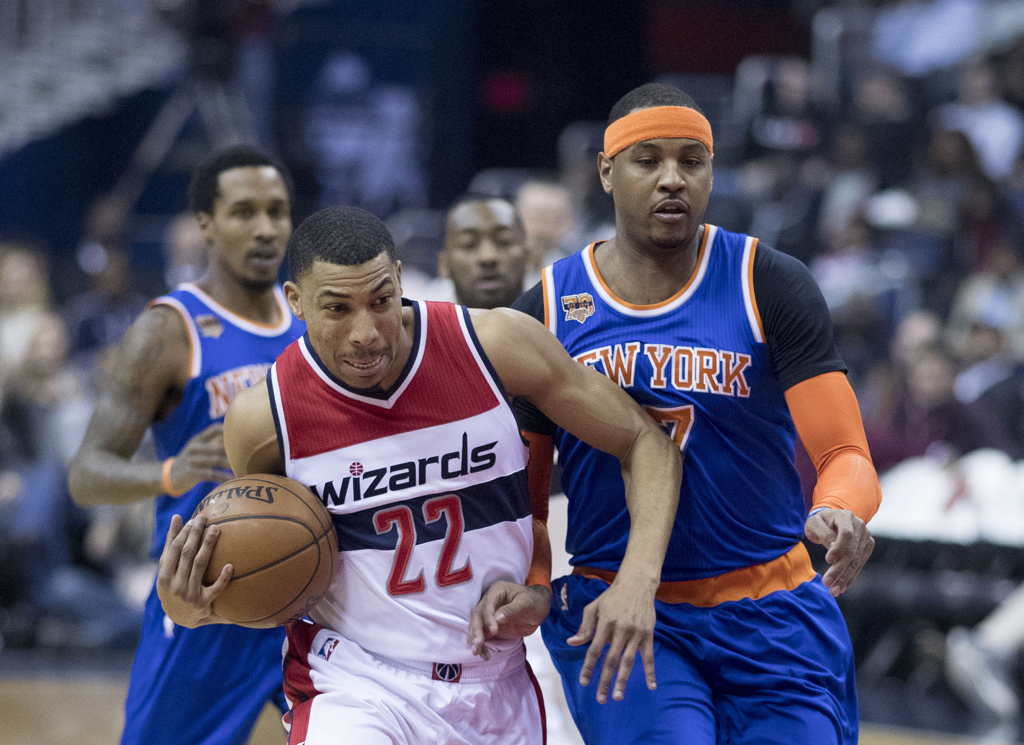 The year before the Wizards drafted Porter, they plucked Bradley Beal, a young upstart shooting guard with a lethal, silky-smooth jump shot. The "Big Panda" was promising when he was healthy, but missed clusters of games in his first four seasons thanks to a series of injuries. The front office gambled last summer and signed him to a $128 million contract, which not everyone thought he deserved. But he's been brilliant this year, proving to be the Wizards' best scorer since Arenas and someone who never shies away from big moments.
And of course, there's the centerpiece: Johnathan Hildred Wall, Jr., the player who's turned our franchise around, and maybe made those post-Arenas years in the wilderness worth it. He "Dougied" into the league six years ago and hasn't looked back. When the ball's in his hand, he's a speeding bullet who can pass through the smallest of spaces right into his teammates' sweet spots. He takes over late in games, punishes opponents on defense, and elicits a playful exuberance that's becoming contagious throughout the roster. The facts that he's never made an all-NBA team and still doesn't have a shoe deal are beyond me.
Wall's posting the best points, assists, and steals numbers of his career this season. He's a tireless engine that makes his team go, but he's also the league's most earnest star, who never cowers behind a veil of inauthenticity to sway public opinion. He dedicated an inspiring 2014 performance to a six-year-old he befriended who died of cancer, and cried in a post game interview speaking of her. He speaks reverently of his mother, and gave her an emotional appreciation when he got his big contract in 2013.
But he's also quick to admit he likes to go out and have fun, and once openly confessed he'd struggle with monogamy. In an age when so many public figures are distrustful of the media, Wall embraces their curiosity. He speaks his mind when he thinks his team isn't getting the respect it deserves. While talking heads are quick to baselessly insult his character, Wall continues to be true to his self and play exceptional basketball.
When the Wizards started this season with a 2-8 record, people were ready to gut the roster. Beal was hurt and overpaid, Wall was thought to be unhappy and on the trade market. But then the team clicked—Beal started putting up 30-point games with ease, Porter decided to never miss another open three-pointer, and Wall took over in close fourth quarters.
The Wizards had won 11 straight home games when the Boston Celtics came to town, a team they got chippy with in their last match-up. S0 the Wizards wore all-black before the game, for a Celtic "funeral". People hated it because it was petty. I loved it because it was petty, and the Wizards won, and then won another five straight. They were suddenly being mentioned on ESPN for the first time in 21 months and I couldn't find any more affordable tickets on StubHub. Then they pushed the Cleveland Cavaliers to the brink on Monday in a thrilling overtime loss that had to be the NBA's best game of the year.
A lot of fuss was made last summer when Wall said he and Beal "have a tendency to dislike each other on the court," in what was thought to be a harbinger of of ill-will and dysfunction for the season to come. But watch a Wizards game and see how Wall reacts when Beal sinks a big shot, or how animated the two get with each other when the team starts to go on a run. They've been dynamic together since December, and after this week's Cleveland loss, the two co-penned a thank you letter to fans, vowing to try for a new win streak.
The Wizards clearly have their eyes set on a Eastern Conference finals berth this year, and why shouldn't they? They have the talent, chemistry, and edge to compete with the best of the league. Let's get our hopes up. There's a lot else to be cynical about in Washington, so let's give this Wizards team our unwavering support, and help them make a deep run. Because maybe this year is what the failed Michael Jordan experiment, Arenas-gate, Soulja Boy, Michael Ruffin's mutiny, and Paul Pierce's non-buzzer-beater have all been leading up to. Basketball's back in DC, in a big way, and we should all be excited about it.