On a Monday in late January, Dave Kaminski sits at a high top inside the World of Beer in Reston Town Center. It's happy hour, and the place is dead.
Kaminski explains that he moved to Reston to work at the World of Beer there because its staff was rumored to make around $15,000 to $20,000 more than other World of Beer locations in Northern Virginia. According to company owner Evan Matz, the Reston World of Beer was the most successful of the 70-plus locations nationwide in 2016. Plus, for Kaminski, who has a background in business, there were opportunities to network with guests through working at World of Beer due to all of the companies in and around the Town Center, like Microsoft and Bechtel.
Now, according to Matz, sales are down "substantially," over 25 percent, with Fridays–usually its busiest day–down 35 percent. Large groups are canceling, and regulars are migrating to other World of Beer locations in the area. "Monday through Friday, we were always packed with happy hour parties," says Kaminski. Now, "People are choosing to go elsewhere because of the parking situation."
The "parking situation" refers to the implementation of paid parking by the Town Center's landlord, Boston Properties. The publicly traded real estate development trust, headquartered in Boston with offices in DC, New York, Los Angeles, and San Francisco, bought out Beacon Capital Partners' last chunk of real estate in Reston Town Center in late 2015, a $206 million acquisition that put every piece of the 2.1 million square feet of office space and 360,000 square feet of retail under its control. At the time, parking was free. Then, on December 7, 2016, a press release from Boston Properties was sent to its tenants, announcing the rollout of paid parking to begin on January 3, 2017.
The new parking fee affects all six of the Town Center's garages and street parking, totaling 7,000 spaces. The fee might not seem like much—just $2 an hour—especially to city-dwellers, who're accustomed to pricey lots. Still, in many of Virginia's suburbs, free parking is the norm. Reston businesses say they have seen such a detrimental impact since its rollout that a few dozen have rallied together to determine an effective strategy in pushing Boston Properties to do away with the paid parking, or at least offer a few free hours. The efforts, led by Aaron Gordon, owner of Red Velvet Cupcakery, and Aaron Mervis, vice president of Thai-Chinese restaurant Big Bowl, are designed to prevent further revenue losses (Mervis says Big Bowl has seen a loss of 10 to 20 percent in sales compared to last January). Further, they hope to bring back Town Center customers now opting to visit other nearby centers that have free parking.
For some retailers, the $2-an-hour parking fee isn't even the issue. It's the implementation. "The loss of sales is one thing. The second thing is just the poor rollout, frankly," says Gordon.
All parkers are required to download a free mobile app called Park RTC. The app is used to activate a parking session, which can be paid via an enrolled credit card (similar to Park Mobile), or at a pay station. While the instructions are detailed on the Reston Town Center website, the signage doesn't make it clear to patrons who are parking in real time, or to many members of the community, young and old. "No one knows how to do it," says Gordon. "Tech-savvy youngsters don't know how to do it."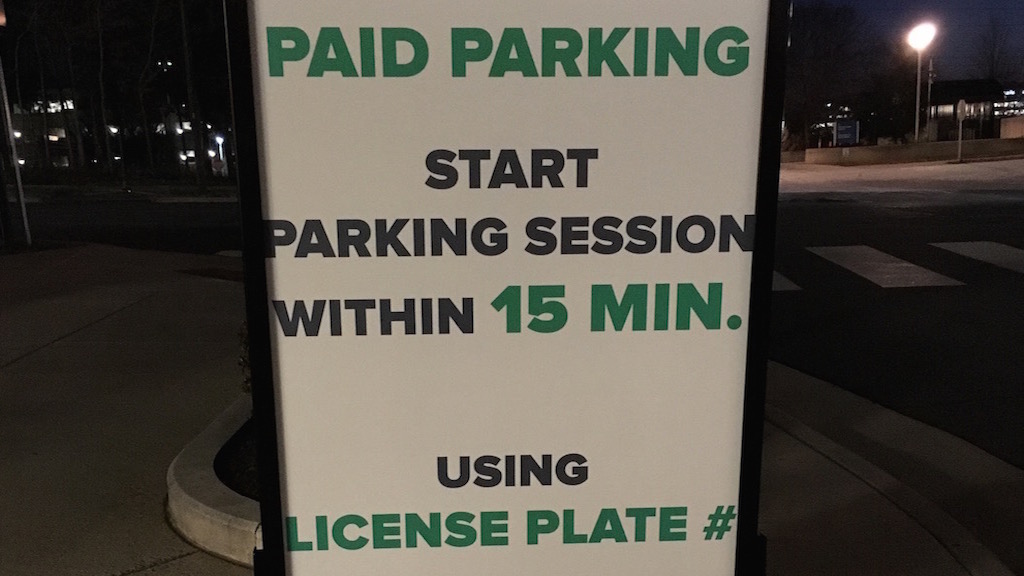 At one of the meetings, it was wondered aloud by many if paid parking would have happened if Bob Simon was still alive. Simon, who passed away at 101 years old in September 2015, planned and founded Reston in 1964. His unique vision included ideals of a community that would not only be financially inclusive, but racially inclusive as well. When the Town Center opened in 1990, it became one of the country's first examples of a mixed use community, balancing greenery, businesses, residences, work, and recreation, a tidy grid that now has more than 50 retail shops, 30 restaurants, high-rise residential units, tech companies including Google and Microsoft, a CVS, and a four-diamond Hyatt Regency that all sit on what used to be a dairy farm.
Simon's idealistic principles–anchored by the simple, altruistic belief in community–made Reston Town Center the heart of Reston for nearly thirty years. It could be felt by those who lived there or visited, whether to shop, dine, attend group yoga, or ice skate in the winter. Over the years, hundreds of community events have drawn thousands to the Town Center.
Boston Properties spokesperson Kathy Walsh says that just such an event, a fundraiser, is planned to benefit Cornerstones, a local nonprofit providing support and advocacy for those in need of food, shelter, childcare, and other human services. As it happens, it's scheduled for March 4, the same day a protest against the fees called "Park Free RTC" will occur. Two hundred people say they're coming to the latter.
There's anger over paid parking, sure, but also over the app. In reviews, some Park RTC users express frustration and anger ("I'll park somewhere else, RTC! Better yet, I'll GO somewhere else"). Others start out more balanced but end in frustration: "I'm a flexible person and consider myself very reasonable. I don't mind paying for parking, I don't mind using the app, but I am extremely irritated when I need to park for 15 minutes and end up having no option but [to pay] $2.00 for a one-hour parking session. I'm going to do my best to not visit the Reston Town Center now."
Despite these issues, Walsh says that the app has been downloaded over 70,000 times (the population of Reston is around 60,000). Boston Properties maintains that the paid parking rollout was implemented to mitigate the tens of thousands of short- and long-term commuters who were parking at Reston Town Center over the past three years. For instance, the blue garage, which sits near Big Bowl, was often nearly at capacity by 10:30 am; since the start of paid parking, it's at 26 percent. The company also cites instances of condominium and residential owners leaving their vehicles in the then-free parking spots, thus creating fewer spaces for visitors to the Town Center.
Further, says Walsh, Boston Properties' data regarding January sales from its Reston Town Center tenants does not show the loss of revenue alleged by some retailers, citing other revenue influences including the opening of nearby centers, such as Fairfax's Mosaic District and One Loudoun. Walsh says that while Boston Properties is continuing to implement changes to make the app more user-friendly, 78 percent of daily parkers are paying via the app. In March, she says, the credit card pay stations will be upgraded with bigger screens and better functionality in extreme weather.
Despite these measures, business owners are concerned that they've lost some customers for good—especially those who had initial trouble with the parking system, or those who simply won't pay to park at all. 
For Reston, the impact of paid parking stretches beyond the businesses. It's unraveling the fabric of the community. Take, for instance, the Reston Runners. The Potomac River Running Store has long hosted meet-ups for the running group at the Town Center location, but two days after paid parking went into effect, the runners relocated to nearby Reston Sport and Health in Isaac Newton Square, citing the parking fees as the reason. "For decades, Reston Town Center was a welcoming place where the community could gather freely," Reston Runners member Dennis Hays told Reston Now. "We are saddened this is no longer the case."