There's a story behind every patterned pair of sneakers at this new-to-Washington shoe store. The funky designs are the result of partnerships with more than 40,000 artists—including DC's own No Kings Collective. For every pair sold, the artist responsible for the look gets a commission. The storefront in Shaw also incorporates a mural by Arlington street artist MasPaz. 1924 Eighth St., NW.; 202-847-3294.
The Seattle brand, with men's and some women's apparel, brought its century-old, rugged style to 14th Street in 2015. Go for field jackets in hunter green and khaki, an abundance of leather goods, and flannel shirts that'll make any lumbersexual happy. Part of the same parent company as Shinola, Filson also sells watches made in the same factory as the Detroit timepieces. 1534 14th St., NW; 202-759-9570.
Any guy who needs to look sharp for the office can practically close his eyes, walk in here, and come out with an armload of looks. The shop sells patterned collared shirts, footwear staples such as Puma sneakers and Red Wing boots, and skinny denim. It even has a barber chair that, starting in the next few months, it plans to use for in-store cuts and shaves. 1924 Eighth St., NW; 202-499-1458.
This clothing store is the DC professional's answer to not looking like a sweaty mess every day of a swampy summer. With suits so breathable you could run a half marathon in one—which, by the way, one of the founders has done—along with a recently launched women's line that includes silk-like blouses, the brand's technical business apparel will keep you cool whether you're trapped in a Metro #hotcar or a tense meeting. 1924 Eighth St., NW; 202-851-4942.
Owned by a St. Albans grad turned preppy-menswear designer, this shop outfits guys with clothes that are a little more thoughtful than your mass-market button-downs and ties. Custom shirts are hand-sewn in New Jersey, and suits are tailored to be fitted without looking uncomfortably tight. Plus there's cold beer on tap and a Ping-Pong table. 1921 Eighth St., NW; 202-733-1913.
Ready to upgrade to a sofa you can call an investment piece? Or a dining table that might actually be worth passing down to your kids? You'll find what you're after in this four-story showroom of mostly American-made, modern (but not too modern) furniture. Take advantage of the free design services, not just for help selecting pieces but also for paint-color and furniture-placement tips. 1840 14th St., NW; 202-729-8300.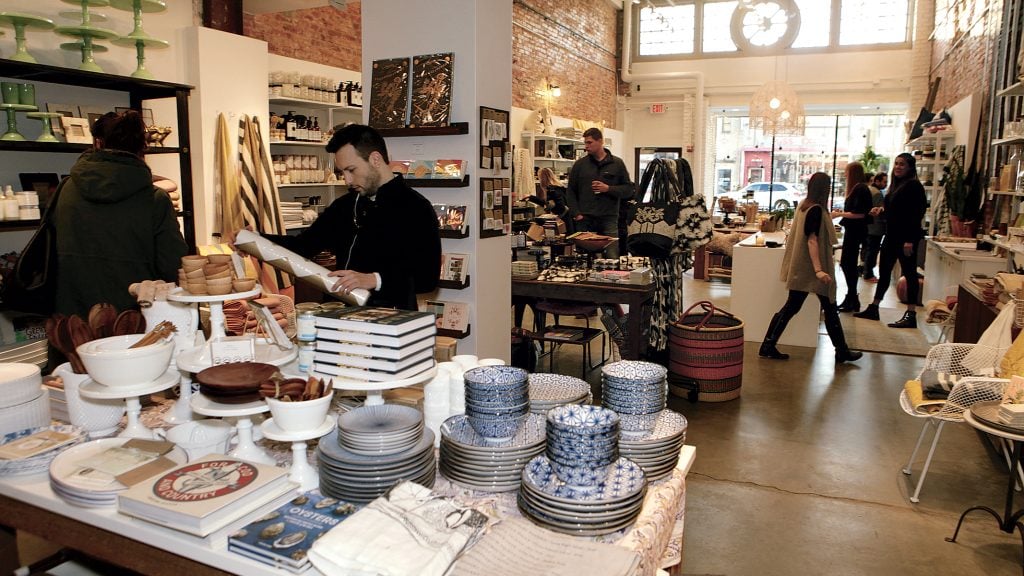 There's lots to covet among Salt & Sundry's selection of home decor, tabletop accoutrements, and cocktail accessories. We're not the only ones who think so: As sales increased, it outgrew its original Logan Circle location. So in December, owner Amanda McClements moved it to a nearby spot twice the size (1625 14th St., NW; 202-621-6647) and created the plants-and-paper-goods shop Little Leaf to fill her smaller storefront (1401 S St.; NW; 202-506-2131).
Though best known for watches, the Detroit company also makes stunning bicycles and leather goods. Not only are the products pretty, but the flagship on 14th Street—a remodeled Studebaker showroom—is worth a visit just to kick back on the leather couch and stare at the ornate vintage ceilings. 1631 14th St., NW; 202-470-0200.
The New York designer has a wide selection of products that hit the sweet spot between fashion-forward and classic. Wool- and cashmere-blend sweaters and sleek leather boots for men and women make for chic but casual workwear. The home collection offers small decor upgrades, such as lamps and ceramics. 1924 Eighth St., NW; 202-827-8671.
The two-story Logan Circle outpost of this chain has everything to deck out your urban apartment—affordable modern furniture, colorful rugs, barware that Don Draper would mistake for the real midcentury deal. Aside from the assortment of goods, we love West Elm for its collaborations with local artisans, so you can shop small even while visiting a Williams-Sonoma–owned retailer. 1728 14th St., NW; 202-986-2165.
This article originally appeared in the February 2017 issue of Washingtonian.