Jacqueline Lawton is known for the enormous first drafts of her plays, overstuffed with historical detail and biography. "She gets really excited by research," says Shirley Serotsky, who directed Lawton's play The Hampton Years at Theater J in 2013. Developing her scripts, says Serotsky, is a process of carving away information to find the drama inside.
Lawton's new play, Intelligence—having a world premiere at Arena Stage February 24 through April 9—is a fictional account of Valerie Plame, whose identity as a CIA operative was leaked in 2003 after her husband publicly disputed George W. Bush's claim that Saddam Hussein had nuke-ready uranium. Before Lawton sat down to write, she read Fair Game, Plame's account of the affair, as well as The Politics of Truth, the book written by Plame's husband, Joe Wilson. She read books by then CIA director George Tenet and national-security adviser Condoleezza Rice and devoured articles about women in the US intelligence community. She YouTubed TV coverage of the early "shock and awe" days of the Iraq War. She looked back to see what kind of cell phones Wilson and Plame might have carried and which DC restaurants were hot at the time.
Lawton, an African-American whose work before Intelligence explored race and black identity, laughs that she even read about "what white people eat for breakfast."
The play that emerged from all this re-search isn't a dramatization of the Plame case—that was the job of the 2010 movie Fair Game, starring Naomi Watts and Sean Penn. Lawton invents a black boss for Plame, and an Iraqi émigré in the play owns a store in Georgetown that Plame visits. She describes her play as "historical fiction," a portrait of Washington that shows how the political has come to intrude on the personal.
We're in something of a golden age for plays fitting that description. Camp David, Lawrence Wright's drama about the Carter-era Mideast peace pact, opened to acclaim at Arena Stage in 2014. It was followed the next year by The Originalist, John Strand's portrait of Supreme Court justice Antonin Scalia. These two shows have become the founding dramas of the company's recently announced Power Plays series, a planned decade-long cycle of 25 works intended to catalog "the ideas that have made America what it is," according to Arena artistic director Molly Smith, who commissioned Lawton to come up with the third play in the series.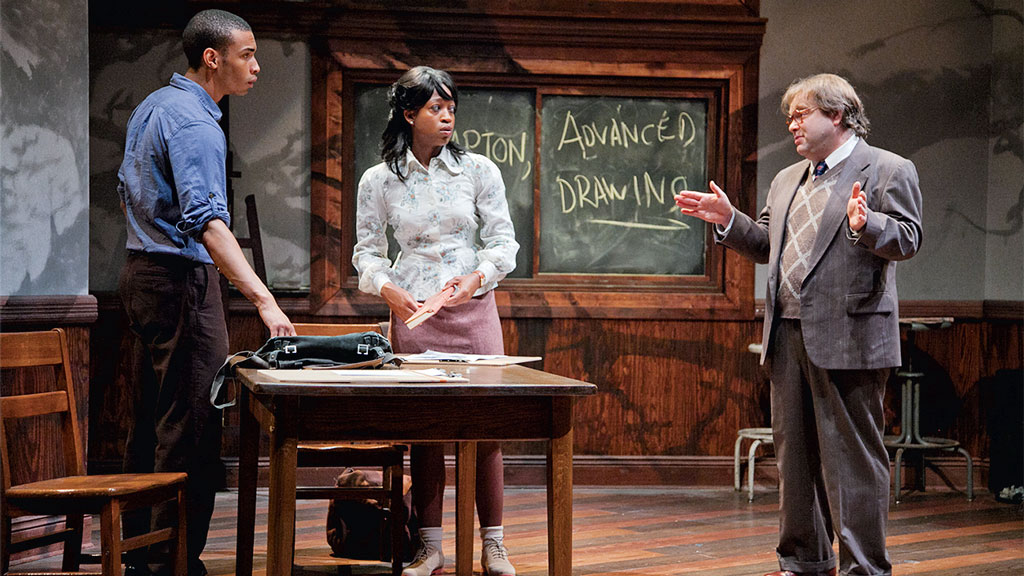 Matching Lawton with Plame—or with a series anchored by a Pulitzer Prize–winning chronicler of power like Wright—may seem an unlikely choice. Lawton, now 39, arrived in the District in 2006 and over time became known for plays about the African-American experience, including adaptations of Oedipus Rex and Anna Karenina that put African-American women at their center. The Hampton Years, her highest-profile production, told of artists at a historically black college. Last fall, she produced a set of ten-minute plays to accompany the Phillips Collection's exhibition of paintings by Jacob Lawrence, chronicler of the "great migration" of African-Americans from the rural South.
Yet Smith—who has long sought to find a voice that defined DC the way that, say, David Mamet's streetwise style epitomizes Chicago theater—came to realize, after Wright's and Strand's successes, that what defined Washington was a topic, not a dramatic style. "It isn't a single voice but a multiplicity of voices, writing about power and politics," she says.
In this light, Lawton's focus on the politics of race and gender fits perfectly with Strand's and Wright's portraits of the powerful.
***
Lawton grew up in Tennessee Colony, Texas, southeast of Dallas. Once a tiny cotton-farming center, the area has only 300 official inhabitants, most of them white. They're joined by thousands of involuntary residents held at the 21,000-acre state prison nearby, where Lawton's father worked.
Her parents, who'd met in the Army, raised their kids on the principles of service to country and self-betterment. Lawton's brother, James, was a career Air Force officer. She retains a deep respect for the military, describing herself as "heartbroken" in 2012 when General David Petraeus was caught leaking classified material to a biographer, who turned out to be his mistress.
The Tennessee Colony house was full of books, with an emphasis on the classics. "When I think about home and reading, I remember Shakespeare and the Bible," Lawton recalls. Her father, a devout Christian, disliked Halloween, and Lawton's first dramatic works "were little plays about our stuffed animals" she roped her sister into performing with her instead of trick-or-treating.
The difference between her home and the world outside was stark. She calls the casual racism of her Tennessee Colony neighbors "searing," but she's more indignant to this day about the institutional racism of the school system, which pushed her into a vocational track in high school. Lawton objected that she intended to go to college. "Why was such a low expectation set for me?" she asks. "That drove me crazy."
When she enrolled at University of Texas at Austin to pursue acting, screenwriting, and playwriting, Lawton encountered another kind of racial divide. In one audition, she was cast as the slave, Tituba, in The Crucible. "I could see that this was what it was going to be," she says. "I saw that if I was going to get good roles, I would have to write plays that put women of color at the center. It was an epiphany moment."
When she got her bachelor's, she assumed that her next step was to follow in the footsteps of Langston Hughes and James Baldwin and move to Paris. Her teachers convinced her to stay in Austin to get her MFA.
Lawton moved east in 2004 to take a job at Center Stage in Baltimore, followed by a stint at Ford's Theatre, which occasioned her move to Washington. "She was at everyone's opening—she was everywhere waving the flag, providing online support for new work," says Gregg Henry, artistic director of the Kennedy Center's American College Theater Festival, who hired Lawton to teach for him.
She arrived at a propitious time for playwrights here. Five years before, Smith had convened a forum called Who Needs New Plays?, inviting the leaders of the theater scene to think about why their companies produced so little original work. In one session, a psychiatrist interviewed an artistic director on a couch about his fear of presenting new dramas.
Smith's challenge had an almost instant effect. That year over Labor Day weekend, Henry hosted the first Page to Stage New Play Festival at the Kennedy Center, where he presented dozens of free readings and open rehearsals of new plays, many of them by local playwrights. It has become an annual event, and now nearly every major company in Washington has its own play-development program. The Hampton Years was presented at Theater J's Locally Grown festival in 2013, one of the first plays to move from the theater's workshop for Washington writers to the main stage.
True to her epiphany in Austin, Lawton's adaptations—Faust, The Wizard of Oz, and Verdi's opera Un Ballo in Maschera, in addition to Oedipus Rex and Anna Karenina—introduce African-American characters not only to provide black actors with central roles but to push audiences to view well-known stories through an African-American lens.
As Lawton has moved away from adaptation, her strategy has become subtler. In Intelligence, she made Plame's boss, Elaine, black, without explicitly making the character's race an issue. "A CIA agent we invited to an early reading told me there's no way a woman, let alone a black woman, would have advanced to that level," Lawton says. "I told her, 'I know that, and we're going to change that.' It's just the limited imagination of what black people can do that prevents us from seeing that's exactly where Elaine should be."
The effect is most striking in Lawton's yet-to-be-produced Noms de Guerre, in which a Republican attorney general of Virginia runs for governor while coming to terms with her soldier husband's PTSD. Though race is never mentioned, the major characters are all African-American.
So when it came to the biggest commission of her career, why did Lawton opt to write about a white couple living in DC?
What attracted her to Plame's story, she says, is the way the war intruded into Plame and Wilson's home. President Bush's push for war, the playwright says, "seeps in and threatens to break up their marriage. It tears the nation apart and threatens to tear them apart as well." The conflict is quintessentially Washington.
"Her shift into the social/political realm is a natural progression," says Otis Ramsey-Zoe, a dramaturg who has supported Lawton's work and is one of her best friends in Washington. "It's a consequence of living in DC and her family background. It's about the danger of secrets and politics."
Intelligence, Molly Smith points out, also shows the influence Washington has on an artist's imagination. Strand, who wrote The Originalist after moving to the Maryland suburbs following years abroad, says: "I never could have written it if I didn't live here." In part, he explains, that's because he had ready access to the documents he needed to tell Scalia's story. But local writers are also haunted by living so close to power, past and present. Says the Kennedy Center's Gregg Henry: "We all live in the shadow of the company town. We do what we do amid the monuments."
***
There's another Washington, of course—an East Coast city that was until recently majority-black and had a long, sometimes tortured history with its federal governors. That Washington has been increasingly squeezed out by an influx of "creative class" urbanites who seem to be inventing a new version of the city. That story has yet to appear onstage at Washington's major theaters.
It's a curious absence, considering the past 15 years of concerted development of local voices like Lawton's. There's no Washington version of Clybourne Park, Bruce Norris's Pulitzer-winning 2011 play that examined gentrification in Chicago. The call for local playwrights has never come with a mandate about which Washington must be chronicled.
In this sense, Lawton represents progress: a playwright of color who has been nurtured here from her mid-twenties, putting a play on one of the city's most prestigious stages. The question is when Washington will have a homegrown voice that speaks to us as much as to the country at large.
It could be that the new DC is simply too new to generate social or political dramas about its transforming neighborhoods. But things have a way of changing. Molly Smith points out that for most of her tenure at Arena, she was told local audiences wouldn't come to see plays about the issues they dealt with by day: "Only in the last five or six years have writers become concerned with how our political systems have been broken" and gained a following.
Washington the city, as opposed to the capital, may just have to wait its turn. "It is coming," says Smith. "As more writers are being produced, it will spur more people to write and investigate the stories happening in DC."
This article appears in the March 2017 issue of Washingtonian.