It may be before 2 pm on Monday, but that doesn't mean it's too early to drink. ChurchKey bartenders rush to fill water glasses and test brews while a crowd of people line up down the block. Inside, Neighborhood Restaurant Group Beer Director Greg Engert, one of Washington's top names in beer, is subsisting on five hours of sleep and two cups of coffee—the "rocket fuel" kind. People keep handing him unusual beers wrapped in plastic bags, gifts from visiting brewer friends to be cracked open later.
This is just the first of 24 events Engert will help host at nine restaurants and bars over four days. Welcome to the Craft Brewers Conference, the Super Bowl of beer events.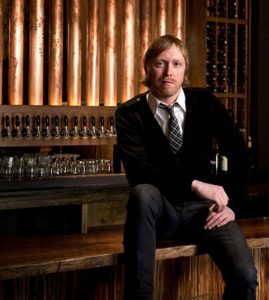 "I'm orchestrating and organizing a lot, placing a bunch of orders, dropping off things as needed, and talking with the staff," Engert says, as he responds to an email and glances over the latest beer list. "[Navy Yard brewery] Bluejacket is already packed because all the brewers are hanging out there, and they like to get started early."
At least 15,000 people are expected to come in from out of town for the country's largest craft brewing industry gathering, including hop-growers and glassmakers. This is in addition to the local "geeks" looking for beers they can't normally get in the area. With its welcoming brewing laws and burgeoning craft beer scene, DC has turned into an ideal city to hold the Brewers Association conference. I'm following Greg as he shuttles between his bars, restaurants, and brewery with bottles of rare beer stuffed in the trunk of his car as he checks in on his staff and makes sure everything's running smoothly.
"Most of the events we're hosting are with brewers who don't ever sell their beer in DC," Engert says. "That's kind of the extra-special part… That's why people are driving up in vans and dragging kegs up the stairs."
This year, Engert is featuring over 300 beers, many from tiny breweries with limited stock. He knows he's going to run out of some rarer kinds, so he's preemptively capped certain bottles to one per group. As he's rushing to his car to drive to his next establishment, Iron Gate, Engert stops to reassure a friend who's waiting towards the back of the line.
"You'll be inside within 15 minutes," he says. The man doesn't seem worried. Engert turns back to me to explain his conference schedule: "This is kind of a free day," referring to the fact that he doesn't have many "official" events.
It doesn't seem like a free day. After running through the food and beer pairings with the chef at Iron Gate, Engert heads to Belgian bar the Sovereign, which already has a record number of reservations for a Monday. The Orval tattoo on Engert's wrist, a fish clasping a ring in its mouth, is reflected in the art perched over the upstairs bar entrance—a nod to the Trappist monks' original brewery founded in 1070. Staff are polishing glasses and sampling a new sour as Engert tells them what brewer celebrities might stroll through their doors that evening.
"I really wish I embraced the modern techniques of list making," Engert chuckles. "I do some notes on [my phone], Google calendar's huge, I have some Google Excel documents. It makes sense to me, but I have things in lots of places."
Nonetheless, a combination of careful preparation, 15 years of expertise, and help from his right-hand man Tim Liu means this year's CBC is shaping up to be one of the best yet. The beer has all arrived more or less on time, and final menus are being printed. It's a far cry from past years where kegs showed up an hour late and had to be tapped on the fly.
Engert has also learned from years past that one of his biggest challenges will be his own moderation. He has a lot of friends in town who he rarely sees, so he's trying to keep his own partying in check."
"It's one thing to get five hours of sleep, it's another to get five hours of sleep when you're extremely hungover," he says. "So that is the goal for me: to be very responsible."
Twenty-one more beer events to go.