Washingtonian is spending the day exploring Crystal City. Read all of our Crystal City Day coverage here.
Walking down South Clark Street in Crystal City, it's not hard to determine which building belongs to WeLive. The co-living building, an offshoot of the hip co-working space WeWork, promises funky amenities and an enlightened atmosphere of collaborative habitation befit for startup founders and millennial wanderers. And on a block replete with hotels and identical concrete apartment towers, WeLive stands out, its exterior bedecked in blocks of color and fronted by a courtyard arranged like a beer garden, with picnic tables, grills, and Christmas lights strung between flora-strewn trellises. No one was actually in the courtyard when I arrived, and the building's boxy frame belied its former identity as another generic office structure, but still.
"This was actually the first office building in all of Crystal City," says Angela Fox, president of Crystal City's Business Improvement District. Built in the 1960s, it once housed the IRS and the US Patent and Trademark Office. Now, she explains, it houses her and her 14-year-old son, who moved in last year.
Opened in May 2016, WeLive's Crystal City location is only the second of its kind after the original in lower Manhattan. Today, it's home to about 250 residents in units ranging from studios (starting at $1,640 a month) and up to four-bedroom apartments ($1,200 a person). Occupancy, I'm told, is practically full.
WeLive is often referred to (somewhat derisively) as a "dorm for adults." And walking around, it does give off that vibe, with an emphasis on common areas and building-wide activities. The elevators feature screens advertising this week's happenings, including free cookies and a Friday-afternoon barbecue.
It's an odd, new form of communal living, rejecting the anonymity of the standard apartment building and underscoring the types of "creative collisions" valuable to young entrepreneurs and frenetic networkers.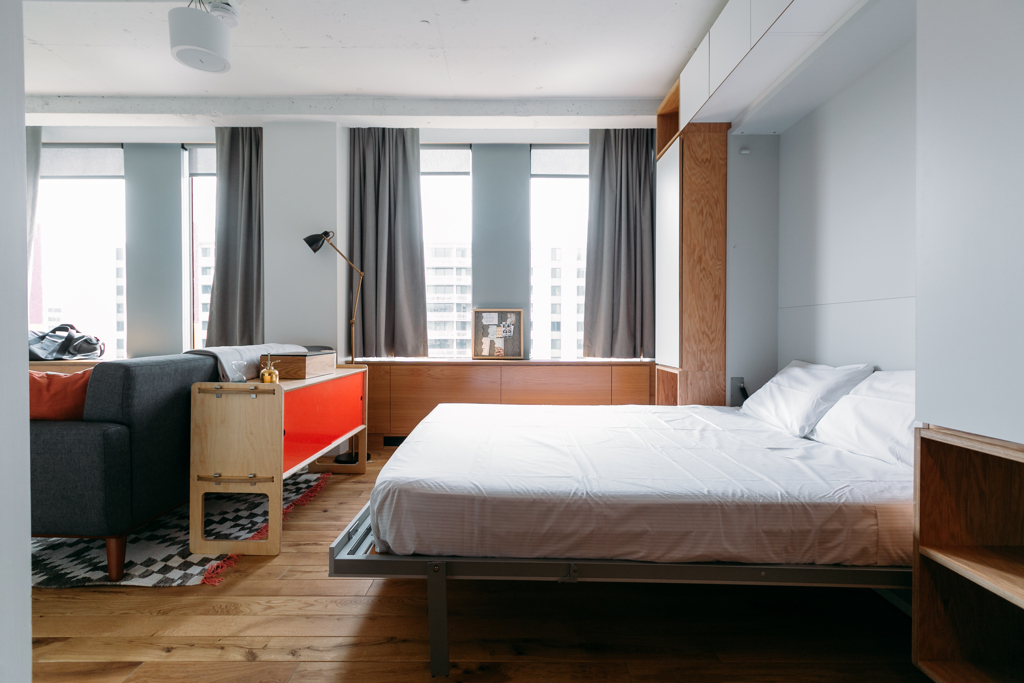 "Our website went down once and we put out a ping for help," says 23-year-old Jake DeCiccio, who both resides and runs a company, a bottled-coffee startup name Sunniva, out of WeLive. They sent out their plea via WeLive's app, which functions for residents as a message board, community news service, and a leftover-pizza-alert system. Within minutes, a programmer down the hall answered their call, and their site was up-and-running again.
"I guarantee if you walked around and did a can shake, you'd find someone to help you with your marketing, your website, anything," DeCiccio says.
With a WeWork co-working space occupying the building's top two floors, it's not surprising to see a crowd of millennial founders and twenty-something techies congregating here. But the proprietors say the average age of residents is around 40, and despite the "dorm" moniker, things calm down around 11 PM, when "quiet hours" kick in throughout the communal areas. While other WeWork spaces sport free beer on tap, Virginia's blue laws mean the Crystal City location has to make do with just free bottled beer.
The building itself is divided into three "neighborhoods," all with their own distinct art theme and communal amenities, although that doesn't mean residents have to stick to their neck of the woods. The topmost neighborhood, for example, houses the laundry rooms, which are stocked with sleek appliances, a foosball tables, and Big Buck Hunter booth.
Exploring more, I stumble across hidden reading nooks, a library (where everyone's encouraged to swap and trade books on the shelves), a yoga studio, and coffee dispensers seemingly around every corner. It's all immaculately clean, decorated in a deliberately millennial-chic ambiance (witness the bright neon sign in the hallway advising to "Stay Weird"). Exposed ductwork abounds.
There's an unmanned kiosk sporting toiletries and laundry detergent, what they call an "honesty market" where residents pick up what they need and pay on nearby screen. And while, yes, payment is based on the honor system, it's not hard to notice the looming orb of a surveillance camera keeping watch on the wares.
There are a few communal kitchens, but, except for the smallest sized studio, all of the rooms have their own fully stocked cooking spaces as well. Speaking of rooms, they come with all the furnishings, big screen TV included. Each also has private WiFi, an integrated sound system, writeable panels, moveable shelving, and custom West Elm furniture. A monthly cleaning service comes standard.
At a certain point, it all seems like too much perfection, like someone's most delicately and deliberately arranged Instagram page. I feel a pang of ironic wistfulness for memories of my own shitty apartments, thoughtlessly strewn with mismatched Craigslist furniture and carelessly managed by absentee landlords. Living at WeLive, it seems, was too easy.
But it also seems like an inevitable future. Looping back with DeCiccio, who's been here eight months, I hear praises of the abundant jugs of fruit-infused water, the unfailing wifi, the simplicity of becoming a resident. "Moving into WeLive is the easiest thing you'll ever do," he tells me. "You don't have to bring anything except your clothes." Newcomers even get a welcome gift of fancy Harry's razors.
But DeCiccio is saying goodbye to Crystal City soon, moving up to New York to expand his coffee business. He's not too sad though, nor is he worried about where he'll live. He's moving into WeLive's Manhattan location.