First, there were the sushi burritos. Now, behold, the sushi doughnut.
The circular mound of rice topped with raw fish has been an Instagram sensation for a while—but no one in Washington was serving them. Until now!
Sushi-Zen in Arlington began offering sushi doughnuts as a special in March during Northern Virginia Restaurant Week. Come June, three versions will be available on the menu full-time.
Shoji Mochizuki opened the restaurant nearly 20 years ago with very classic preparations of nigiri and rolls. But his son, 31-year-old Brian Mochizuki, has tried experimenting with more fusion-y foods since taking over the business about five years ago. In 2013, before Buredo introduced DC to sushi burritos, Mochizuki says he added the overstuffed rolls to the menu at Sushi-Zen, inspired by food trucks he saw in San Francisco.
"My father, he said, 'This isn't traditional Japanese food. We can't do it.' I was really disappointed, but he was really against it." Mochizuki says. "I have a very young, creative mind that really wants to take sushi-making to the next level."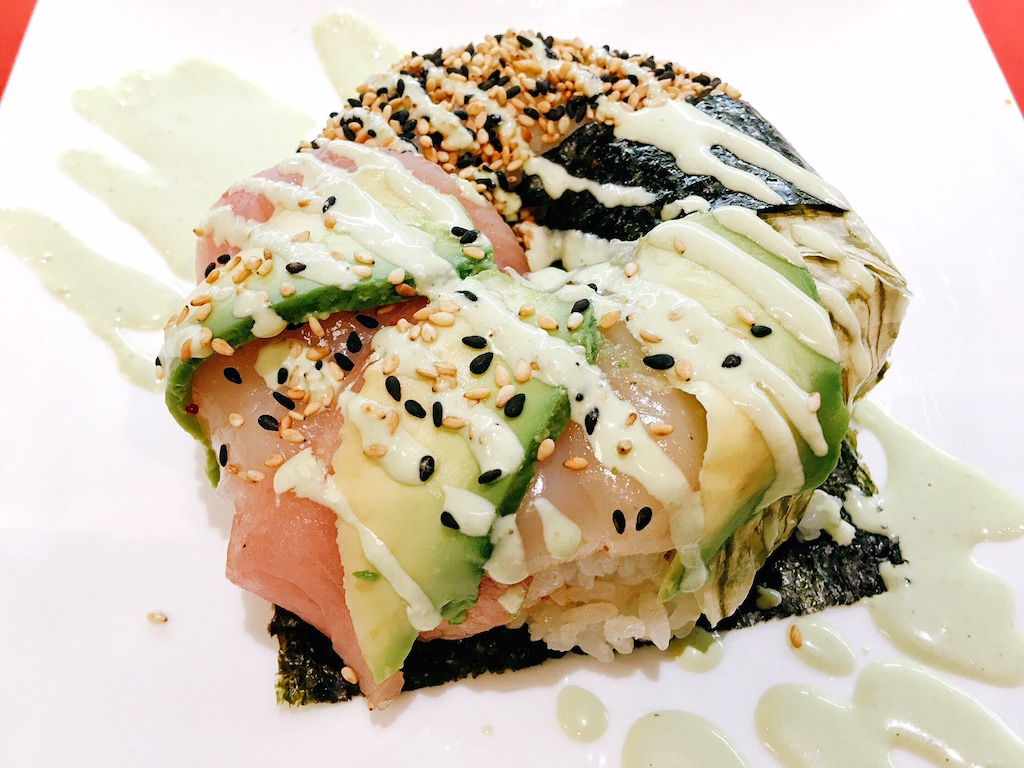 Nonetheless, Brian Mochizuki has persisted. As sushi doughnuts started going viral, all his friends began sending him pictures and videos, asking him to make them. Finally, his father gave in.
Mochizuki uses a mold to form the doughnut shape, then fills the rice with spicy tuna or avocado. Strips of fish, fish eggs, avocado, cucumber, sesame seeds, and other toppings and sauces color the outside. You can pick it up like its pastry namesake, but it can be a little unwieldy, so sometimes Mochizuki slices it into pieces. The price will range from $9 to $12.
Mochizuki has also experimented with other fusion foods. He's made a sashimi pizza, inspired by Iron Chef veteran Masaharu Morimoto. He starts with a tortilla topped with eel sauce then bakes it until crispy before adding mixed greens, fish, avocado, scallions, and maybe a little sriracha sauce. His next project: sushi burgers. The dish consists of sesame-topped rice "buns" and a spicy tuna patty. The problem? It falls apart when you go in for a bite. Mochizuki is going to try a crispy rice bun next.
More recently, even his dad, now 75, has started to come around on these gimmicks. "I keep doing all these things. I'm like, 'Dad, look at this,'" Mochizuki says. "He's like, 'Oh, that looks nice.'"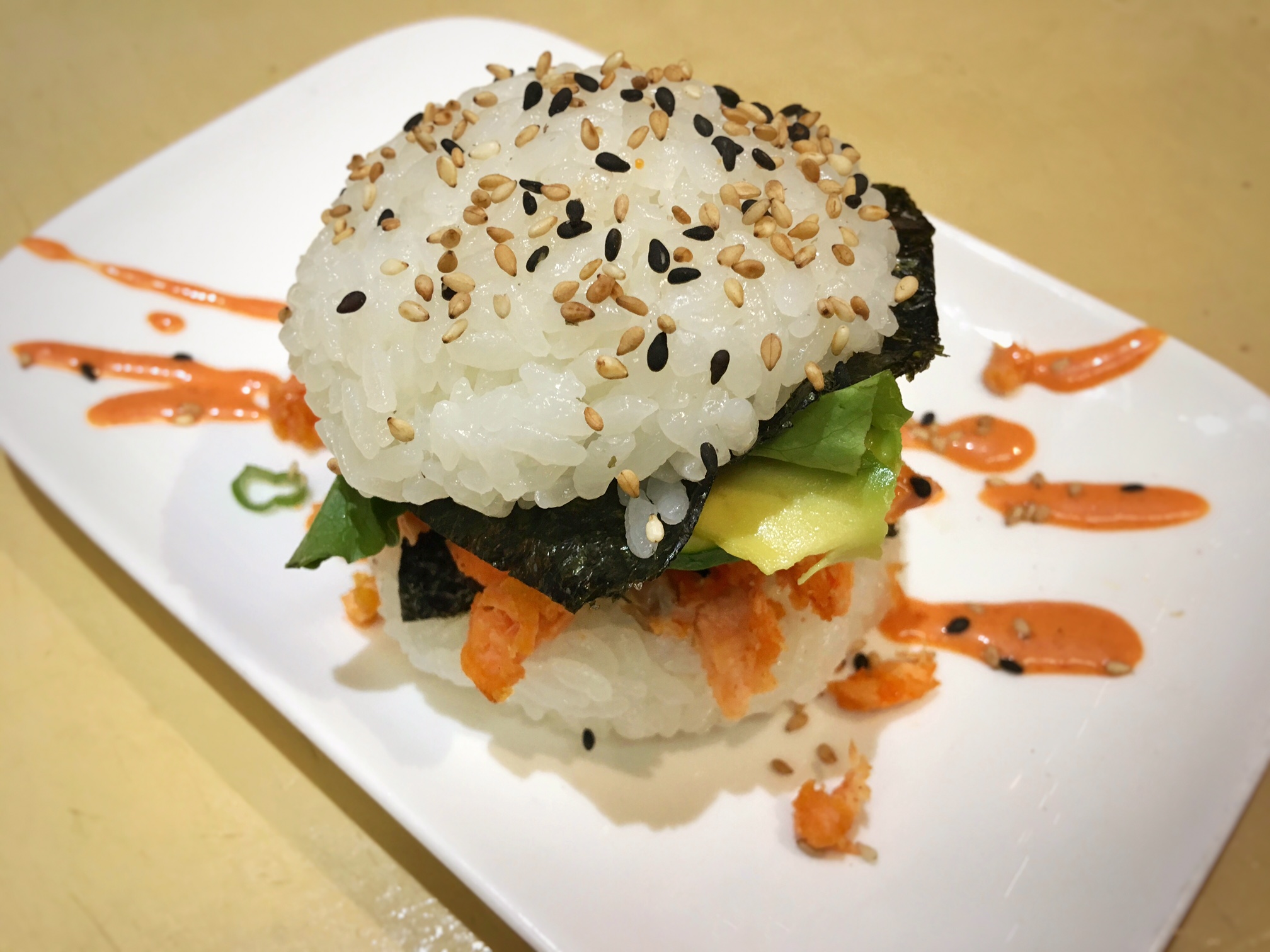 UPDATE: Lo and behold, Sushi-Zen isn't the only restaurant in the DC-area with a sushi doughnut! Zentan started offering it as a $12 Saturday night special back in March, and recently it became a staple on the DNV Rooftop menu. For one special event, the kitchen even made sushi doughnut holes. Take a look: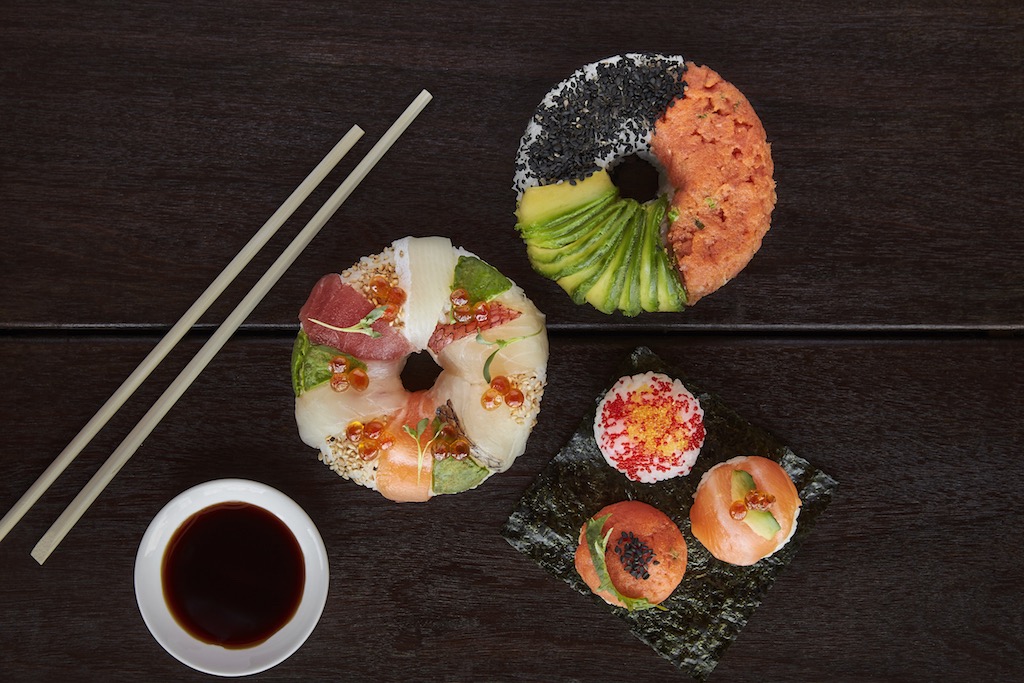 Sushi-Zen. 2457 North Harrison St., Arlington; 703-534-6000.