For Kids 
American History Museum: Pack your kids and your sleeping bags for a Smithsonian Mystery of Historic Proportions starting at 7 p.m. on June 2! The devious diva Miss Rose has stolen six valuable objects from the museum—and you need to discover what's missing before evening's end. Kids get to become a detective and roam through the museum's galleries, collecting clues to guide them to the crime scene and delving into games, experiments, and craft projects along the way. After you have solved the crime, roll out your bag and sleep soundly knowing that you've protected some of America's treasures. Tickets are $120-$135.
Check out the full listing of Smithsonian Sleepovers events happening throughout the summer at various museums.
For Nature Buffs
Nat Geo Nights: Every month on the third Thursday, National Geographic opens its doors from 5:30 to 8:30 p.m. for a special happy hour featuring live stories from Nat Geo explorers, fun interactive activities, lively music, food, and themed drink specials. On June 15 check out Into the Okavango and hobnob with a team that has spent the past two years navigating one of the last truly wild places on earth. Tickets are $20, and additional drinks and food are available for purchase.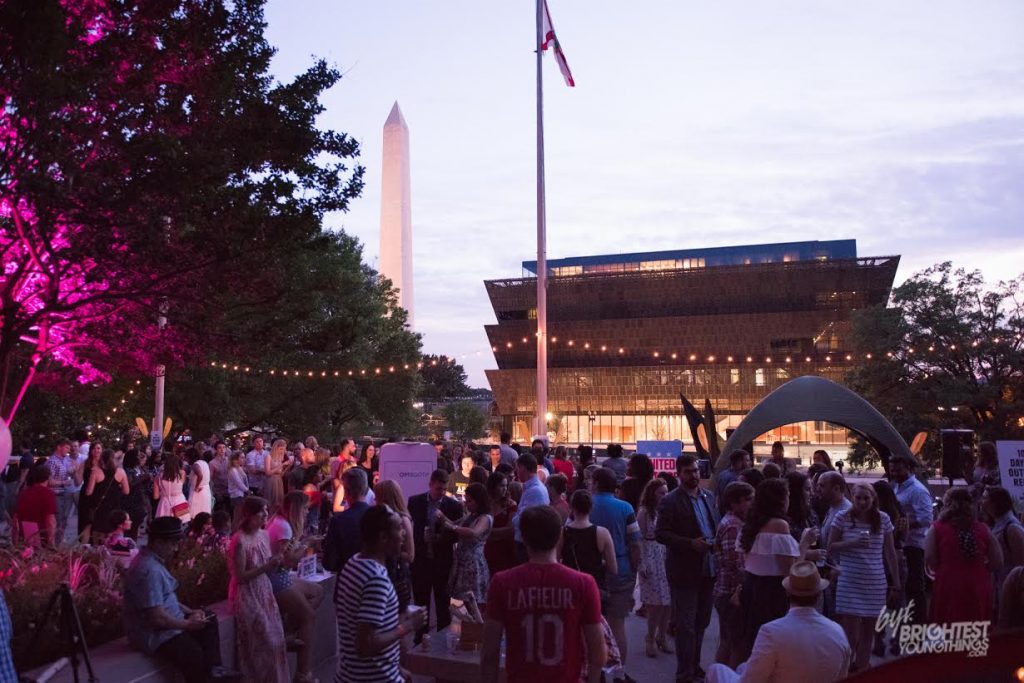 For People Who Love to Dress Up

Smithsonian Library: Come celebrate the late 19th century with the Gilded Age Garden Party on June 9 in the Enid A. Haupt Garden featuring live music, "Instagram-worthy" crafts, and food and drink inspired by the hallmark fêtes of the era. Gilded Age attire encouraged. 6:30-8:30 p.m; VIP tickets: $75, general admission $45.
For Art Lovers

The Hirshhorn Museum and Sculpture Garden will present "Shadow/Casters," an after-hours performance art event from 7:30 to 11 p.m. on June 10 in conjunction with Pride. The production will take audiences on a visual journey through culture, time, and space with a variety of immersive performance styles, including dance and drumming. The culmination of the evening? As the moon emerges, a three-story tall performance transforms the museum's iconic round building into a physical shadow theater and creates a spectacular display of light and shadow. Tickets are $18.
The National Museum of Women in the Arts has an opening party for the special exhibition "Revival" on June 22 from 7:30-11 p.m. The fête includes Southern food, an open bar, live music from the all-female bluegrass band Sweet Yonder, and behind-the-scenes tours of the exhibition. Tickets are $30-$40.
Throughout the summer, the American Art Museum is hosting Art Signs: Gallery Talks in American Sign Language, a lively gallery conversation in ASL.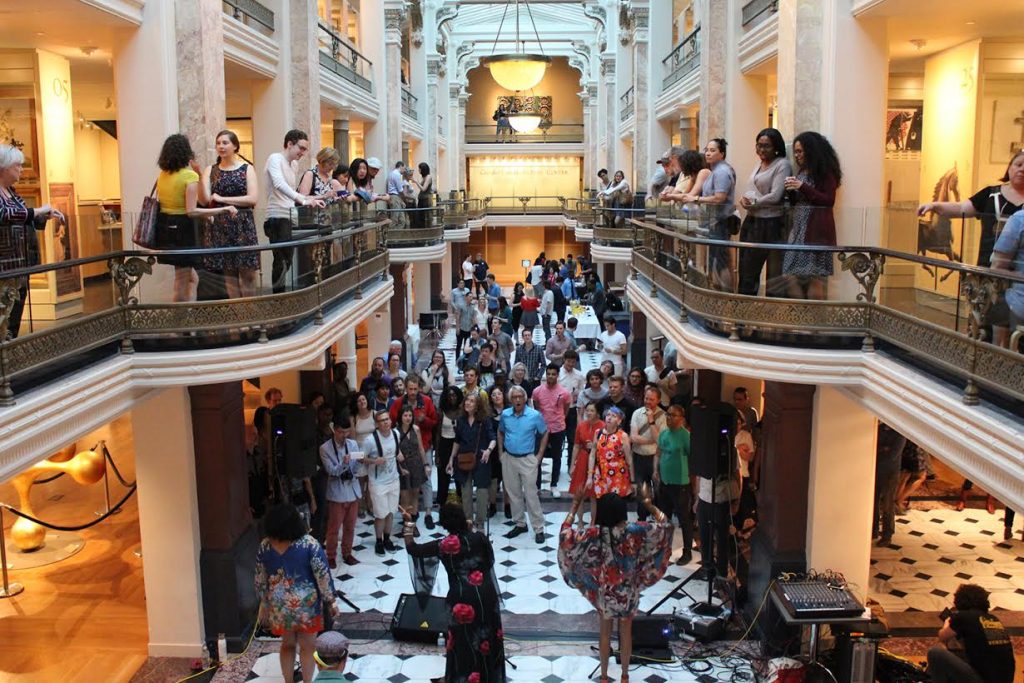 For Music Heads

Phillips After 5: This evening is a delightful themed mix of art and entertainment–including live music, food, and cash bar–that happens the first Thursday of the month. Advance ticket purchase is strongly advised; the June 1 jazz event is already sold out. Slots are still open for July 6's "Punk Out," inspired by Germany's punk scene, which includes a silent disco featuring punk, David Bowie, and even some classical music. Tickets are $12 for adults, $10 for seniors and students, and members are free.
The National Gallery of Art has Jazz in the Garden every Friday in the summer from 5:30 to 8:30 p.m., but you already knew that, didn't you?
Newseum Nights: They're not scheduled as regularly as many museums' evening events, but the Newseum's themed after-hours parties are always incredible. The next event is Rock On! on July 27.
For Film Buffs
The American Art Museum's two-day New York Latino Film Festival on June 9 and June 10 includes films, salsa dancing, and conversation highlighting the social and cultural contributions of New York's Latino community and the Puerto Rican diaspora.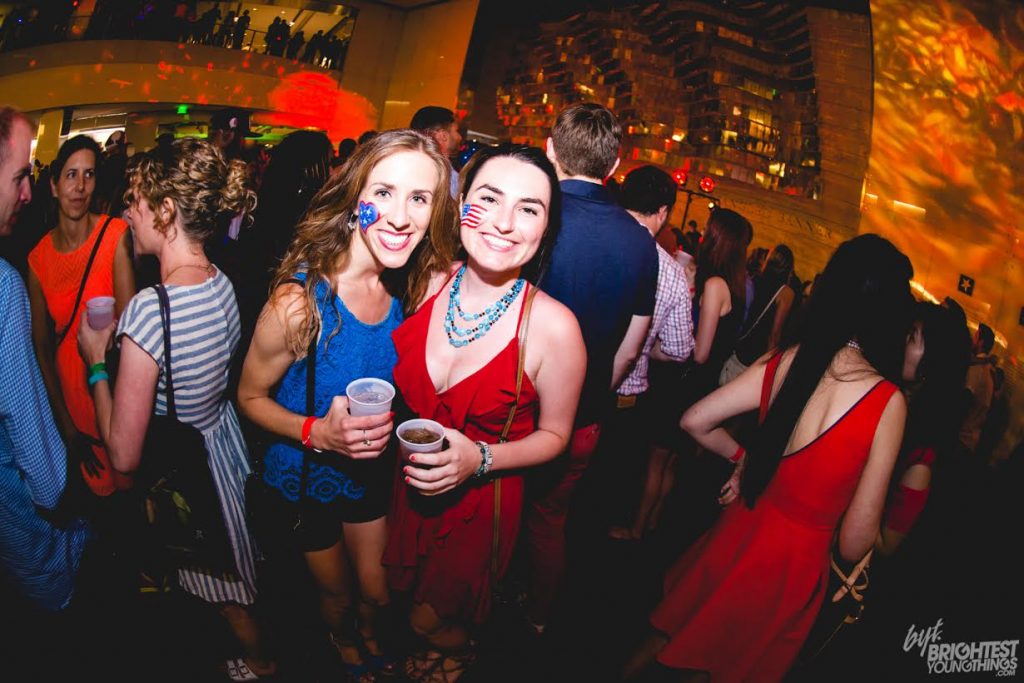 For Those Who Want to Party in a Highly Instagrammable Location:
The American History Museum is presenting "We the Party People: JFK 100" on July 1 from 7–11 PM, exploring the Kennedy era's impact through lightning talks, 1960s-themed food and drink, objects-out-of-storage and DJ set by Purity Ring. This non-partisan celebration will explore how Americans have participated in their democracy.
The National Building Museum will have late night hours every Wednesday in July and August from 6-10 p.m., in conjunction with its new exhibit HIVE which debuts July 4. Tickets provide full access to Hive and all other exhibitions, along with DJ's and bands. Hill Country BBQ will be cooking up food for purchase.
The Night At The Circus at the Arts and Industries Building is inspired by the 50th annual Smithsonian Folklife Festival's spotlight on circus arts. The late-night party features circus performers, music by DJ Alkimist, hands-on activities, cocktails, a GIF photo booth. The party is July 7 from 9 PM–12 AM.
For Crafters 
Wine & Design brings happy hour and postal-theme crafting together on the second Thursday of every month from 5 to 7 p.m. at the Postal Museum! Kick back after a hard day of work with complimentary wine or beer (with alternative beverages available for kids, who are welcome) and leave with a unique mail-related product. Tickets are $11.50.