Forget fighting for an open treadmill in the hotel gym; with Hilton's new room concept, you get a gym in your room all to yourself.
Given the rise in interest fitness and wellness, Hilton is rebranding some of their rooms to put exercise—rather than just a good night's sleep—as a priority. The rooms, called Five Feet to Fitness, are part traditional hotel room, part miniature gym. The rooms are set with everything you need to get in a sweat session—whether cardio on a stationary bike or resistance training on TRX straps.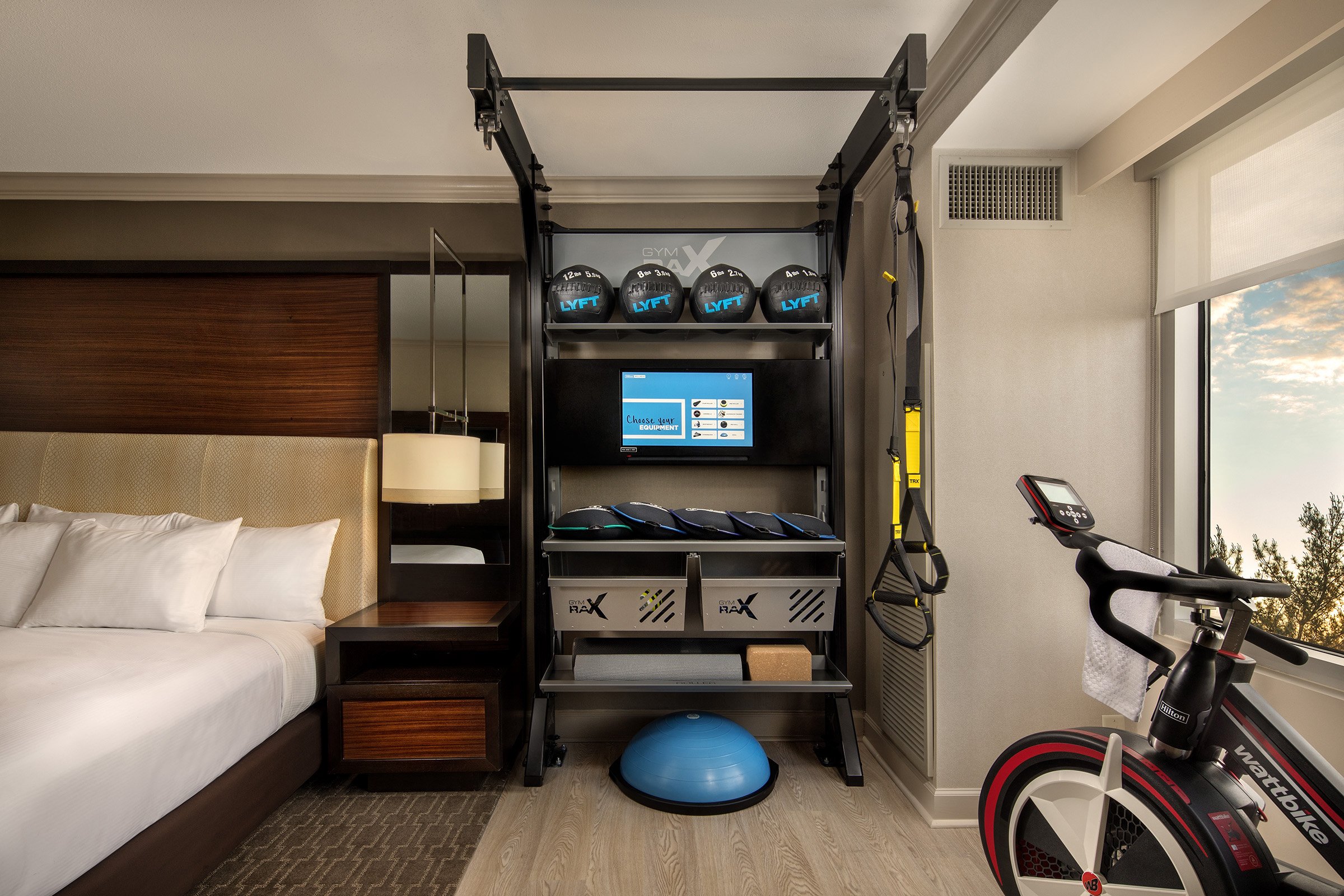 "It's immediately obvious to those that see the room that we haven't just wheeled in a piece of cardio equipment or put a yoga mat in the corner—Five Feet to Fitness has been engineered from the sports performance floor up," says Hilton's senior director of global wellness Ryan Crabbe. "The ratio is roughly 2/3 guest room and 1/3 personal wellness stage, and we have three types of fitness bays to accommodate the different room configurations and ceiling heights of our hotels."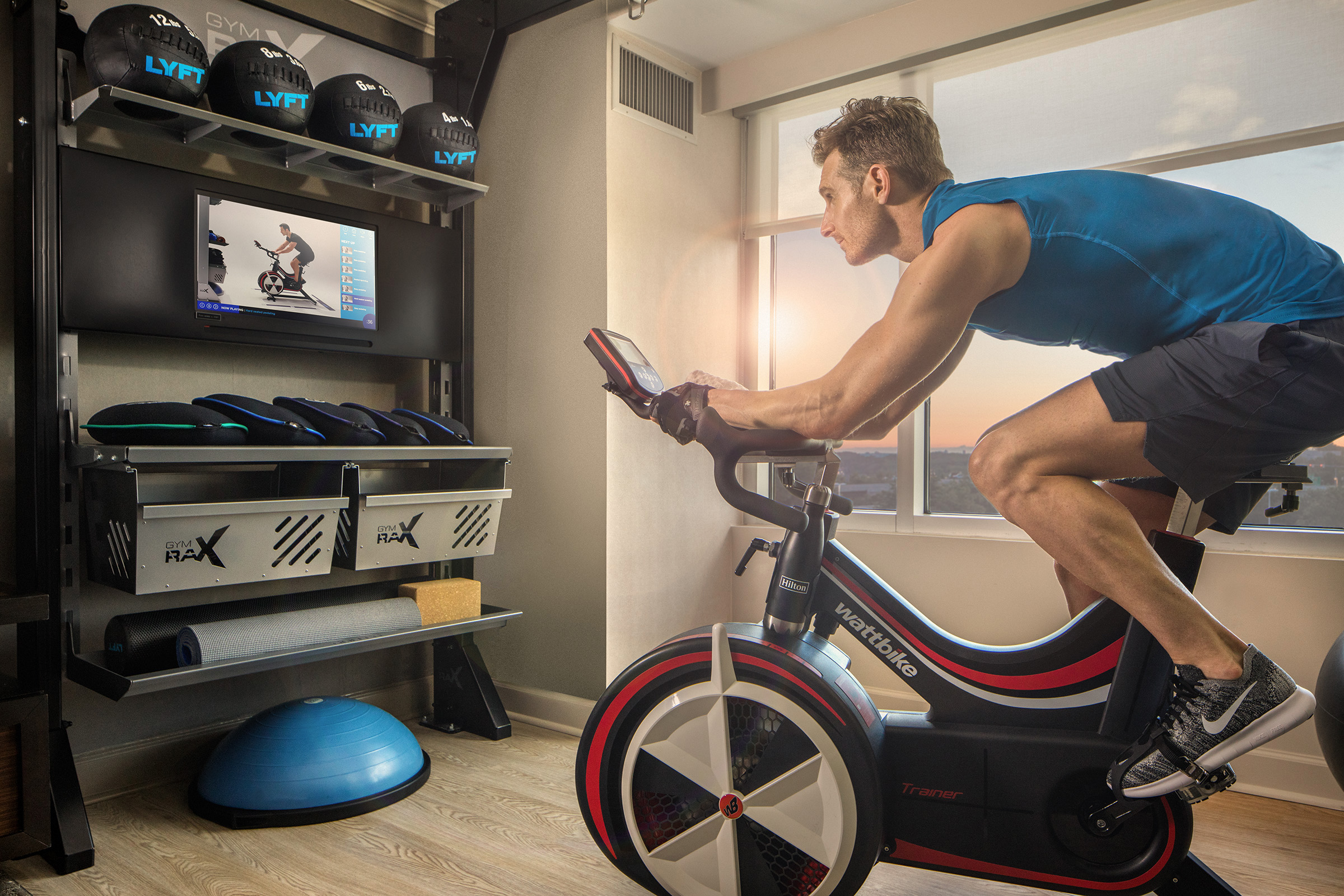 The Five Feet to Fitness rooms, which are launching first at Hilton McLean Tysons Corner and Hilton's Parc 55 hotel in San Francisco, cost roughly $45 more per night than a standard room rate, says Crabbe. That extra costs gets you a mini gym equipped with a touch screen pre-loaded with over 200 workouts, a Wattbike stationary bicycle, TRX straps, a floor chair for meditation, weights, a yoga matt, an exercise ball, and complementary sports drinks like Zico coconut water and Vitamin Water. While the Tysons Corner and San Francisco hotels are currently the only locations with the revamped rooms available, Crabbe says the company is hoping to have over 100 such rooms available in other major cities before the end of 2017, with a minimum of three rooms per hotel that wants to adopt the Five Feet to Fitness model.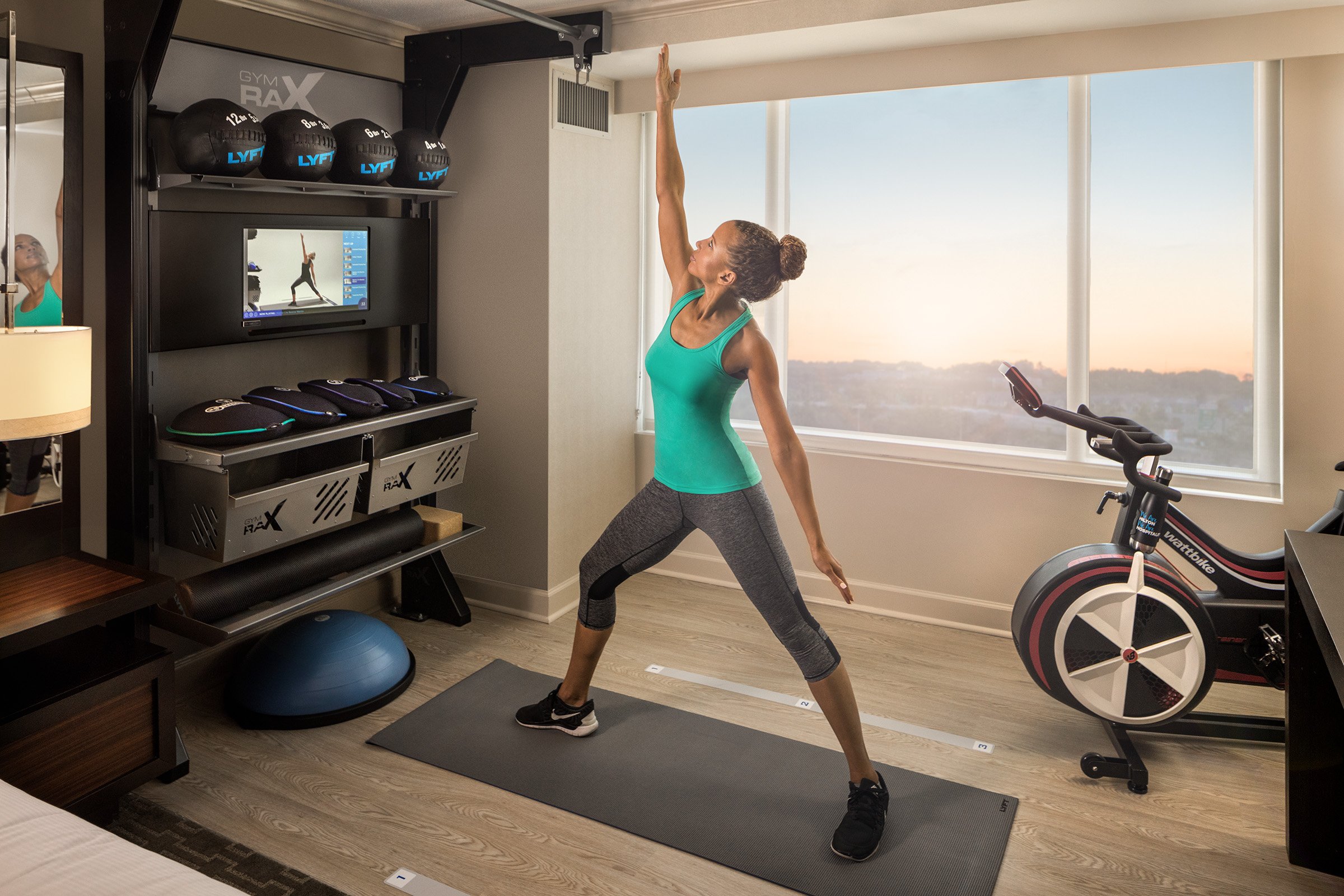 Meanwhile, Crabbe says that Hilton is also working to upgrade their hotel gyms, making changes in response to guests' feedback.
"We are offering the rooms as an option for travelers who want the convenience or privacy of having a personal gym and not a replacement for the hotel fitness center," says Crabbe. "In fact, we're simultaneously doing lots of work on our fitness centers to accommodate the type of movement our guests are telling us they want, such as opening up floor space to accommodate yoga or stretching and installing the tools for functional training such as TRX bands."
Take a peak inside the rooms in the video below, then visit at Hilton McLean Tysons Corner, 7920 Jones Branch Drive, McLean.