As a grad student studying nutrition (with a gorgeous, food-filled Instagram account), it's to be expected that Sara Stewart pays attention to what she eats. Though she grew up in the San Francisco Bay Area among friends who she says brought things like seaweed rice rolls and hummus in their lunches, rather than your typical PB&J, Stewart says she didn't always have the understanding of healthy foods that she does today.
"It wasn't until college that I became interested in nutrition, and began to explore, research, and understand the effect food has on our bodies," says Stewart. "My health 'journey' has had many phases—some ironically not so healthy (read: calorie counting)—but my approach is much more holistic now: I focus on eating real non-processed whole foods as often as possible, without compromising my sanity or depriving myself of the treats I love."
While Stewart doesn't stick to a strict diet, she primarily eats foods that are gluten free or paleo, and makes sure to incorporate plenty of produce and humanely-sourced meat. To see what a typical day in her diet looks like, take a peek at the photos below.
Morning Coffee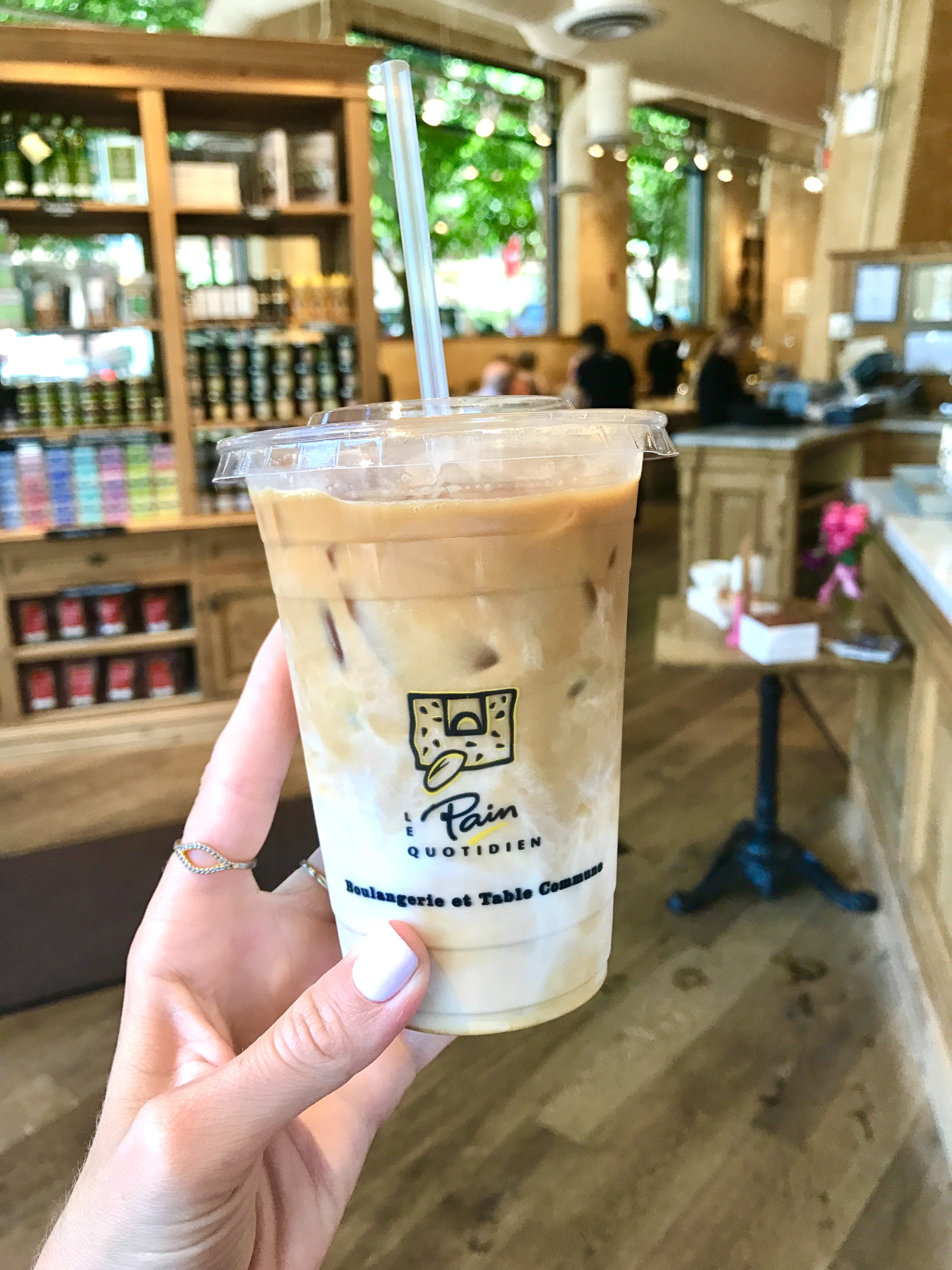 "I typically start my day with yoga or a run. If I'm running, I'll grab half a banana and peanut butter because it settles well with my stomach, but today I went to yoga, so I decided to wait to eat until afterward. On my way home, I usually stop for a coffee pick-me-up. Le Pain Quotidien is my go-to," says Stewart. "My (almost) every day order: organic almond milk latte with two shots of espresso. On hot days, I opt for iced."
Breakfast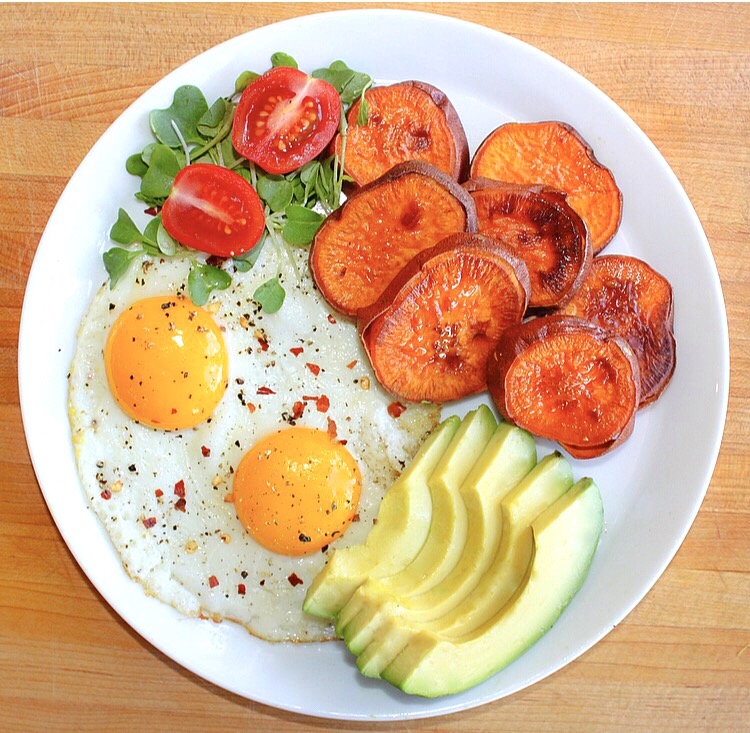 "Once I'm home, I prepare breakfast. I almost always choose an easy five-minute protein-rich, low glycemic meal rich in healthy fats to keep me full throughout the morning," says Stewart. "Organic eggs, roasted sweet potatoes (which I typically prep for the week on Sunday), and avocado provide the perfect protein-fat-carb ratio that keep blood sugar levels stable throughout the morning."
Morning Snack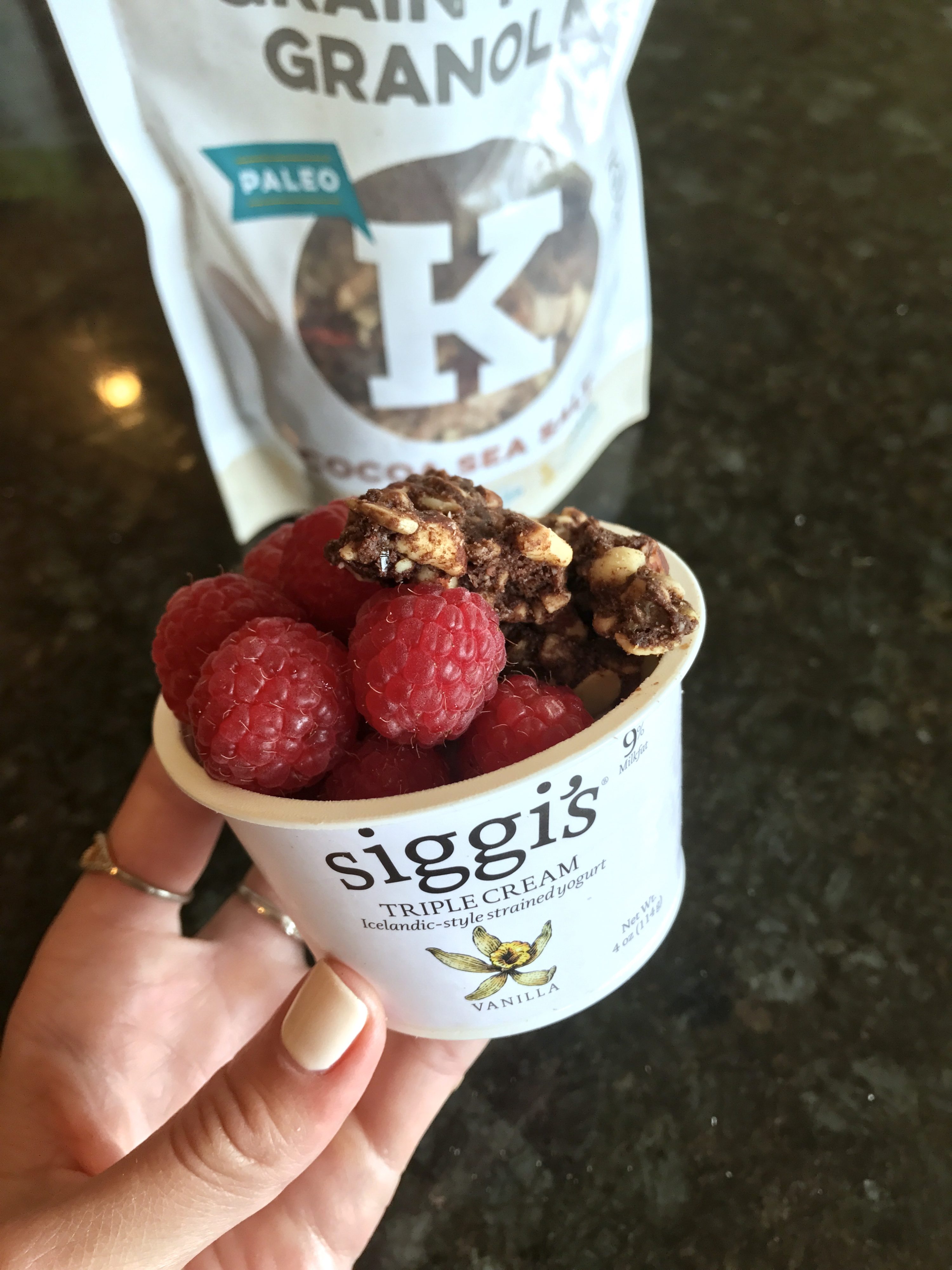 "I don't always need a snack between breakfast and lunch, but when I do, I'll reach for Greek yogurt or skyr and top it with granola and fresh fruit," says Stewart.
Lunch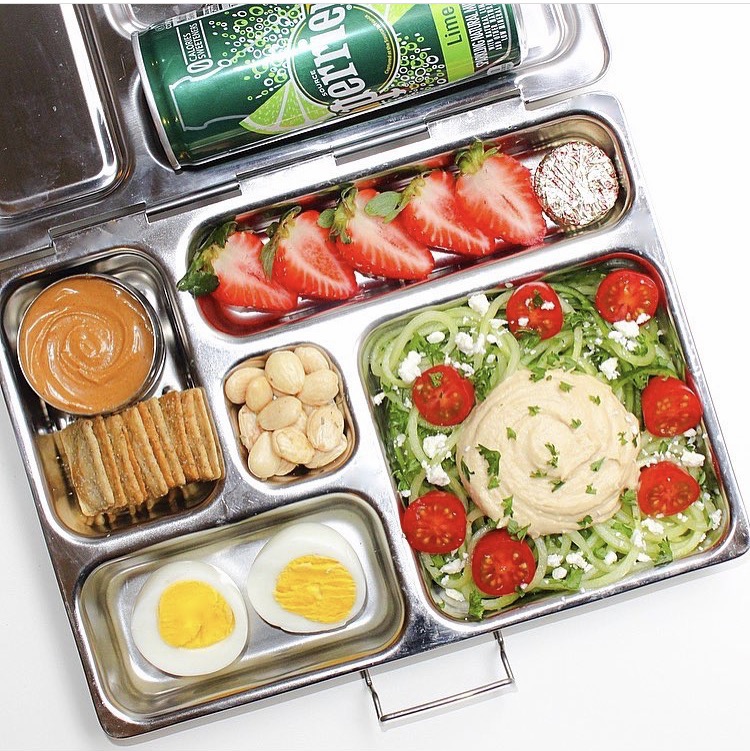 "I'm often away from my house for lunch, so I pack tupperware or a lunch box to eat in class or after I finish teaching nutrition classes to elementary-aged children," says Stewart. "I love my Planet Box because its multiple compartments inspire me to get more creative with my meals."
Afternoon Snack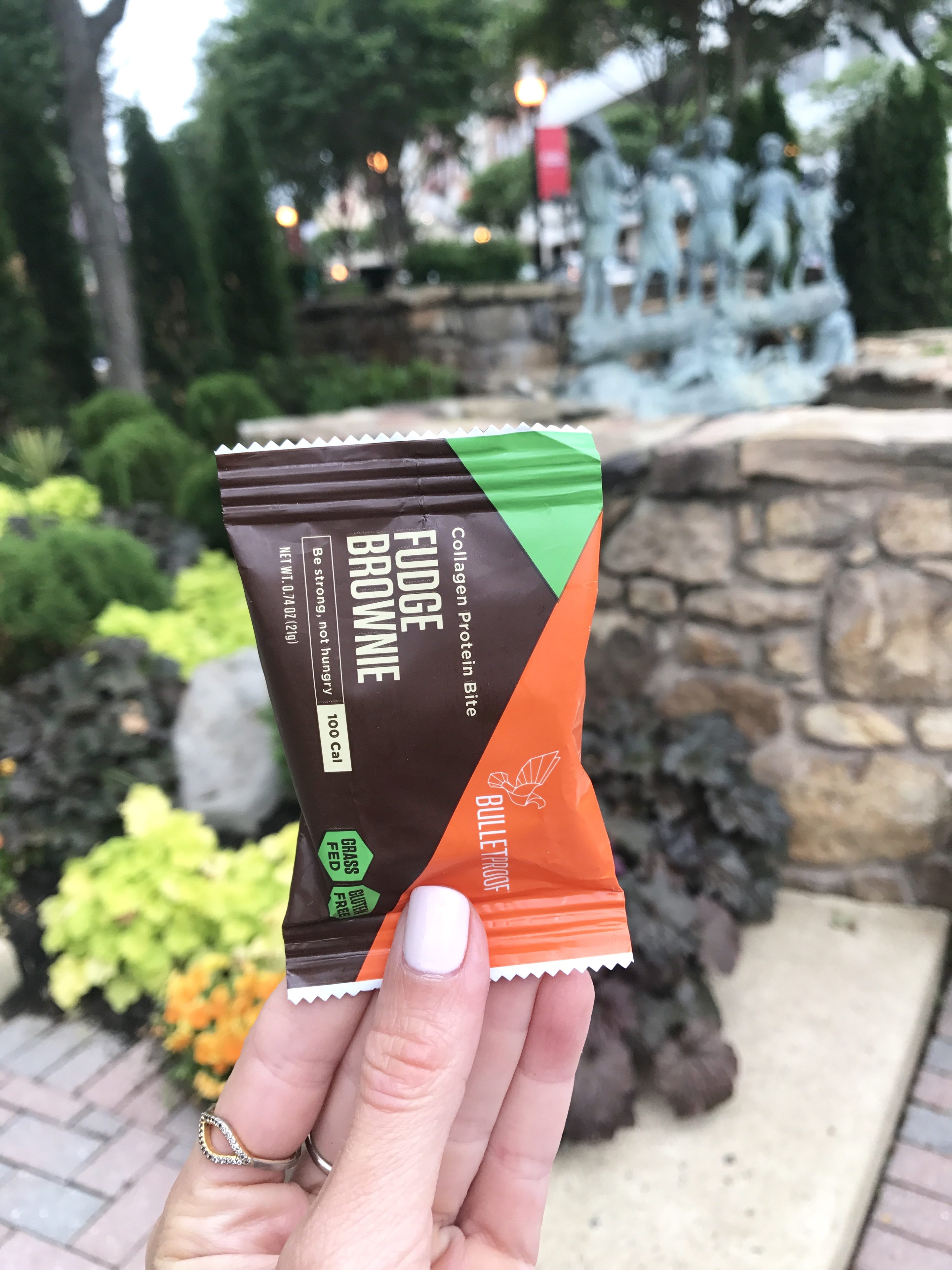 "I always keep bars in my bag, in case hunger strikes before dinner," says Stewart. "I love these bars because they taste like a chocolate shortbread cookie while packing a healthy fat, protein, and fiber punch."
Dinner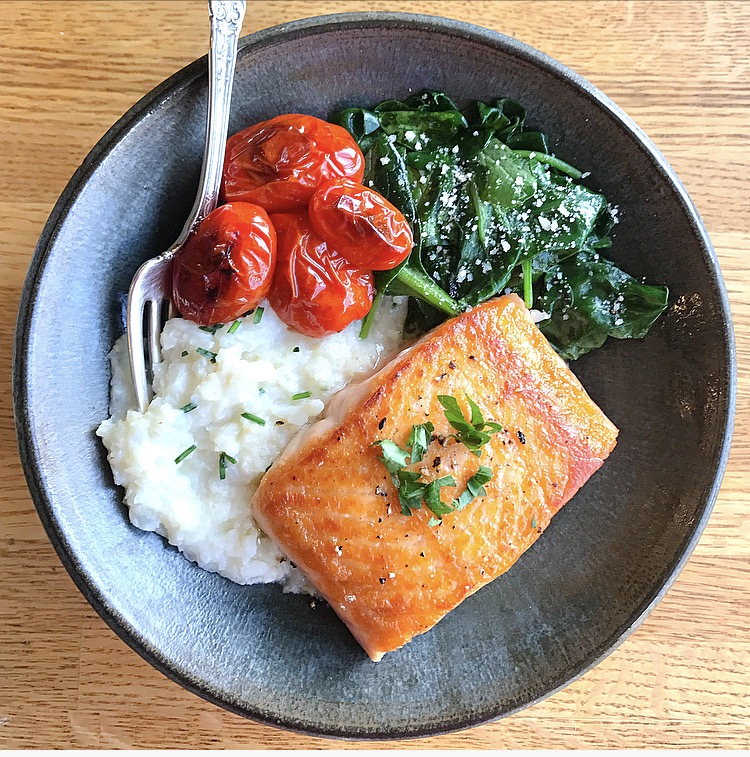 Dinner after a long day of teaching and classes  is always easy and usually comes together in 30 minutes. My go-to is wild salmon, because it cooks quickly, provides essential omega-3 fats, and always tastes amazing!" says Stewart. "I used frozen mashed cauliflower from Trader Joe's and prepared it per package instructions, then added a touch of parmesan and roasted garlic. The spinach and tomatoes were sauteed in a pan after I seared the salmon, all of which were cooked in avocado oil. I love sparkling wine and often pop open a Sofia (from Coppola Winery) after dinner. They come with sippy straws, which makes drinking them ten times more fun."
Dessert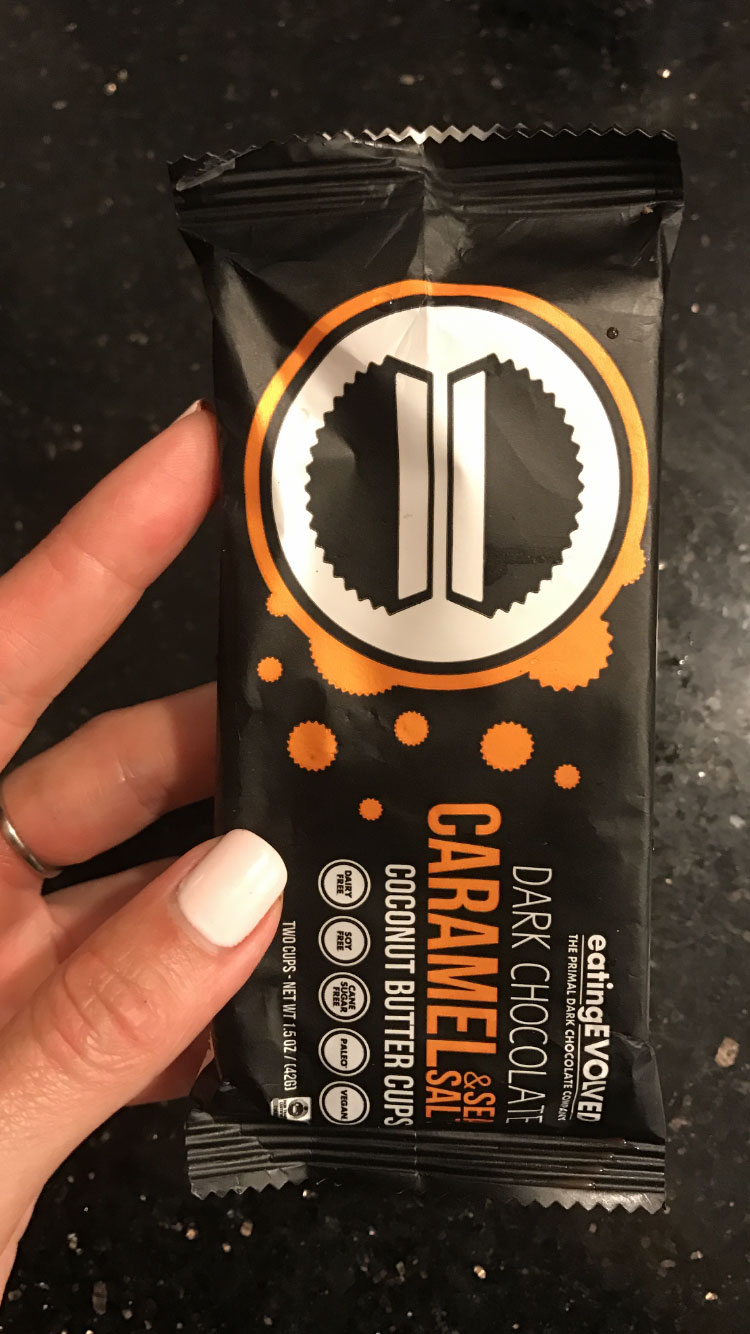 "These Dark Chocolate Caramel & Sea Salt coconut butter cups from Eating Evolved are so satisfying, and feel extra special when enjoyed in the bubble bath before bed," says Stewart.
Have a Food Diary you'd like to share? Email ccunningham@washingtonian.com.
Consult with your doctor before beginning a new diet. Washingtonian does not endorse any diet without the supervision of a medical professional.