A guide to the newest places to eat and drink.
By day, Capo Italian Deli sells subs, pasta salads, and eggplant parm. But look beyond the display cases and the cash register, and you'll notice what looks like a walk-in freezer door. It's not. At night, it becomes the entryway to a secret* cocktail bar dubbed the BackRoom at Capo. When the red light is on, it's open.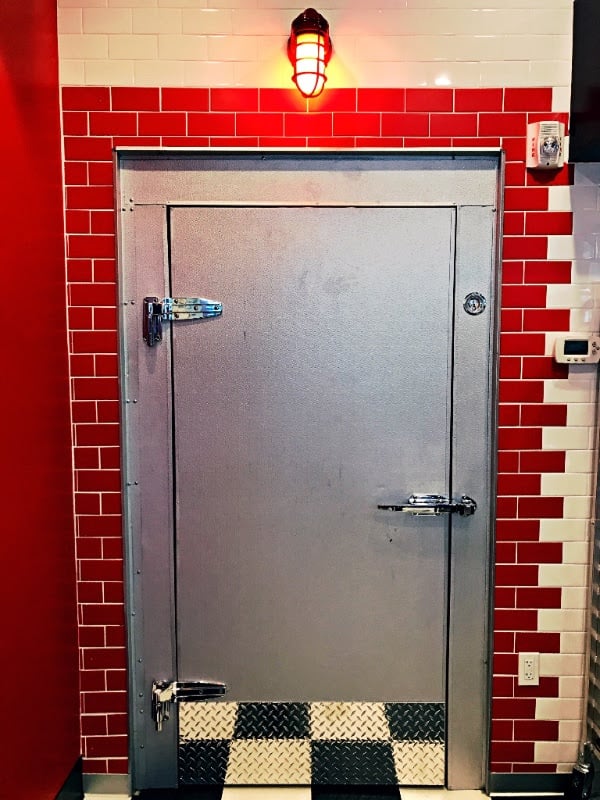 But if you want to go, you'll have to know someone who can get you in—at least at the beginning. (Speakeasy-like gimmicks just won't die, although the owners aren't using the term "speakeasy.") More specifically, you'll need someone to send you an access code. That code will get you onto a website where you add your name, phone number, and email to "the Register." From there, you'll get an email with a link to a webpage that lets you invite up to 10 more friends. They can then invite 10 friends, and so on. Once you're on "the Register," you can come in anytime the BackRoom is open and get access to a phone number for reservations. A host will check your name at the door, but you can bring friends who aren't on the list.
Owner Brian Vasile started by sending a single access code to his business partner Andy Seligman. From that one invite, the list has already grown to more than 500 people. "We wanted it to expand, and everyone be six degrees of separation from someone else," Vasile says.
The system will only be in place for for the first month or two. After that, anyone can walk in or make a reservation. But if you really, really want to check it out before then and don't have a connection? "Anyone who's asked me, I haven't said no," Vasile says.
Once you've made it in, you'll find a bar channeling the "50s, 60s Rat Pack era," Vasile says. The building, built in 1926, previously housed a bank. One nook still contains part of the bank vault, which has been converted into the eight-seat "vault bar." There are also several couches and a banquette, plus a restored Lester piano from 1892. The bar will regularly feature live music.
The drink menu consists of Champagne cocktails as well as house cocktails ($12.50), including "The Boot" (Smirnoff Red, Southern Comfort, Frangelico, lime, amaretto, ginger beer) and "Blue Mountain Ball" (Tia Maria coffee liqueur, fresh melon, lime, brown sugar). As for food, you can order anything that's available in Capo's deli, which remains open an hour past last call. In a month or so, the bar will also launch a menu specific to the BackRoom with five or six items, including charcuterie plates and bruschetta.
The bar has already been open the past two weeks on Fridays and Saturdays only, but they plan to eventually expand to Wednesdays through Sundays.
And that's about all Vasile will reveal: "We want to keep some of it kind of vague and mysterious."
*OK, not that secret. I mean, they told us about it.
The BackRoom at Capo. 715 Florida Ave., NW.