Chef Hiyaw Gebreyohannes grew up in his mom's traditional Ethiopian restaurant, first in Toronto, then Michigan. But in recent years, he's been trying to find new ways to make the cuisine hipper and more approachable in order to "put it on the American dinner table." 
In New York, he launched Taste of Ethiopia, a line of microwavable Ethiopian meals available in Whole Foods and Amazon Fresh. And now, he's moved to DC, where he'll open Gorsha Ethiopian Eatery, a fast-casual stall in Union Market.
If you're familiar with Ethiopian food, you'll recognize the flavors but not necessarily all of the ingredients and preparations. For starters, Gorsha is offering basmati rice bowls, even though rice isn't a staple of the Ethiopian diet. As Gebreyohannes explains, rice bowls are more accessible and easier to grab-and-go than the spongy injera bread that typically accompanies an Ethiopian meal. That said, the dishes will still come with some injera and optional baked injera crisps. Beyond the bowls, Gebreyohannes is also offering "injera pockets," or as he calls them, "Ethiopian tacos."
Customers can choose from three proteins and five types of vegetables. Riffing off of kifto, a chopped raw beef dish mixed with spiced butter, Gebreyohannes prepares raw yellowfin tuna marinated in Ethiopian spices and olive oil. And rather than offering doro wat, a popular chicken stew, he simply sautés the chicken in berbere.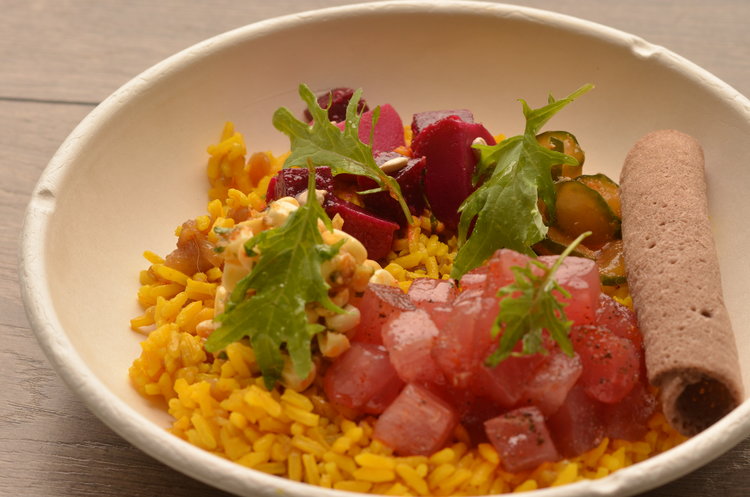 Bowls and "pockets" are completed with a choice of toppings and sauces, which again veer untraditional. Instead of ayib, a mild fresh cheese, Gebreyohannes has create a white honey sauce that will balance the spice of the meats. You'll also find pickled shallots, corn salsa, berbere daikon, and more.
On weekends, Gorsha—whose name means to feed someone from your hand to their mouth—will also offer some off-menu specials promoted on social media. One of them will likely involve injera topped with berbere smoked salmon and yogurt-parsley cream cheese.
"I don't necessarily want to create another Ethiopian restaurant. That's not my goal. I think DC has plenty of really good Ethiopian restaurants," Gebreyohannes says. "But what I do want to do is keep a fine line between tradition and creativity."
Gebreyohannes joins a small yet growing group of local chefs and restaurateurs looking to rethink Ethiopian food, which has long resisted modernization. Ethio Express Grill in Silver Spring has also applied a fast-casual model to the cuisine. More recently, Shaw restaurant Etete rebranded to serve "global small plate cuisine with an Ethiopian influence." Its new menu features crispy green lentil rolls with horn-spice balsamic reduction and a fish and chips with berbere fries. New York-based chef Marcus Samuelsson has also brought his haute-Ethiopian food to the area recently with the debut of Marcus in the MGM National Harbor.
Gorsha opens Wednesday and is set to run for three months, but has the potential to stay in Union Market permanently. Beyond the prepared foods, Gebreyohannes will sell some grocery products so customers can cook with Ethiopian flavors at home. He's packaged up berbere salt as well as his own awaze hot sauce. Going forward, he's looking to sell injera chips flavored with rosemary or turmeric, or maybe Ethiopian honey.
"For somebody who is not going to go to an Ethiopian market, they can totally come here and feel comfortable to grab things that they've tasted and they know," he says.
Gorsha. 1309 5th St., NE. Open Tuesday through Friday from 11 AM to 8 PM and Saturday and Sunday from 10 AM to 8 PM.