Chinatown ramen restaurant Bantam King is further channeling its building's Burger King past by bringing back a sidewalk to-go window on June 19. The curbside-only service will include Japanese-inspired fried chicken sandwiches and fries, but among the goodies we're particularly intrigued by: a fried chicken skin ice cream sandwich.
Given that Bantam King is a chicken restaurant, chef Katsuya Fukushima wanted to incorporate chicken into a dessert. Eggs were too obvious. So he drew inspiration for the treat from bastilla, a sweet and savory Moroccan chicken pie. His approach: how would the Japanese interpret the dish and turn it into a dessert? The final version ($5) consists of vanilla ice cream and crispy chicken skins squeezed between toasted white bread. It's finished with a dusting of cinnamon and kinako (soybean flour commonly used in Japanese confections).
Other sweets available from the walk-up window include mochi ice cream and and soda floats that will use a rotating selection of Japanese beverages, including melon cream soda.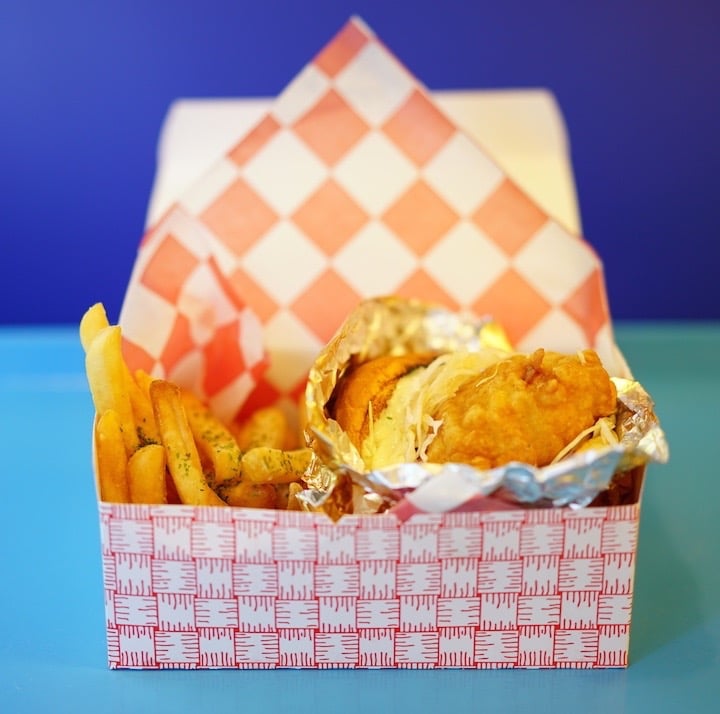 And back to the chicken. Bantam King will offer a fried chicken sandwich ($6.50) with dashi-brined breast meat, shredded cabbage, and nanban sauce (a Japanese tartar sauce). Opt for the combo meal ($9) for a side of nori-dusted fries.
The window will be open from 11:30 AM and 2 PM on weekdays only for now, but the hours will expand going forward. Here's hoping for late night.
Bantam King. 501 G St., NW; 202-733-2612.