Between an NHL salary cap that only jumped $2 million and the defensive line shakeup caused by the expansion draft, the Caps are in a tough financial spot.
As a result, it's likely that sniper/American hero/all-around good guy TJ Oshie will be on his way out of Washington soon. He was left unprotected during Wednesday's draft and will be an unrestricted free agent, one worth more than his current $4.175 million cap hit, as of July 1. A good forward can get around $6 mill (just look at Oshie's former teammate David Backes, who left the Blues for the Bruins in 2016 and jumped from $4.5 to $6 million a year), and that's money the Caps should (read: need to) spend on other spots on the roster.
"But it's Oshie!," you shout. "They won't do it! He's a fan draw! He just had his best scoring year ever! Just look at his scoring percentage!"
I've heard all these arguments before and can tell you that this is denial. They will do it. They did it in St. Louis, and that was right on the tails of the Oshie shootout against Russia in Sochi that still gives me chills. He was a nationwide star.
You'll say that the Caps will make it work, and that surely rookie talent can step up to fill gaps for cheap. But here's the thing about denial: it only works until the thing you're denying happens anyway. Bleacher Report has projected Oshie will go to the Devils. FanRag offered up Vancouver and Toronto, who both need scorers and have money to spend, as options. The Post's Isabelle Khurshudyan notes the loss of defenseman Nate Schmidt will make it hard for the Caps to afford re-signing him. The writing is on the wall, and ignoring it won't make things any easier.
What follows will be anger. "How could they let him go? How could he choose to go?" I was legitimately angry at Oshie for like six months when he left St. Louis. Then logic returned to my brain. He's a hockey player. He's a good hockey player. And he wants to make money so that someday, when he's tired of getting beat up on the ice nine months out of the year, he can retire.
And you can't blame him for that. He's 30, and hockey takes its toll. Not every player is going to pull a Jagr and play into their 40s. It's more than likely that we're seeing Oshie's peak right now. He can go elsewhere and make the money he currently deserves while his play slows down a bit. He'll make millions, the Caps will save millions and, in the end, both will be better off. Realizing this fact is the key to letting go.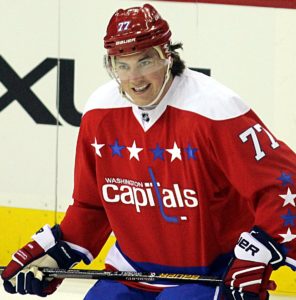 Eventually you'll move on. You'll stop being mad and instead think fondly of the season when you saw that goofy-looking winger light the lamp 33 times. You won't throw out your sweater, mostly because those things are expensive, but also because there's no shame in wearing that name. And when he shows back up in DC wearing new colors, you might even clap as he takes the ice. By then you'll have new talent to be excited about anyway.
The first time I saw Oshie play with Ovi and Backstrom I knew he'd made the right call. I was still annoyed that he wasn't a Blue, but he just clicked. He was going to have a great season; it just wasn't going to be with us.
That "It's nice he's doing well with his new line" moment is acceptance. And you'll get there. But it's going to take some time.