From hiring in-house sommeliers to rooftop dog parks, DC apartment buildings are constantly finding new ways to out-luxe each other with unique amenities. But the recently opened One Hill South apartment building in Navy Yard has come up with an amenity that isn't quite as ubiquitous as the rooftop dog park (though it has one of those, too): a residents-only Equinox.
Equinox's high-end interiors and potential for celebrity sightings have made it a fan favorite among the elite fitness crowd, but at One Hill South, membership to the gym is just one of the perks of living in the building—though being a resident does come with a $50-per-month amenity fee for studios and one-bedroom apartments and a $75-per-month fee for two-to-three-bedroom units.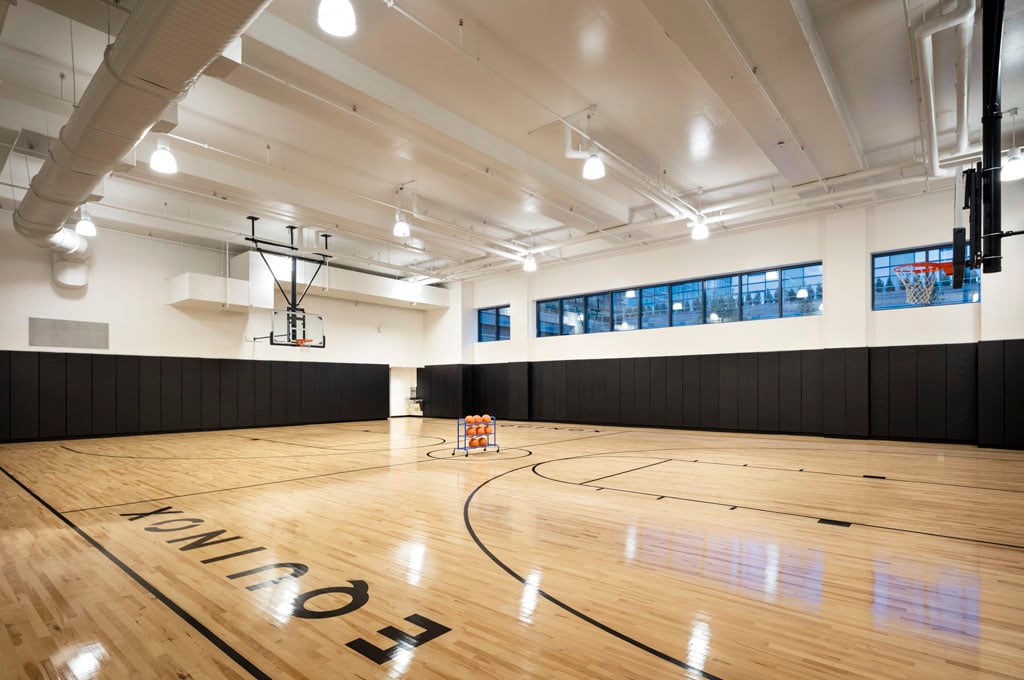 Outside the entrance of the gym, there's a self-service coffee bar and a iMac bar, where residents can check their email before heading to their workout. The gym—which was designed by Equinox and follows it's greyscale design scheme—is outfitted with recycled rubber floors, which are ideal for high-impact workouts, and the same preferred brand of equipment (including Iron Grip, Hammer Strength, and Life Fitness machines) used in full-size Equinox gyms. The gym has an open "stretch space," with a bar and mirror for barre workouts, cardio machines, and dumbbells and hand weights. There's also a separate studio room, where classes can take place or residents can meet up with a personal trainer. The studio space is also equipped with a smart television, so residents can pull up their favorite YouTube workout videos.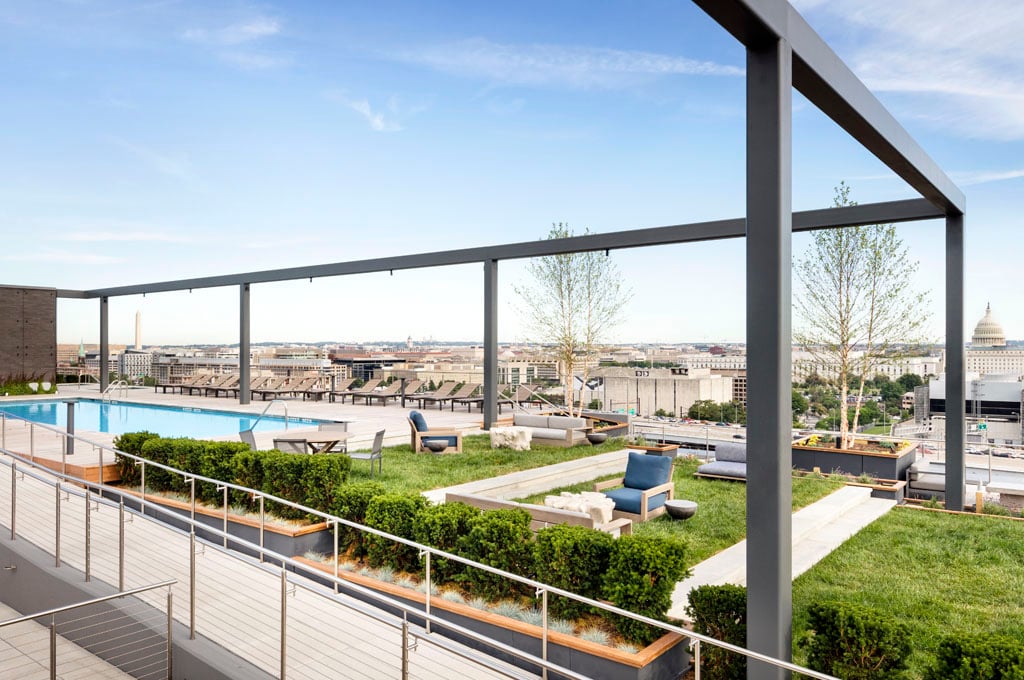 By far the show-stopper is the full-size basketball court that's attached to the gym. Here, residents can run sprints or play a game on a glossy, wood-floor court. The one thing the gym is currently lacking in comparison to a regular Equinox is a full line-up of instructor-led classes. One Hill South is currently seeking to partner with local trainers to bring their lessons into the gym so that residents can enjoy complementary fitness classes in addition to working out on their own in the Equinox-branded space.
But for fitness-minded residents, the Equinox isn't the only relevant amenity: there's also a rooftop pool for swimming (or pool workouts, like "aqua Zumba," which One Hill South is looking to bring in), two rooftop hot tubs for relaxing sore muscles, and sod lawns on the roof to be used for meditation or yoga classes. The rooftop looks out at the Capitol Building and the Washington Monument, so resident's can find their zen while staring down some pretty spectacular views.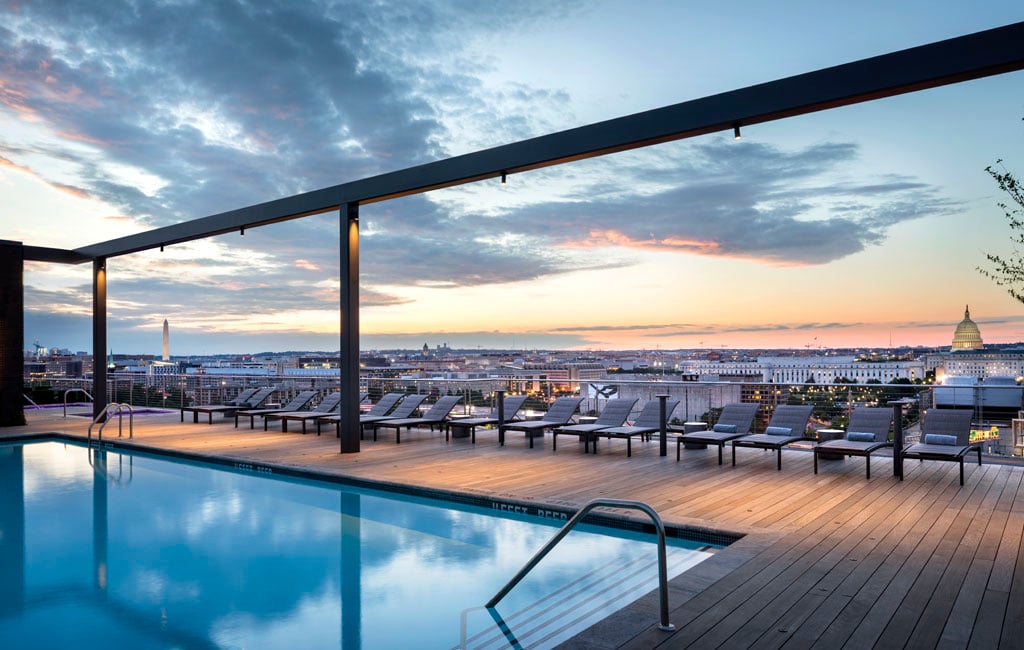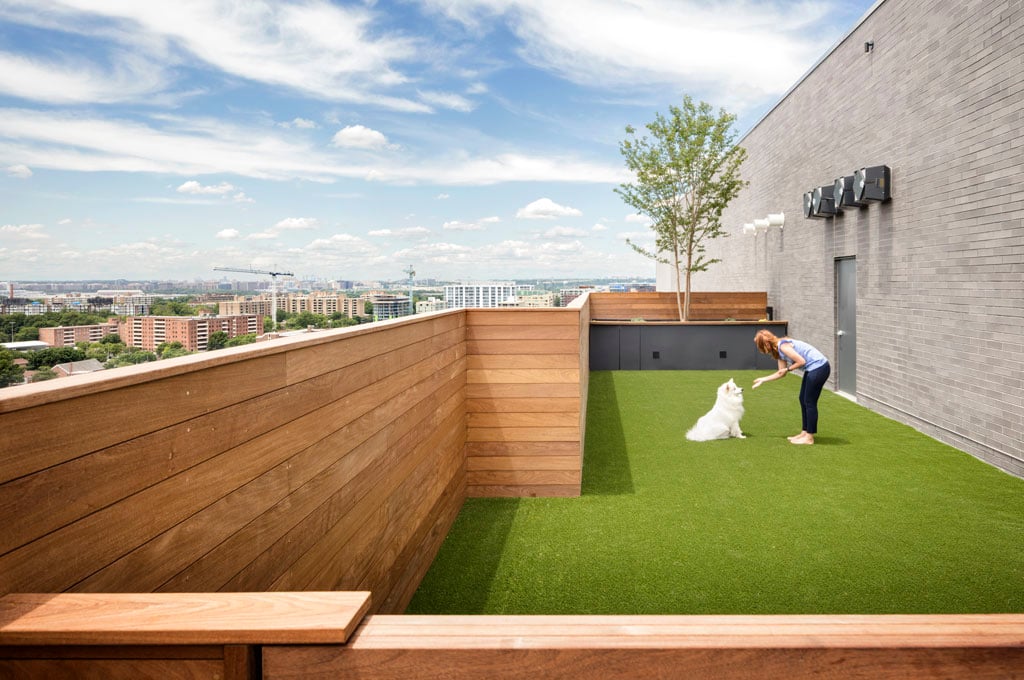 All these amenities (plus rooftop grills and fire pits, reservable party spaces, and on-site doggie daycare) don't come cheap: Rent at the 383-unit building starts at $2,000 for a studio apartment. Take a look at the property through the photos here, then visit in person at 28 K Street, SE.