Capitol Riverfront, stretching along the Anacostia River from Navy Yard to Buzzard Point, is one of the city's biggest drivers of growth. Already home to Nats Park and Audi Field, the waterfront area is seeing a slew of development. Keep your eyes peeled for tons of restaurants and bars, a forthcoming concert space, more housing, and maybe even a new museum. Here, some updates on in-the-works projects and neighborhood news, plus a roundup of newer spots to check out.
---
DEVELOPMENT
Population Increase
According to the Capitol Riverfront Business Improvement District, the area has seen an 18-percent population increase since 2018. Currently, it has more than 18,000 residents. Most live in apartments: Across the neighborhood's 13,302 residential units, 11,883 are multi-family rental spaces. Meanwhile, 2021 census data shows that a third of DC's population growth over the previous ten years was in Ward 6, which includes Capitol Riverfront.
---
DINE
Back to Top
Silver Diner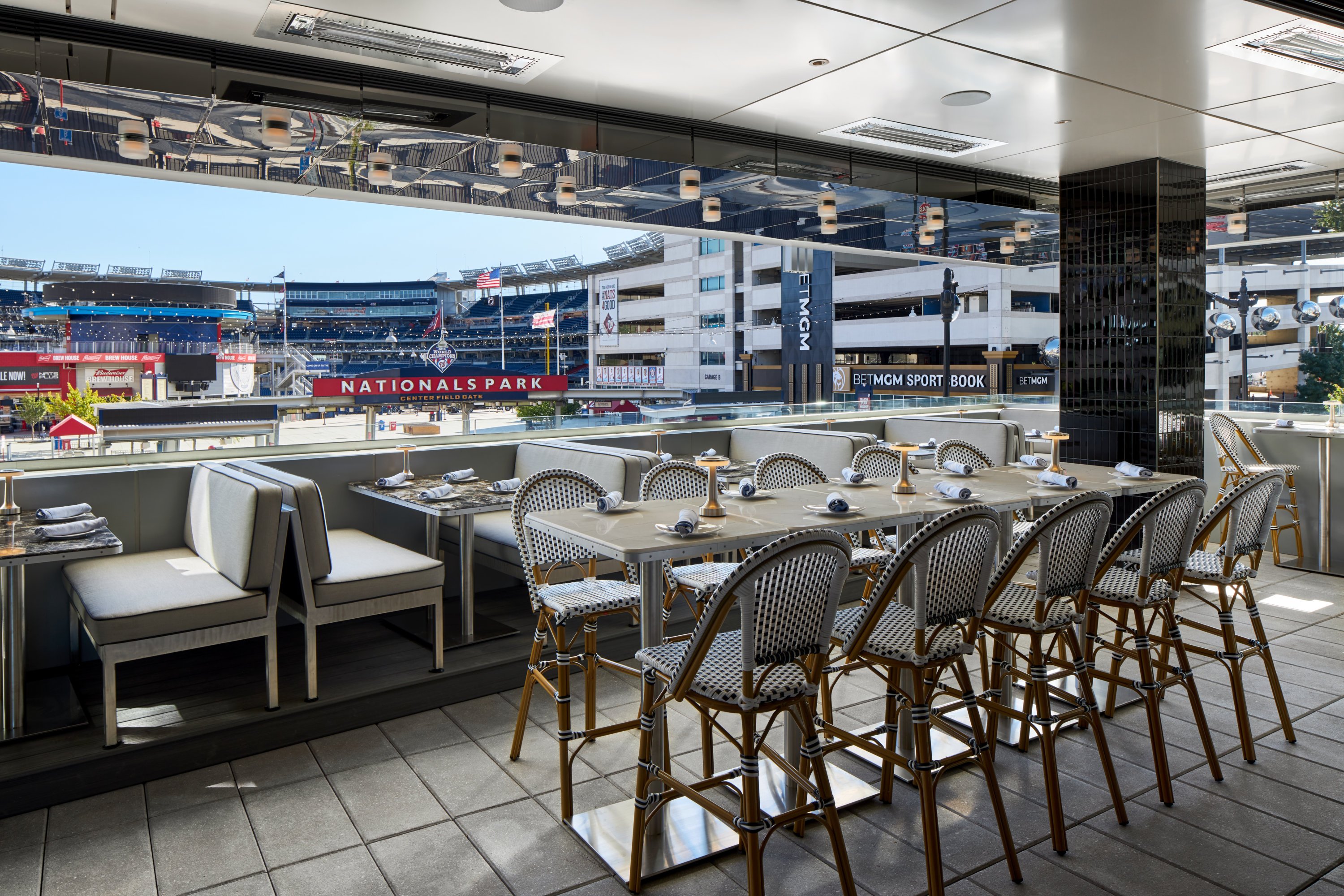 Thirty-three years after launching its inaugural site in Rockville, Silver Diner opened its first location in the District last year, next to Nationals Park. Downstairs, you'll find the family-friendly vibe and all-day breakfast menu Silver Diner is known for—think avocado toast, buttermilk pancakes, and a wide selection of burgers, sandwiches, and salads. Upstairs, the more upscale Silver Social offers a different vibe for the 21-and-over crowd, with shareable plates such as Buffalo-chicken tacos and scallop risotto, as well as craft cocktails including the Pear Blossom, with vodka, and the coconut-creme Fancy Colada.
---
PLAY
Back to Top
Swingers
The indoor putt-putt spot Swingers opened its second DC location earlier this year. The 25,000-square-foot space includes three nine-hole mini-golf courses and takes aesthetic cues from a 1920s British seaside resort, with floral decor, bright-pink-and-blue walls, and multicolor bunting. Fuel your swing with crispy cod tacos from TuTaco and kale almond-­pesto pizza from Kneadza, or visit one of the three cocktail bars and sip a cranberry mojito or a gin-­elderflower-and-Prosecco spritz.
---
DRINK
Back to Top
Trouble Bird
DC beverage connoisseur Brent Knoll recently turned his Navy Yard Maxwell Park location into Trouble Bird, a new late-night cocktail spot. The vibe is a punk take on a grandmother's living room, with funky illustrated wallpaper, old-school black-and-white tiles, and a disco ball. Co-­owners Andrew Hurn and Justin Cara-Donna, previously of the cocktail lounge Silver Lyan, bring fresh takes on classics, such as their avocado-and-bay-leaf daiquiri and a sandalwood gin and tonic, along with frozen mezcal margaritas. Bites including carbonara panini and shishito peppers soak up the booze.
---
DINE
Back to Top
Duke's Grocery
The East London–inspired gastropub Duke's Grocery recently opened a 3,700-square-foot Navy Yard outpost, its fifth and largest. The walls display photos of Brits like Elton John and Princess Di, as well as a London-street-art-inspired mural by DC artists. For brunch, try the classic Proper Burger or the Proper Stack—a.k.a. pancakes served with vanilla cream and berries. Also check out the mule bar, featuring variations on the gingery cocktail, including one with tej, an Ethiopian honey wine, and another with Crown Royal Canadian whiskey and ginger-chili syrup.
---
DRINK
Back to Top
Royal Sands Social Club
Last year, Mission and Salazar bar owners Fritz Brogan and Reed Landry opened Royal Sands Social Club, built to resemble a giant pool: wall-to-wall blue tile, faux palm trees, giant umbrellas, and a lifeguard stand for a DJ booth. At $10 million, the two-level, three-bar Navy Yard project is the duo's most extravagant yet. The watering hole offers a mix of Floridian-, Hawaiian-, and Japanese-inspired flavors, including grilled teriyaki gator bao buns and a sushi platter called the SS Navy Yard. Guests can also enjoy sake and beachy cocktails like a royal rum punch.
---
DEVELOPMENT
Back to Top
Buzzard Point
The swath of waterfront between the Wharf and Navy Yard is undergoing a wave of development: Parcel B, a $200 million mixed-use project near Audi Field that's expected to break ground in 2024, will have apartments with ground-floor retail, contain the new headquarters for Volunteers of America, and house the first local outpost of Brooklyn Bowl, a bowling alley meets concert venue with capacity for 1,200. Meanwhile, the seven-acre development called the Stacks started construction last year and will have 2,000-plus residential units; retail, restaurant, and office space; a park; a pedestrian-only road called the Corso; and potentially two hotels. Other buildings in the works, such as the Vermeer, will bring more housing and shopping.
---
DINE
Back to Top
Any Day Now
Any Day Now, opening this summer, is the newest venture from Chef Tim Ma of the American Chinese takeout spot Lucky Danger. It's taking the place of Erik Bruner-Yang's former ABC Pony restaurant in Navy Yard, which closed earlier this year. The cafe will kick off service at 7 AM daily and offer coffee, pastries, and scallion pancakes before transforming into a restaurant with upscale, creative American fare and craft cocktails at night.
---
PLAY
Back to Top
Nationals Park
The Nats are now up to bat for their 19th season, and Nationals Park has some new features: This year, fans can download the MLB Ballpark app to order food and drink online and opt for delivery right to their seats. They can also swing by the new self-checkout marketplaces for grab-and-go options or visit just-opened vendors such as Capo Italian Deli for roast-turkey subs and Chesapeake Crabcake Co. for crab-dogs. Virginia brewery Devils Backbone opened Left Field Lodge to serve its popular beers, and ballgame-goers can now buy pre-batch cocktails including a cherry-blossom mule at bars throughout the stadium.
---
SELF-CARE
Back to Top
Silver Mirror Facial Bar
Silver Mirror Facial Bar, a New York–based group with another location in Dupont Circle, opened in Navy Yard last year. This isn't a day spa—it provides only facial services—but you can choose from options including dermaplaning, microneedling, and hydradermabrasion. The group was inspired by facial bars in Korea, where one-stop shops offer quick and affordable treatments. Silver Mirror's 30-­minute signature facial starts at $99, and its 50-minute anti-­aging and acne-­fighting facials are $155.
---
DINE
Back to Top
Gatsby
Knead Hospitality Group, which operates Penn Quarter's Succotash and the Wharf's Mi Vida, is behind Gatsby , a two-story twist on the diner concept serving reimagined American classics like chicken pot pie with a lavender-maple crust and a Monte Cristo with cherry marmalade. The Art Deco–inspired space sits right by Nats Park and next to Mah-Ze-Dahr bakery, which provides desserts for Gatsby patrons, including an apple-crumble pie and a tin-roof sundae with Spanish peanuts and Valrhona hot fudge on vanilla ice cream.
---
DEVELOPMENT
Back to Top
Navy Yard 2.0
Phase-two development of Navy Yard's 48 acres is underway, with 3.4 million square feet of new space spread across ten buildings. Highlights include green spaces in Diamond Teague Park and Yards Place, plus a pedestrian-friendly cobblestone street with shopping and restaurants connecting the Navy Yard Metro to the Anacostia waterfront. The strip will also house two 12-story mixed-use buildings with more than 46,000 square feet of retail that will serve as an incubator for eight to-be-­selected women- and minority-owned small businesses.
---
DRINK
Back to Top
Takoda
There's a new Takoda in town: The group behind the Wharf's Boardwalk Bar & Arcade and the original Takoda in Shaw opened another version last summer in Navy Yard, with a large beer-garden-esque rooftop bar just a block from Nats Park. The 7,000-square-foot space serves mules, margaritas, mojitos, and frozen spiked slushies, as well as snacks like truffle tots and loaded fries. And, of course, there's happy hour and bottom-less brunch, too.
---
DINE
Back to Top
The Point
In spring 2021, the team behind Georgetown staples Tony & Joe's and Nick's Riverside Grill opened the Point, the first restaurant at the Buzzard Point development. The waterfront venue overlooks the intersection of the Potomac and Anacostia rivers and has seating for 500, including a sprawling 150-seat patio with fire pits. Flip through the menu for wood-fired seafood entrées—think freshly shucked oysters from the raw bar, crab doughnuts, and brunch options including cast-iron bacon-wrapped shrimp. And keep your eyes peeled: It's become something of a haunt for DC politicians—Mayor Muriel Bowser hosted her 50th-birthday party there last year.
---
PLAY
Back to Top
Half Street Central Farm Market
Now in its second year, the Half Street Central Farm Market at the Nats Park entrance features dozens of local farmers and artisans, such as Open Hand for fresh pasta and sauces, DMV Empanadas for handcrafted savory pastries, and Shady Grove Candles for hand-poured, 100-­percent-soy candles. The market is open every Saturday through December 16, rain or shine, with arts and crafts for the kiddos and live music.
---
DRINK
Back to Top
Solace Outpost
Virginia's Solace Brewing Company—which has locations in Sterling and Falls Church—dove into the DC market last year with Solace Outpost. The industrial-­style waterfront building faces the Frederick Douglass Memorial Bridge and is a quick walk from Nationals Park. Customers can either grab cans to go or drink drafts onsite. (Solace is known for its IPAs.) Every­thing under its "Brats" menu section—half-smokes, bratwursts, and hot dogs—is from Stachowski's deli in Georgetown.
---
SELF-CARE
Back to Top
Varnish Lane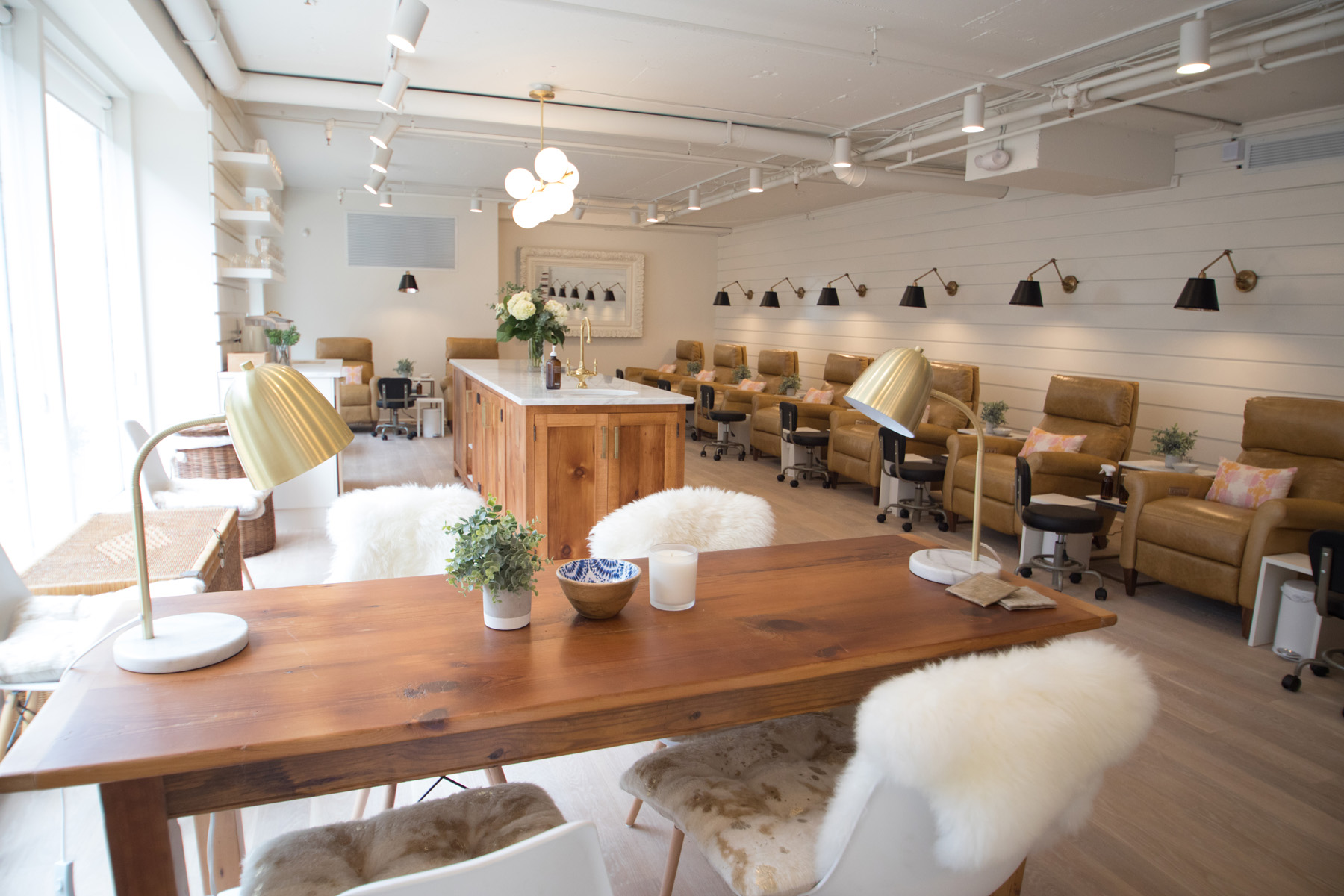 The waterless and zero-toxin nail salon Varnish Lane opened its fourth DC location last year in the Boilermaker Shops, a renovated industrial building where Navy ship parts were manufactured in the early 1900s. The group, founded in DC by a mother/daughter duo, offers regular and gel manipedis with plant-based polishes. A regular manicure is $30, a regular pedicure $52.
---
DEVELOPMENT
Back to Top
National Museum of the U.S. Navy
The National Museum of the U.S. Navy is getting a new home. The current Navy Yard location, which opened in 1963, will be swapped out for a relocated $450 million museum. The official architecture firm for the redesign hasn't been picked, but five major firms have already sent in proposals. Submissions include massive industrial buildings with fighter jets hanging from the ceiling and huge ship-mast displays. While the future site isn't set in stone, it will likely still be in Navy Yard. When opened, the space is anticipated to be about 270,000 square feet, with more than 100,000 square feet of gallery space.
Back to Top
What's Selling
The quickly growing Capitol Riverfront neighborhood has plenty of green space along the waterfront, Metro access, tons of restaurants and bars, and a mix of new luxury apartment buildings and rowhouses. Here's a sample of what's sold in the past few months.
This article appears in the June 2023 issue of Washingtonian.