The Washington Nationals return for their 16th season on Thursday, March 30, facing off against the Atlanta Braves at 1:05 PM. In addition to a bunch of fresh faces on the team—and a potential new owner on the horizon—there's a lot happening at the stadium itself. Here's what to expect going into the 2023 season. 
Speed-Saving Entry (With Bag Limits)
Last season, the Nats introduced new security screening technology that lets fans enter without having to remove keys, wallets, and other "non-threat" items. It was successful in reducing wait times, so they're sticking with it. There's also a new partnership with Clear (yep, same one from the airport) that allows ticketed users of the service (and free app) to speed through in designated Clear lanes. 
Bag policies are the same—all bags larger than a clutch must be clear (plastic, vinyl, Ziploc, etc). Medical and diaper bags are permitted, but must be inspected in designated lanes. Ticket holders can bring in single-serving food items and water bottles (smaller than a liter). There are also lockers outside the main entrance starting at $2 an hour.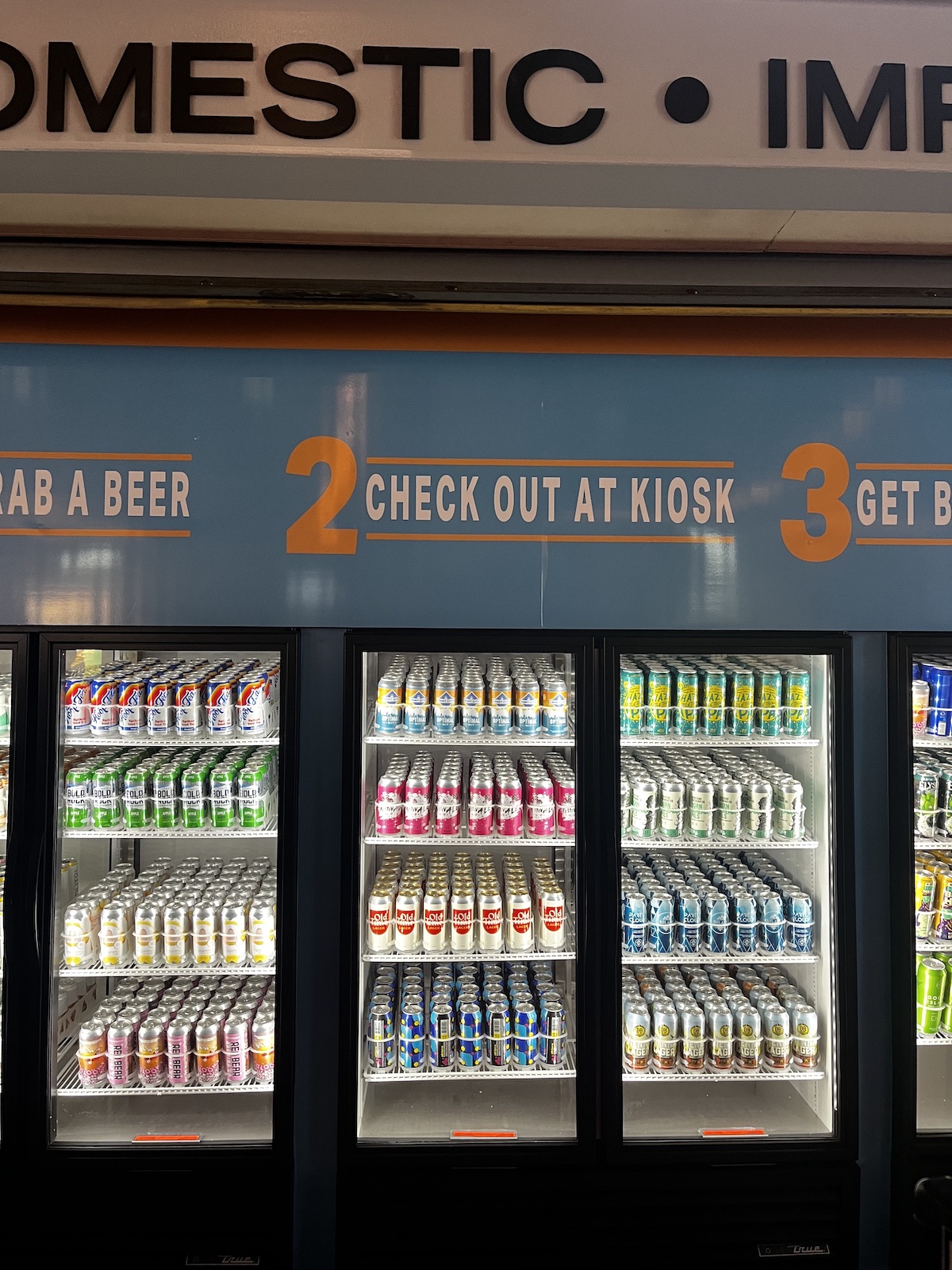 Grab-and-Go Food and Beer 
Speed is the name of the game at Nats Park—and that now extends to beer. The Nationals have added several Grab-and-Go Marketplaces (Sections 110, 136, 141, and 314) where fans can walk up to coolers and select snacks and drinks—anything from Bud Light to local Port City, seltzers, and canned cocktails. A self-checkout system makes things even faster. 
A Bunch of New Concessions
The Nats have long partnered with local food and drink purveyors for an exciting lineup of concessions—Ben's Chili Bowl dogs, Roaming Rooster fried chicken sandwiches, La Casita pupusas, Arepa Zone, Rockland's Barbecue, South Mountain Creamery ice cream, and more. That being said, you can also still get a ballpark dog and Bud Light. 
New to the lineup this year: 
Capo Italian Deli (Section 107) – The popular Italian deli will offer its huge subs (Italian cold cut, roast turkey, tomato caprese) and pasta salads.

 
Jammin' Island BBQ (Sections 218 and 243) – The local island-style barbecue is back (their last season was 2018), and is firing up charcoal grills for plates with Caribbean and Filipino flavors. Look for jerk chicken, ribs, burgers, and more.

 
Swizzler (Sections 106, 130, and 320) – What started as a food truck is now a multi-platform business that's rethinking fast food with grass-fed (and very tasty) burgers and homemade fries. Their first brick-and-mortar is just blocks from the stadium, but now they're inside with smash-burgers and crispy chicken sandwiches on local potato buns.

 
The Nationals brought on new executive chef James Pryor for the park's internal concepts, and to revamp the menu at the Budweiser Brew House (fun fact: the restaurant is open to the dining public, without tickets, on a regular basis). New concessions and dishes include Bullpen Tacos (Section 133), Chesapeake Crab Cake Co. (Section 109)—which serves local crab in cakes, crab-dogs, and pretzels—and Char Bar. The latter, located in the Right Field Plaza, is the park's certified-kosher stand with barbecued beef brisket sliders, falafel, kosher dogs, knishes, and more.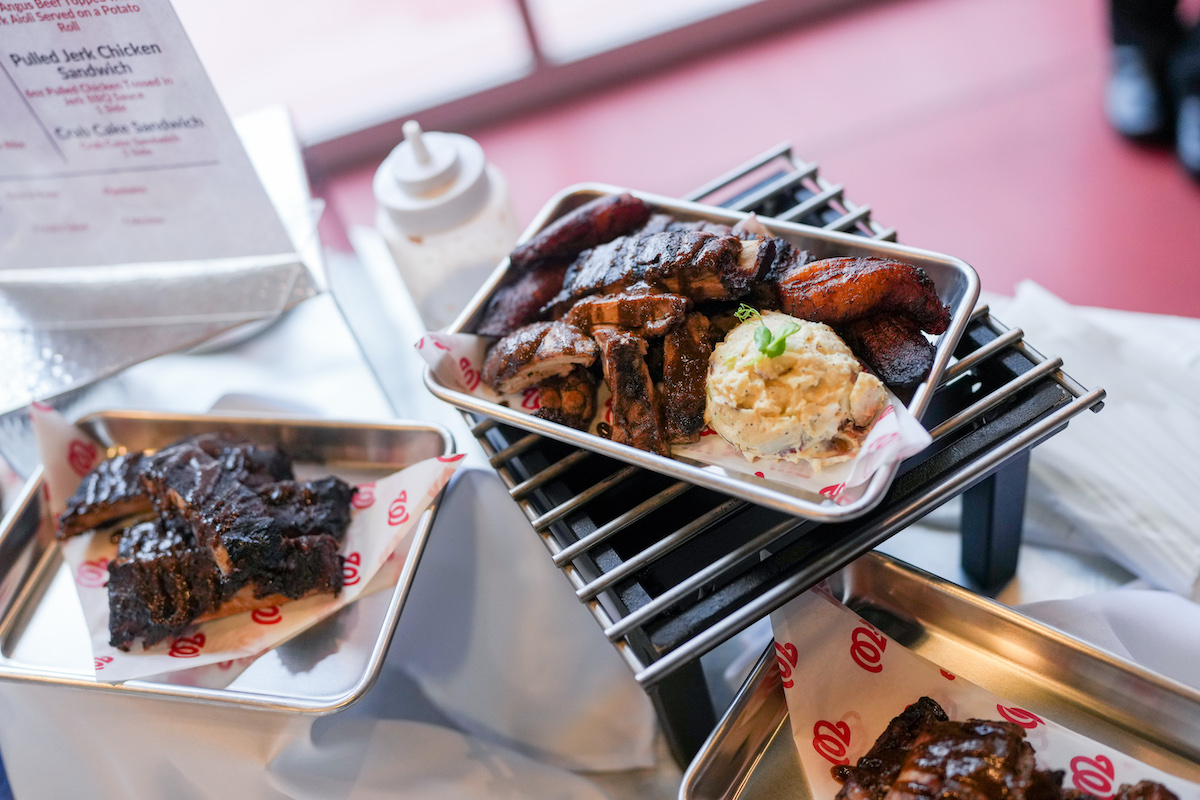 No Cash, More Tech
There's still no cash accepted at the stadium—a pandemic policy that's remained—but there are kiosks where fans can exchange paper money for eCash. 
In general, it's handy to download the  MLB Ballpark App, which launched last season. The app allows fans to purchase and manage tickets, upgrade seats on the fly (including club passes), and buy/order food, drinks, and merchandise. QR codes have been added to seats so you can place orders without missing the game, and there's even delivery offered through the first few innings. 
The ballpark app can also help fans search for food by location or cuisine, and there's a virtual assistant who can help answer questions. 
More Money-Saving Options

 
Sure, ballpark prices can get steep. But the Nationals have added a few value options for food, drinks, and tickets. 
Value days – Seven game days (at least one a month) have been designated with discounts, including 30-percent-off tickets, concessions, merchandise, and parking.
Kids eat free – The program, in which kids under 12 get one free meal per game, will return this summer when school is out.

 
Family fun packs – Through a partnership with Harris Teeter, the Nationals are offering a game ticket and full meal (hot dog, chips, and a drink) starting at $20 on select days.

 
Group discounts – Groups of 20 or more are eligible for discounted tickets. The team also added a bunch of customizable options on the Nats Ticket Finder for corporate outings, birthday parties, and such, including added-value tickets that can be used for concessions and retail.

 
In addition to promotions, the Nationals regularly offer a limited quantity of $5 tickets on a first-come, first-serve basis at the ticketing office on game days (the box office opens 2.5 hours prior to first pitch). If you get into the stadium early, you'll also find happy hour deals sponsored by Budweiser and others. 
Fun Events and Theme Nights
Popular theme nights are back—including Star Wars Day (May 20) and Night OUT for Pride (June 6)—plus new ones like Harry Potter Day (July 8). There are also three nights planned for fireworks above the park (May 12 vs. the Mets; June 2 vs. the Phillies; July 3 vs. Cincinnati Reds). Opening Day (March 30) brings a bunch of fun activities outside the game itself, including a parade by the Budweiser Clydesdale horses; a flyover by the DC Air National Guard; and free face painting, balloon artists, and more in the Family Picnic Area.