Curry Leaf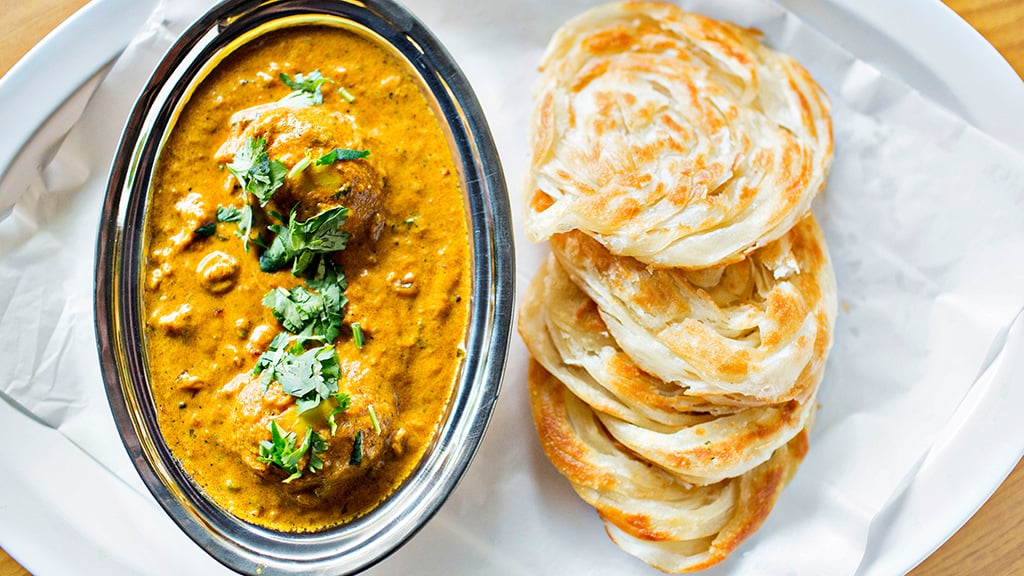 Laurel, MD, 13919 Baltimore Ave., Suite 4
Typically, we'd recommend skipping a lunchtime Indian buffet—the uninspiring array of dishes can taste stale, and flavors tend to be dumbed down. Not so at this cozy spot, where afternoons bring a bounty of bright salads, curries, and fritters that include such finds as fried chilies with mint chutney and tender goat stew, plus a garden's worth of vegetarian items—all for $12 ($14 on weekends). On the regular menu, chef Saravan Krishnan crafts terrific renditions of the meatless dishes (dosas, eggplant-peanut curry) and coastal specialties (crab Malabar) of his native Southern India.
Also good: Tandoori lamb chops; egg curry with flatbread.
H Street Corridor, DC, 243 K St., NE
At Dinesh and Nidhi Tandon's NoMa hangout, graffiti lines the walls, and there's a tiny pour-your-own bar—plus a spacious outdoor one—as well as an ever-changing chalkboard menu of true home-style cooking (the owners and their daughter live upstairs). Punjabi-style curries are as stimulating as the atmosphere; when they're available, we love the cardamom-spiked butter chicken, fragrant keema lamb, and fire-breathing vindaloos. There are more than 25 vegan/vegetarian offerings—try a sampling on a thali platter, and don't forget the smoky eggplant or gingery cauliflower.
Also good: Chicken do piazza; paneer-stuffed paratha.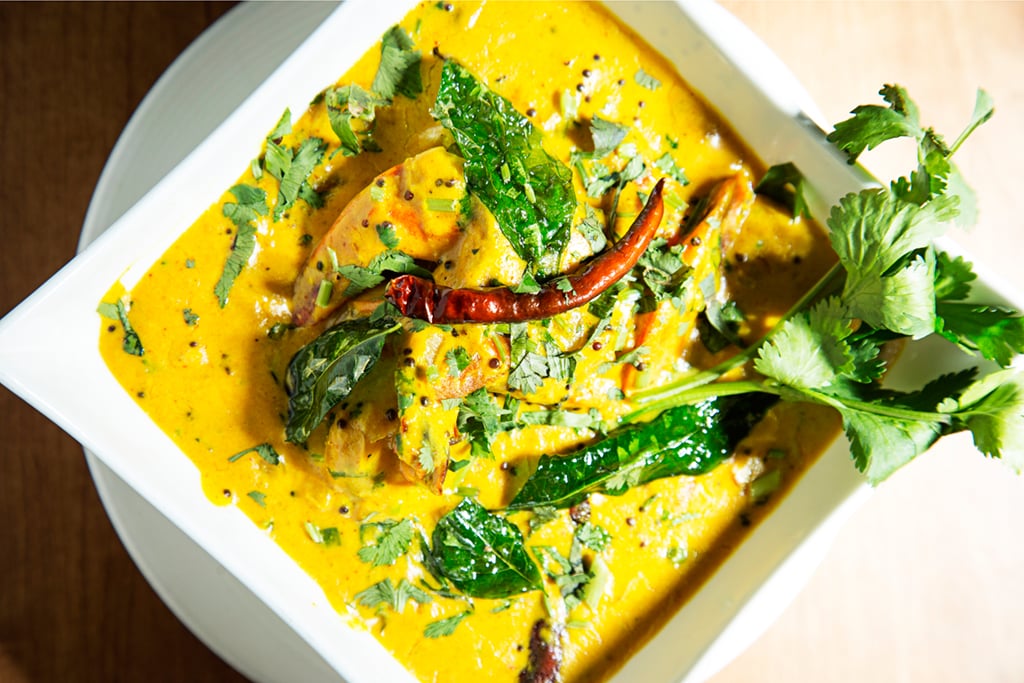 Silver Spring, MD, 10151 New Hampshire Ave.
This is one of the few bargain restaurants where vested servers use table-crumbers on white cloths. The sophistication also applies to the kitchen, which highlights Northern Indian fare and a few Indo-Chinese specialties, such as a standout paneer hot-and-sour soup. It's operated by the same owner as vegetarian Woodlands in Langley Park, so it's no wonder you'll want to gravitate to the vegetables here, too. A thali tray is our favorite way to graze on spiced okra and eggplant bhartha, and the creamy dal that accompanies the mix is superior to versions you'll find elsewhere.  
Also good: Lamb vindaloo; shrimp jalfrezi with peppers and onions.
Alexandria, 191 Somervelle St.
It's easy to get distracted by the curry-colored walls, chandeliers and neon lights, and images of Indian and British celebrities (wait, is that Kate Winslet?). But when the food arrives, there's plenty to keep your focus on the table. Goan fish curry with silky bass or vinegar-tinged chicken vindaloo are richly spiced and not too greasy. Meanwhile, lamb biryani comes with a bit of flair: The dish is served in a copper pot with a layer of naan sealing the top. A server carves it open tableside, releasing the aromatics from the rice and meat within.
Also good: Dahi poori, lentil puffs stuffed with yogurt, tamarind, and chickpeas; malai kofta, a creamy onion curry with cheese-and-vegetable dumplings.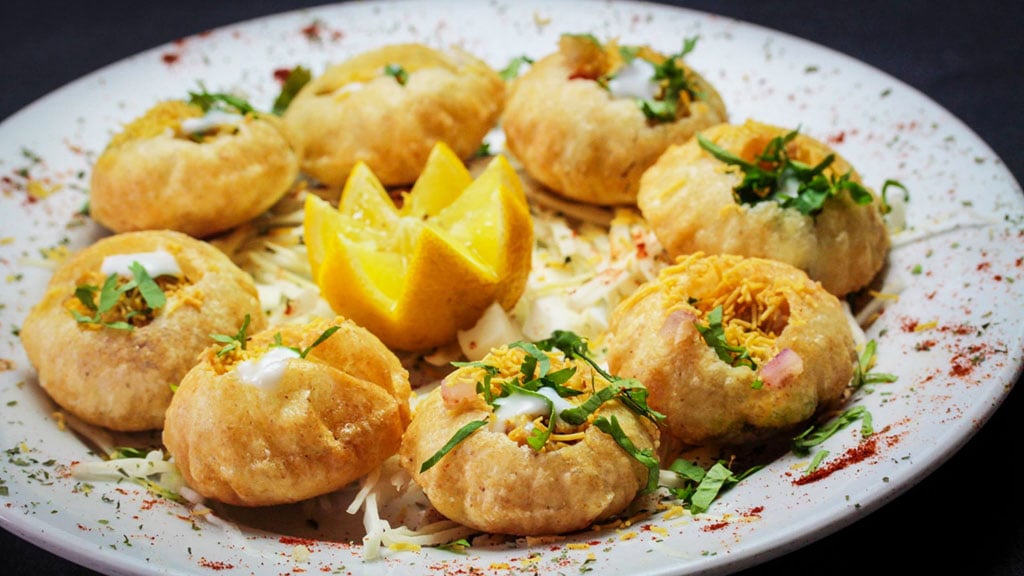 Rockville, 100-B Gibbs St.
Looking for something more creative than curry? Try chef Sudhir Seth's lively Rockville Town Square dining room. While its sister in Bethesda, Passage to India, reveres tradition, here you'll find creations that play to American trends. (Think saag-style spinach dip.) Others nod to colonial influences, such as incendiary Portuguese-style balchao shrimp shot with vinegar and chilies. Still, for every unusual dish there's a familiar item—especially on an "off-menu" lineup that includes butter chicken and goat curry, available anytime.
Also good: Eggplant tower; cauliflower with wild-onion seeds.
---
Cheat Sheet
Drinks
Cold Kingfisher beer and well-balanced white wines (e.g., dry Riesling) take the edge off spiciness; yogurt-based mango lassis are popular with kids.
Condiments
Hot and tangy achaar (pickles) made from mango, lime, and other fruits and vegetables; cooling raita (yogurt sauce); cilantro, tamarind, and mango chutneys.
Pro Tip
street food is having a moment, even at more traditional restaurants. Look for items such as kathi rolls (stuffed wraps) andPav Bhaji, Buttery rolls with veggie curry.
Desserts
Most are floral, fruity, and quite sweet. We like rich kulfi ice creams, gulab jamun(honeyed doughnuts), andkheer (rice pudding).