Logan Circle, 1326 14th St., NW
You'll find one of the city's great noodle dishes—an electric mix of vermicelli with peanuts, coconut milk, and lots of lime—inside this restaurant. We'd be happy calling that dinner, but it'd be a shame to miss the rest of the cooking, which runs hotter and tangier than at the competition. A green-mango salad laced with scallions and roasted coconut singes the tongue, an oyster-mushroom salad almost elicits tears, and chicken is bathed in a hurts-so-good papaya curry.
Also good: Khao soi, a chicken curry with egg noodles and pickled cabbage; northern Thai pork curry.
Falls Church, 8110-A Arlington Blvd.
Make sure to survey the small blackboard of seasonal specials—that's where the gems are hidden. Whole fish is always featured, and if you're lucky, you'll find fried red snapper showered in strips of green mango and cashews. Better yet is the banana-blossom salad with shrimp and chicken. Chef/owner Songtham Pinyolaksana relied on childhood memories to recreate the spicy dish with lime, fish sauce, coconut milk, and fried shallots.
Also good: Fried-watercress salad; gang hung lay, slow-cooked pork curry with ginger and tamarind.
Falls Church, 6795 Wilson Blvd.
At first glance, the menu at Arin Lapakulchai's tiny Eden Center storefront isn't terribly exciting. It looks like the usual shortlist of satay, spring rolls, and drunked noodles—standards you'll find in any old Thai restaurant. Andrew Zimmern might pass it by, but you shouldn't. Few places turn out these staples as deftly, and when you ask for something "Thai spicy," the kitchen doesn't hold back. Lapakulchai's khao soi, the coconutty curry soup with crisp egg noodles, pickles, and shallots, is a straight-up masterpiece.
Also good: Boat Noodle Soup; pork belly with string beans.
Falls Church, 5892 Leesburg Pike
The dishes we crave at this worn-around-the-edges dining room—humbler sister to glitzy Duangrat's next door— are ones we haven't found anywhere else in the area: dumplings with skins fashioned from lychee bulbs, or succulent slices of five-spice-roasted pork served with pickled ginger, chili vinaigrette, and a dark plum dipping sauce. Curries, especially the red-curry-bathed pork, are a particular strength. Pad Thai might be a Thai-restaurant cliché, but it's popular for a reason—and this kitchen shows you why.
Also good: Shrimp-and-pork dumplings; fried cod in chili sauce.
Ruan Thai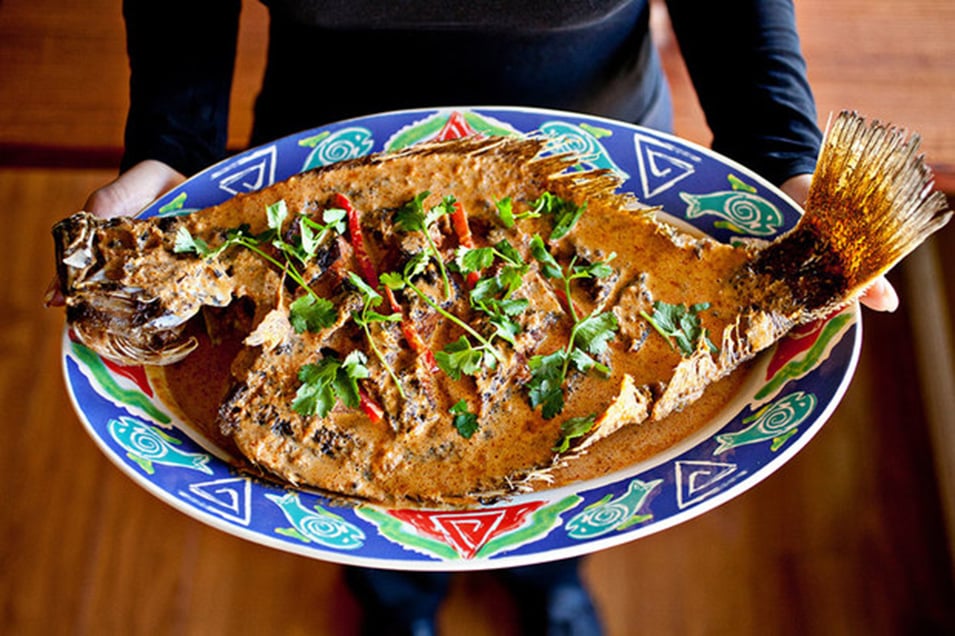 Wheaton, 11407 Amherst Ave.
This 19 year-old restaurant doesn't feel like fine dining, but the experience here has grace notes—refreshed plates with each course, a spa-like calm—that other places don't bother with. Nobody in the area does better with yums, the spicy salads made from, say, grilled eggplant or minced catfish and generous fresh lime juice. Don't leave without something fried, whether a standout duck showered in chilies or the crispy watercress that made the place famous.
Also good: Curry puffs; green curry with chicken.
---
Cheat Sheet
Drinks
Thai iced tea, strong and sweetened with condensed milk; Rieslings, Grüner Veltliners, and Gewürztraminers, especially if you're ordering things "Thai spicy."
Condiments
Lime wedges for spritzing on just about everything; sweet chili sauce; jars of vinegar or fish sauce with chilies, often available on request.
Pro Tip
A great Thai meal is all about balance—don't just load up on noodles, fried appetizers, and rice-heavy curry dishes. Throw in lighter, lime-heavy salads, tangy soups, and grilled skewers, too.
Desserts
Rice and coconut play the biggest roles. Look for bua loy, a creamy coconut soup floating with rice orbs.