This comes from our 2017 Cheap Eats list, our guide to inexpensive ethnic dining in the region.
Think making top-notch barbecue is all about the meat? Well, yes, but it's also around-the-clock work that sometimes involves thieves, book talks, and stopping for salad. We spent a day with Federalist Pig pit master Rob Sonderman to see what's involved running the best 'cue joint in DC.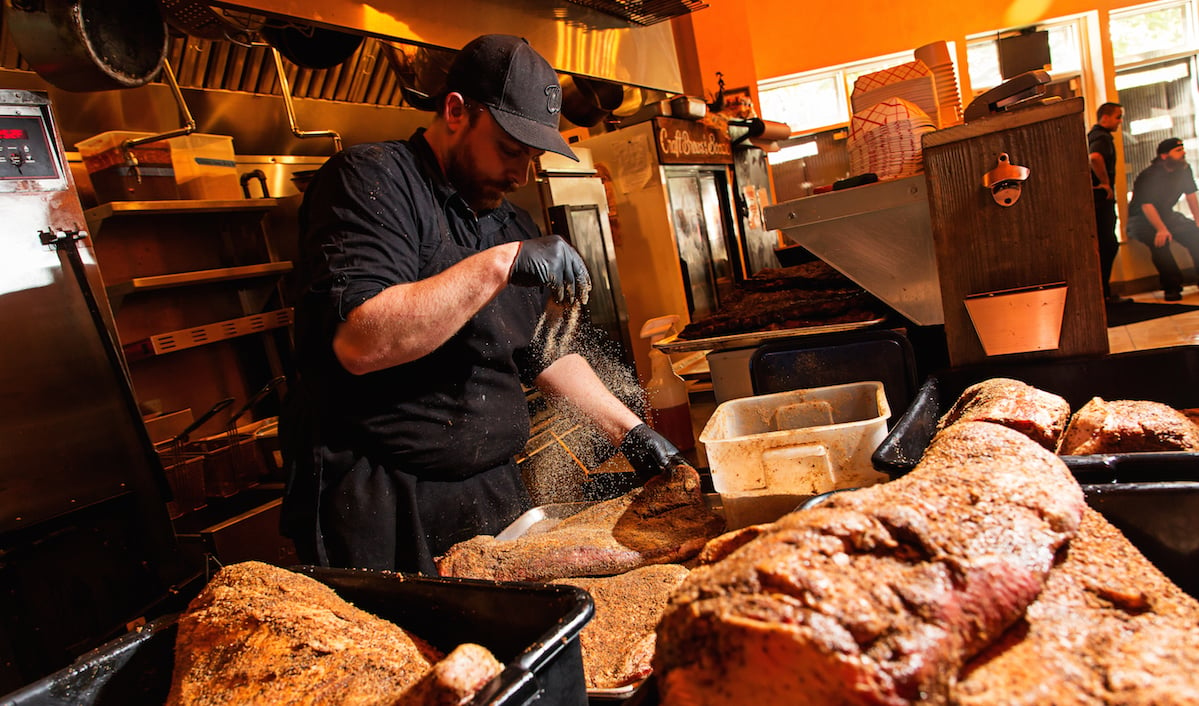 8 AM: Wakes up—before barbecue, it's emails. A repeat fraudster bought $100 worth of food with a stolen card. Catering questions re: a 200 person wedding on Saturday. DC Metro wants a catering gig for 800 people. "We're 1,100 square feet. It's really about the amount of food we can physically get out of the smoker in a day."
10 AM: Skips breakfast. "I don't cook at home. If anything I'll order Republic Kolache or Bullfrog Bagels on Uber Eats."
11:45 AM: At Federalist Pig, preps to 80's pop. "I have the best team—most of the heavy lifting is done." Roman Roberts and Desmon Demar work through the night and into the early morning, accepting deliveries; prepping rubs, fresh sauces, and sides; and tending the meats in the smoker. "There are people here at all hours just so we can open for a day."
12:20 PM: Moves ribs around in the smoker; repeats every 45 minutes for even cooking. A soaked red oak or pecan log needs to be added every 30 minutes as well. "This smoker isn't the best. We opened this on a shoestring budget while looking for a larger space." A second location for Federalist Pig—one with enough room for a J&R dream smoker—is still being scouted.
12:30 PM: Rolls meatballs for a smoked Italian sub special. "I have influences from everywhere—it's Pan-American barbecue. There are two kinds of barbecue: good, where the people care, and bad, where they don't. As long as I'm on the good side of things, I don't care about style."
1:25 PM: Chef Jonathan Uribe (ex-Toki Underground) arrives with iced coffees, and tests out a new digital operating system that will be useful when the restaurant expands. "The problem with scaling up barbecue is that people have done it terribly. It doesn't mean shit to me if I'm not going to cook the food I want to cook. We're never going to get to the point of having a central location that cooks all the food."
2:05 PM: Snacks on a piece of brisket, but skips a sit-down lunch. "For lunch, sometimes we'll order Little Sesame or Cava and sit outside and talk. I like their dips, and they do a proper grain salad, which is harder to find than you think. I also got hooked on Sweetgreen."
2:15 PM: Takes some ribs out of the smoker for dinner service. Others are moistened with homemade pickle brine from a spray bottle.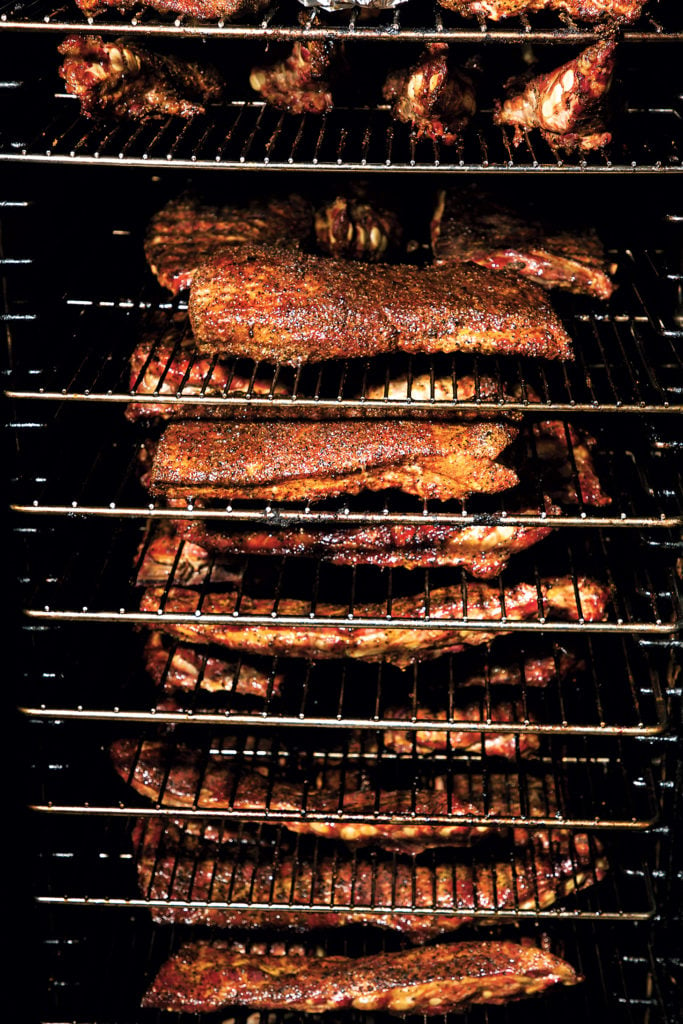 3:30 PM: Removes five gallons of grease that's collected under the smoker, and takes it to a dispenser out back.
4:20 PM: Writes "sold out" on butcher paper and tacks it to the wall. "When we sell out, we're out. We haven't made it until closing time once."
5 PM: Unlocks the door for dinner. Weekends can bring a line out the door for Sonderman's cooking. "My parents bought me a smoker when I was 15, and I started playing around. I went to a culinary school that spits you out in the French fine dining circuit, but it wasn't what got my gears turning. I was cooking at Bistro Bis and doing barbecue on my days off. Hill Country is where I fell in love with making barbecue for the masses."
5:15: Heads to Kramerbooks with sliders and wings for a barbecue talk and tasting with Matt Moore, author of The South's Best Butts. "This day is pretty light at work, by comparison."
8:30 PM: Grabs a bibimbap bowl at Triple B Fresh, a fast-casual Korean spot near the bookstore.
10 PM: Sleep! "I crashed early because I'm working the overnight shift starting at 1:30 AM. A guy came in [to the restaurant] once and was like, 'So what do you do during the day? You look like a musician.' A lot of people think we just open and it's lights, camera, action."