Thursday marks six months since Donald Trump was inaugurated as the 45th President of the United States. Congratulations! We made it! Only three years and six months until his first term expires. As with any other artificial milestone in Trump's presidency—the first hour, week, month, 100 days—the day will be marked by numerous retrospectives of his administration's pronouncements, busting of norms, and many legislative shortcomings.
For all the contemplation of how Trump has and has not changed The Way Washington Works, however, this much is clear: his presence in the White House has unalterably changed how we view and talk about previously ordinary facets of everyday life in DC. Before Trump, there wasn't much reason to imbue seemingly innocuous items like everyday fashion accessories, industrial vehicles, and fast-casual restaurant chains with overt political value.
But now, even the slightest mention of, say, the appropriate temperature at which a piece of meat should be cooked, can be interpreted through a Trumpian lens. Same goes for neckwear, streaming television, and recreational water sports. Below, an abridged glossary of things Trump has changed for Washingtonians in his first 180 days:
&Pizza
To most, this 22-location chain is known for infuriating copy editors and for serving up excessively customizable, oblong pies deep into the evening. But in Trumpland, it occupies a space as a go-to for senior White House adviser Jared Kushner. Working late on modernizing government, forging peace in the Middle East, solving the opioid epidemic, and revising your SF-86? &Pizza's got you covered. (See: Taylor Gourmet)
Boats
Canoeing, kayaking, and other water-bound recreation on the Potomac River has become much more complicated on days when Trump visits his family company's golf course in Sterling, Virginia. And now comes a Coast Guard proposal to close off a chunk of the Potomac from shore to shore during Trump's frequent golf outings, forcing people to get political when all they want to do is paddle. (See: golf)
Bar Specials
When former FBI Director James Comey appeared before the Senate Select Committee on Intelligence on June 8, it wasn't just the fired government lawman retelling his encounters with the President. It was an opportunity for bars to open early in anticipation that professional Washington would shrug off their duties and stay glued to C-Span on the chance Comey would utter some sentence that would bring down the Trump Administration. Even though Union Pub never had to redeem its offer of free drinks for the house in the event Trump himself tweeted during the hearing, nobody got any work done that day. But they all got interviewed by the 900 reporters who showed up to the bar all looking for the same damn story.
Game of Thrones
The Washington-as-Westeros parlor game was already old before Trump announced his candidacy. But now that the President is someone who's regularly compared to Joffrey, Walder Frey, or the Night's King, it's worse than ever. Members of Congress are doing it. Maureen Dowd is doing it. The editorial board of the Baltimore Sun is doing it. Please stop. Some of us are just trying to watch a show about dragons and swords and stuff.
Garbage Fires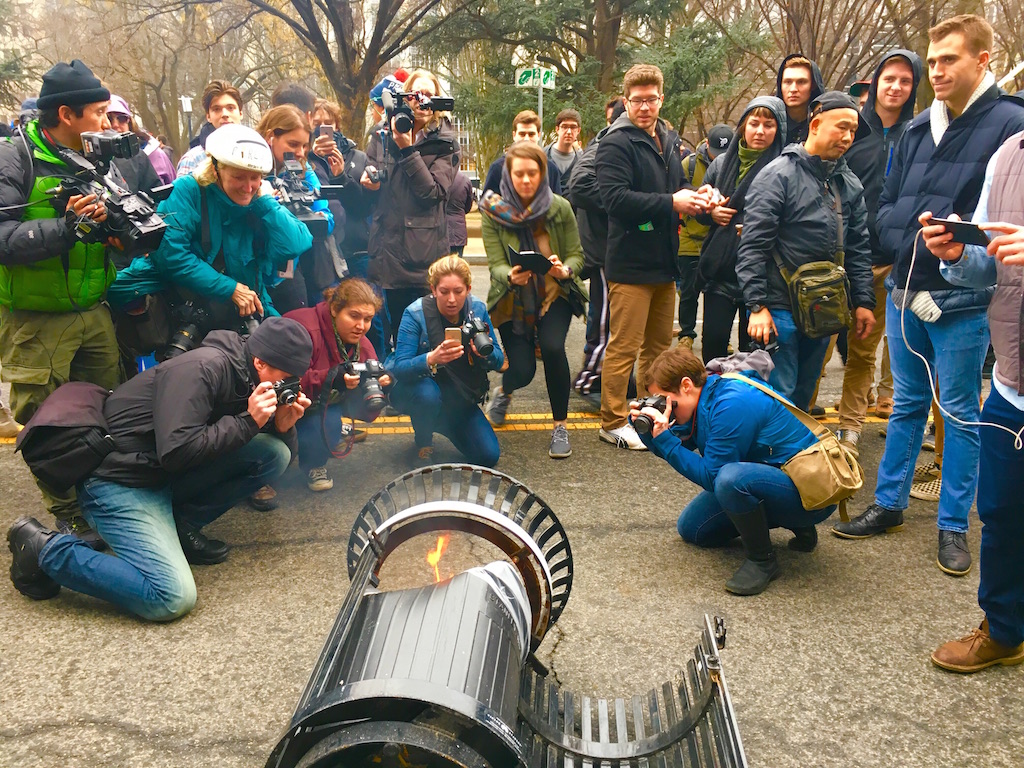 Sometimes the burning of refuse is an efficient solution the under-appreciated crisis of the developed world's excessive amounts of waste. Other times, it's an act of vandalism. And when Donald Trump is the President and photographers are nearby, it's everyone's favorite metaphor.
Golf
See: boats
Handshakes
The physical ritual of two people grasping hands to greet or congratulate each other dates back to at least the fifth century BC, when ancient Greek soldiers were recorded shaking hands on the battlefield. The act has never been more scrutinized than it is now, and not just when French President Emmanuel Macron is involved. Trump's handshakes with other world leaders have been dissected well before he met Macron. Sometimes his hand just wobbles a bit, as it did when he met Barack Obama. Other handshakes see Trump clasp his grip under his free hand, like he did with Neil Gorsuch. And then there are those really energetic handshakes, like the one with Japanese Prime Minister Shinzo Abe, where he starts yanking the other person's arm back and forth and—look, he's an unusual guy and here we are obsessing over his least objectionable physical interactions with other people. Let's just agree that he has some weird handshakes and that Macron totally big-dogged him at the NATO summit.
House of Cards
For four years, Netflix ran a series about a fictional version of Washington in which the supervillain climbs, schemes, and murders his way into the Oval Office. But what happens when a guy like Trump becomes the President in real life? Few would accuse the current President of being an Underwood-level chess master, but when the prime universe's White House is so full of infighting and apparent corruption, is a show like House of Cards still necessary? (See: Veep)
Making Things "Great Again"
Here are some things that are being made great again, according to a recent Google News search for the terms "make" and "great again":
(See: red caps)
Outdoor Décor
All the residents of one South Capitol Street apartment building wanted to do continue hanging flags off their balconies that face Nationals Park, as they had since the building opened in 2013. Often, the banners were sports-themed—cheering on the baseball team across the street—but when 2016 arrived and 2017 followed, some turned political. Most of these leaned Democratic. But once a single resident posted a Trump flag, the balcony decorating turned into an intra-building flame war. In the end, management banned all balcony decorations.
Red caps
Time was you'd be walking behind someone wearing a red cap and assume the wearer was simply showing their support for the Washington Nationals, maybe the Capitals, or possibly the St. Louis Cardinals or Cincinnati Reds. But that same hue is also known as the primary color for the Trump campaign's "Make America Great Again" caps. Now, the only way to be sure is to look for an MLB logo or some other sports mark. Without one, there's just no way to be sure.
Unless those are MAGA hats…

— Nancy Cortes (@lista111) July 4, 2017
Steak
When IJR's Benny Johnson turned in a fawning diary of Trump's dinners at the BLT Prime inside the Trump International Hotel—the only DC restaurant he's eaten at since taking office—the internet reacted in horror upon reading that the President enjoys his steaks well-done and slathered in ketchup. Horror, and takes. Jezebel said Trump eats like a "damn child." Washingtonian responded with a ranking of steak toppings. Eater published an 1,800-word essay about why it "matters" how Trump takes his meat. And strangely, it does now. Maybe not for the flavor reasons Eater raised but because every steak served up in this town can now be analyzed as to whether it would satisfy the meathead-in-chief. Are the 25 percent of adults who enjoy their steaks medium-well or well-done as problematic as Trump? Probably not! Does Trump's diet of fried food and burned meat topped with ketchup affect you? Only if there's a run on tomatoes.
Taylor Gourmet
Two weeks into his presidency, Trump met with a group of small-business owner, including Taylor Gourmet co-founder Casey Patten. Even though Patten's had happily supplied Obama with sandwiches multiple times over the previous eight years, accepting an invitation to the White House in 2017 was somehow treason. Twitter revolted like the risotto balls had been replaced by Pepe the Frog memes, even though Patten used his face time with Trump to stick up for his diverse workforce that stands to lose from much of the Administration's agenda. Still, sandwiches didn't need David Brooks to be politicized. (See: &Pizza)
Trucks
Who doesn't love an tractor-trailer or a fire engine? One is the backbone of interstate commerce, the other puts out fires (possibly started in a garbage receptacle). And Trump is rapt by them. Now, when passing an 18-wheeler on the highway, one can't help but wonder: Is the President is thinking about the trucker? Is the trucker is thinking about the President? Or was it just a photo op to make Trump look engaged and relatable while his agenda goes off the rails?
Lol pic.twitter.com/VyChtEFdYM

— andrew kaczynski ? (@KFILE) July 18, 2017
Twitter
Just kidding. Twitter was already pretty bad.
Veep
What becomes of political satire when self-parody takes real power? Even though the most recent season of Veep was nearly finished by last November's election, DC's favorite show about DC couldn't not be viewed through a different, bleaker lens this year. Even Veep creator Armando Iannucci, who left after the fourth season, told the Washington Post he might not have been able write the show now had he stuck around. But good comedy has a knack for staying ahead of reality. This last season ended with Jonah Ryan, the lumbering nincompoop staffer-turned-congressman, announcing his plans to run for President. Truly, America has never been more ripe for tyranny. (See: House of Cards)