Even if you don't know the name, you've probably come into contact with Brandon Wardell. He's the guy on the other side of your Twitter timeline who blessed the world with Danny Trejo growling, "Dicks out for Harambe" (RIP), established "tru. gd. mf. respecting. women. hours," and recently brought a not-so-safe for work sheriff into existence through the power of emojis (that sheriff is dead now, but more on that later).
The comedian/millennial whisperer/actor/sort-of DJ and NOVA native is coming home for one night only to bring his signature brand of standup to the Kennedy Center's Millennium Stage. We caught up with Wardell ahead of the show to talk coming home, memes, Twitter and what's next for the 24-year-old star.
How would you describe your comedy?
Ohhh, I don't know. I don't know. That's a hard question. Just Google me or go on my Twitter to figure it out. I don't know.
It's very zeitgeist-y I think. I like it, but I don't know if my mother would like it.
Yeah, absolutely not. Your mother would probably hate my comedy. I do think my standup is a lot more accessible than my Twitter. Like if my parents were to watch a standup special they'd understand most of it. But if they were to like look at my Twitter feed they'd be like, "What the fuck is this?"
You're coming to the Kennedy Center this weekend. Are you excited to be coming home?
Yeah, I mean Fairfax County is where I grew up, and I would just drive to DC every night to do open mics. So yeah, coming back and doing the Kennedy is exciting. I have the standup show and then later that night I have my party.
What should people expect from the Kennedy Center gig?
I'll be doing standup at the first show then aux cord deejaying later that night. If you know about me already, if you like my tweets, you'll probably enjoy the show. But if you're like just finding out about me right now via this article you might hate it. So I don't know.
Can you explain an aux cord set for the unfamiliar?
That's just me, uh, plugging my phone into an aux cord and deejaying off Spotify. It's something I do at a monthly party here in LA, and I'll occasionally do it when I'm on the road. It's very cool. It's super fun. Like John Mayer's done it before, he did an aux cord DJ set. And Hannibal (Burress) has done it. It's just a really fun party.
Any chance I can get a preview?
Yeah, I'll pull up Spotify on my phone right now and find the playlist. I'll play 21 Savage and I will play Savage Garden. I feel like that's a good summation. I'll play some, like, Paramore, but I'll also play Young Thug. I'm probably gonna play Gangnam Style at some point. It's gonna be fun.
So apart from gigs and aux cord playlists, what are you working on right now?
There's something I'm in the very beginning stages of pitching that I'm very excited about that will hopefully become a show, and then I'm writing on a couple small things and then acting when people ask me to. 
Yeah, I saw a show's coming up on Viceland soon?
Oh, "What Would Diplo Do?" That comes next month. I play Skrillex on that. That's a funny show.
What's your favorite thing to work on?
Standup is probably my favorite thing, standup and just anything where it's instant gratification. I guess tweeting kind of falls into that category, but I've been cutting back on posting.
Why's that?
Well, I started thinking, "Oh, tweeting like 20-30 times a day probably isn't good for your brain, so I should probably cut back." I cut it down to like five. I don't want to tweet any more than five times per day.
Okay, can we do some quick-fire takes?
Yeah.
Snap stories or Insta stories?
Oh, Insta stories.
Who's better, the sheriff or the hot dog filter?
Fuck the sheriff. The sheriff is dead.
What's the worst meme on the internet right now?
Oh, the sheriff. The sheriff because he got co-opted. The original tweet, which is not printable, it is very NSFW, was great because it was a non sequitur … And then he got co-opted by corporate Twitter and then everyone was like, "Howdy, I'm the sheriff of Coca-Cola. Drink a dang Coca-Cola." And like that's not funny. Why is that a tweet? Why does that exist?
Capitalism ruined your meme, man.
Yes. Capitalism absolutely ruined my meme. That's why people should join the DSA, because Coca-Cola's ruining my damn meme.
What joke are you most sick of?
All of them. Let's say all of them. I think we should ban jokes online. I say shut it down.
Which one of your Twitter followers are you most proud of?
I would say probably Pete Wentz. Fall Out Boy is very important to me.
Which Twitter block hurt the most?
Well, here's the thing. Twitter blocks don't really hurt, they just make me stronger. Any time a celeb blocks me on Twitter I grow stronger.
Then can I ask which one surprised you most?
No.
Who's someone you think everyone should follow?
Zack Fox (@zackfox), I think, is really funny – formerly known as Bootymath. He's really good. And Connor O'Malley (@connor_omalley).
Best La Croix flavor?
La Croix is over. I like Spindrift now. It's an all-around better seltzer.
So what would Diplo do?
Hey, find out this summer on Viceland!
Anything else you want people to know before your show this weekend?
Please respect me. If you're reading this, please respect me.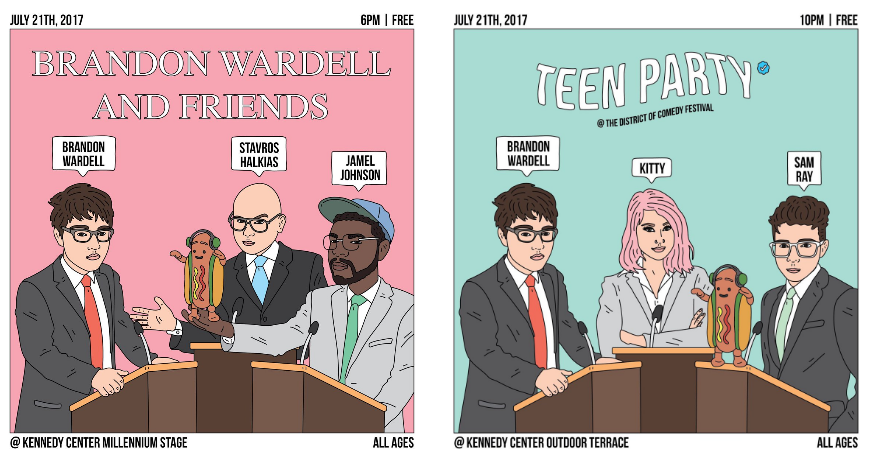 Brandon Wardell and Friends, Friday, July 21 at 6 p.m., Kennedy Center Millennium Stage, Free