A guide to the newest places to eat and drink.
Bartender Jo-Jo Valenzuela had long been a fan of Bistro 7107 in Crystal City. But the Filipino restaurant did not serve any alcohol, and so Valenzuela told the owners that he'd love to help them out with cocktails if they ever added booze.
Three years later, they've done him one better. Valenzuela and his wife Christina Valenzuela are partnering with restaurateurs Manny Tagle and Solita Wakefield on a new Filipino restaurant called Bistro 1521 near Ballston, after Bistro 7107 closed a few months ago. This time, of course, cocktails will be a major attraction.
You may have tried Valenzuela's cocktails at Brine, where he was most recently beverage director, as well at Occidental and the shuttered Gypsy Soul. At Bistro 1521—named after the year that explorer Ferdinand Magellan reached the Philippines (and was killed)—drinks have a tropical, Filipino tilt. Valenzuela's take on a gin rickey, for example, incorporates a soda made of guava, lemongrass, calamansi limes, and chilies. Only a handful of cocktails are available to start, along with wines and beers (including some Filipino brew).
In the next six months or so, Valenzuela plans to transform a private room in the back of the restaurant into a cocktail bar. "It's going to be a different experience there. I'm going to try to take the cocktails to the highest level," he says. "Everything's going to be whimsical, fun."
The food menu is a collaboration between Valenzuela, Tagle, and a handful of Filipino cooks. One of Valenzuela's favorite Filipino dishes of all time is sisig, a sizzling platter of chopped grilled pork ears and pork belly. The restaurant's version sets itself apart with a creamy liver aioli on top. Valenzuela also highlights the sweet soy-glazed chicken barbecue with pickled papaya and the bihon pansit, a stir-fried rice noodle dish.
Christine Valenzuela is behind the desserts. Although she's a full-time accountant, she also runs a side business making elaborate edible cake toppers. At Bistro 1521, she's already serving mango cupcakes and plans to expand her repertoire to other pastries.
The restaurant, located in a former Applebee's, will also launch brunch this weekend. Look for sinangag (garlic fried rice) with a fried egg and a choice of proteins like beef jerky or sausage.
Take a look at the dinner menu below: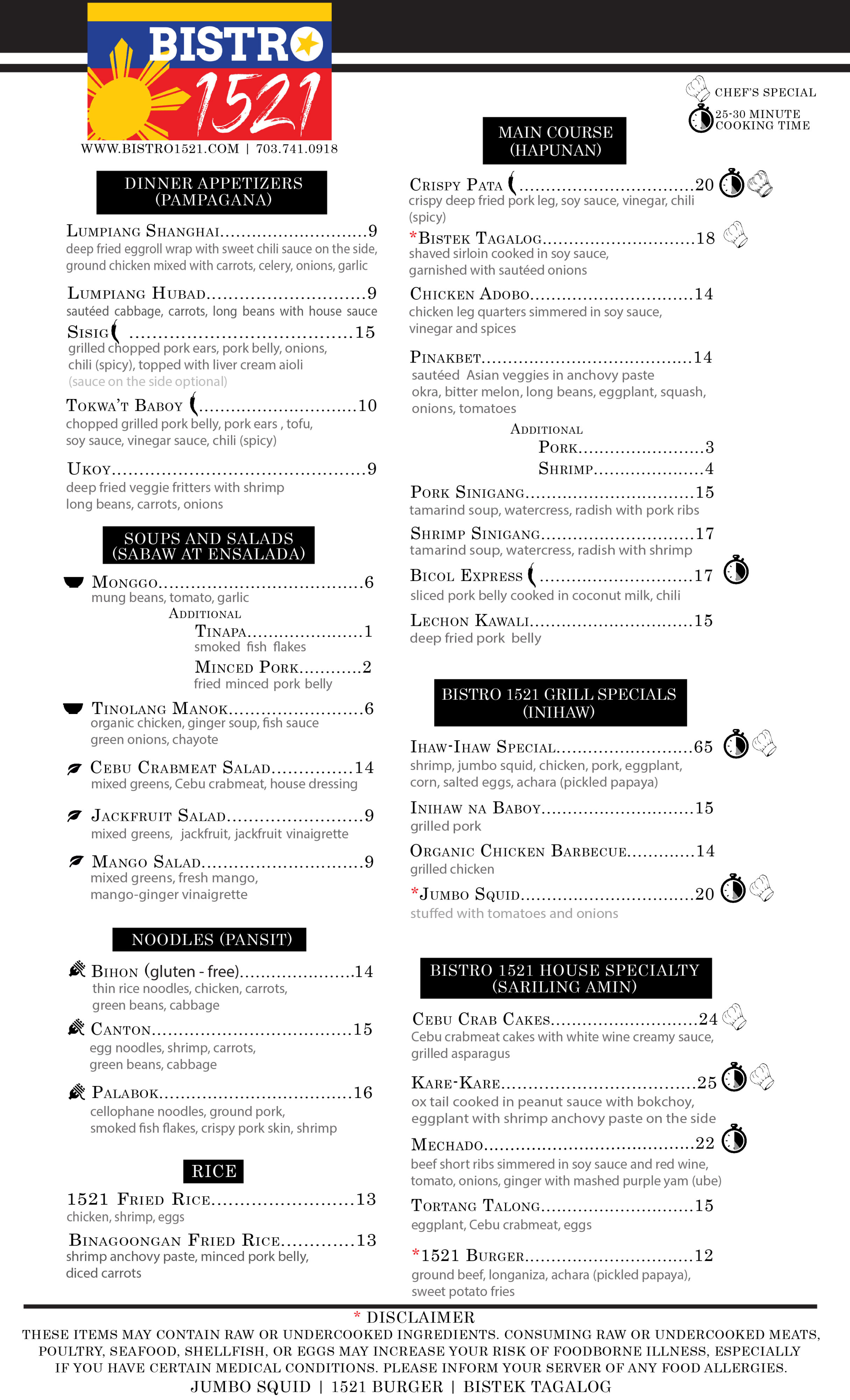 Bistro 1521. 900 N. Glebe Road, Arlington; 703-741-0918.