The sparkling-new Olde Towne Pet Resort in Rockville cost $8 million to build. It shows.
The lobby has a granite front desk, designer furniture, and a view of a glassed-in saltwater pool. Elsewhere on the premises, there's a full-service beauty salon. The senior staff learned the hospitality ropes at the Waldorf Astoria, the Westin, and DC's Hotel George. No mere Petco veterans here.
Of all the indicators that today's well-heeled pet owners might seriously consider their animals to be human—the "paw spas" and rooftop dog runs at luxe District apartment buildings, the dog-friendly beer gardens sprouting in gentrified neighborhoods, the fact that Americans spent $63 billion on their pets last year—this place might be the best evidence anywhere in Washington.
Me, I don't own a dog, or even particularly like dogs. But when I heard about the resort's "Pawlates" studio, blueberry facials, and turndown service complete with bedtime story, I contacted the owner, Leah Fried Sedwick. She told me that a lot of people ask, "'Can I stay here, too?'" when they drop off their dogs. Except they're only kidding. I am not.
---
In the days leading up to my stay, friends and family have fun at my expense. "Did you pack your chew toys?" my husband, Karl, asks with mock concern. "Will you have to ride in the back of the van with the other dogs?" my friend Jennifer snickers.
Fortunately, when he pulls up to my house in the resort's shuttle, director of guest relations Patrick Salazar invites me to ride shotgun. When you're the first human guest in the history of a resort, you're granted certain considerations.
Salazar used to work at the Dulles location—which, like the Springfield outpost, isn't nearly so fancy as the Rockville crown jewel. But he says it was all two-legged luxury before that: He got his start in hospitality working for Starwood Hotels in Seattle. In DC, he worked for the Omni Shoreham and Sofitel. "It's largely the same job. But my clients now are a lot less outspoken." He waits a beat before adding, "At least in English."
When we arrive, Salazar ushers me to the welcome room, where Sedwick, who has the deep-brown eyes of a spaniel, pulls out a Pet Personality Profile. It contains questions about the dog's physical restrictions (mine, a bad knee), whether the dog has ever growled at someone (why, yes, I have—just yesterday at Trader Joe's), and if the dog is possessive over her food (stay away from my kettle corn).
"Every experience is personalized," Sedwick says, "from preferring a female handler to liking chicken and rice to needing an extra cuddle date."
She gives me the day's itinerary, a loaded schedule that includes Pawlates with Georgie Girl, a swim with Grizz, and a "pawicure" with Mia. "We want to keep you active to avoid separation anxiety," she explains.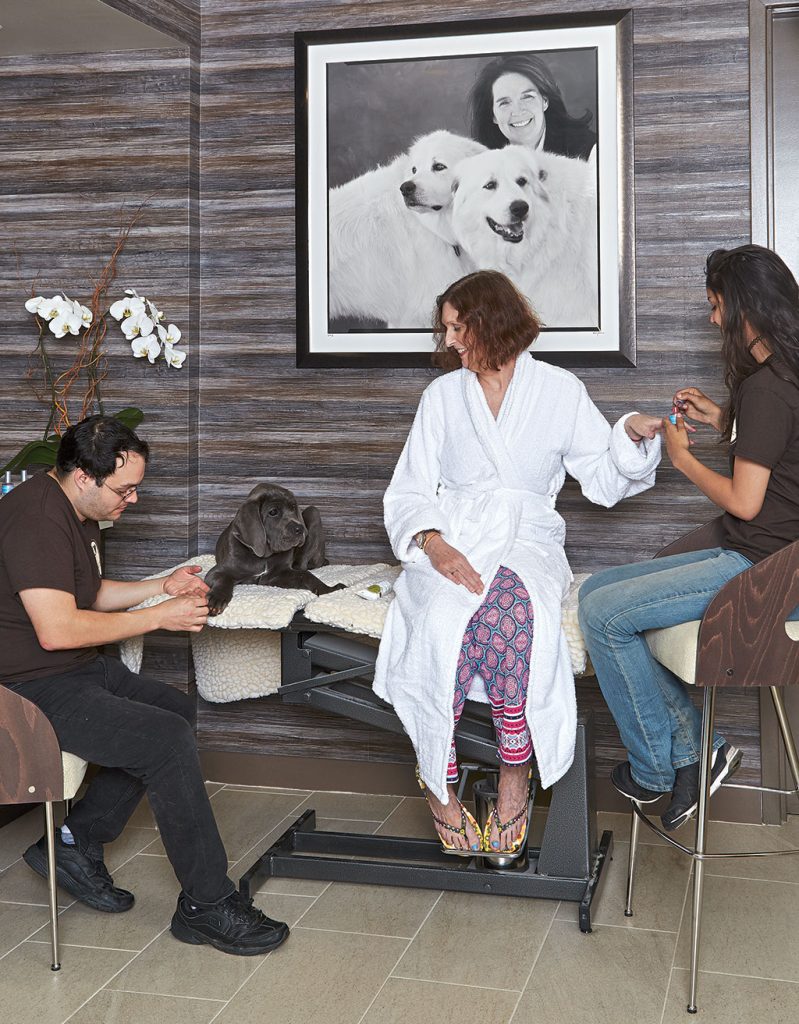 A night at the resort starts at $65 and tops out at $160, but services like these are extra—from $80 for something called the Iron Dog (a cardio jog, agility field play, and swim time) to a hot-oil skin-and-coat treatment ($10 to $20, depending on weight).
Before she started her business in 2002, Sedwick took an executive-management class at the Ritz-Carlton's Leadership Center. "Every employee of the Ritz carries a laminated, tri-fold card reminding them of the hotel's pledge of service and customer care," she says. All of her employees—50 to 80 per facility—do the same.
Sedwick credits her late father, real-estate developer B. Mark Fried, for her business acumen and love of dogs. "We always had dogs," she says. "I learned dog breeds the way boys learn about makes of cars."
When she told her dad of her plan to open luxury hotels for animals, he urged caution. "He told me, 'Pioneers are the ones who fall face-first in the mud with arrows in their back. Are you sure you want to do this?' "
She was. "Coming from a family of real-estate developers, we were always trying to get ahead of the trend. I learned to go with my gut." She won't disclose how much the business makes, but even after going all out on the new Rockville location, she says she's still in expansion mode: "We do have a site under consideration in Maryland."
---
Room 503 looks a lot like my college dorm room. A Colgate banner hangs on a cinder-block wall (a nod to my alma mater that the resort added just for me), early Elvis Costello plays over the sound system, and a pair of stuffed animals rests on the twin-size bed. For a second, I wonder if I've opened a wormhole back to 1987. On closer inspection, I notice that the bed is an air mattress made up with doggie-print sheets. The bookcase contains not The Iliad but a copy of Go, Dog. Go! and a box of Milk-Bones. Also, there's no bong.
My quarters are isolated from the rest of the overnight guests. According to Sedwick, if dogs smell a human on Dog Island, they won't settle down for the evening. I walk past six empty kennels, each the size of a parking space and enclosed with something that reminds me of a fancy shower door. My suite is in the back corner. It's big but windowless, with a TV mounted in the corner and a webcam, should I choose to have my husband check in on me. (No, thanks.)
I change into workout gear and meet Georgie Girl in the second-floor Day Camp Room, a sun-filled studio with all kinds of primary-color exercise balls. Georgie, a goldendoodle owned by Sedwick, has the core strength of an elite athlete, easily balancing herself on her ball while I struggle to maintain a one-legged stance on mine. She's getting a steady stream of treats from our instructor, a tall, ponytailed guy whose ability to appear silently out of nowhere strikes me as more catlike.
After our 20-minute session, Georgie bounds off for a belly rub, and my aching abs and I get ready for a swim with a black Lab named Grizz, who is so enormous that he looks more like the Loch Ness Monster once he's in the water. I've never been afraid of dogs until this moment. What if Grizz mistakes me for a hapless salmon and tries to catch me between his jaws? Turns out he's way more interested in his squeaky stuffed shark than in his fellow swimmer. The water is as warm as a bathtub, and soon I'm dog-paddling—yes, really—in sync with Grizz as if we're in an Esther Williams movie.
I'm having such a good time, I don't want to get out. But it's already 5 pm and I'm late for my pawicure.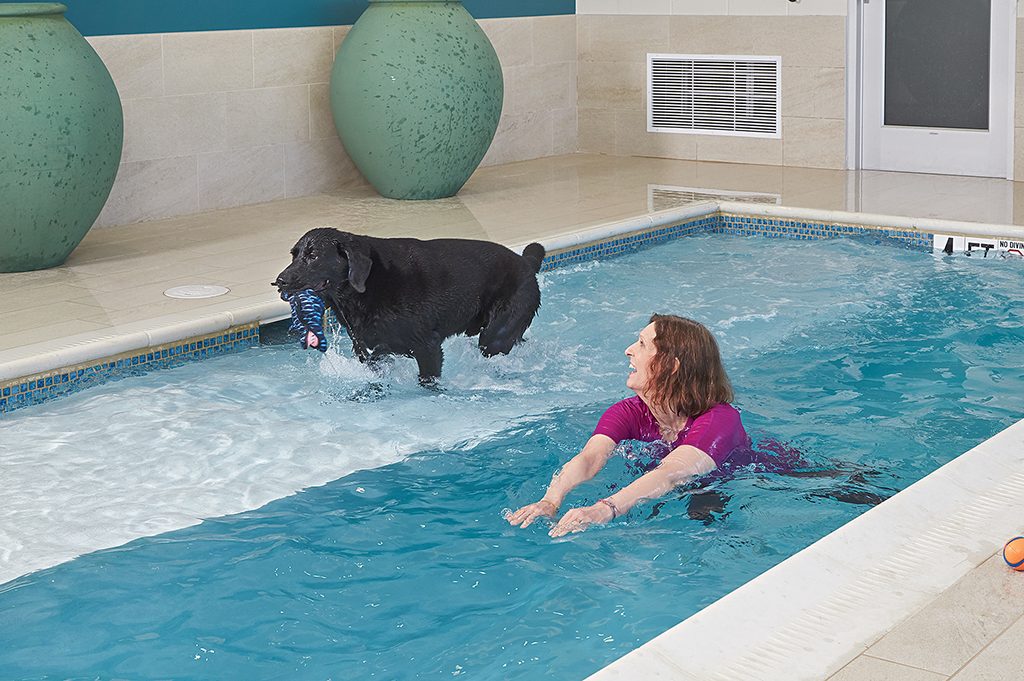 ---
At the beauty salon, I meet Mia, a sleepy cane corso puppy. Maybe she just returned from a cardio jog. While my pawicurist gives me a few coats of Pink Topaz, Mia's decides that traffic-cone orange will best complement her nickel-gray fur. Because dogs tend to lick or chew their nails, the resort uses special nontoxic dog polishes.
On the way back to my room, I check the whiteboard in the hallway and see that Digby, Paco, and Frisbee are some of the guests in the luxury suites next door. I think of that painting of dogs playing poker and hope they don't get up a game while I'm trying to sleep.
I choose to have my dinner en suite. At 6 pm, a heaping dog bowl of spaghetti and meatballs arrives. (It's takeout from a nearby restaurant for humans. I'm willing to go only so far.)
It's hard work being a dog, and I'm hungry and tired yet surprisingly relaxed. Sedwick offers me a cuddling session with Gizmo the papillon, but I decline the invitation, mostly because I don't want my dog sheets to smell like a dog has actually been in them. I do, however, take full advantage of the bedtime-story/turndown service. I brought along a copy of the novel The Dogs of Babel, which marketing director Chris Gilbert reads with all the pathos of a Shakespearean actor.
I find it hard to sleep. (Is this really a surprise?) For one thing, it's cold—68 degrees—and I don't have fur. Even though Sedwick told me the walls in the sleeping quarters are soundproof, at 2:30 am I hear a dog howling an aria.
But you know what? This doesn't come close to being the worst hotel I've stayed at. There are no slamming doors or dinging elevators in the hall. No TVs blaring through the walls. I've slept on hotel beds less comfortable than the doggy mattress. Best of all, my pawicure lasted weeks.
I'd check in again.
Contributing editor Cathy Alter has written for the Washington Post and O, the Oprah Magazine.
This article appears in the August 2017 issue of Washingtonian.