Brownie Sundae
Find it at: Mintwood Place (1813 Columbia Rd., NW; 202-234-6732).
This towering confection has been on the menu at this Franco-American Adams Morgan bistro since day one—and we hope it never leaves. It looks childlike—swirls of whipped cream, spoonfuls of rainbow sprinkles, candy-red cherry on top—but the deeply rich brownie and not-too-sweet chocolate sauce show the finesse of a pastry chef.
Faloodas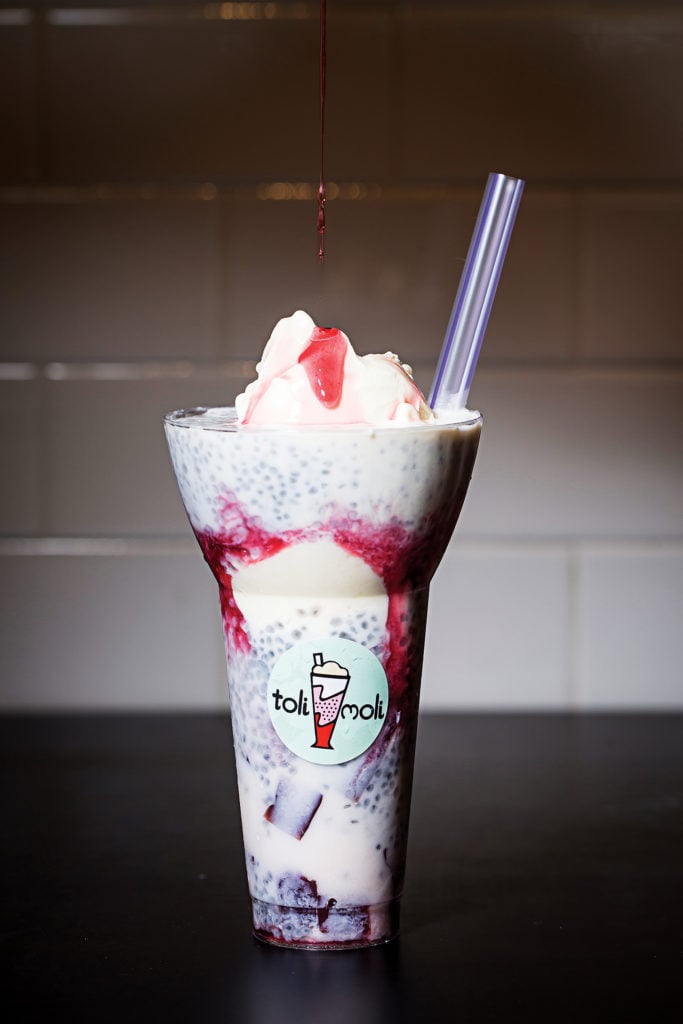 Find them at: Toli Moli (1309 Fifth St., NE; no phone).
These creamy, gelatinous parfaits are the Burmese version of fruity layered desserts such as Filipino halo halo or Vietnamese chè. Our favorite flavor at this mother/daughter Union Market stall is the Royal—a mix of pomegranate-ginger "jellies," basil seeds, vermicelli-like noodles, paprika milk, vanilla ice cream, and rosewater syrup.
Freshly Spun Gelato
Find it at: Dolcezza Factory (550 Penn St., NE; 202-333-4646).
Is gelato really better when it's freshly churned? Yep, and you can experience the difference—airier, softer—by sampling renditions made each morning at this purveyor's Union Market factory. Choose four flavors from a rotating weekly selection (black sesame or roasted strawberry, for example). You'll also find copettas, a fancy term for sundaes, and elegant milkshakes. While the factory no longer offers tours, you can still watch production while you eat.
Water ice
Find it at: Bub and Pop's (1815 M St., NW; 202-457-1111).
The Philly staple gets a major upgrade at this downtown DC hoagie shop with a former fine-dining chef in the kitchen. The sorbet-like dessert comes in flavors including winter citrus, lychee, and "bottom of the fruit salad" (literally all the juices from the place's fruit salad). Spike it with booze for an extra four bucks.
French-Style Ice Cream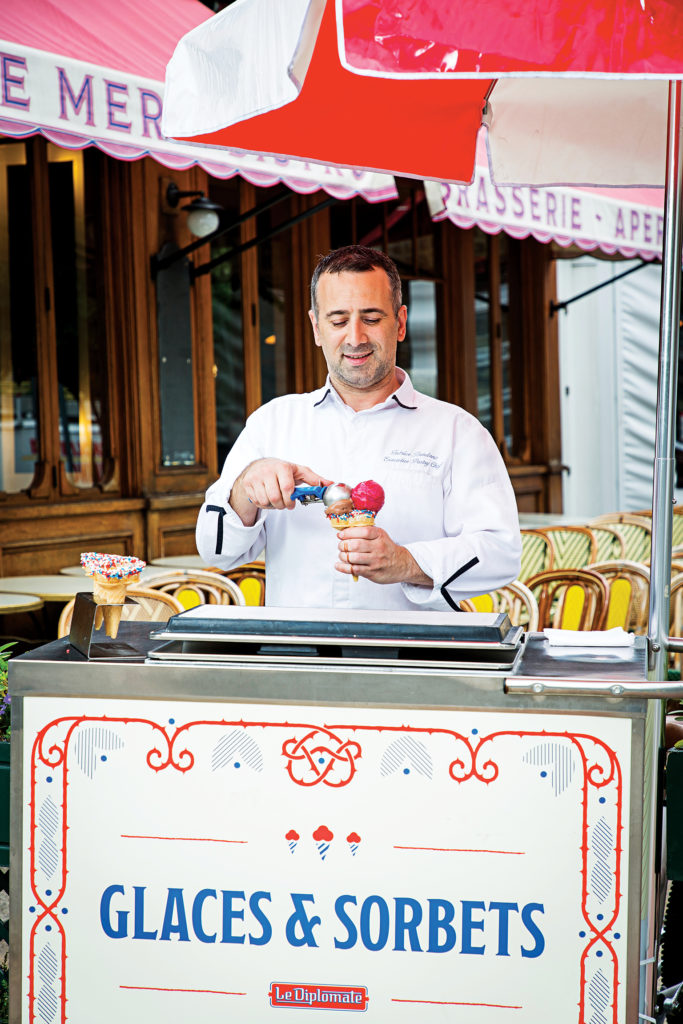 Find it at: Le Diplomate's glace cart (1601 14th St., NW; 202-332-3333).
On summer weekends, pastry chef Fabrice Bendano gets creative with the glaces and sorbets served from this old-timey cart set up outside Stephen Starr's Logan Circle bistro. We haven't met a flavor we didn't like—including creamy honey, coconut, and fragrant pineapple—and the sprinkle-crusted double cone is as tasty as it is Insta-ready. Freshly made restaurant ice cream tends to melt quickly, so this place thoughtfully sends you off with a few wet naps.
Wood-Fired Cones
Find them at: Timber Pizza Co. (809 Upshur St., NW; 202-853-9746).
Cones don't usually get a lot of attention, but at this Petworth dining room they're wood-fired in the pizza oven, then set atop a sundae made with Tahitian-vanilla gelato. Other toppings rotate seasonally, but look for jam, fresh fruit, mint, oven-baked granola, and occasionally a little shaved chocolate.
Floats
Find them at: North Market Pop Shop (241 N. Market St., Frederick; 240-575-9070).
Obsessive temperaments bored of coffee and beer should head to this retro-cool downtown-Frederick shop, crammed with more than 400 varieties of soda—including 50-plus root beers alone. Even better, you can get any bottle or can you want with a few scoops of thick Trickling Springs ice cream. We're partial to root beer with salted-caramel ice cream or a zesty Vernors ginger ale packed with vanilla.
Marcianos
Find them at: China Chilcano (418 Seventh St., NW; 202-783-0941).
Frozen pops known as marcianos are a staple of street vendors all over Peru. At José Andrés's Peruvian/Chinese/Japanese restaurant in Penn Quarter, try fancified versions of the plastic-wrapped tubes in flavors such as horchata, mango-and–ají amarillo, and lúcuma (a fruit with a nutty caramel flavor).
Baked Alaska
Find it at: DBGB (931 H St., NW; 202-695-7660).
It takes a server mere minutes to ignite this two-person ice-cream cake with vanilla-infused vodka, but the pastry chefs at Daniel Boulud's CityCenterDC satellite take up to five days to create it. Everything is house-made and painstakingly molded, from the seasonal frozen confections (right now, blueberry sorbet, brown-sugar ice cream, and vanilla gelato) to layers of graham-cracker crust and wavy Swiss meringue.