A guide to the newest places to eat and drink.
File this under the ever-growing list of things we never expected to see in Washington: a full production winery in Southeast DC overlooking the Anacostia River. Yet, it's almost here. District Winery and its adjoining restaurant, Ana (short for said river) pours its first bottles for the public on Wednesday.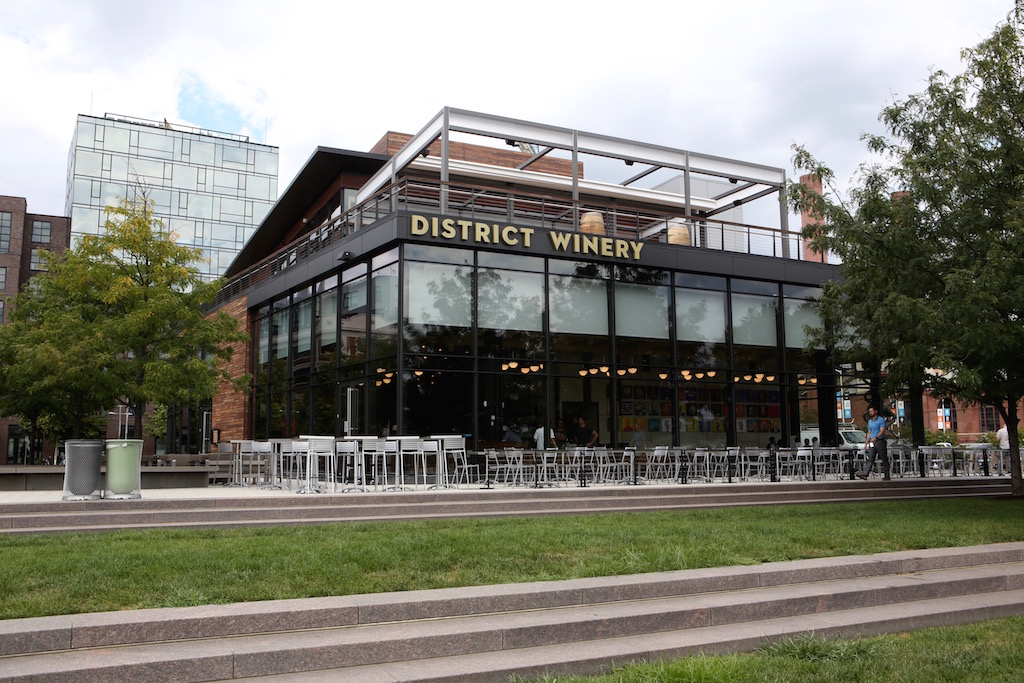 An "urban winery" may seem like an oxymoron—that is, until you spend some time in the glass-walled production facility near Navy Yard. What District Winery lacks in surrounding vines, it makes up for in a detailed sourcing process for grape-to-bottle production.
Co-owners Brian Leventhal and John Stires opened their flagship Brooklyn Winery in New York in 2010 with head winemaker Conor McCormack, who started in the business running grape harvests in northern California. McCormack learned winemaking in more traditional wineries around Napa and Sonoma before heading up production at Crushpad in San Francisco (now closed), one of the first urban wineries.
At District Winery, McCormack uses West Coast connections—as well as those made over the past seven years in New York—to source hand-harvested grapes from vineyards in Sonoma, the North Fork of Long Island, the Finger Lakes, and other regions, which are shipped to DC in temperature-controlled trucks. Since relocating to Virginia with his family, he's also been able to source some local grapes—though as Virginia wines have gained in popularity, finding spare fruit is notoriously tough.
So what's the difference between an urban winery and a vineyard? McCormack argues that there's little.
"Once the grapes get here, there's really no difference [in winemaking]," says McCormack. "The biggest one is sourcing and logistics. I love it because I can have my feet in different places—we can make Washington State pinot noir alongside California Cabs, and experiment with so many different regions and climates."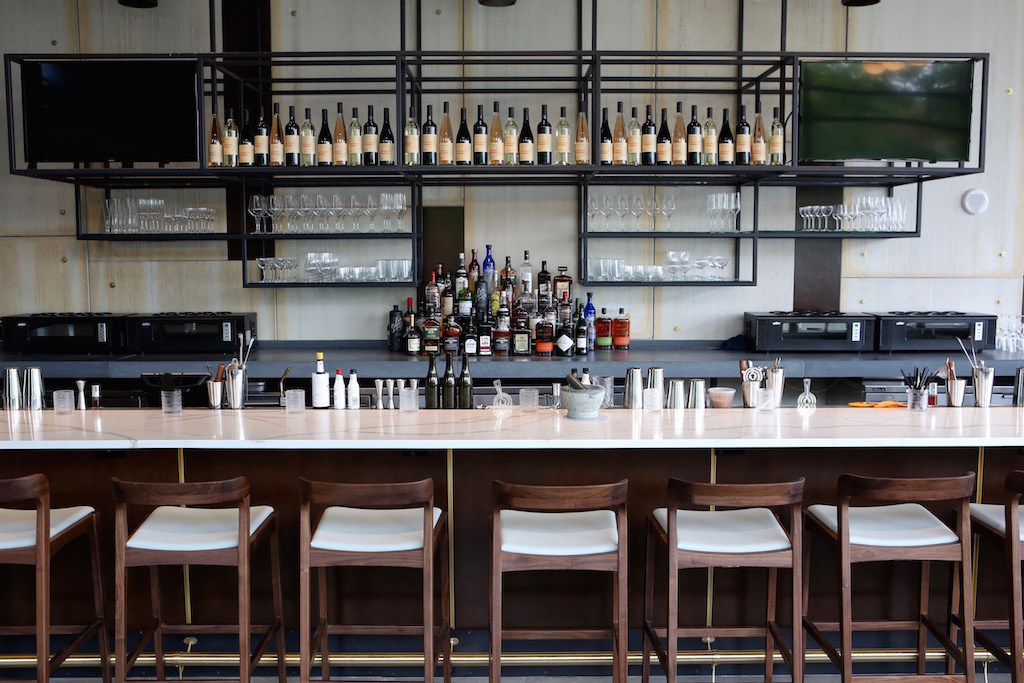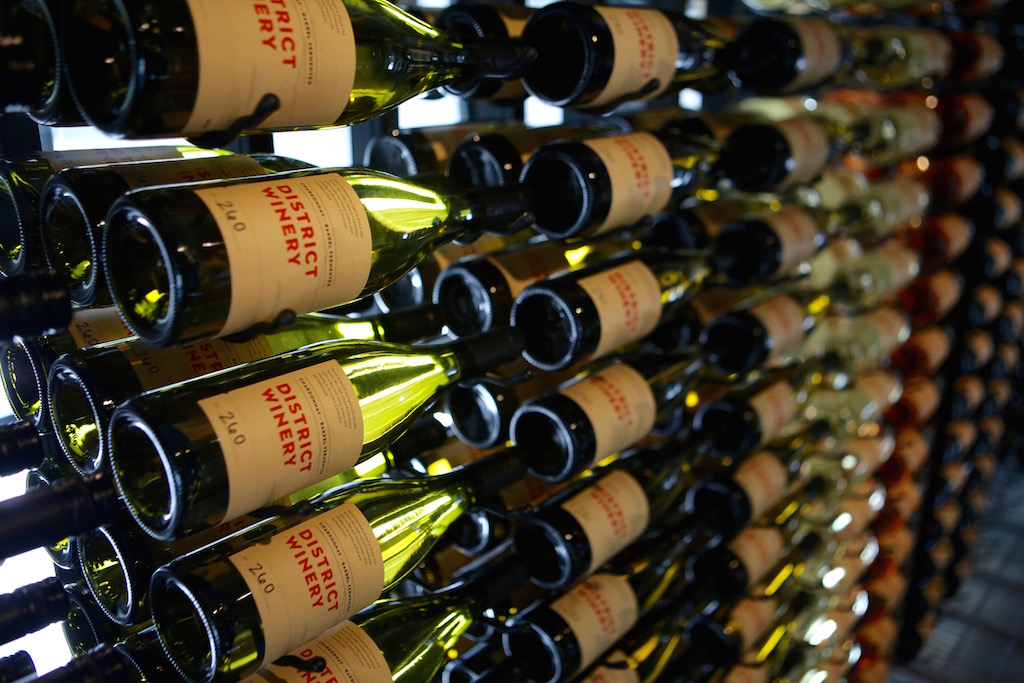 McCormack says he typically makes 20 "skews" per year—different kinds of wines that vary between single varietals like Chardonnay and Zinfandel, blends, and techniques. Two temperature-controlled barrel rooms hold stacks of neutral-wood casks for aging the DC-made wines. The process will take at least two years for certain varietals.
In anticipation of District Winery's opening, McCormack and his team have been producing and aging specific wines for the new location at Brooklyn Winery. A large portion of wines is also used in events, a large component of District Winery's business plan. A second-floor terrace overlooking the water, indoor rooms, and a catering kitchen are dedicated to gatherings, both private and ticketed for the public.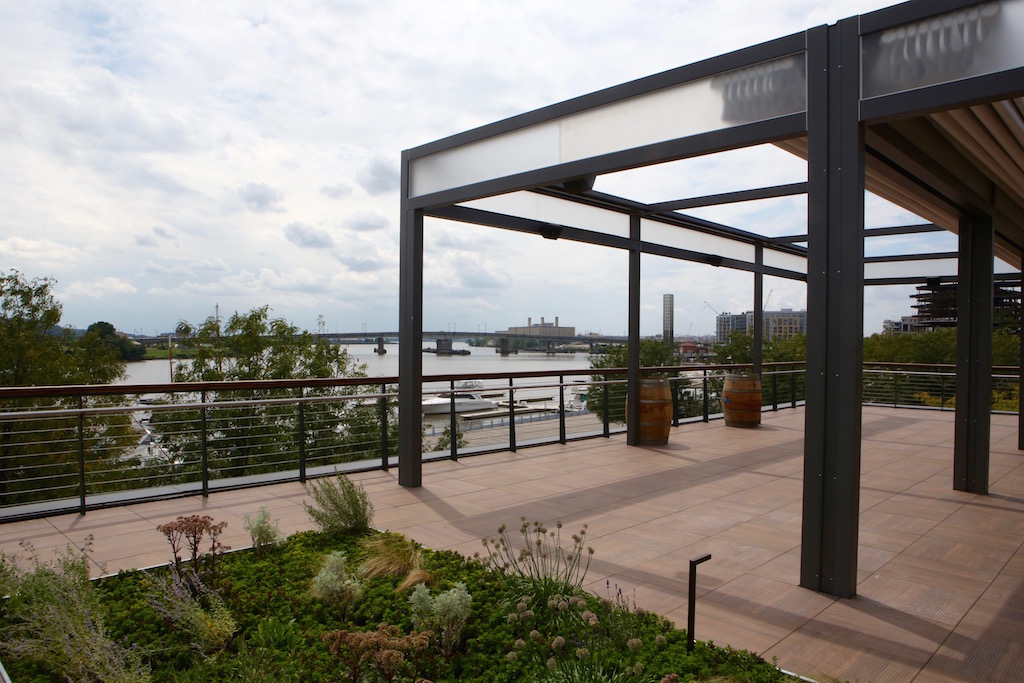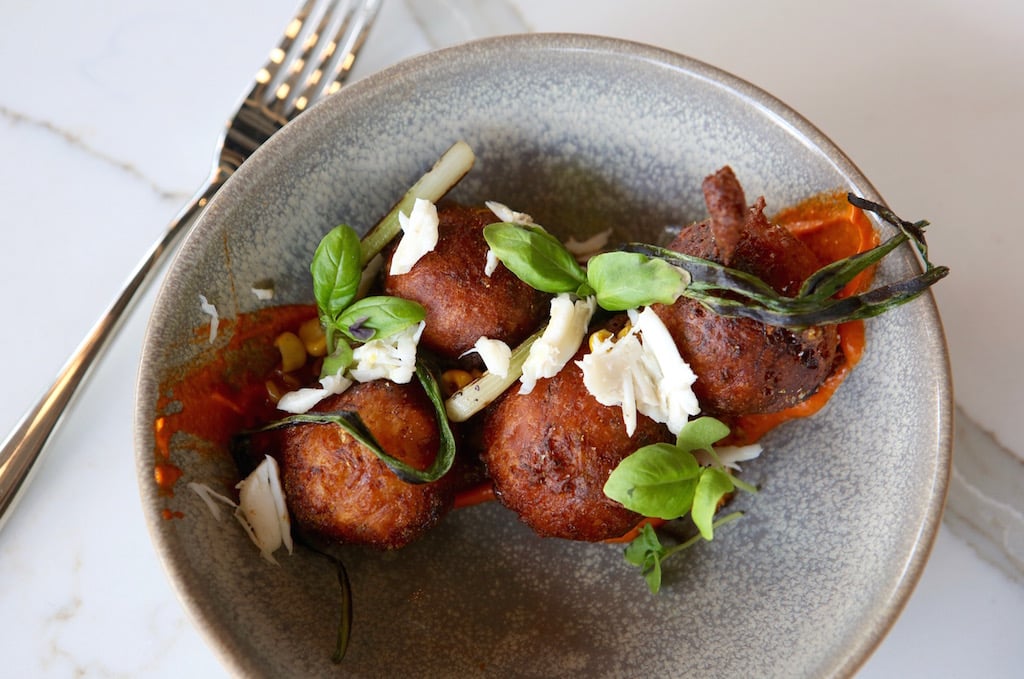 Winery-goers will be able to watch the winemaking process in the glass-enclosed production room, which will bustle through the fall harvest season as grapes arrive by the ton and are sorted and processed.
Scheduled weekend tours will launch on September 9 for up to ten guests, which include a "winemaker's choice" flight of five wines such as 2016 barrel-fermented Chardonnay (Finger Lakes, NY) and 2013 Cabernet Sauvignon (Sonoma, CA) for $25 per person. Patrons can also try three flights ($10 to $15) and individual pours at the tasting bar, which will double as a retail space for bottle sales for 15-plus wines, ranging from dry Provençal-style rosé to old vine zinfandel and skin-contact riesling.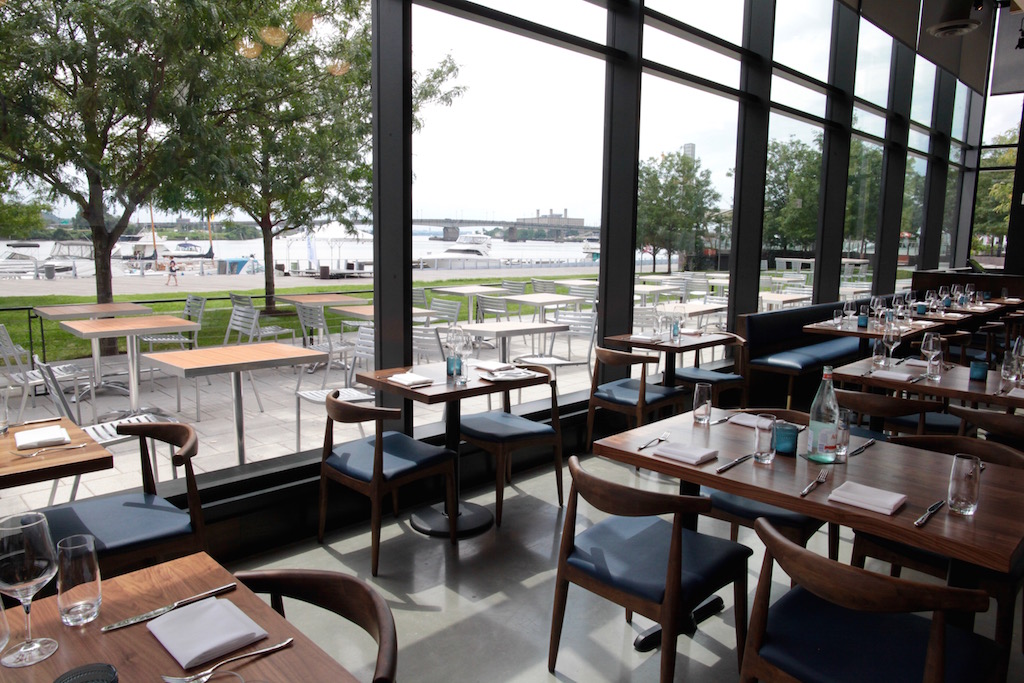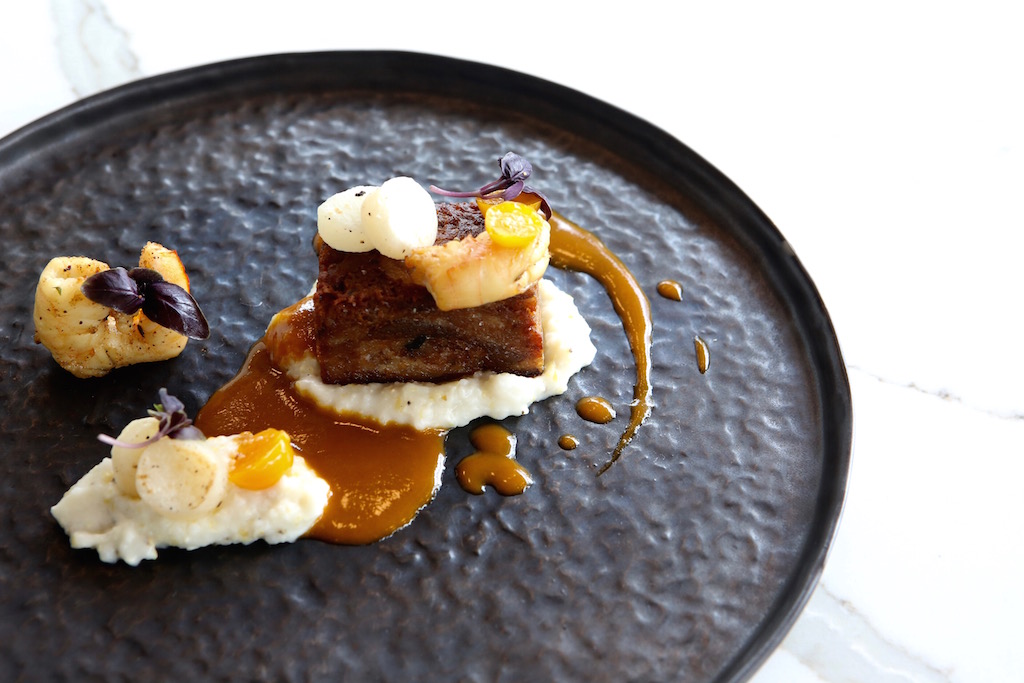 The other place to taste is Ana, the winery's 56-seat restaurant and adjoining 82-seat patio overlooking the water. Executive chef Michael Gordon of Brooklyn Winery teamed up with chef de cuisine Benjamin Lambert, who most recently helmed 701 Restaurant in Penn Quarter. The duo created wine-friendly new American menus (all exclusive to DC) with dishes such as Maryland crab beignets with Indian-spiced romesco; pastrami-spiced monkfish with carrot-mustard jus; and grayson cheese-stuffed pasta with corn and housemade rabbit sausage.
There's also a lineup of bar snacks—and a bacon-double cheeseburger—for those who want to casually graze. Service will be dinner-only to start, with brunch starting in the fall.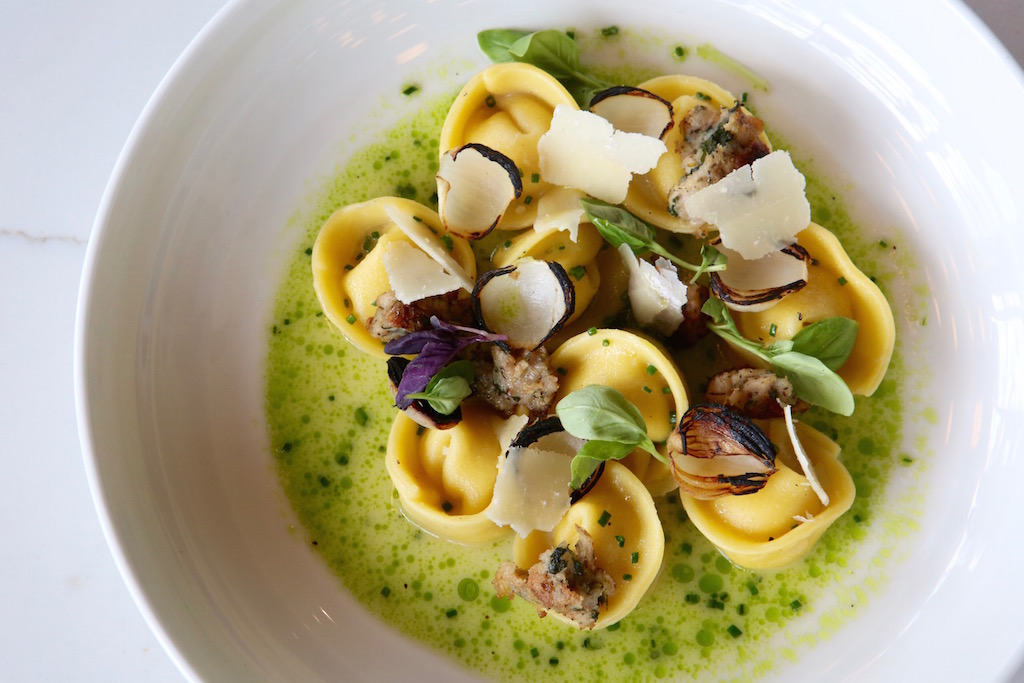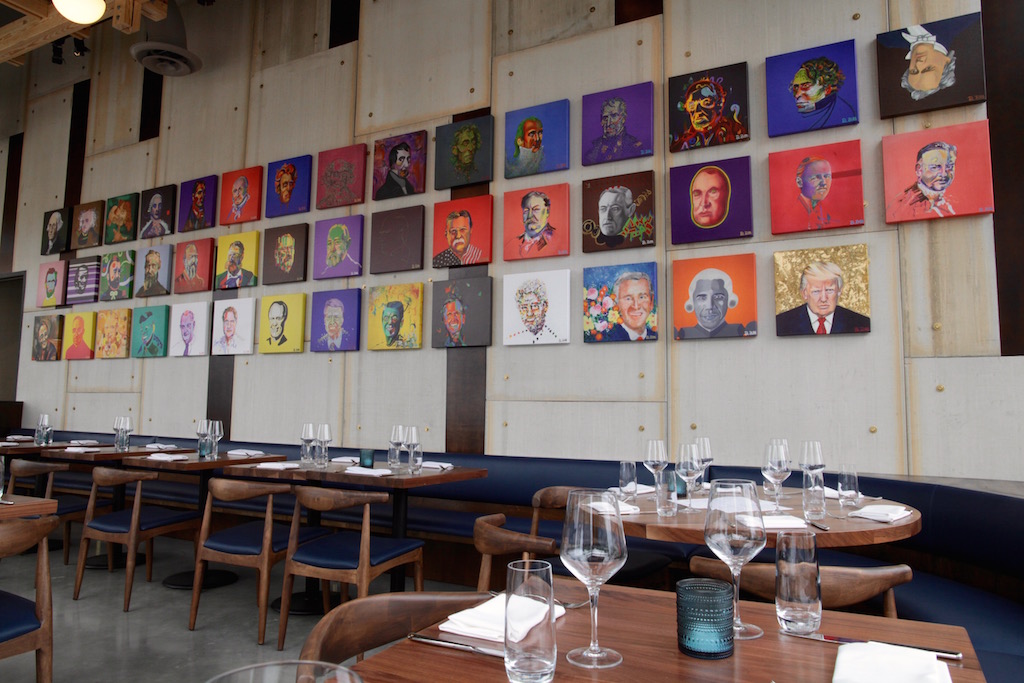 Ana will exclusively pour District Winery bottles, though non-wine drinkers can try a variety of beers and cocktails. The team plans to make ingredients for drinks that incorporate parts of the winemaking process, such as vin cotto syrup and barrel-aged libations from the winery's lees. House punch and a variety of wines, beers, and snacks will be served during weekday happy hour.
"Wine can be snooty, wine can be daunting—we're not that," says McCormack.
District Winery. 385 Water St., SE; 202-484-9210. Tasting bar open Mon. through Thurs. from 1 PM to 9 PM; Fri. from noon to 11 PM; Sat. from 11 AM to 11 PM; and Sun. from 11 AM to 9 PM. Tours will be available on Saturdays and Sundays at 1 PM, 2:30 PM and 4 PM (beginning September 9). Ana restaurant open for dinner  Mon. through Thurs. from 5 PM  to 10 PM; Fri. and Sat. from 5 PM to 11 PM; and Sunday from 5 PM to 10 PM. Bar hours vary.