Philadelphia-based convenience store chain Wawa broke ground on its first DC location today at 1111 19th Street, Northwest, marking the start of a major expansion in the Washington area that could eventually bring as many as 50 locations. The flagship near Dupont Circle will be Wawa's largest shop to date at 9,200-square feet, with an opening date of December 15.
Though the chain of over 750 stores in the Mid-Atlantic and Florida is well-known for its proximity to highways and gas stations, the first DC venture is designed with a different "upscale urban feel," according to representatives. The 24-hour space will operate with a heavy emphasis on food and beverage, including new features like nitro-coffee, hand-spun milkshakes, and customizable salads. John Sharpless, director of store operations, says an in-house bakery will produce fresh Amoroso's rolls—a Philly mainstay—for made-to-order hoagies and subs. Patrons will be able to dine indoors in the "Wild Goose Cafe" area, or on an outdoor patio. Free wi-fi will be available throughout.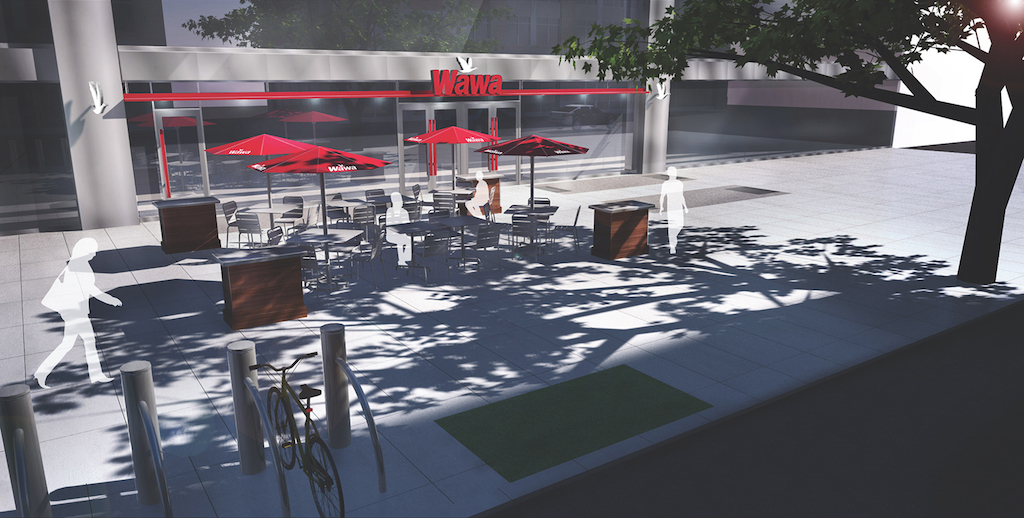 A second DC location, similar in size, is set to open in Georgetown in late 2018. Sharpless says a Chinatown branch is also under contract just across from Walgreens—another chain that's been edging into the culinary competition with more upscale offerings like sushi and salads.
"We're not afraid of competing," says Sharpless. "We prefer to think there's room for all of us here."
According to Wawa chief real estate officer Brian Shaller, the company aims to open five to ten new stores in Washington over the next two years with a target of "full density"—or 30 to 50 locations—overall. Though the new "urban prototype" is the company's focus in DC right now, locations are also being scouted in suburbs like Arlington with the possibility for fuel and food.