Why let an empty parking languish when it could be something so much more exciting and engaging? That's the thinking behind the pop-up miniature golf course in Southeast at the Shops at Penn Hill. The site's developer, Jair Lynch Real Estate Partners, is waiting for permits to come through for a mixed-use building project, so they tasked Building Creative with coming up with a space filler. After putting around a few ideas, Building Creative chief executive Anne Corbett and her team had a stroke of genius: get nine local artists to design holes for a mini-golf course, which opened on the weekends in early August.
"It felt original and hands on," Corbett says. "A lot of contemporary art is about interactivity and mixed media, but artists don't always have to produce something truly durable that kids of all ages are going to interact with. It was a great opportunity for them to stretch to come up with something that wasn't just conceptually smart, but also durable over a ten-week outdoor stretch."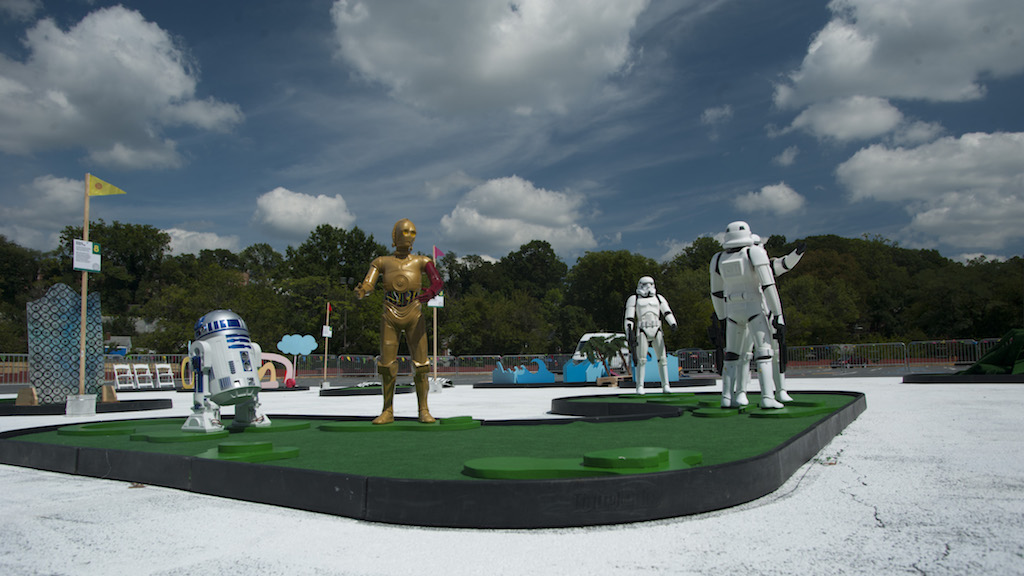 Terence Nicholson created a dragon that—in Corbett's words—"poops out" the ball. Andrew Wodzianski and Jared Davis (collectively known as the Holiday Starkillers) built a green populated with Imperial stormtroopers, R2-D2, and C-3PO from Star Wars. Beth Ferraro crafted a hole that mimics the ocean. Another designer, Nehemiah Dixon III, made his hole a vertical challenge. Players must toss a rope with a golf ball at either end in an effort to get it to wrap around the rungs of a ladder-like structure that serves as the hole.
"All the artists all gave us their A-game," says Corbett. "They didn't go with family-friendly lowest common denominator ideas."
The site features food trucks during golfing hours, and visitors can also play corn hole, a human-scale version of Candyland, and giant Jenga. "There's a little bit of everything to wear out your children," Corbett says.
The course is open Saturdays from noon to 7 PM and Sundays from noon to 6 PM through October 8. Entry $3 per person; $10 for a group of four.
3200 Pennsylvania Ave. SE.