This year's Michelin guide for DC looks pretty much like last year's—but not just because only two new restaurants received stars. If you actually sit down to read the thing, you'll find almost all the restaurant reviews are copied and pasted—word for word—from the inaugural little red book.
Michelin spokesperson Lauren Davis says inspectors use their notes to update the text and logistical details of the restaurants each year. "If the text that was written was accurate and appropriately represented the particular restaurant, it is not modified.  However, if a restaurant no longer offers lunch or they added a notable cocktail list – you will always see that information updated to be accurate as well," she explains via email.
However, only a handful of blurbs are actually updated. While the descriptions of two-star restaurants like Pineapple and Pearls are partially revised with newer menu items, the write-ups for all of last year's one-star spots are exactly the same. Ditto for nearly all the Bib Gourmand and non-starred reviews. Never mind that some of the dishes mentioned haven't been on menus for more than a year. Just one example: At Kyirisan, Michelin praised the rabbit rillettes and matcha meringue. Too bad chef Tim Ma took the dishes off the menu around June of 2016—months before last year's guide came out.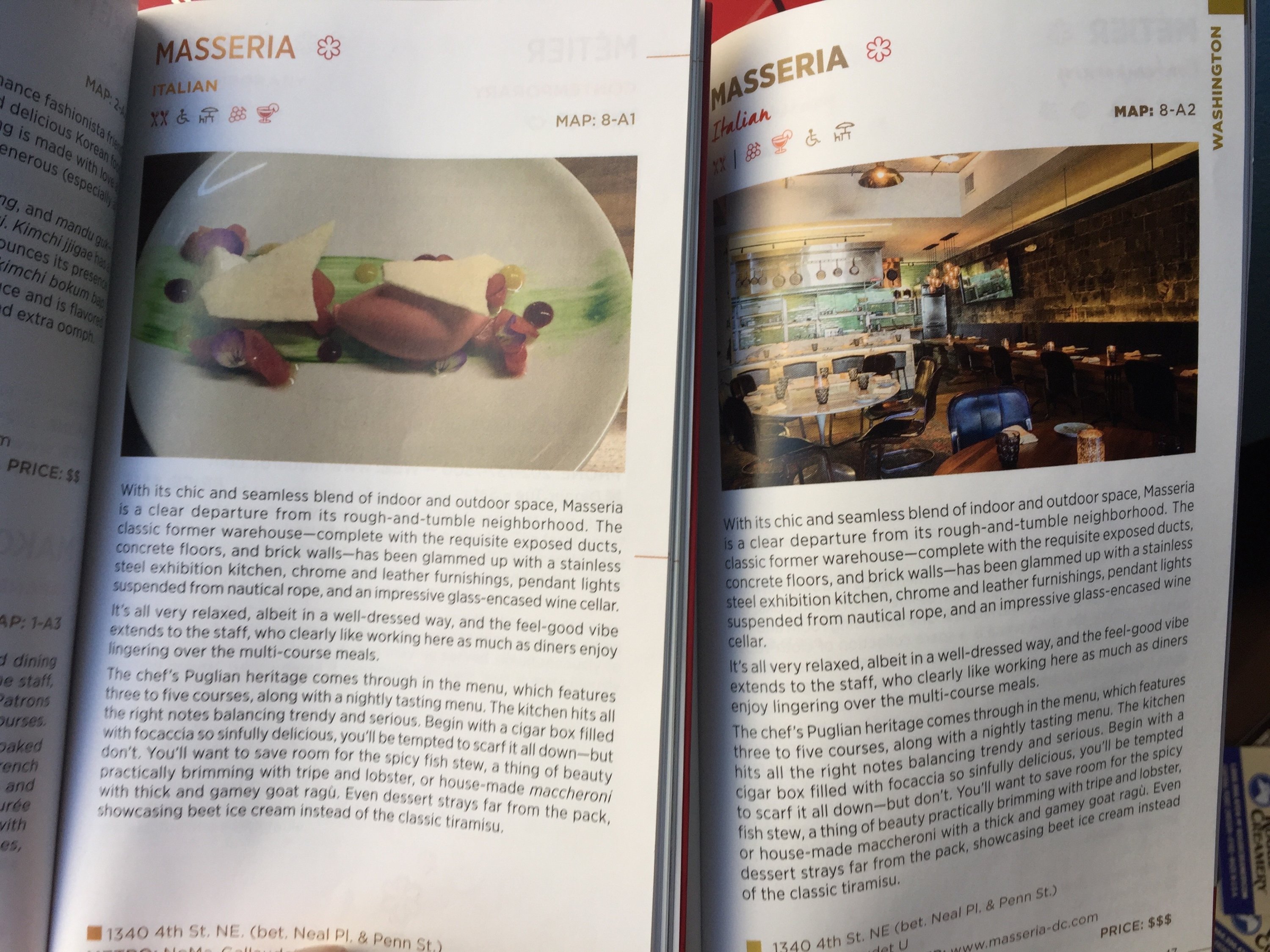 Sure, a big print guide is always going to end up with some dishes that have since slipped off menu. After all, seasonally-minded chefs change their offerings quite often. But at the very least, why not include dishes from the most recent visits? Surely the inspectors ate something this year that was worthy of a mention? Surely they made some fresh observations? Don't they have anything new to say?
Michelin says its inspectors revisit every restaurant in the guide, but by recycling material, they're only contributing to the opaqueness of their process and perpetuating the idea that they phoned it in. Even if they don't have as many "resources" this year, it's really not much effort to swap in newer dishes.
Plus, it's not like Michelin didn't make any adjustments—though many are so minuscule that they're confounding.  In the description of Daikaya, for example, they bothered to change "pounding pop and rap music set the tone here" to "loud pop and rap music set the tone here." Huh?
At the very least, the photos got an upgrade. They no longer look they were swiped from user uploads on Yelp.
I get it—trying to come up with something new to say about the same restaurants year after year can be time-consuming and exhausting. But Washingtonian does it anyway. We visit—and revisit—over 250 restaurants to get our top 100, then write new reviews for each one.
Why not Michelin?