Monday is Martin Luther King Day and a federal holiday, so plenty of DC-area restaurants are extending their brunches. Below, a list of spots serving Monday eggs and mimosas.
1833 14th St., NW
This 14th Street neighborhood gastropub has traditional brunch fare like omelets and pancakes, but also throws eclectic options in the mix like a Vietnamese poached chicken salad. Go for their "baller brunch" cocktails: your first is $15, then refills are only $1 after.
116 Rhode Island Ave., NW
Cozying up in one of Boundary Stone's booths makes for a laidback Monday. The Bloomingdale pub's brunch menu is classic, with dishes like French toast and steak and eggs. For $14 you can get bottomless bloody Marys and mimosas.
1847 14th St., NW
If you find yourself dancing in the basement of Cafe Saint-Ex until the wee hours on Sunday night, you might as well stay for brunch the next day. The spot has a solid beer and cocktail list for a hair of the dog, and its mimosa special is $10 for the first glass, $1 for refills.
108 Rhode Island Ave., NW
Bloomingdale's Mexican spot dishes up brunch dishes like egg-filled tacos, chorizo tortas, and huevos rancheros. Order a bloody Maria (made with tequila), or go big with a bucket of mini Coronas and five shots of tequila for $45.
901 9 St., NW; 1250 Connecticut Ave., NW
Both City Tap locations in Penn Quarter and Dupont Circle will serve brunch from 11 am to 3 pm Monday. Order off the classic brunch menu, or step up the game with $10 build-your-own pizzas and $9 bottomless mimosas.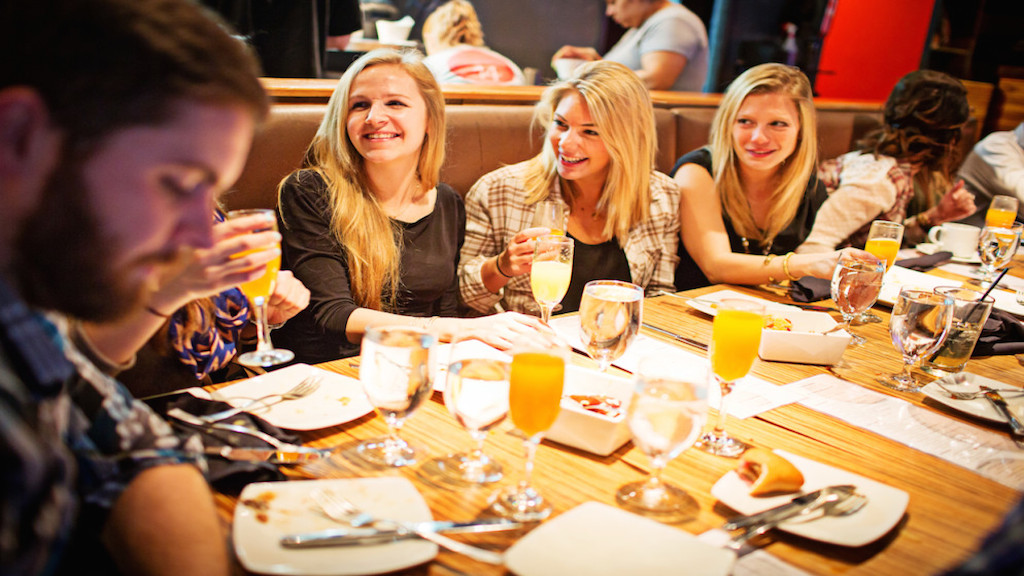 1825 14th Street NW
The 14th Street small plates spot will open at 10 am for its $39 bottomless food and drinks deal on Latin-Asian small plates and brunch cocktails. Make a late reservation and stick around – wine bottles are 50 percent off starting at 3 pm.
1622 14th St., NW; 3310 Wisconsin Ave., NW
For no-work Monday, both the 14th Street and Wisconsin Avenue locations of Barcelona will host brunch, complete with a bloody Mary bar, pancakes, eggs Benedict, frittatas, and tapas galore.
2453 18th St., NW
The 24-hour Adams Morgan diner has a hefty menu, featuring everything from breakfast tater tots to a turkey-and-stuffing entree worthy of Thanksgiving. For brunch, try an Irish coffee, sparkling elderflower cocktail, or spiked shake.
2459 18th St., NW
The cozy coffeehouse serves brunch all day, along with heavier fare such as sandwiches, nachos, and flatbread. Whether you're working remotely with a coffee and pastry or lingering over quiche and Tryst's many cocktails, it's a great little hideaway.
1443 P St., NW
Commissary's "bottomless Mondays" are a thing even on holidays, with endless bloody Marys and mimosas for only $15. Order off their regular brunch menu, or go for a set menu with two coffees, two entrees, and boozy cocktail pitcher for $55.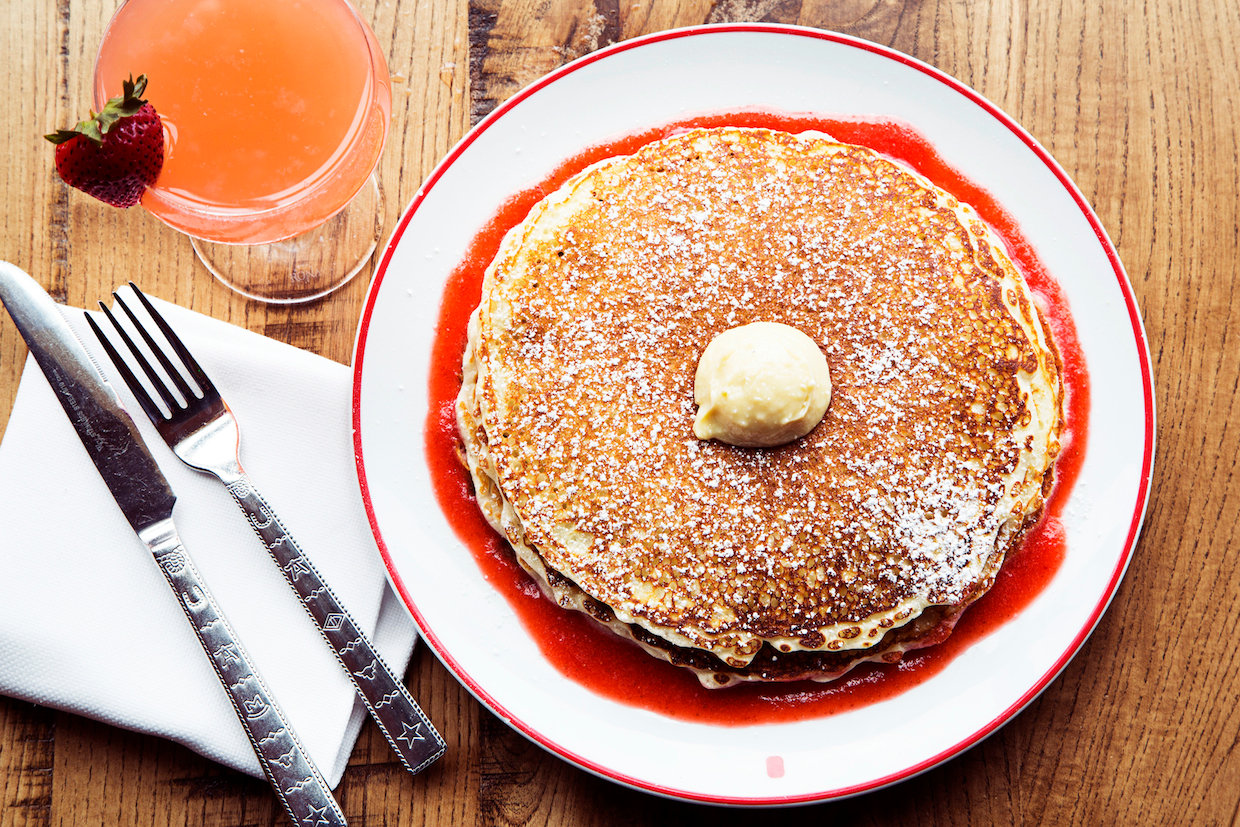 Founding Farmers; Farmers Fishers Bakers; Farmers & Distillers
Multiple locations in DC, MD, VA
All of the popular Farmers Restaurant Group spots will be open for brunch on Monday. Though menus vary by location, all are large and eclectic, with options ranging from chicken and waffles to spring rolls. If you're really hungry, head to Farmers Fishers Bakers or Farmers & Distillers. Both have buffet brunch options, where for $39 and $32, respectively, you can try everything your heart desires.
1200 19th St., NW
No one will go hungry after this meal: $45 gets you an unlimited prix-fixe brunch, with endless trips to the build-your-own waffle and omelet stations. The bar pours all-you-can-drink mimosas and bloody Marys, too, complete with a hot sauce bar.
3415 11th St., NW
Columbia Heights gathering place The Coupe has a little bit of everything: bagels, pancakes, salads, omelets, wings, cookies – the list goes on. Its tap list of local beers is impressive, too, as are its brunch cocktails.
1100 Vermont Ave., NW
While you can certainly order off the regular brunch menu on Monday, a buffet station is available as well. For $49 makes as many trips as you want for chicken and waffles, shrimp and grits, an omelet station, and more. It's all topped off with two sides and unlimited brunch cocktails.
Tico
1926 14th St., NW
Chef Michael Schlow has whipped up a new addition to Tico's brunch menu: doughnut French toast with pistachio and lemon cream cheese. Test it out yourself Monday – while you're at it, you might as well order the $35 bottomless mimosas, too.