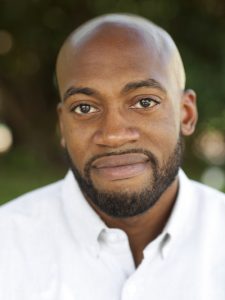 After covering the 2016 election and co-hosting the NPR Politics Podcast, Sam Sanders pivoted to create his own show. Launched last June, It's Been a Minute with Sam Sanders brings together pop culture, news, and politics, and focuses on contextualizing the headlines rather than flooding listeners with all of them.
But he's leaving DC next month and moving to California, where he'll continue to host the show from NPR's studio in Culver City. But before he goes, he's doing a live show on February 22 as a quasi-farewell to Washington at NPR's North Capitol Street headquarters.
Sanders' podcast runs two episodes per week. Tuesday shows feature long-form interviews with notable guests—previous guests include Bill Nye, former President Barack Obama's speechwriters, and the executive producer of The Bachelorette. Friday episodes break down the previous week's news, such as a recent discussion with NPR's legal affairs reporter Nina Totenberg about the #MeToo movement.
We talked with Sanders to find out more about his upcoming live show and what he'll miss about being a Washingtonian.
What can you tell us about the live show?
My guests are Audie Cornish, who people know from NPR's All Things Considered, and a friend of mine from the campaign trail, Evan McMorris-Santoro. He covers politics in Washington for Vice. They'll be my panelists, we'll talk about all the fun stuff. We have a two special surprise guests—one of whom, her name rhymes with "Font Ketty." And it should be very fun.
You've said the show isn't just about what happened in the news, but how it felt. What does that mean?
I think that in this era it seems of really crazy news cycles, we all consume the news, we're all reading the headlines, we're all reading the tweets, but we honestly need a little group therapy to just process all of it. It comes at you so fast. And sometimes I think the best thing the show can do for our listeners is be a place where they can just sit down and process it all, and process the feelings about the week and talk through it. There is a difference between reading the news and talking through it. And I think sometimes talking through it helps it all make sense and helps us find a way to be ok in spite of the crazy.
What makes your show different from other radio and podcast news shows?
It is a lot looser than what I think people are used to hearing on NPR. We use a lot less script, we are lot more conversational, and we have a lot more fun. We aren't afraid to laugh at the news, we aren't afraid to laugh at ourselves … I want to remind our listeners that it is OK—even in the face of weird crazy news cycles—to be happy. You can have fun, you can laugh a little, you know.
Do you have any dreams guests for the show?
I've been chasing Kate McKinnon from SNL since the campaign trail, I think she'd be wonderful. I'm obsessed with J. Lo and her ability to really cultivate her fame over literally 30 years—and successfully famous for 30 years. How do you do that? That's amazing, right? I would love to have a sit down with Rand Paul, I find him fascinating. I am obsessed with everything Issa Rae does and will one day get her on the show.
You're moving to LA soon. What will you miss about DC? and what will you maybe not miss about DC?
I run just about every day before work. And I have this delightful five-mile loop that takes me all through the monuments and past the Capitol and it never gets old. I will miss that every day once I'm gone. I will miss the ability to get around the city as compact as DC so easily. You can just bike anywhere in ten minutes, that's pretty awesome.
I will not miss the low-level neuroses and OCD that this city tends to have. It is such a tightly wound place. I will miss the way that DC still very much is fighting to prove that it's worth it. I think it is a city that always feels like it's in the shadows of other great cities. Because of that, the city is always really kind of trying to impress you, and I appreciate that. A place like LA or a place like New York, they don't actually care if you like them. And DC does.