This May, Calabash Tea & Tonic will open its second DC location on the 12th Street strip in Brookland. The 900-square-foot spot will feature a corner patio draped in medicinal plants and herbs where customers can sip tea and read about the plants from which their concoctions are brewed.
"I've been looking at corners to activate in DC for the last ten years," says owner Sunyatta Amen, a fifth-generation herbalist whose organic tea blends are based on her Cuban-Jamaican great-grandmother's recipes. Many corners in the city are occupied by liquor or convenience stores, she says, and when they do become available, bars often go in. Here, the corner real estate offers room for around a dozen patio seats, plus the teaching garden, which "celebrates our tradition of herbal healing. It's ethnobotany at its best."
Inside, the teahouse will follow the same model as the Shaw location: Choose from over 50 options and order at the bar, where you can open a tab while you work on your laptop. "I love a tab. And I don't think it should be limited to alcoholic drinks," says Amen. "We want you to stay in the zone and do your work." Veggie bites, soups, and desserts will also be available.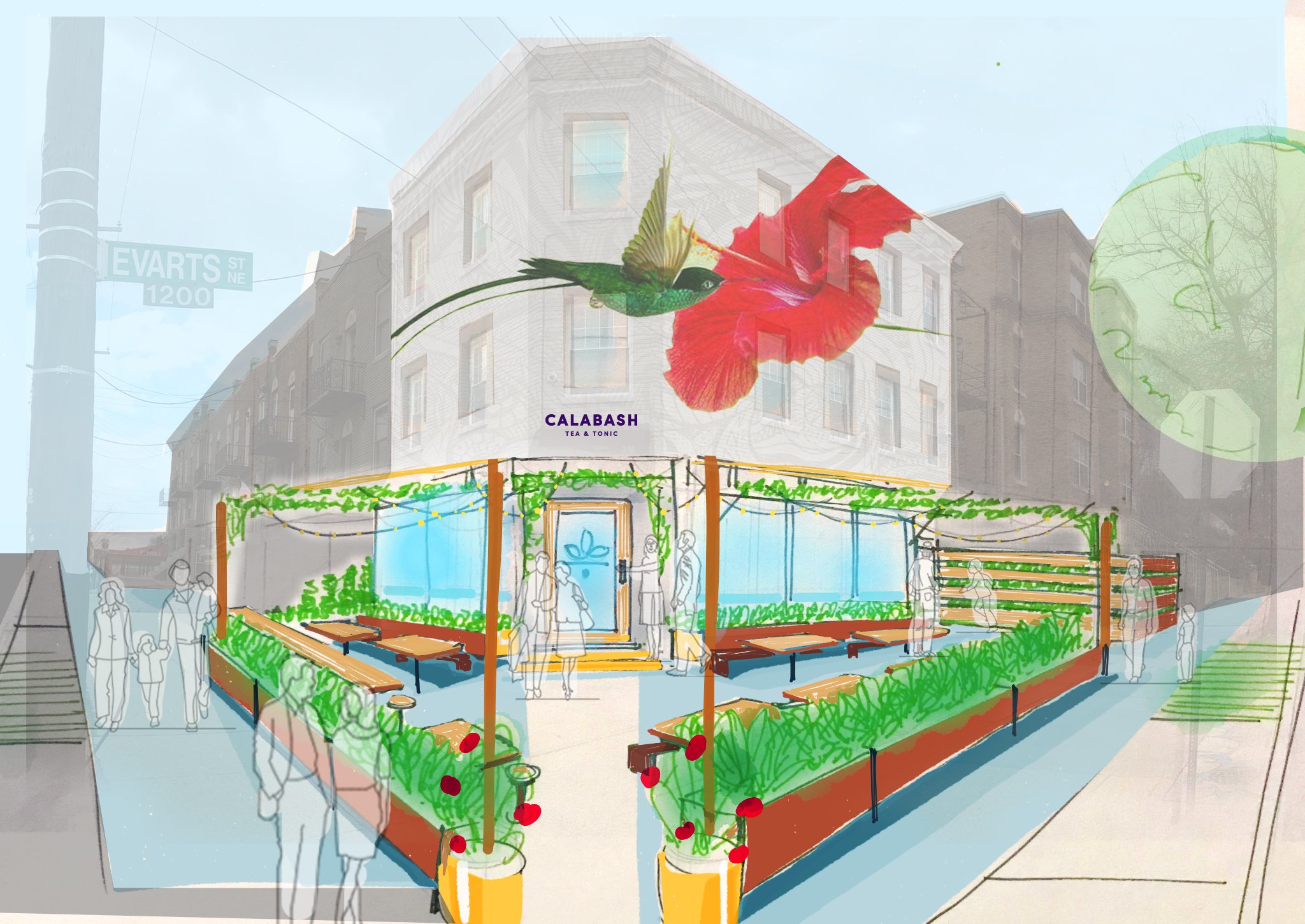 The popular "Love Potion #10" (black ginger, tea, and spices, purported to have aphrodisiac properties) will be brewed all day in a big cauldron because "that's how modern witches do it," says Amen. For anxiety—which she says affects "every other person that comes in"—there's "My Last Good Nerve," a blend of lavender, St. John's Wort, and chamomile that soothes anxiety and "lifts those blue corners of depression." You'll also be able to order the popular tonic shots.
The new location will allow Amen to meet the demands of online sales while ramping up wholesale efforts, with hopes of getting into Whole Foods and more WeWork locations around DC, Maryland, and Virginia this year. It will also create over two dozen jobs, allowing Amen to continue her commitment to hiring single mothers, veterans, and returning citizens. Through a partnership with Cultivate the City, Amen hopes to bring in school kids to help plant the patio garden before the teahouse opens in May.
In a time of frenzy over all things wellness, what does Amen—who grew up in the health business before matcha and turmeric were buzzy household terms—hope to accomplish? "It's better that it's a trend than not," she says. "You hope that something goes on trend and it sticks. I hope to return people to a time when what they put in their body was extremely important to them. I advocate prevention: You eat the cure before you get the disease."
The Brookland Calabash Tea & Tonic will be located at 2701 12th Street, NE.