Brothers Alvaro and Alonso Roche want to bring the beach to Bethesda at their newest spot: TacoArepa and Frida Beer Garden. The fast-casual restaurant, which is currently open with limited hours and menu, and forthcoming al fresco bar will specialize in food and drinks from coastal Mexico, the Caribbean, and the family's native Venezuela.
"I wanted to pay homage to our childhood and what we were eating when we were kids," says chef Alonso Roche, who says they spent time sailing around the Caribbean. "You're born with arepas. Even when you're a baby, they give you little arepa balls that they boil and mash up with butter."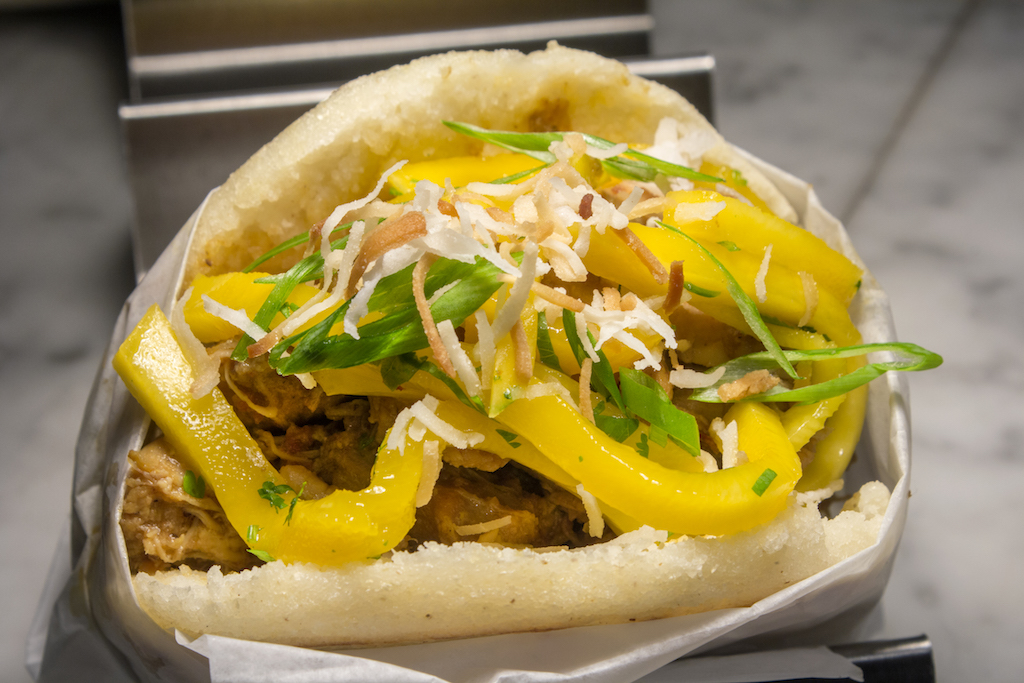 Roche makes fresh arepas daily at nearby sister pastry shop, 202 Doughnuts & Coffee. Patrons can choose between the crisp masa cakes, corn or flour tacos, tostadas, and rice or salad bowls. Fillings include braised chicken tinga, Cuban pork carnitas stewed in citrus and spiced mojo sauce, Venezuelan shredded beef, and a vegetarian Jamaican curry. The menu includes chef-recommended combinations with various salsas and toppings, or guests can dress their own meal at a salsa bar. Rounding out the options are quesadillas, nachos, and sides like guacamole or black beans and rice.
For now, the operation is around 50 seats indoors with a bar, which pours beers like Tecate, Red Stripe, and Modelo. Once the adjoining beer garden opens—likely by mid-March, weather permitting—there'll be seating for an additional 100 and a separate outdoor bar with 16 beer taps and tropically themed drinks. Roche ordered domino boards for patrons to play like they do back home as well as corn hole and Nerf basketball. The full food menu will be served outside.
An "official" launch is planned for March 16. Until then, the restaurant will operate with limited hours (11:30 AM to 8:30 PM daily), and may serve a smaller food and beverage menu. The "soft-opening" concept can be a tricky one to navigate for businesses and patrons alike; just recently the Roches criticized Washington Post food critic Tom Sietsema for writing up their other new Bethesda restaurant, R Family Kitchen, days after it "soft-opened"—though there were no blatant signs that the eatery wasn't operating at full service. At TacoArepa, they're trying to make it more clear to all patrons that they're still in a warmup phase, and also plan to donate half of the proceeds from the month of March to Accion Humanitaria Por Venezuela, a humanitarian organization in their home country. 
"We take everyone's comments into consideration. We need to tweak this, we need to do this," says Roche. "I hope people understand that although we're in the soft-opening stage, we want to make sure everything comes out great."
TacoArepa. 4905 Fairmont Ave., Bethesda