It's 7 o'clock on a Tuesday evening, and the dinner rush is just getting started in the 14th Street corridor. Le Diplomate, Compass Rose, and other hot spots have already begun cranking out food orders, and the bars are starting to fill up. Happy-hour drinkers huddle outside to smoke and vape between cocktails.
At the moment, however, much of the action is at a different kind of culinary destination: Trader Joe's. The brightly lit grocery store is packed with young, smartly dressed shoppers stocking up on provisions as they head home. Into the baskets go kombucha, dried apricots, and boxes of chicken tikka masala. Carts overflow with bottles of Bordeaux, hunks of Parmigiano-Reggiano, and brightly colored bags of frozen, smoothie-ready berries. Whether it's due to all the trendy food or to the IPA samples being handed out, there's a buzz in the air. It's a scene. Seventeen checkout clerks are on duty, but the line snakes around the back of the store.
Like so much else in DC, grocery shopping has changed dramatically over the last 20 years. In the not too distant past, Washington's professional class spent its grocery money at two broadly similar chains, which had stores in ritzy neighborhoods and less ritzy ones, hip parts of town and stuffy ones. Perhaps some of their locations were bigger than others, but by and large people had access to the same things. Consumers looking for a higher-end experience stopped by specialty stores.
The 14th Street Trader Joe's—just like the restaurants that line the same formerly forlorn strip—would have been unimaginable in that old duopoly. But so would many of the stores in less buzzy neighborhoods across the District, Maryland, and Virginia, where the array of grocery options, and the public interest in them, might baffle a visitor from the 1980s.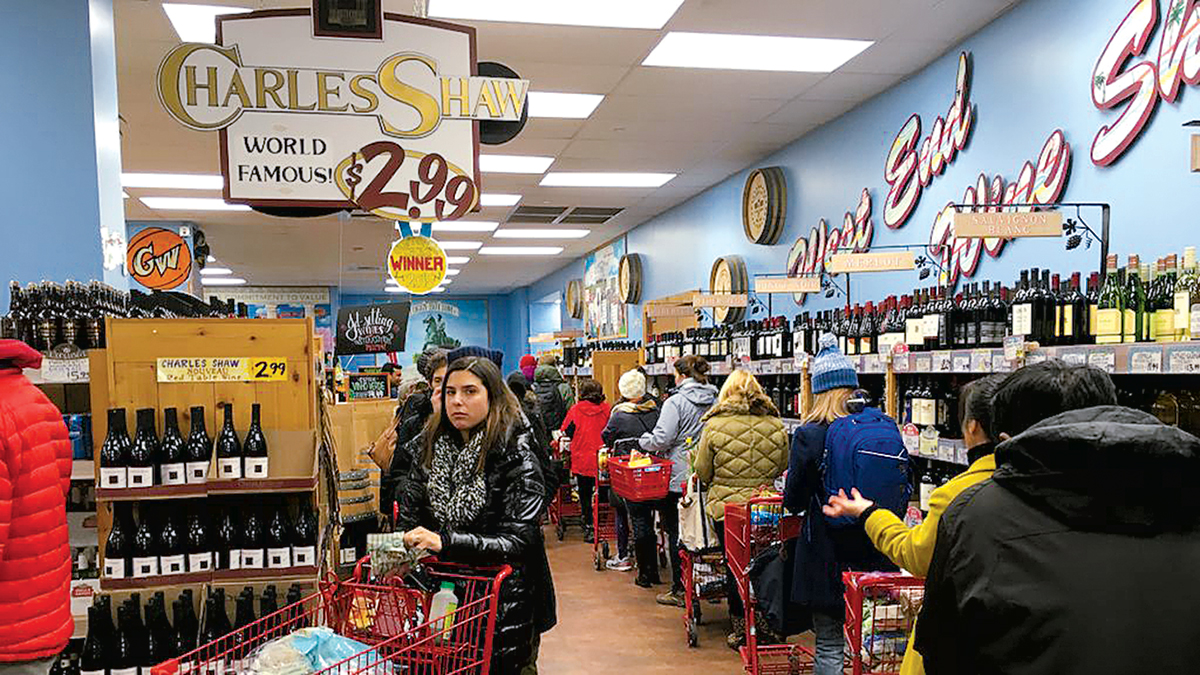 Though it's tempting to cast this as another step in America's culinary evolution, it's about more than produce. The stores are now cultural signifiers and crucial economic drivers. On 14th Street, the arrival of this Trader Joe's in 2013 helped solidify the transformed neighborhood as a destination for upmarket sophisticates. So did a Harris Teeter at the east end of Capitol Hill. But the excitement about new supermarkets extends well beyond neighborhoods that need a yuppie brand to prove their recent affluence. When cult favorite Wegmans announced plans to open a vast new outpost on Wisconsin Avenue in upper Northwest, many neighbors greeted it with the kind of enthusiasm usually reserved for a new Fabio Trabocchi spot.
Still more newcomers are on the horizon: Earth Fare, a fast-growing grocer with an emphasis on natural foods, recently arrived in Fairfax, with more stores on the way. The Florida chain Publix is eyeing a move into the area, too. Then there are German budget-shopping imports Aldi and Lidl, both making a big play to dominate Washington refrigerators. Lidl—which opened its first area location in Manassas last September—decided to build its US headquarters in Crystal City to take advantage of the area's talent pool and general foodiness.
Washington's grocery explosion is fantastic news for shoppers, of course. But it goes much further than that. In some ways, the new breed of supermarket is helping define how we live and even the way we think about ourselves. Am I an Earth Fare person or a Harris Teeter person? Should I move to the neighborhood where they're opening a Wegmans or the suburb with that new Lidl? And what in the world am I supposed to do with this spaghetti squash I talked myself into buying at Whole Foods?
---
In the beginning, there was Center Market, which opened in the early 19th century on what's now the site of the National Archives. Then came Piggly Wiggly, which by 1921 had 38 stores in the area. In the years following World War II, A&P pioneered the modern supermarket. That model, later adopted by Giant and Safeway, featured freestanding buildings surrounded by row after row of blissfully convenient parking and boasting an array of colorful products that would have been un-imaginable to previous generations.
When I was a kid in Bethesda in the 1980s, that kind of shopping was still the norm. To the east of our house was a Safeway, which anchored a tiny, aging strip mall (whose main appeal, at least to my cohort, was a stationery store that sold Smurfs). In the other direction—where we tended to head in our blue Volvo—was our Giant in the Westwood Shopping Center, where we loaded up on Stouffer's lasagna, Ragú spaghetti sauce, Styrofoam trays of pork chops, and other not exactly gourmet delights.
At the turn of the '80s, Giant and Safeway controlled more than 60 percent of the region's grocery market. Those chains largely defined Washington's foodshopping routine. The stores were nice enough, but there was nothing about going to them that galvanized anyone into a tribe.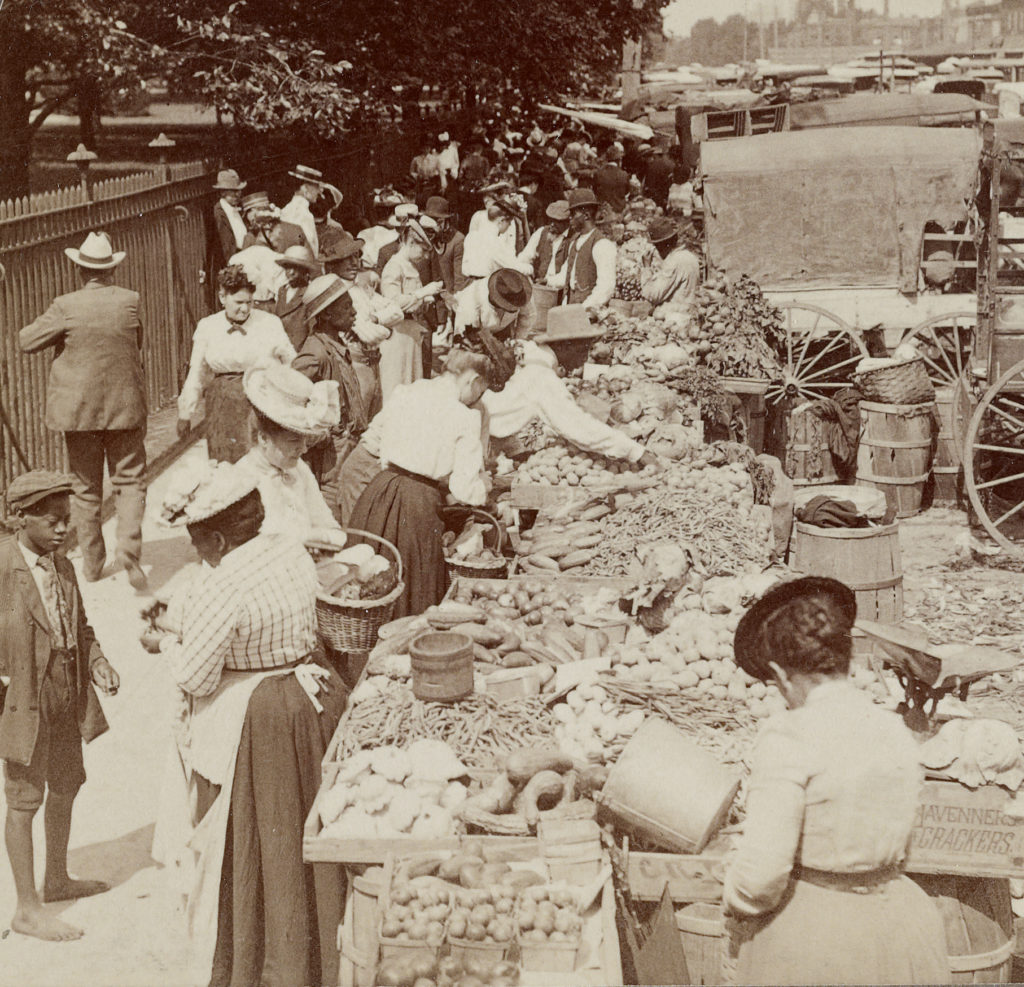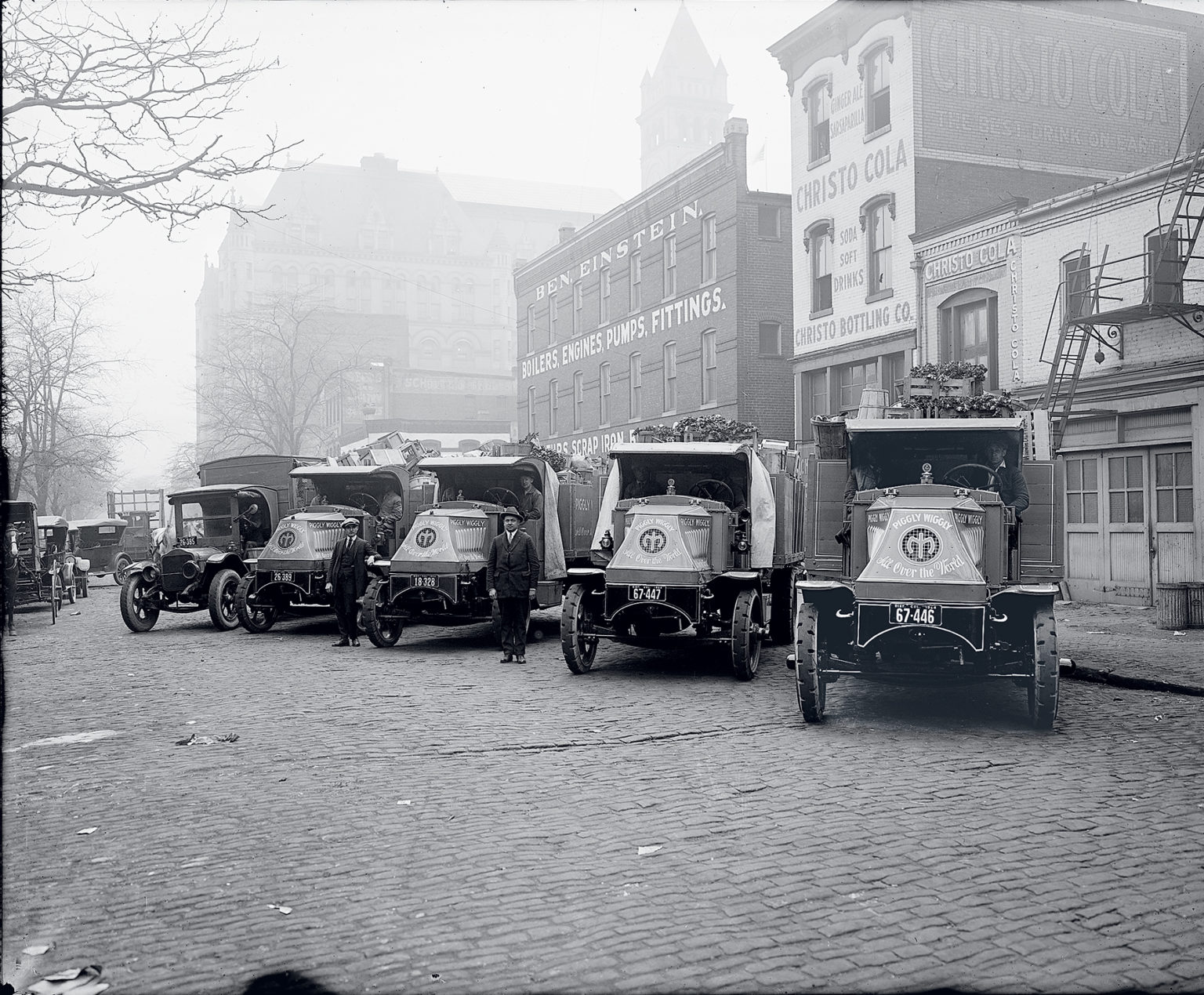 The Big Two evolved over the years to keep up with consumer tastes, adding fresh-baked goods, prepared foods, and eventually organic produce and other premium items. But things really started to change in 1991 with the arrival of Fresh Fields, which opened its first store in Rockville. Owned by a New York transplant named Mark Ordan, it was Washington's answer to Austin-based Whole Foods, which hadn't yet hit our area. "The timing was just right," says Ordan, who now is on the board of Harris Teeter. "People were becoming much more interested in what they were eating." By 1996, Fresh Fields had expanded to 22 locations.
The chain had grown so successful that Whole Foods took note, and in June 1996, it acquired Fresh Fields in a stock deal worth about $135 million.
With the rise of Fresh Fields and Whole Foods, Safeway and Giant customers started ditching long-established routines. By 2016, Giant's and Safeway's market shares had fallen to 20.15 and 11.15 percent. Though they remain the area's biggest chains, competition has eaten into their revenue from all sides. Walmart, Cost­co, Aldi, Lidl, and Trader Joe's have, in various ways, forced prices down, while Whole Foods, Wegmans, and a growing segment of high-end specialty stores have lured away more shoppers with pricier tastes.
CVS—surprisingly, the third-largest seller of groceries in the region—has siphoned off customers just by being absolutely everywhere. "Our total footprint is about 9.8 million square feet," says Giant's president, Gordon Reid, a Scottish retailing veteran who arrived in 2013 to help turn things around at the Landover-based chain (which was acquired by a Dutch conglomerate in 1998). "In the last four years, we've had 4½ million square feet of competition open against us. So it's almost like half of Giant coming in."
---
It's hard to overstate the impact that the shopping revolution has had on the region's transformation—physical and economic, not just culinary. When Whole Foods opened a Fresh Fields near Logan Circle in 2001, the Washington Post described the surrounding neighborhood as being full of "Popeyes and bulletproof windows" in a story about the store's arrival. "With the cars double-parked outside," the article went on, "it became apparent there was a new drug on P Street. It was called food."
Ordan recalls the conventional wisdom. "When Whole Foods first started working on that store, it seemed [to most people] about as good an idea as building a store offshore," he says with a laugh. "But with people coming back in from the suburbs and a clear demographic trend of millennials wanting to live in the city? It's been a sea change."
The success of the P Street Fresh Fields was a clear sign of how much the entire area was evolving. Other firms, including some of the old titans, followed the same trajectory: Abandoned buildings and tattered houses gave way to million-dollar rowhouses and expensive restaurants. Large mixed-use developments—such as a development in adjacent, more recently gentrifying Shaw that includes a large Giant along with luxe residences—followed. It's a simple enough pattern: Affluent newcomers draw the interest of fancy supermarkets, which in turn become selling points for prospective residents.
That dynamic hasn't been limited to urban hubs. Rockville's development boom kicked off not long after that first Fresh Fields opened, and in Virginia, Clarendon's dramatic transformation coincided with the arrival of another gourmet chain, Bread & Circus. (Both have long since been converted to Whole Foods.)
Or take College Park, where the University of Maryland has begun to undertake a challenging project: trying to turn the suburb into a real college town—a vibey intellectual hub with some of the flavor of Charlottesville or Ann Arbor. The redevelopment strategy has so far brought in a new coffee spot, a music venue, and a hotel complex. But according to former Howard County Executive Ken Ulman, the man leading the effort, the most significant early win was a Whole Foods that landed in Prince George's County's Riverdale Park neighborhood last April.
"It provided the neighboring residents a great option for food," Ulman says. "But it also sent a broader message to the real-estate market that this is an area they should be considering for development, and to residents that this is an area they should be thinking about as a place to live. Certain stores, whether it's Wegmans or Whole Foods or Trader Joe's, have an outsize effect on the surrounding community."
With more choice—and more stores closer to more homes—it's inevitable that a lot of people are reporting a change in shopping habits, hitting multiple stores several times per week in search of ingredients. In turn, that's pushed supermarkets to change their vibe, building themselves into meeting places where you can catch up with friends for lunch or a glass of wine or a pint of craft beer after work.
That kind of impact isn't always welcome. New developments sometimes meet with pushback—often because those communities don't want to become the sorts of dense, urbanized environments that the new model of grocery stores often portends. Consider the recent controversy over a proposal to bring a Balducci's to the site of a shuttered Superfresh store in Northwest DC's leafy AU Park neighborhood. The old store had been a standard, suburban-style one-story building surrounded by parking. The Balducci's proposal, on the other hand, envisions a mixed-use facility—i.e., with offices or apartments above, and all the bustle that comes with them—and less parking. A lot of neighbors saw it as something that would alter their neighborhood. They're probably right, for better or worse.
Or I could journey back to my own Westwood Giant in Bethesda, recently at the center of a similar battle, with residents pushing back against plans for a large condo-and-retail development intended to replace the current aging complex. As a result of the outcry, a scaled-back plan was recently unveiled. But whatever the final project looks like, one thing is almost certain: Giant will be its anchor.
---
The next chapter of the modern grocery experience is unfolding in a 20,000-square-foot, hangar-like space in Manassas, where Lidl opened its first area store last September. In some ways, Lidl is a more traditional spot than DC's urban mixed-use destinations. Whereas the buzz around many recent grocery openings has been about real estate and development, Lidl—like Fresh Fields more than a quarter century ago—is promising a change to shopping itself. On a recent Wednesday morning, the airy space is surprisingly serene, with the store's clean lines and wide aisles creating a vibe both soothing and a bit futuristic. A middle-aged man in a flannel shirt puzzles over a customer-operated bread-slicing robot and is delighted when following the Lego-ish visual instructions leads to a perfectly cut loaf of German sourdough.
Lidl (rhymes with "needle") operates more than 10,000 outlets around the world, including 49 in the US, and customers seem to love its mix of a high-end-ish sensibility with strikingly low prices. Like Trader Joe's, Lidl is known for its house-brand products, which dominate the aisles. The company boasts about what it calls a fundamental rule: "Lidl private label products must be as good as the leading brand or better."
For customers, the shopping experience feels almost luxurious. There are two kinds of authentic prosciutto. Cheeses are adorned with signs proclaiming the awards they've won, and bottles of $14.99 generic Barolo come complete with DOCG certification, which lets you know the Italian government considers it legit. (The verdict? Surprisingly tasty.)
At a moment when stores like Wegmans are going after high-end shoppers and when Walmart, Costco, and Target are luring bargain-seekers, Lidl is forging a middle path. The company could, in theory, syphon from both ends. Emphasizing its own goods allows Lidl to make money despite minuscule profit margins, in turn allowing it to compete with more established (and expensive) competitors.
When Lidl arrived in the US last year, it announced plans to open a hundred of these Ikeas-of-food by buying plots of land at busy intersections in burgeoning exurban locales and building the stores from the ground up—a far cry from the buzzy, urban newcomers.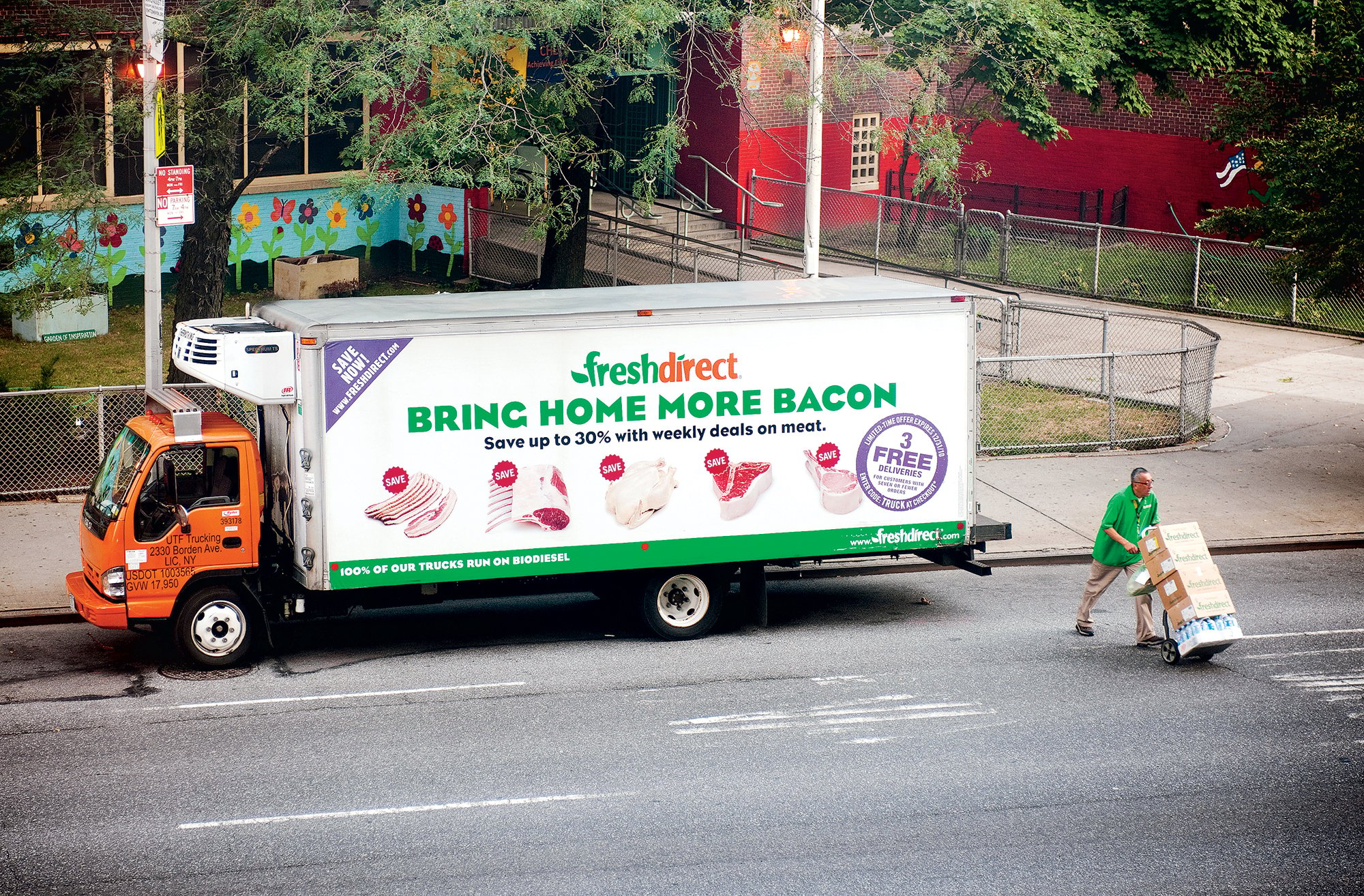 In fact, it isn't the only German chain to make a beachhead in Washington. Aldi offers a less trendy, no-frills approach. After arriving in Langley Park in 1998, it now has 31 locations in the area. "We see retailers like Aldi and Lidl as stress-testing a lot of the core, long-held truths of grocery retailing," says industry analyst Mike Paglia, director of retail insights at the consumer-research firm Kantar. "Particularly the idea that if you want low prices, you have to sacrifice quality."
Lidl and Aldi have a long way to go before they present a serious threat to the area's biggest grocers, but their approach is likely to have a real impact on the suburban market. At a moment when Whole Foods has been trying to change the widespread perception that its products are too expensive, Lidl in particular is finding a way to deliver some cultural cachet minus the painful price tag. Even without cultivating a scene.
Of course, Whole Foods could already be part of a move toward the next big transformation. When Amazon bought the grocer for $13.7 billion last August, it was widely seen as the latest move in Jeff Bezos's war for total retail domination. But for grocery shoppers, it might herald something bigger: a move away from physical retail toward ordering online. Amazon recently announced free two-hour delivery of Whole Foods groceries for Prime customers in four US cities, with a broader rollout to come soon.
Many customers are already embracing this kind of delivery, and the idea got a boost when the popular New York service Fresh­Direct arrived here last year. Among the traditional Washington chains, Giant in particular has made investments to compete in this arena, although the company's president thinks many shoppers remain wary. "Food retailing going online, especially fresh foods, is difficult," says Gordon Reid. "It's a trust issue. But we think we can make it a success."
For anyone who has watched Amazon decimate bookstores, record shops, and other retailers, that supermarket-less future could seem a bit depressing. What will happen to all of those shiny, neighborhood-defining developments if the grocery stores that anchor them go the way of the old Barnes & Noble?
But perhaps digital-grocery domination is not quite as close as many in the industry think. To anyone watching shoppers filling their carts at the hopping 14th Street Trader Joe's recently, the delivery revolution would still seem a long way off. These well-off young urbanites are exactly the kind of early adopters who, research shows, are most interested in ordering online. Will they want to give up this social ritual and instead sit around their apartments waiting for a delivery? Right now, it's hard to imagine. They're having too much fun.
To read more about how grocery stores have shaped Washington, click here.
This article appeared in the March 2018 issue of Washingtonian.