A guide to the newest places to eat and drink.
Three years ago, Dylan Kough left a career as a CPA to open a barbecue food truck. "My job was really, really boring, and I felt like nothing I did had any impact on anything," he says. "I just wanted to do something where I had more responsibility."
Now he has plenty of responsibility. He's expanded his business, Smoking Kow, to two food trucks, a catering operation, and as of April 13, a restaurant in Alexandria. The new brick-and-mortar spot will continue to serve Kansas City-style smoked meats, but with an expanded menu that includes barbecue tacos, sandwiches, mac-and-cheese platters, and more.
The highlight of the new place is a new Ole Hickory smoker. While the equipment has a gas assist, Kough isn't planning on using it. Rather, he's smoking the meat with hickory and cherry logs. Already, there's a big difference from the pellet smoker he'd been using for three years out of food incubator Union Kitchen. "It is badass," Kough says of his new toy. "So much smokier."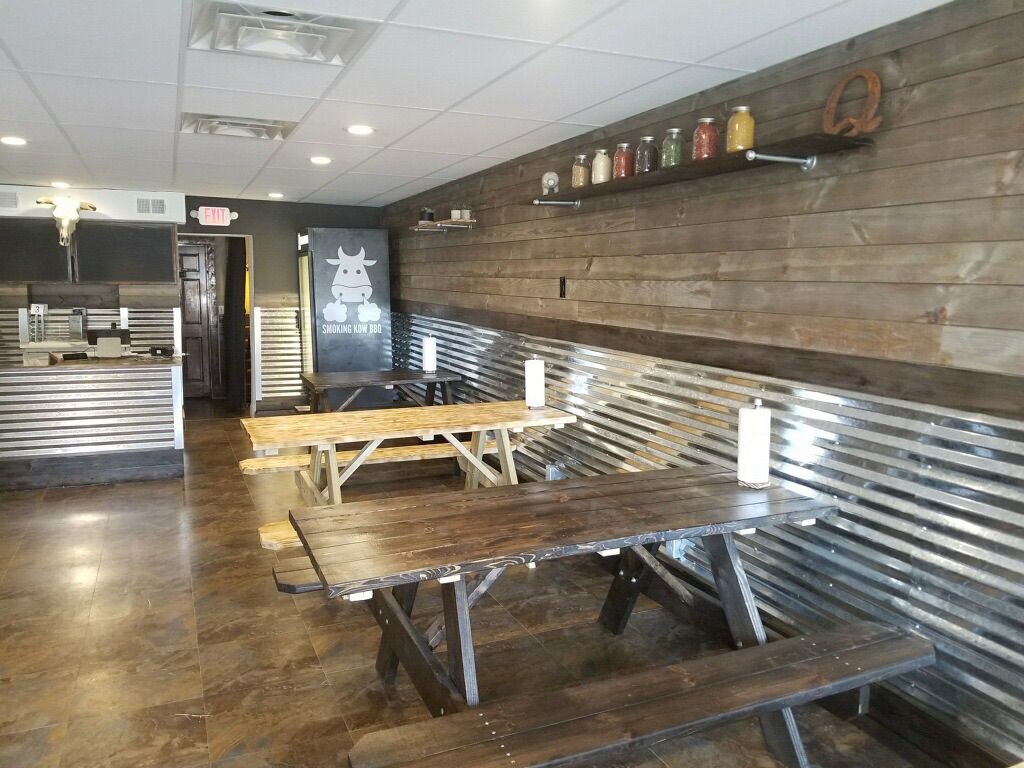 The new digs also mean a bigger menu, including smoked turkey breast, jalapeño-cheddar sausages, wings, and baby back ribs in addition to the usual chopped brisket, pulled pork, and chicken.
You'll still find barbecue tacos on house-made flour tortillas as well as "mac 'n meat" platters, where he barbecue is piled on a mound of creamy cheddar-and-Parmesan mac and cheese, amped with garlic and jalapeño.
Among the new additions: signature sandwiches. One option dubbed Schweinefleish ($8.50) combines pulled pork, mustard seeds, pickled red cabbage, and golden mustard sauce on a pretzel roll. Even more massive is the "Whole Shebang" ($12) with chopped brisket, pork, half of a sausage link, queso sauce, and candied jalapeño on Texas toast. For sides, expect the usual suspects, including cornbread, cheesy-chili grits, potato salad, and more.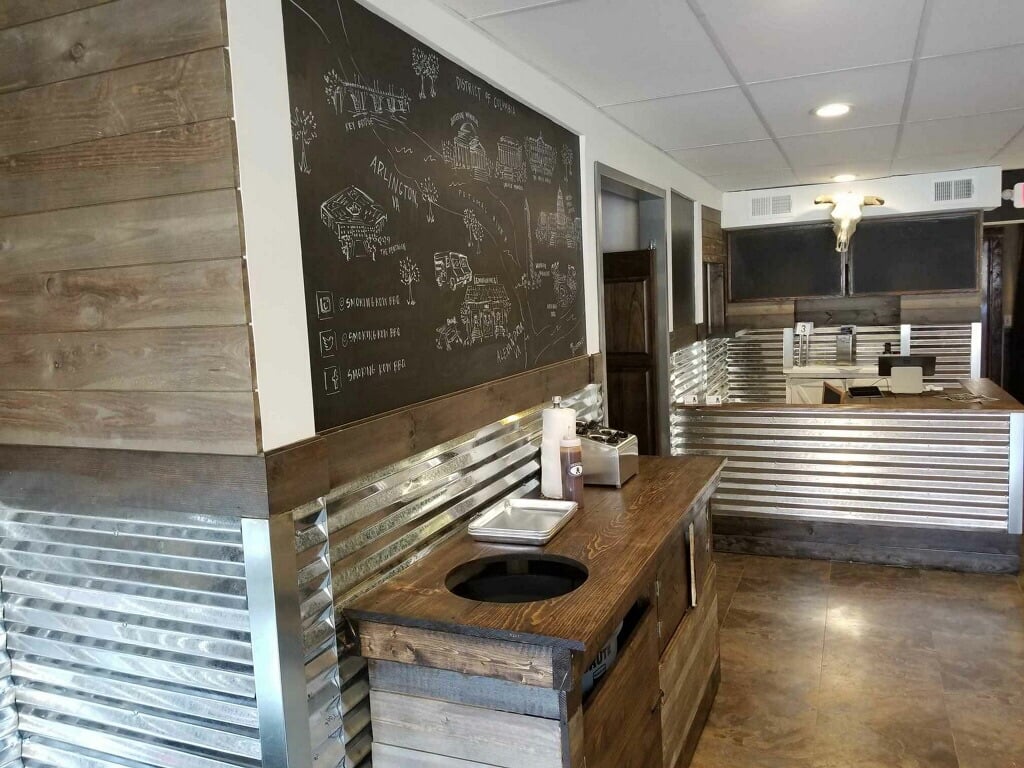 The fast-casual space consists of four picnic tables, which Kough built himself, and a cow skull above the menu board. Kough's fiancée and local illustrator Riley Sheehey lent her expertise to a wall of chalkboard art. Plus this:
The trucks will continue operating with mostly the same menu (more limited than the restaurant) and a couple new sides. The only hitch? DC is rolling out a new regulation that restricts businesses with multiple trucks to entering only one vehicle in the lottery for assigned parking spots. That will likely mean a mad rush at popular food truck spots that aren't zoned by the city.
"I don't know if we're going to have the spots to sustain two trucks anymore—at least full-time," Kough says. "The whole incentive of the food truck is you get a good business and you build it up. So if you can only have one truck in DC, there's no incentive to grow."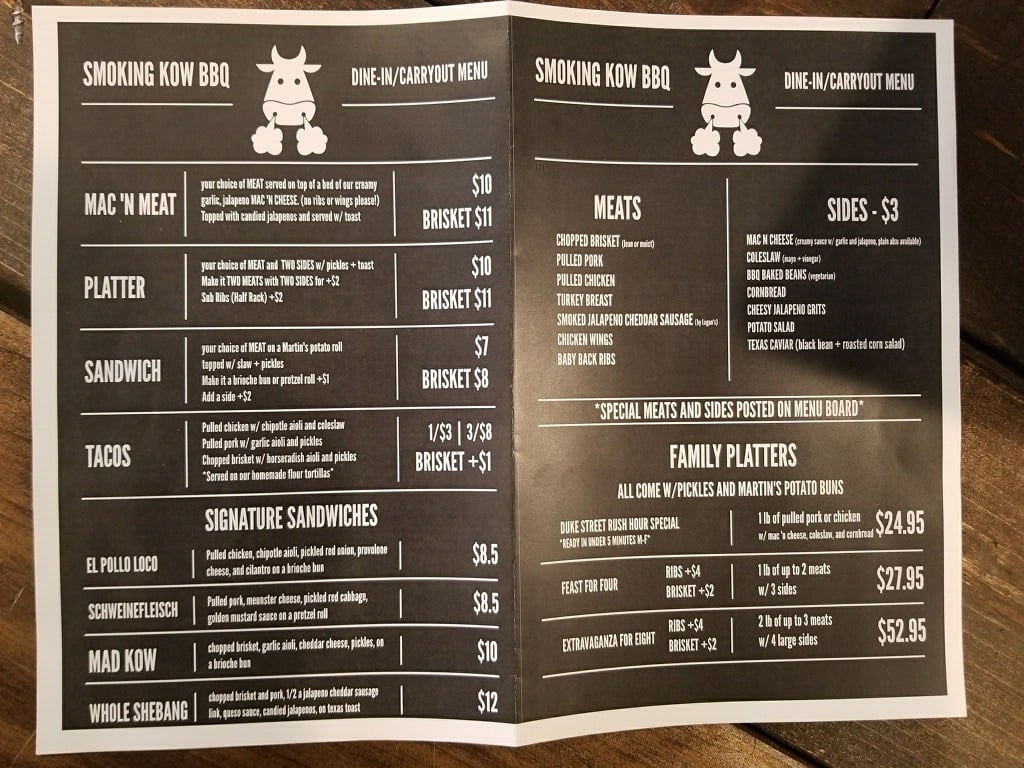 Smoking Kow. 3250 Duke Street, Alexandria. Open 11 AM to 10 PM Tuesday through Saturday and 11 AM to 9 PM Sunday. Closed on Mondays.