Want to share your transformation story? Whether you lost weight or gained muscle, I want to hear from you! Email me at kolsen@washingtonian.com.
Who: Ashleigh Nicole Diaz, 31, team lead at a security company
Lives: Northern Virginia
Height: 5'5″
Start weight: 295 pounds
Current weight: 206 pounds
How long it took: 2 years and counting
Turning point: "Honestly, I woke up one morning, looked in the mirror, and was just disgusted with the person I saw. At that moment I thought about my five children. They depend on me and deserved much more than what I was giving. Initially, my inspiration was built around my children, but I found that I wasn't always giving my all and got defeated very quickly because I was always worried about them. Finally, I took a step back and evaluated the situation. That's when a light bulb went off. I knew what I had to do: make this journey about me. And that's when I found my WHY.
So Diaz joined Onelife Fitness Reston. "The first time I walked through the doors, I was so nervous. I can remember walking around with my head down for most of the tour, and I didn't make much eye contact with anyone." But then she met Branden, her trainer. "We have been through a lot over these last couple of years. He has seen me at my highs as well as my lows. When we first met, I was very depressed. But he is one of the people that helped pull me out of the dark place I was in. I thank my lucky stars every day for giving me the courage to walk through those doors … Onelife Reston isn't just a gym—it's a community and family, and I'm so grateful to be able to say I'm a part of it."
How she's doing it: She works out four to six days at Onelife. Her routine includes upper body, lower body, and conditioning-focused workouts. She also does "mindset conditioning" every day, such as mediation or yoga. "I feel that working on the mindset is huge because you can be physically strong, but being mentally strong is a game changer. It can help you push through any situation."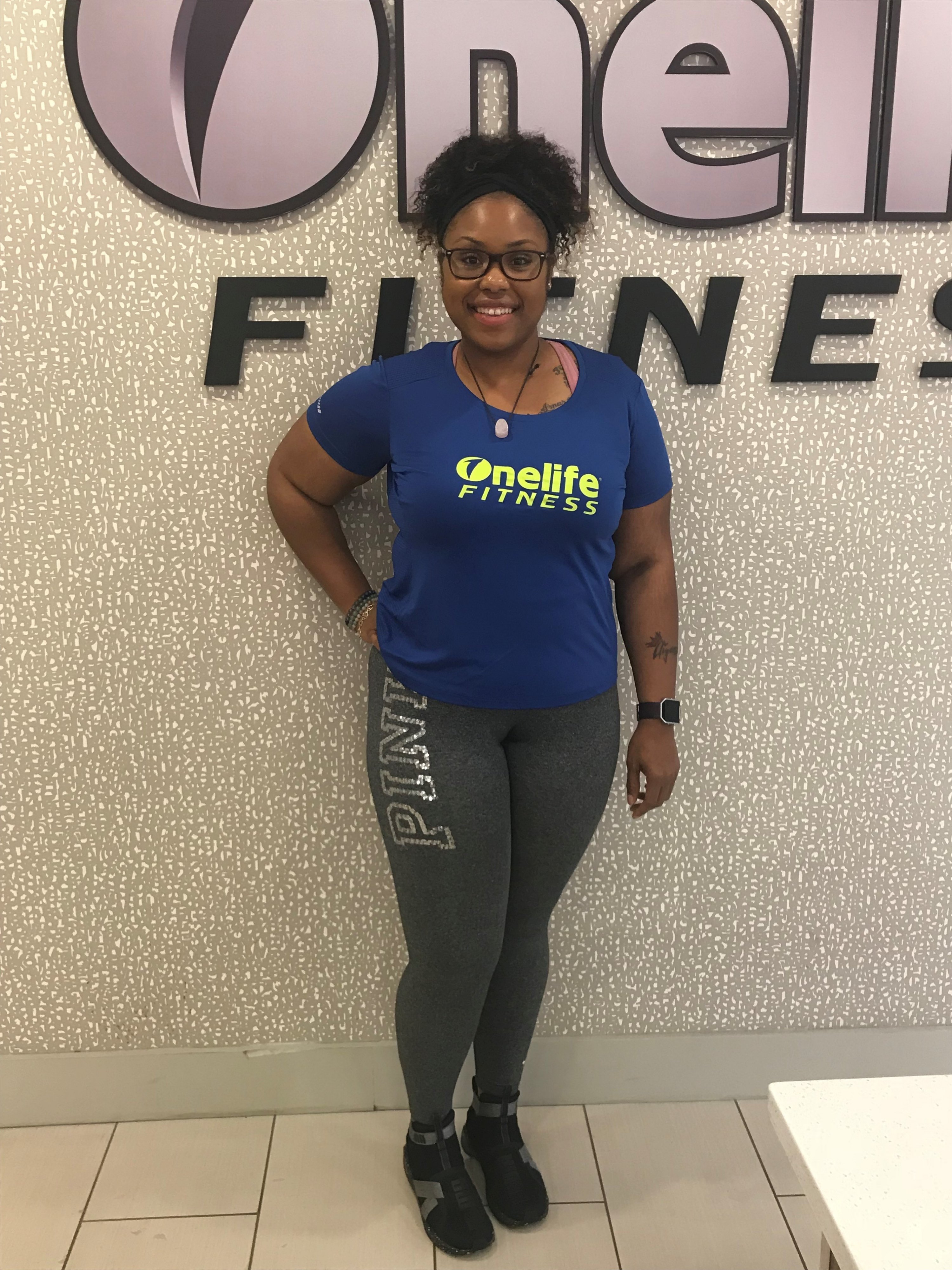 Diet: Diaz says she had a lot of "trial and error" with her diet starting out, and always felt bloated no matter what she ate. She started a paleo diet, eliminating wheat, bread, rice, soy, and corn from her diet. "It was hard in the beginning, because I love rice and bread, but it's gotten easier and the results from it have been amazing. Just over the last two months I've noticed that the bloat is disappearing, my body fat percentage is dropping, and I have more energy than before. Overall, I just feel great."
Fave splurge: Chicken wings from Buffalo Wild Wings.
How she feels now: "Before I started my journey I was completely depressed. Life was passing by and I was walking around the world just existing rather than fully living. Now I feel like a totally different person. I walk with my head held high. I am more open to trying new things, and my confidence level has skyrocketed."
Workout wisdom: "First and foremost find your WHY and once you find it make that your reason for going through your journey. The one thing I do suggest is to make sure the reason is about you. It's okay to be a little selfish when it comes to your goals."
This interview has been edited and condensed. 
Want to share your transformation story? Whether you lost weight or gained muscle, I want to hear from you! Email me at kolsen@washingtonian.com.