A few years ago, Chat Razdan was an investment banker on Wall Street, grinding away at Goldman Sachs, the "standard business school student," he says. Then, a friend was diagnosed with cancer. His friend started chemotherapy through a PICC (peripherally inserted central catheter) line, an IV that's inserted into a vein above the bend of the elbow and threaded along the vein until it reaches the chest, where it might stay for a few weeks, months, or even years. Nurses told Razdan's friend to wear a cut-off tube sock over his PICC line to keep it in place.
This detail—a tube sock—stuck with Razdan, 34, a native of Lutherville, Maryland. The bulky sock was a constant reminder to his friend about his illness. So Razdan reached out to his now co-founder, Susan Jones, who worked in fashion. She had lost her father to cancer and wondered the same thing about the tube sock: Why was this the industry standard?
In early 2014, Razdan called his mom, an anesthesiologist, and mentioned the tube sock issue to her. She happened to be at a conference and brought it up to an oncologist from Johns Hopkins. "I then had five missed calls saying, 'This guy wants to talk to you,'" he says. The oncologist connected him to clinicians at Johns Hopkins, who all explained that the tube sock was a constant issue for the nurses—it didn't always protect patients from accidentally pulling out the line, which can lead to serious infection. Knowing they could create something better, Razdan and Jones founded healthwear company Care+Wear and partnered with Johns Hopkins clinicians to create a PICC Line Cover made from soft, antimicrobial material, featuring a mesh pocket with a window for infection monitoring and airflow.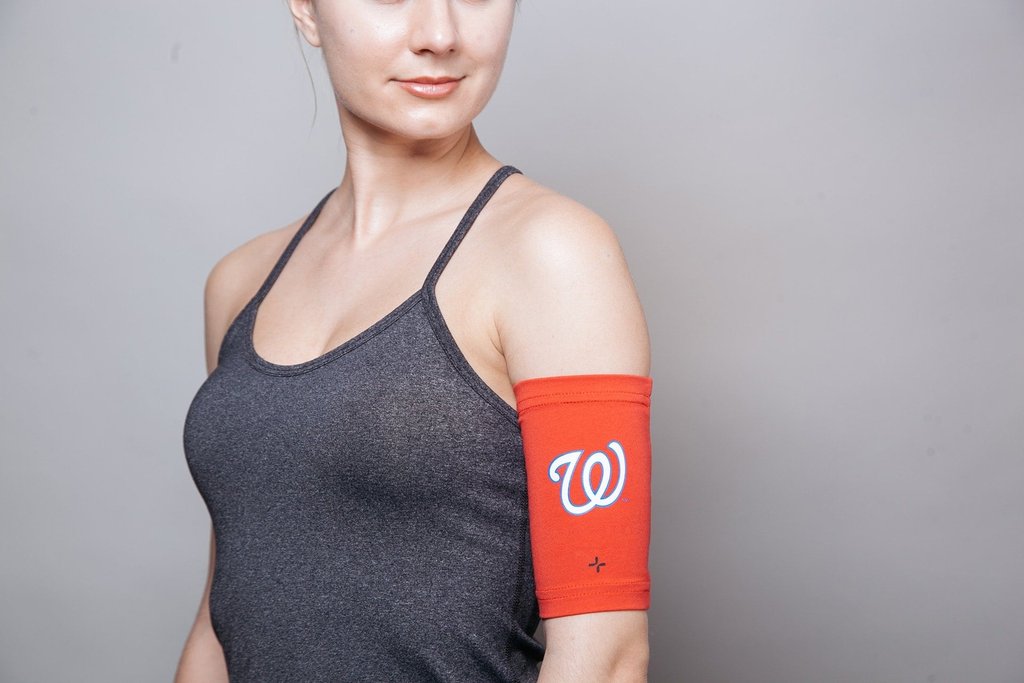 How did Oscar de la Renta get on board? Razdan met the luxury brand's CEO, Alex Bolen, at a New York fashion event. The legendary designer, who dressed first ladies Hillary Clinton and Nancy Reagan and style icons Audrey Hepburn and Sarah Jessica Parker, passed away from cancer in 2014. Bolen, his son-in-law, had witnessed de la Renta's experience receiving chemotherapy through a port-a-cath, which is placed under the skin on the right side of the chest and attached to a catheter. In the first collaboration of its kind, the luxury brand partnered with Care+Wear to honor the late designer, and last week debuted a line of French terry cloth hoodies for cancer patients.
The hoodies, which come in pink and navy, feature medically compatible zippers that allow easy clinical access to the port. "The focus is on the experience and allowing people to not feel dehumanized," says Razdan. "Historically, you would have to basically take your clothes off when you were receiving treatments. We strategically placed the zippers so the lines can connect to the port."
So far, patient response has been positive, largely because the hoodies are so warm—hospitals and infusion centers are cold, and the treatment can make you feel colder. "I actually just got a text today from a patient who said, 'I believe it is gonna be one of my favorite fashion accessories in the next couple of months,'" says Razdan. "People always think you have to do something monumental to impact the hospital experience. I think what we're proving is any sort of change is an amazing opportunity."
The PICC Line Covers are available online and in hospitals around the country, including the Department of Veterans Affairs, the Johns Hopkins Hospital, and the UVA Health System. Later this year, Care+Wear will release a collaboration with MedStar Health. The Oscar de la Renta hoodies, as well as a the PICC Line Covers and chest access shirts for kids and adults, can be found online.