On Monday night the Washington Capitals finally beat the Pittsburgh Penguins in overtime to end "the stupidest streak in sports": None of Washington's four biggest professional sports teams (Redskins, Wizards, Capitals, Nationals) had made a conference final since 1998. That's a combined 71 seasons, four presidents, and at least a Gatorade cooler's worth of millennial tears later.
The Caps were in fact the last DC team to make it this far. On May 15, 1998, they beat the Ottawa Senators in the MCI Center. Ted Leonsis, already an internet gazillionaire, was still a year away from buying them and the Wizards. DC was home to about 130,000 fewer people, according to Census data. And Alexander Ovechkin, the Capitals' star winger, was a 13-year-old in central Moscow.
But for all the change that's since struck DC, there were some surprisingly similar people and trends popping up in headlines. A quick sampling of conversation-drivers in 1998 DC:
January 26
From a White House podium, President Bill Clinton famously says, "I did not have sexual relations with that woman," in reference to accusations he'd had an affair with Monica Lewinsky.
January 27
The two-year-old WNBA gets one of its first expansion franchises in the Washington Mystics.
March 31
Rudy Giuliani, then the mayor of New York, travels to DC to give a speech lambasting federal immigration law as "harsh and unfair to immigrants."
May 21
DC Mayor Marion Barry announces he won't seek a fifth term in office, citing his frustration with "the mean-spirited Republican Congress" that refuses to grant the District autonomy.
August 17
"I did have a relationship with Miss Lewinsky that was not appropriate," Clinton says in a live television address from the White House's Map Room.
August 27
Mike Pence, then a conservative radio host, writes a column in the Indianapolis Star where he calls for Clinton to resign, writing: "At a time when reckless extramarital sexual activity is manifesting itself in staggering rates of illegitimacy and divorce, now more than ever America needs to be able to look to the First Family as role models."
December
Hillary Clinton becomes the first first lady to appear on the cover of Vogue. Melania Trump, a former model, is the first first lady since not to pose for the magazine (though she was featured on a 2005 cover in her wedding dress after she married Donald Trump).
Other Washington Post headlines (throughout the paper) on the morning after the Capitals' 1998 victory: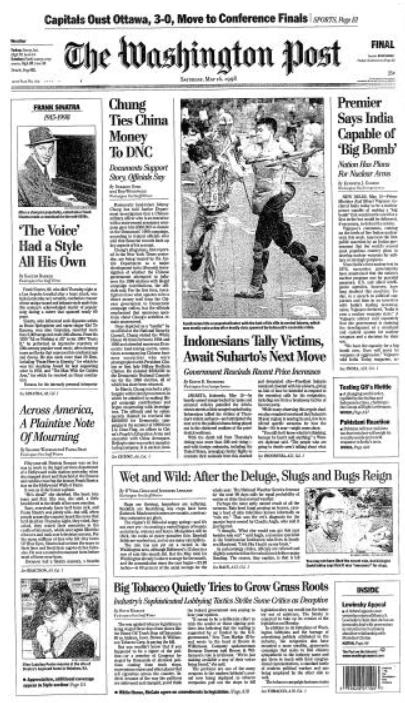 "The Voice Had a Style All His Own" (an appreciation of Frank Sinatra, who passed away the day before the Caps' win)
"White House, McCain Agree on Amendments to Tobacco Bill"
"The NRA's Members Protest"
"Cougar Sightings Mount in Tysons Area"
"Ex-Mayor Convicted in Pornography Case"
"A Whole Lotta Yadda; 76.3 Million Viewers Make 'Seinfeld' Finale the No. 6 Show in History"