When Suzie Mills was deployed to Afghanistan in 2007, she loaded aircraft next to the USO, where she'd go to get coffee. "It was like a home away from home," she says of the center, which acts as a haven in a war zone for troops stationed overseas, providing a place to socialize, play video games, and work out. "Facebook was just coming out. You see your friends partying, having fun and think, "People forgot about me,'" she says.
Looking for a way to reconnect with people when she came home, Mills, now 34, turned to fitness and began training for a triathlon, but got injured during her first race, the Cherry Blossom 10-miler. So she tried yoga. "I knew I would open a yoga studio after my first class," she says. She completed instructor training in 2011 and started teaching out of her basement in February 2013. She had five yoga mats. By April, she was teaching 12 classes a week. That August, she "got the courage" to open Honest Soul Yoga, located in the Landsowne Center in Alexandria. The studio does mostly vinyasa yoga, including a version with restorative meditative components, but recently added a HIIT and yoga class. Unlike most studios, Mills' has no mirrors. "It's not about being perfect in the pose," she says.
Location turned out to be key to the studio's identity. "I didn't realize I'd opened right next to Fort Belvoir," she says. A lot of her clients work at the Pentagon, and she tries to hire veterans and military spouses; the latter make up over half of her 30-person staff. She says a lot of women come to studio when their husbands are deployed. "I didn't open to be a military community, so it's sort of a happy accident."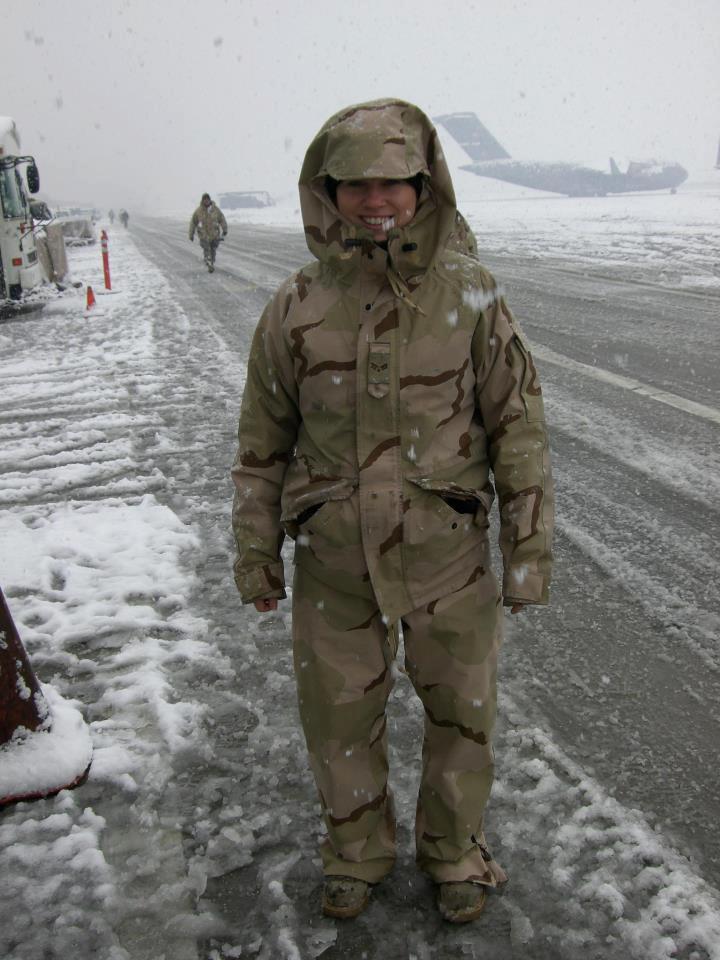 In 2015, after losing funding for its yoga program, the USO of Metropolitan Washington-Baltimore at Fort Belvoir approached Mills. The program provides yoga props, such as mats and blocks, to those stationed at bases with USOs all over world, from Japan to Germany to Kuwait, as well as to those in Iraq and Afghanistan, "where people are living out of tents," says Mills. She thought about the USO tours, "the stuff I'd seen in Afghanistan," and came up with the idea for a yogathon that would benefit the USO, choosing Memorial Day weekend to kick off 24 straight hours of yoga. This is its first year.
Here's how it works: The yogathon starts at 8:00AM this Friday, May 25, with the USO of Metropolitan Washington-Baltimore coming in to speak. You can drop in for classes through 8:00AM Saturday (yes, even at 2:00AM) and stay for as many as you want, or go home and come back. Mills suggests bringing a mat if you have one. Classes last 6o to 75 minutes, and the one-time donation is $25, with proceeds going toward yoga kits (mats, blocks, straps, and bolsters) that will be sent overseas. Snacks and beverages will be provided. Not local? You can also donate on the Honest Soul Yoga website as sessions will be live-streamed on Facebook.
Mills is thankful that the military is starting to see the benefits of yoga. "Maybe [troops] are doing yoga in a tent. They can have that little peace. I didn't know about yoga when I was deployed. I wish I did. Because it would've given me a tool to deal with the stress and anxiety that I felt."
Honest Soul Yoga is located at 6470 Landsdowne Centre Dr., Alexandria, VA.