When José Andrés first opened America Eats Tavern as a pop-up in Penn Quarter, it came with a heavy dose of history. The menu included lengthy footnotes explaining the origin of key lime pie or jambalaya. The place was created as a collaboration with the National Archives, after all.
Most of the schooling was scrubbed when America Eats Tavern relocated to the Ritz-Carlton in Tysons Corner, where the restaurant resided until the end of 2016. The third iteration of the Americana eatery, which opened in a more casual Georgetown space this week, limits the history lesson to a sprinkling of names, places, and dates indicating who created the dishes and where and when they originated.
Chef Claudio Foschi worked at America Eats Tavern 2.0 as a sous chef, but he has largely revamped the menu now that he's in charge of 3.0. Among the most prominent additions: barbecue, a nod to Old Glory, which previously occupied the restaurant space.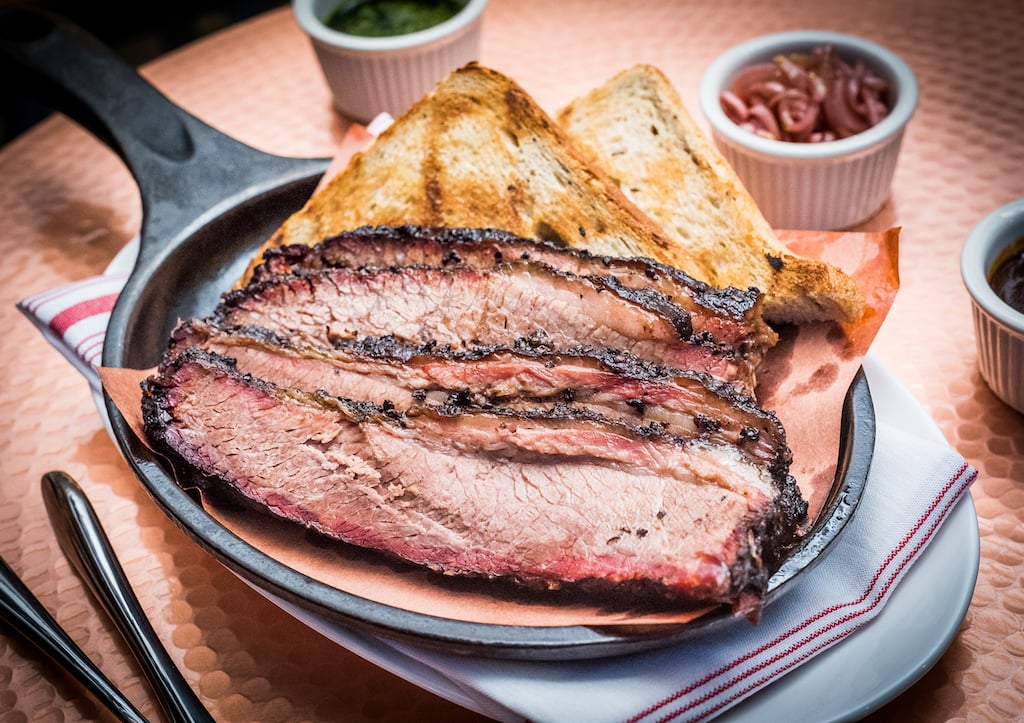 The restaurant is serving brisket (smoked for 16 hours), half chicken, pulled pork, and pork ribs—without fussing over any particular regional style. The kitchen is also using their gas-assist Southern Pride smoker for more than just meats. They're smoking water, butter, and oil, then using the ingredients to impart a smoky flavor in various dishes. For example, the smoked water is used in a brine for pickles as well as some of the meats.
Still, the new America Eats Tavern is far from a barbecue joint. You'll find whole grilled trout with green goddess dressing, a fried egg sandwich, Chesapeake crab cakes, and more. A few favorites have stuck around (with some tweaks) from the original pop-up, including a pudding-like vermicelli mac and cheese, hush puppies, and oysters (raw, grilled, fried, or barbecued).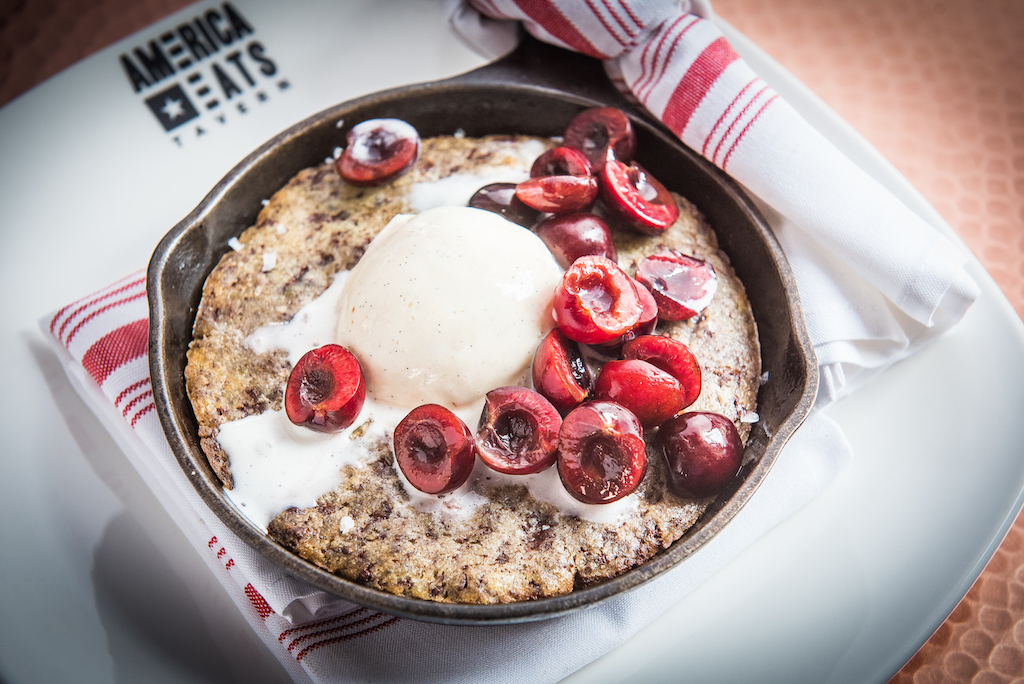 Martha Washington's chocolate cake will be another familiar treat for returning patrons of American Eats Tavern. But one of Foschi's favorite desserts is new: chocolate chip cookie served fresh from the oven in a cast-iron pan with bourbon-vanilla ice cream and macerated cherries.
Foschi says his team will continue to draw inspiration from a massive database of historical and classic Americana recipes compiled during the original menu research. One thing, though, that he's cut back on are all the 19th-century-inspired catsups, which came in flavors ranging from blueberry to mushroom. Some of the sauces are still incorporated into individual dishes—an oyster catsup will be used for a forthcoming brunch dish—but a pick-and-choose selection is no longer available.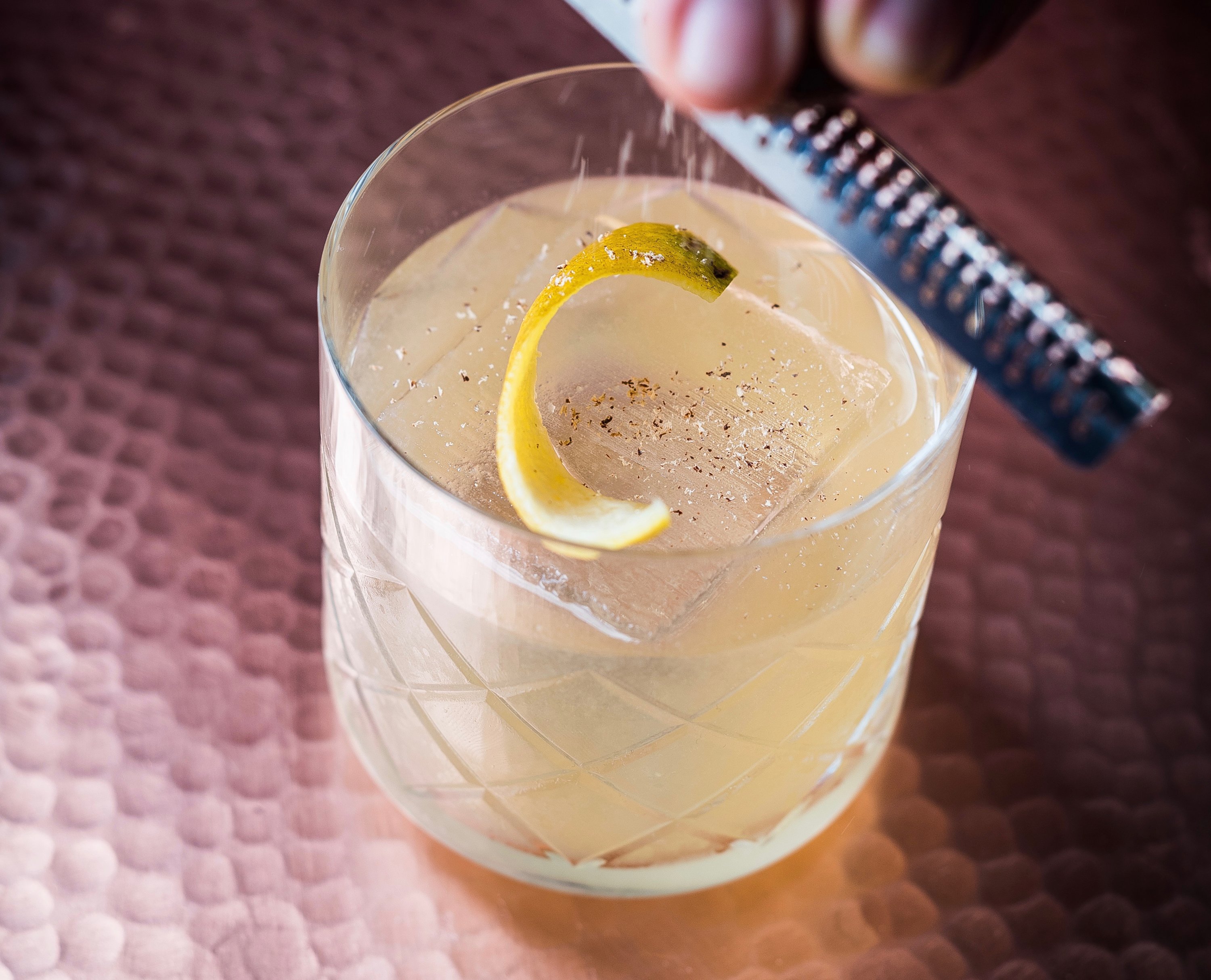 The bar is aiming to carry whiskey—or at least some kind of spirit—from all 50 states and DC. "Even Alaska has a whiskey. I didn't know that!," says Miguel Lancha, ThinkFoodGroup's "Cocktail Innovator." So far the hardest one to track down? Hawaii.
Like the food, the drinks come with historical reference points. The bar is serving martinis as they were originally prepared in the late 1800s with sweet vermouth. DC's official cocktail, the gin rickey, is updated with maple syrup and Angostura bitters. Wines and beers are also all-American.
With a note on the menu, José Andrés dedicates his culinary ode to America to two friends: Michael Batterberry, a food writer "who achieved more than anyone in celebrating America's culinary traditions," and Senator Daniel Patrick Moynihan, "who told me if you love America, America will always love you back."
"It's very special for him," Foschi says of why Andrés keeps bringing back the restaurant. "He wants to give back to the country. He's very proud of having an American restaurant in America."
America Eats Tavern. 3139 M St., NW. 202-450-6862.