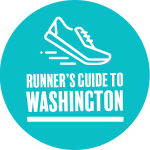 Gene Demby, the 37-year-old cohost of NPR's Code Switch podcast and blog, started running about ten years ago when a friend bailed on him for a workout. He did three miles. Then one day, he did six. Then he ran a half marathon: "Before I knew it, I was running every day."
Where do you run?
On a normal day, just down to the Mall.
How has your running changed since you moved here from New York?
It is very much about stress management. It's the one time of day I'm not on Twitter.
Are you a morning runner?
It depends if I overslept.
Most memorable run?
Oh, man, it was an unseasonably warm night. I was going to run down to the Lincoln Memorial and loop back home. The first mile was like a 7:30 pace. By the end, I was running an even seven minutes. It was a full moon. There was nobody on the Mall. It was one of those runs like nothing can f— with you. I think that's the run we all chase, you know?
Most DC thing to ever happen to you on a run?
I was running by the Washington Monument. There were three to five of those Chinook helicopters flying real low. I was like, oh, shit, that's President Obama. This is corny, but I felt like this dude has this historical presidency and I write about race. There's a chance he might have seen me!
This article appeared in the June 2018 issue of Washingtonian.