As I drive through rural Maryland, winding my way up the side of a mountain past little bungalows overflowing with porch knicknacks, I come to a driveway posted with signs screaming "Do not enter" and "No trespassers." These are necessary because, unlike what my surroundings would suggest, I am not approaching the set of Deliverance, but rather the home of celebrities.
Well, sort of. Unless you're a preteen watching vlogs in your bedroom, you probably haven't heard of YouTube sensations the Dobre brothers. With over 12 million followers between two channels and an estimated 10 million views a day, the group is kind of a like a back-flipping, prank-pulling, Maryland-resident male version of the Kardashians.
The sons of Romanian Olympic gymnast Aurelia Dobre, the brothers are known for their PG, family-friendly antics: pranking their girlfriends by dumping slime on their heads, doing backflips in the backyard, and dressing up like clowns to scare one another. It's a little like Jackass-meets-Disney Channel, and by all outward signs, it's successful.
When I meet the highlighted-haired Dobres—Cyrus, 25, Darius, 22, and the twins, Marcus and Lucas, 19—they're all outfitted in matching tracksuits with DOBRE across the chest. Darius is wearing a pair of Gucci slip-on loafers rimmed with fur and embroidered with a snake (they retail at about $900 and yes, I Googled that), which he kicks off as he walks inside their home.
The foursome owns a modernist compound nestled deep in the woods (they're hesitant about giving out their exact location, as they've had trespassers), and outside, you're greeted by a fleet of luxury vehicles.
When I ask how many cars they have, the room goes silent. They have to count. Maybe ten? There's the Ferrari, the Lamborghini, the McLaren, the Porsche, two BMWs, a Mercedes G-Class…oh, and there's another Ferrari on its way, they tell me.
(I make a joke about my 2010 Jeep sticking out like a sore thumb, but don't worry—"Jeeps are fresh," they assure me. They ask if I ever take it off-roading. To their chagrin, I answer in the negative.)
Inside, it's clear this is a home owned by four young dudes. Huge furry bean bags are piled in front of a big-screen TV, cans of chips sit on the kitchen shelves, and a pet baby goat wanders throughout the room, because why not?
The cars, the house, the vacation home they plan to buy in Miami—none of them really thought it'd get this big this quickly, they say. Lucas and Marcus, who have their own channel apart from the separate Dobre account, started posting Vine videos about three years ago, and quickly garnered a following for their gymnastics and silly back-and-forth.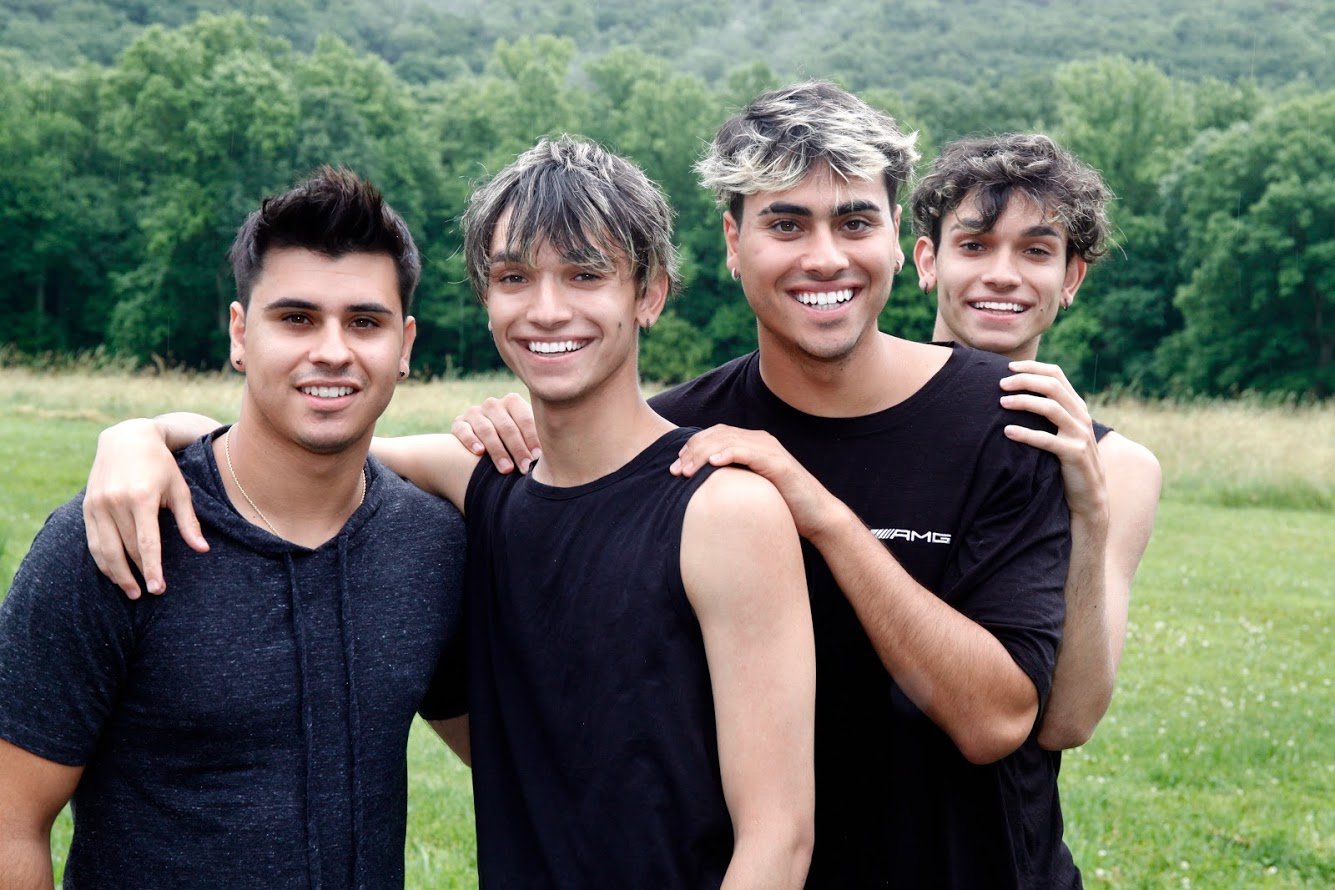 The twins moved out to Los Angeles to join social media influencer Jake Paul's fleet of YouTube stars, called Team 10, and create social media content in a group-home setting. But they missed home and Maryland, and came back to start a separate channel with their brothers last year. Besides another brief stint in LA, the group has mainly been in the DMV area, where they're closer to the family and friends who often star in their videos.
Plus, the land around their home gives them more than enough room for all the filming they need to do—between the two channels, they post five videos a week, in addition to taking photos for social media or posting content for partnerships with companies like Coke or AT&T. They call themselves business people, often throwing in buzzy phrases like "the fans," "the merch," the brand," and they're ready to slap a DOBRE label on whatever they can.
And then there's the music. The brothers started recording their own rap songs last year, with names like "Whoa," "Bumpin'," and "No Fakes." The most popular, "You Know You Lit," features a music video of the brothers in ripped jeans breakdancing in front of vehicles that probably cost more than a college education. It's all very lit. (Here are some lyrics from "Whoa": "Money comin' in like it's running/But let's see, I got me because I'm stunnin'.")
They recently took everything on the road for a tour, stopping in two cities to perform their music, re-create some content from their videos, and get face time with their fans.
They hope to do a longer, cross-country tour one day, as well as make it on Ellen and win a Teen Choice Award. But after that, they're focused on just putting out more content. As is, the brothers say they reach more viewers on YouTube than they ever would with a TV show. "We don't really look up to anyone," Darius says. "We're kind of in our own lane."
This mentality fuels what the brothers call the Dobre Army—a blinged-out world where the hair gets highlighted, the labels are all designer, and you spring for another Ferrari because you can. A world where everyone is divided into "haters" or "fans" and success is quite literally a number.
The haters are something the brothers often talk about in their lyrics—"We prayin' for the people that keep hatin'," or "She fake on me, she regret it,"—and I realize now that maybe my dubiousness just means that I myself am a hater. Perhaps I'm too jaded to take the brothers' work for what it is: pure entertainment, no hidden agendas or deeper meanings attached. Or maybe it's realizing that the cars, the fame, the being a kid with more money than you know what to do with—that'll never happen for me. That the brothers quite literally live in a different world.
As I drive off their property in my car, the sunlight shooting through the green leaves above and onto my windshield, each turn down the mountain road separates me further from that fantasy-like world of easy fame I glimpsed for a brief moment, that universe amongst the trees where online dreams are made.
And then it hits me—I never even got the name of the pet goat.