Restaurateur Mike Isabella appears to have closed Graffiato in Chinatown—his first-ever restaurant. The Italian-American eatery was dark on Tuesday when it's normally open for dinner, and no one has been answering the phones. Reservations are no longer available on OpenTable. A hostess at Daikaya next door says the restaurant is closed permanently. 
Washingtonian reported last week that the building's landlord, Douglas Development, is suing Mike Isabella Concepts (MIC) for $54,980 in alleged unpaid rent and other fees, and listed the property for lease. Asked a week ago if the restaurant was closing, Isabella said, "Nope." In response to the lawsuit, he said, "Don't know what your talking about." He did not respond to further requests for comment. 
When Isabella's Italy-by-way-of-Jersey concept launched in 2011, it was the first in what would become a rapidly growing empire. In seven years, Isabella opened over a dozen high-profile restaurants, concession stands, and airport kiosks—including additional Graffiato locations in Richmond and at his Tysons Corner food hall, Isabella Eatery. Now only the latter Graffiato remains of the three.
Last month, Isabella closed Graffiato Richmond citing a desire to "focus on things closer to home." Management also pointed to pricey repair jobs on the building that became "insurmountable," according to an employee. The shutter was one of two recent closures. In April, Requin Brasserie at the Mosaic District in Fairfax quietly halted business. The Washington Business Journal reported that the landlord is suing MIC for over $700,000 in unpaid rent and other fees.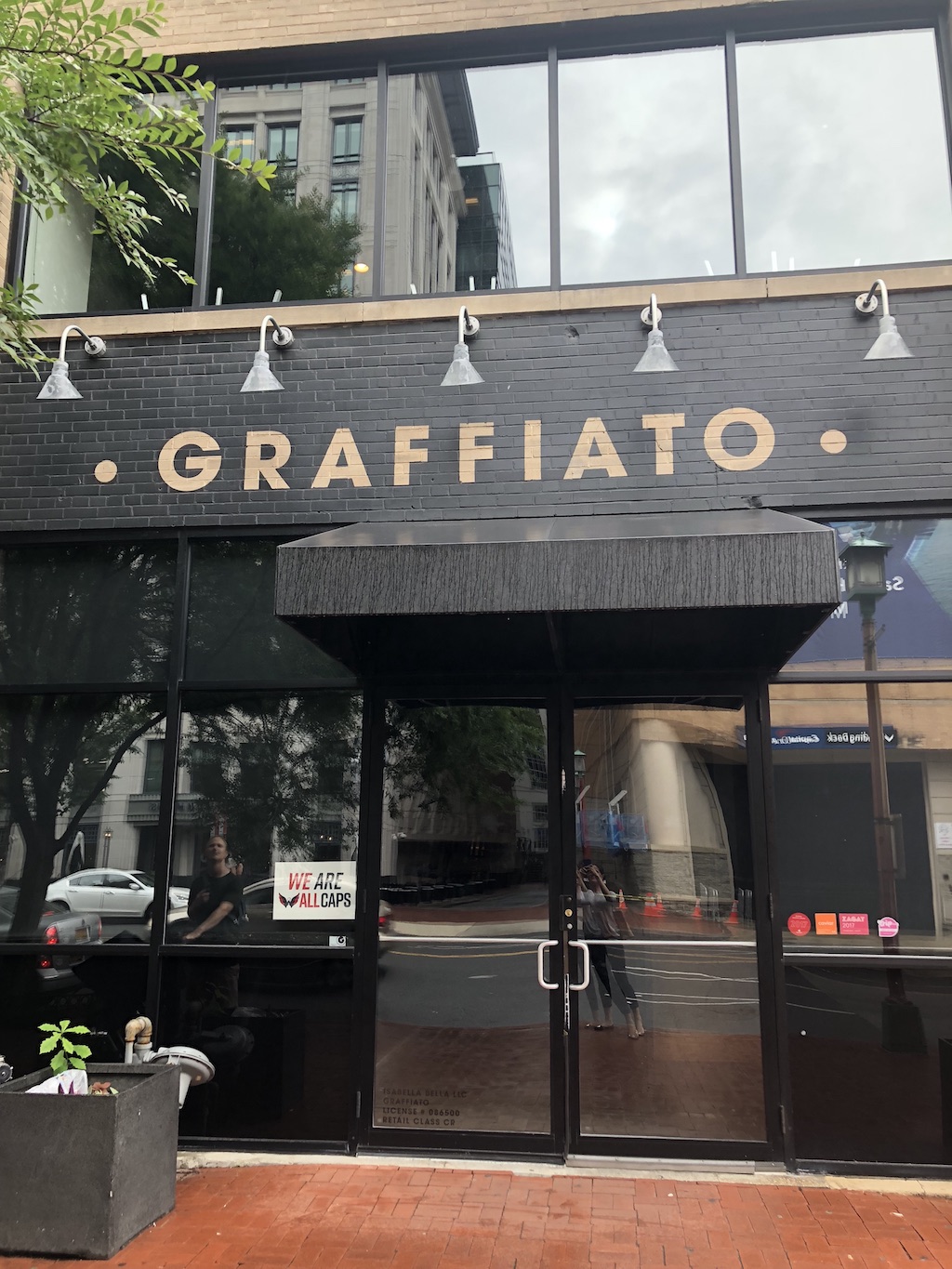 All of Isabella's recent business woes have unfolded in the shadow of the large-scale sexual harassment lawsuit against Isabella and his partners filed by a former employee, Chloe Caras. Isabella settled the suit for an undisclosed sum in May. As a result of the allegations, several entities cut ties with MIC, including the Nationals (Isabella once operated three concessions at the stadium) and women-owned catering company Plum Relish.
When Isabella first opened Graffiato he told Washingtonian that "some days, I want to wake up and cry from happiness, and others I want to cry from nervousness." Five years in, he said the feeling hadn't changed—especially on the brink of opening more restaurants. These days, the restaurateur claims he's hoping for a different trajectory.
"The last few years were spent running from meeting to meeting to meeting, and it really burnt me out, and hurt me. I can't do that anymore," Isabella told Washingtonian in June. "I'd rather be back in the kitchen, have less restaurants. I grew too quick. I grew too fast and too big. I thought I was invincible, and I'm not."
This story has been updated to reflect a new court filing.