When Allen and Goli Parvizian's son Cameron was 14 months old, Goli noticed he wasn't speaking. Allen chalked it up to delayed speech, reassuring Goli that his niece, who will be a student at Brown this fall, didn't speak until she was two years old.
But this was different. Family members started noticing that Cameron wouldn't play with toys, and would instead turn them over to spin the wheels. He refused to eat food and would space out, or "go somewhere else" unpredictably. "That was a really tough period," says Allen.
In April 2005, the Parvizians took Cameron to get his 18-month checkup. The pediatrician told them that their concerns were valid and that Cameron needed to get tested for autism. Another doctor came in and gave them both a hug, and "that's when we broke down," Allen says. "We got to the car and it was a really deep moment. Cameron had no idea what was going on—his parents crying hysterically in the front seat."
A behavioral specialist later diagnosed Cameron with pervasive developmental disorder-not otherwise specified, or PDD-NOS, a diagnosis that applies to children or adults who don't fully meet the criteria for other autism spectrum disorders such as Asperger's. (In 2013, the American Psychiatric Association removed PDD-NOS and other subcategories and put them under one diagnosis, Autism Spectrum Disorder.) PDD-NOS diagnosis generally refers to those with significant challenges in social and communication development. The Centers for Disease Control and Prevention estimates that 1 in 59 children is on the autism spectrum, up 15 percent from 2016. The reasons why are still unknown.
Cameron didn't speak until he was three. He wouldn't eat. Allen says Goli "basically kept it a secret because she wanted to protect Cameron from labels. And I respected her…. But that builds up eventually. It hurts, you know?"
It took months of calling different practices and being put on extensive waiting lists until finally the Parvizians found a behavioral specialist at the Kennedy Krieger Institute in Baltimore. Allen says the doctor told them, "I'm really not going to put a label on anything, because it doesn't really matter. We know what the problem is, we know that we need to strengthen these weaknesses—that's what we'll do."
They put Cameron in regular preschool and kindergarten. The state provided just 30 minutes of speech therapy a week. "I mean, how is a kid who doesn't speak going to learn how to speak with 30 minutes of speech therapy a week? It's not gonna happen," says Allen. Despite the added cost, he and Goli arranged for private speech therapy, an extra ten hours a week. There were 40 hours a week of applied behavior analysis, which uses positive reinforcement to improve communication and social interactions. Through kindergarten, a "shadow" would be with Cameron at all times so he could be prompted—when Cameron did something productive in class, the shadow would sneak him a treat so he'd know to do that again. Then Allen and Goli added eight hours of occupational therapy. "I mean, the kid was busy," says Allen.
It all, says Allen, cost a fortune.
With the rising medical bills came an understanding that most parents can't afford private treatment and have to rely on the state or provide the care themselves. In 2009, Allen saw a Facebook post about an event benefiting autism research and awareness called "Bike to the Beach," a 100-mile bike ride from DC to Dewey Beach. He set a goal to participate the following year. "I had never ridden a bike other than what you do in childhood," he says. "I started training on my own with my music in, and it was very emotional. Once I signed up and started sending fundraising emails to friends, I had an unbelievable outpouring of support."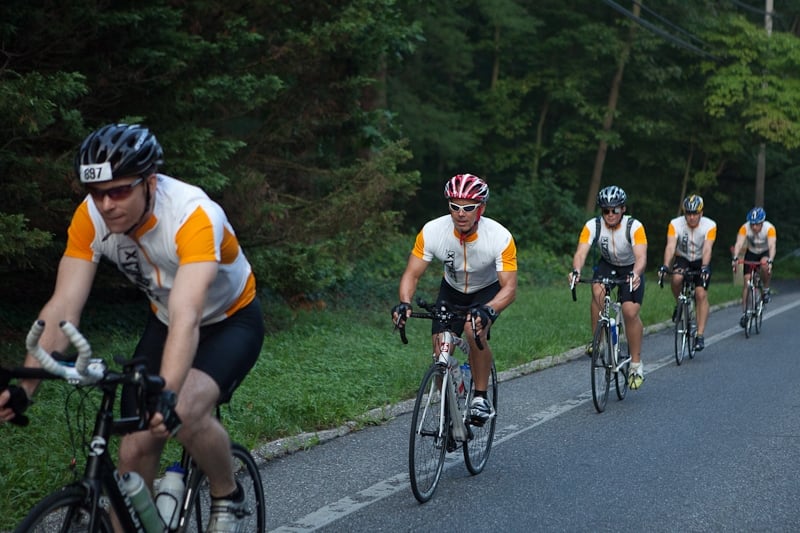 Robby Walsh founded Bike to the Beach in 2007 with a group of friends who did the 100-mile ride as a challenge among themselves, but had no cause behind it. "One of our friends had a cousin that was diagnosed with autism. And so, at that period, we started looking around and saying, 'Let's do something for a good cause.' For me, [autism] was something I didn't know much about and wanted to learn more about."
Allen's cousin joined the cause and rode with him the first year. As a two-man team, they managed to raise more money than every other team. The team has grown to around 20 people each year, raising $50,000 to $90,000 each year (this year, so far, the "Parvizian Road Warriors" have raised $77,000). Allen also became a board member of Autism Speaks National Capital Area, the largest recipient of Bike to the Beach's nonprofit donations. "One of the reasons I got into the whole fundraising aspect of things was trying to help people with seeing how much it was costing us—and we were blessed we were able to manage it, but I know that most people are not," says Allen.
In 2014, Cameron, then 10 years old, joined the ride. The organizers blasted Cameron's favorite song, Calvin Harris's "Summer," from the speakers as he crossed the finish line. "It was our biggest crowd ever, and the cheers were just electrifying," says Allen. "For about half an hour, I swear the kid was answering questions clearly, he was excited, his adrenaline was pumping, and he did a post-ride interview—he nailed it. I was like, 'Oh, my God, is this the same kid?'"
After his first ride, Cameron became motivated to join other sports, and last year, he won player of the year in his tackle football league. "All of this was from Bike to the Beach," says Allen. Cameron, now 14 and the oldest of four, has become a multi-sport athlete, a "foodie," and one of the healthiest teenagers his current doctor says he's ever seen. His brother Darren, 12, now rides by his side each year.
Walsh first met the Parvizians in 2010, when Allen first rode, and says that seeing how much the ride means to families like theirs is the reason he's kept it running for over a decade. "Every year, I've grown with the cause and have gotten a deeper understanding of their lives," Walsh says. "You start to see the diagnosis not as a definition or dead end, but as a part of their personal narrative."
The 11th annual DC Bike to the Beach is on Friday, August 3, and starts at 4 AM. Registration to ride ($75 to $500, depending on amount fundraised) or become a volunteer is still open, and donations are accepted here.